Fruit Beer Fest Returns This Summer to Burnaby, BC
|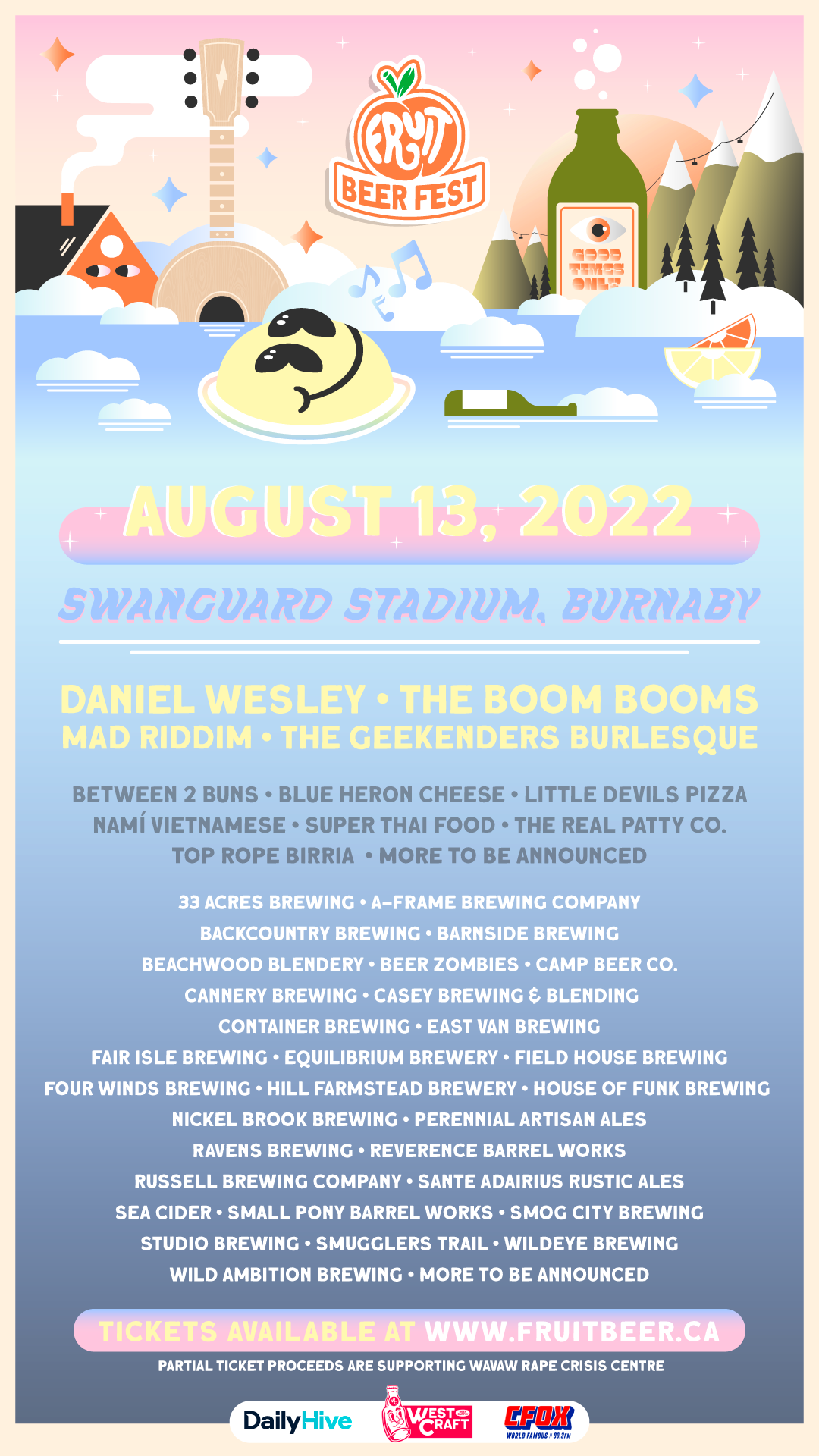 VANCOUVER, B.C. – Picture this! You are vibing with your close friends, Daniel Wesley, The Boom Booms, Mad Riddim, The Geekenders Burlesque, and a crazy amount of world-class juicy craft beer, cider, and shopping in the beautiful and transit friendly Central Park in Burnaby.
"The festival was formerly in Abbotsford, but we had some concerns around accessibility after bringing eight hundred people out on busses so we revisited Central Park in Burnaby and found that it would be a perfect location to do what we've dreamt of after years of isolation." says Mike Willis, of West Craft. "We're going for this let-loose, reggae, west coast vibe. We have the perfect lineup for that. Our community really needs these vibes more than ever with what we are all going through. Our mainstage will feature performances from Daniel Wesley, The Boom Booms, Mad Riddim, and The Geekenders Burlesque Troupe". West Craft, the organizer behind Fruit Beer Festival, is including the drinks and a snazzy drinking glass as part of the ticket, as well the live performances and a ton of food vendors with a pop-up market. Local craft makers are encouraged to reach out to participate with the market.
The festival will feature ciders, non-alcohol beverages, and non-Fruit Beers, too, for those who wish to imbibe on something a little different. "It's been a challenge organizing a few of these fruit beers with a world either on fire or under water, especially after last year's floodings and heat-domes that devastated local crops, so we've invited some of the most trustworthy beer and cider makers throughout North America" adds Willis.
Expect to taste new and unique belgian-style beers, sours, pilsners, stouts, india pale ales and more – chalked full of any fruit you can imagine – from the likes of Burnaby's Studio Brewing, Field House Brewing, Four Winds Brewing, Hill Farmstead Brewery, House of Funk Brewing, Nickel Brook Brewing, Sea Cider, Silver Valley Brewing, Casey Brewing & Blending, Smugglers Trail, Wildeye Brewing, Barnside Brewing, Container Brewing, Wild Ambition Brewing, Camp Beer Co. and many, many more. Guests will not experience another event like this in Metro Vancouver. The marketplace will feature the likes of Buddha Berry Farm, Periwinkle Design, Still Well, the Nikkei Cultural Centre and many more local creators and organizations.
Tickets for Fruit Beer Fest 2022 are available starting Friday, March 25th at 10:00am. Chances are good that tickets will go quickly – so don't snooze! Included in the price of admission (starting at $69.99 per person) is all of the beer and cider that you can (responsibly) drink, plus a souvenir drinking glass. A portion of ticket sales proceeds is being allotted to the WAVAW Rape Crisis Centre.
For more information about Fruit Beer Festival or to purchase tickets for the festival, please visit: www.fruitbeer.ca.