Gigantic Brewing Celebrates 7 Years + Releases Fucking Classy Brut IPA
|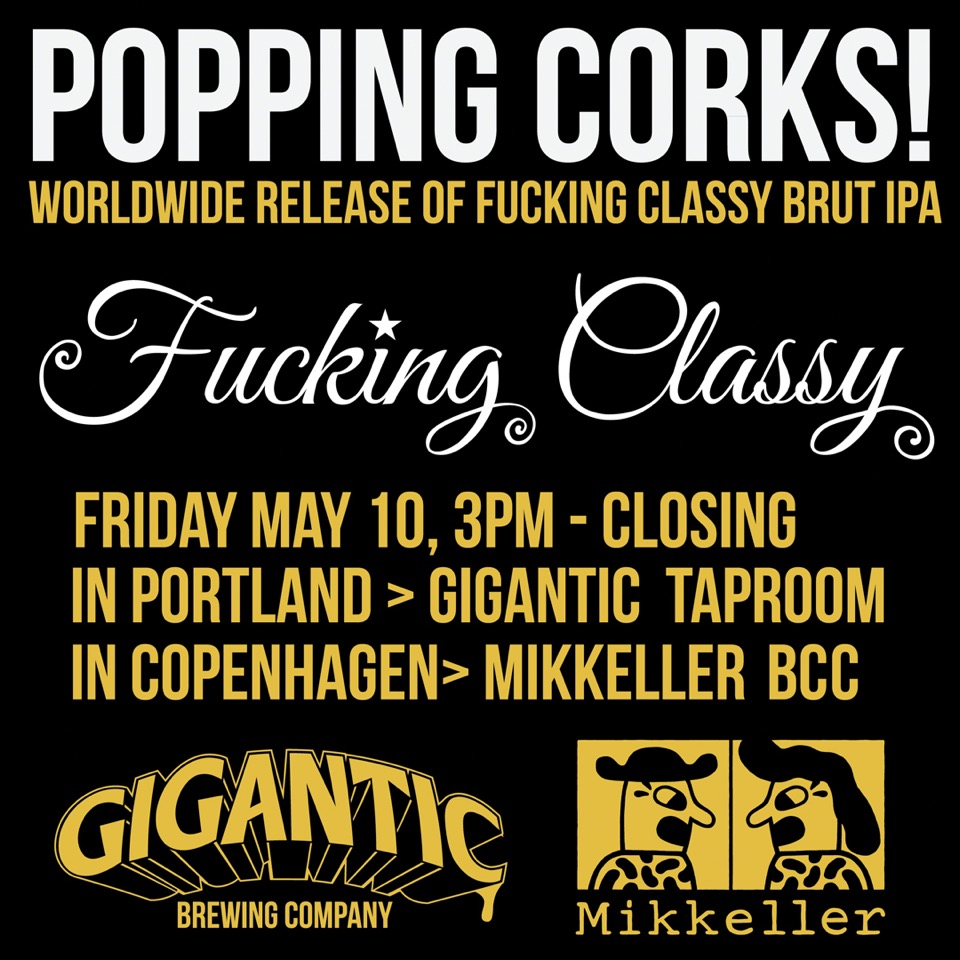 The first full week of May is a huge one for Gigantic Brewing as the now seven-year-old brewery celebrates its 7th Anniversary and releases a collaboration beer, Fucking Classy Brut IPA, brewed with Mikkeller Beer.
Now seven years in, Gigantic Brewing will celebrate its 7th Anniversary at its taproom in Southeast Portland on Tuesday, May 7th. Swing by to enjoy $3.00 beers during the its Tuesday's hours of 3:00-9:00pm. That's some great pricing on draft beer with tap list that includes quite a few new beers being poured!
Then later this week on Friday, May 10th, Gigantic Brewing and Mikkeller Beer will release its new collaboration beer, Fucking Classy Brut IPA. Both breweries will be popping corks on two continents with this new beer as its being released at the Gigantic Brewing Taproom and at the coveted Mikkeller Beer Celebration Copenhagen 2019 in Copenhagen.
Brewed with Mikkel Borg Bjergsø from Mikkeller Beer, Fucking Classy Brut IPA has been packaged in a very limited run of bottle conditioned 750mL cork and cage bottles. Brewed with champagne yeast, this bubbly brut has intense mango, apricot and melon hop aroma and flavor as it finishes dry and refreshing.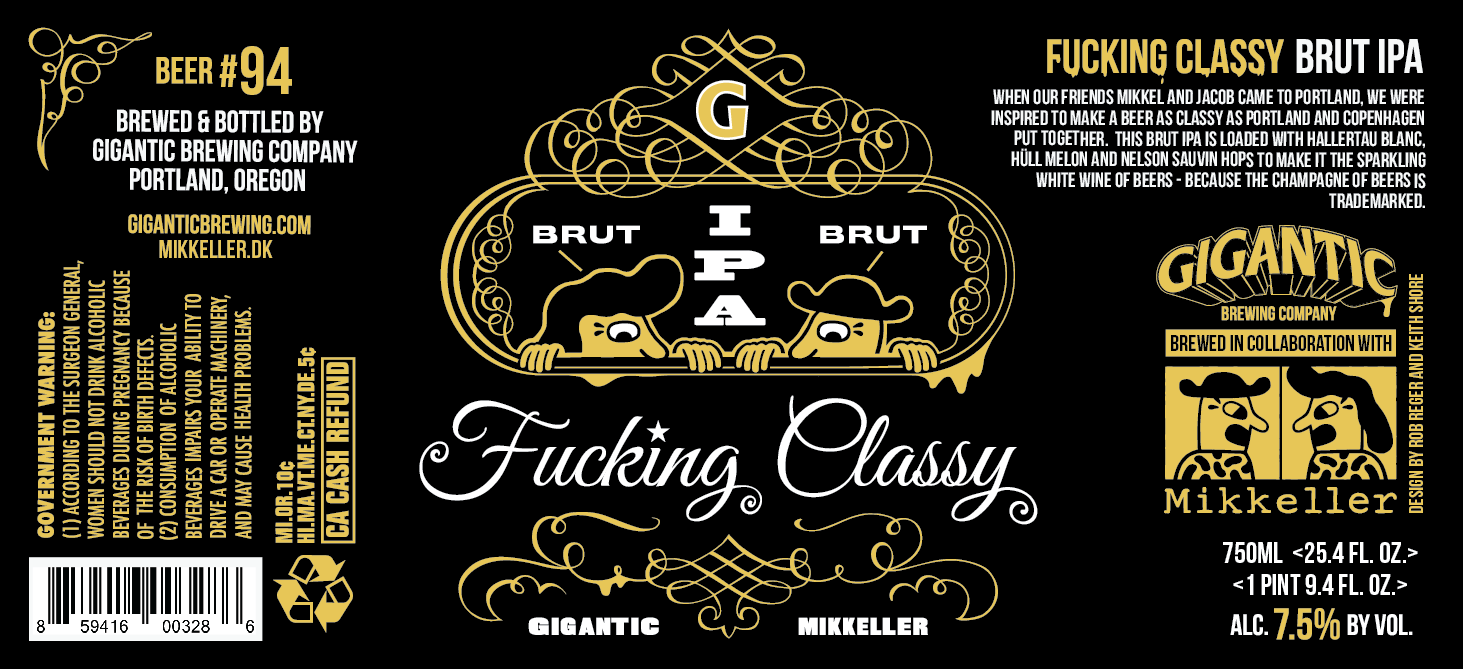 Fucking Classy Brut IPA is brewed with Hallertau Blanc, Hüll Melon and Nelson Sauvin hops leading to pronounced white wine and tropical aromas and flavors. In addition to these hops, the brewers used a mash bill of Pils, Flaked Rice, and Dextrose to bring this beer to a 7.5% ABV.
Popping Corks Party will take place on Friday, May 10th in both Portland and Copenhagen. The first release will be at the Mikkeller Beer Celebration Copenhagen where both Ben Love and Van Havig, co-founders of Gigantic will be attendance with Mikkel Borg Bjergsø. Then for us here in Portland, Gigantic Brewing's Taproom will host the release from 2:00-10:00pm where bottles will be for sale along with the beer being poured on tap.
So how did Gigantic receive label approval for this beer? Well since its only being released within the state of Oregon and also in Denmark, the brewery did not need to receive federal approval on the label via the TTB.
Gigantic Brewing will have only 40 cases of Fucking Classy Brute IPA available at $10 per 750mL bottle. The beer will also be available on draft in a limited amount in the Portland metro area.
Gigantic Brewing
5224 SE 26th Ave.
Portland, OR 97202