Hopworks BikeBar to Rebrand as Hopworks North Williams Pub & Beergarden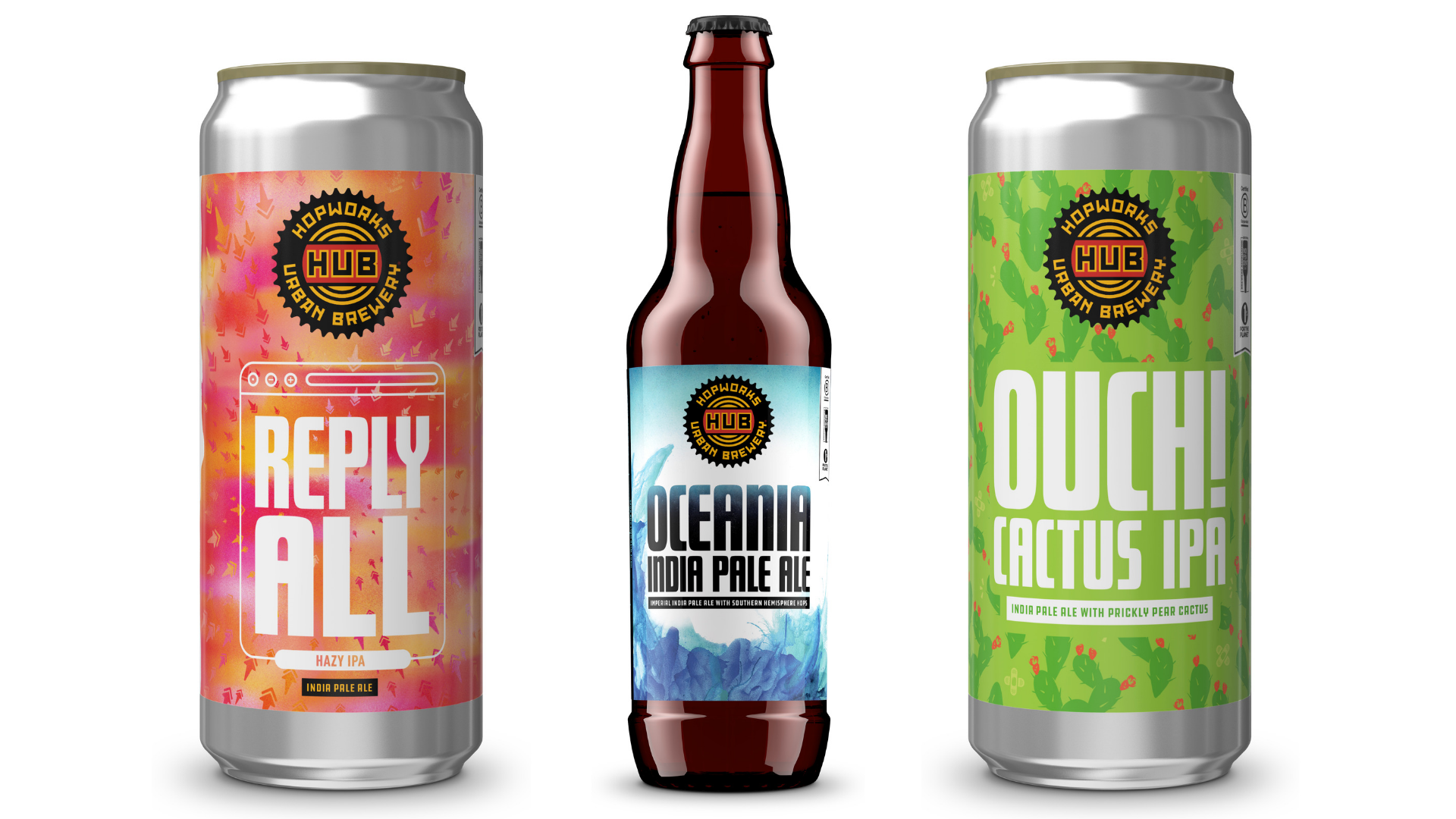 After eight years of being known as Hopworks BikeBar, the Hopworks Urban Brewery location on North Williams will be rebranded as Hopworks North Williams Pub & Beergarden. This updated location for HUB will host a public unveiling on Tuesday, April 2nd from 11:00am-11:00pm.
In addition to the new updated HUB location, the brewer will also release three new beers on Tuesday. The beers include Reply All Hazy IPA, Oceania IIPA, and Ouch! Cactus IPA.
During the re-opening on Tuesday, HUB will offer happy hour pricing all day with the debut of a new happy hour menu, a spring cocktail menu, kids arts and crafts with SpielWerk Toys from 11am to 2pm, and a DJ spinning beats from 5pm to 9pm. There will also be complimentary samples of three new beer releases mentioned earlier.
We stopped by BikeBar on Friday evening and noticed the only change during our visit on the inside was the removal of the tall bar tables that were situated across from the bar. In their place are shorter tables to create a more relaxed seating area. Also part of the new rebranding is what is described as a tented and heated beergarden. Well it's the same back patio as before with a tent that has been erected.
"We wanted to add a beer garden that offers a respite from the hustle and bustle of daily life," explained Christian Ettinger, Hopworks founder and brewmaster in a statement. "Pubs have long been the social center of great communities, and we hope the North Williams community will consider us their home away from home."
Other new additions to the Hopworks North Williams Pub & Beergarden are a refreshed play area for kids, new seating arrangements inside, new signage, and a fresh coat of paint.
In addition to the brewery celebrating the relaunch of its North Portland pub it will release of three new beers, each described below.
Reply All is a hazy, juicy IPA brewed with Eldorado hop-hash, Idaho 7, Mosaic, and Strata hops for notes of pineapple, tangerine, and spruce with a silky-smooth body. It will be available on draft and in 16 oz. cans.
Oceania is an Imperial IPA with a light malt body to showcase hops from Australia and New Zealand. This IPA was brewed with Dr. Rudi, Green Bullet, Vic Secret and Rakau hops, offering bright, tropical, and sticky notes with a wave of passionfruit, lime and papaya for an incredibly drinkable, boozy IPA. It will be available on draft and in 22 oz. bottles.
Ouch! Cactus IPA is a beautiful light pink beer hopped and fruited to the rafters with the prickly pear fruit of the Nopal cactus. This pale ale blends medium malt body and hops with the slightly tart, bright flavor of prickly pear cactus fruit. Dry hopping gives a lemon zest and citrus aroma that "pears" well with the succulent prickly pears. It will be available on draft and in 16 oz. cans.
The Hopworks North Williams Pub and Beergarden is located on the ground floor of ecoFLATS, a pioneer in sustainable construction on North Williams, with a roof featuring 20 kW of photovoltaic solar panels, as well as solar hydronic heating and an incredibly tight envelope. The bike highway on North Williams Ave. carries 3,500 thirsty cyclists by Hopworks front door each day. Hopworks originally opened at the location in the summer of 2011.
Hopworks North Williams Pub & Beergarden
3947 N. Williams Ave.
Portland, OR 97227

About The Author
DJ
D.J. is a Portland, Oregon based writer that spent his formative years in the Midwest. With over 25 years under his belt of drinking beer at festivals across America and the world, he has developed a strong appreciation and understanding of craft beer and the industry that surrounds it. He can be found in any of the great breweries or beer bars that make Portland the best beer city in the world. His writing can also be found in the archives of Northwest Brewing News and can be followed on Twitter and Instagram at @hopapalooza.