Hopworks Urban Brewery Handmade Bike & Beer Festival Returns October 3-4
|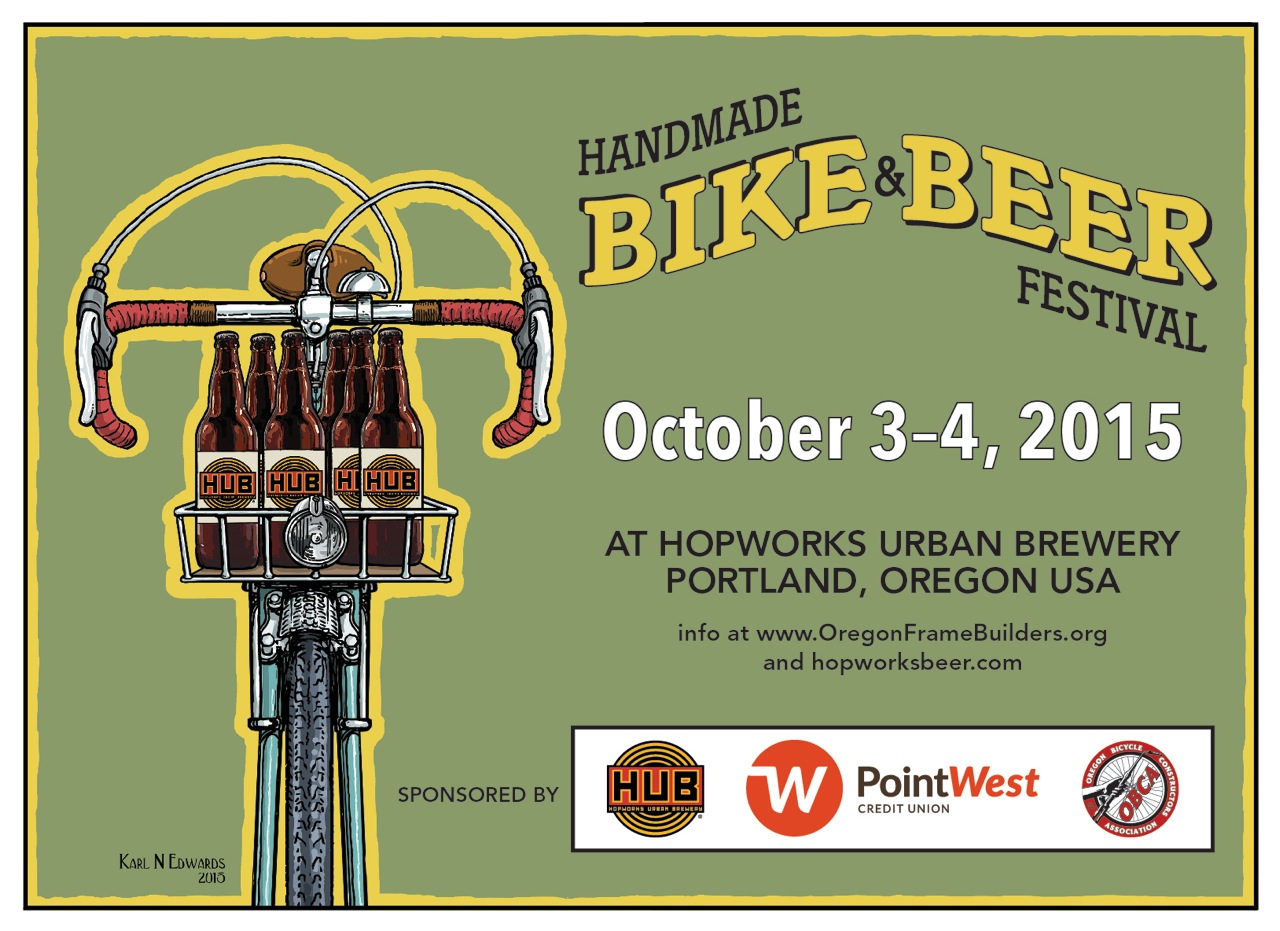 Returning to Hopworks Urban Brewery for its second year is the Handmade Bike & Beer Festival. This event replaced what was once known as Hopworks' Biketobeerfest and now includes a much larger format including a bicycle show and takes place over two days. The family friendly bicycle and beer festival will take place on Saturday, October 3 from Noon to 9:00pm and on Sunday, October 4 from Noon to 5:00pm.
The Handmade Bike & Beer Festival is also the result of teaming up with the Oregon Bicycle Constructors Association's (OBCA) Oregon Handmade Bicycle Show and adding this to the already established Biketobeerfest. The result is a weekend-long event featuring the renowned bike frame and parts builders living in our region, and the craft beer industry that makes Portland the best beer city in the country.
This year's festival will feature over thirty custom bike-frame builders, local handcrafted beer from a variety of breweries, Hopworks' food specials, and fun and games for all. Activities include the classic Huffy Huck bike-throwing competition, New Birth Break Dancers, Flatlanders BMX stunt crew, and adult-sized trikes.
Advanced tickets are now on sale and can be purchased online here or at the gate on the day of the events. Entry prices are as follows:
$10 = Entry to the festival
$25 = Entry + commemmorative glass + 15 drink/food tickets
$40 = Entry + glass + 15 tickets + t-shirt
$45 = Date Night at HBBF – 2 entries + 25 tickets + 2 glasses
$10 = Packet with ten extra tickets
4 oz. beer taste is 1 ticket, or 2 tickets for Imperial beer. A pint is 4 tickets and food items run between 1 – 8 tickets.
Since this is a family event kids 15 and under are free to enter. Dogs on the other hand are not allowed.
Bike Builders and Vendors:
Bike Friday, Black Magic Paint, Breadwinner Cycles, Caylor Cycles Retooled, Cielo/Chris King Precision, DiNucci Cycles, Framebuilder Supply, Helavna Cycles, Henry James Bicycles, Hi Fi Sound Cycling Components, Igleheart Custom Frames and Forks, Karl Edwards Illustration, Machine Bicycle, Magic Cycle Werks, Mahall Bikeworks, Mjolnir Cycles, Muirandessi Cycles, Norther Cycles, Paul Component Engineering, Pioneer Bicycle, Portland Fender Company, Rain Bicycles, Risse Racing Technology, Rolf Prima, Strawberry Bicycle, Thursday Bicycles, Ti Cycles, United Bicycle Institute, Zen Bikes, and more to come.
Beer and Cider:
Breweries and Cideries include Base Camp Brewing, Hopworks Urban Brewery, Laurelwood Brewing, New Belgium Brewing, pFriem Family Brewers, Reverend Nat's Hard Cider, The Commons Brewery, Widmer Brothers Brewing, Worthy Brewing, and more to come.
Handmade Bike & Beer Festival
Hopworks Urban Brewery
2944 SE Powell Blvd.
Portland, OR