Hopworks Urban Brewery Hosts The 2017 Oregon Brewers Brunch
|
It's never too early to prepare for the summer's larges beer festival when the Oregon Brewers Festival kicks off on Wednesday, July 26th at Noon. But the real fun begins three hours prior when Hopworks Urban Brewery hosts the 2017 Oregon Brewers Brunch at The Redd (831 SE Salmon St.) from 9:00-11:30am.
Tickets for the Oregon Brewers Brunch, the annual kick off to the Oregon Brewers Festival, will go on sale this coming Monday, May 15, at 9:00am at OregonBrewFest.com. Tickets Brunch tickets cost $49 apiece, which includes brunch, two Hopworks beers, a souvenir T-shirt (new design this year), the OBF official tasting mug and your first five tokens. With only 600 tickets available don't delay as this event always sells out. Please note, the brunch is for ages 21+.
The Oregon Brewers Brunch will feature the following: Seasonal Fruits, Biscuits and Honey, Smoked Salmon, Bagels, Bacon, Beer Braised Sausage, Rosemary Roasted Potatoes with Onions and Peppers, Tofurkey ESB Braised Scramble with Vegan Eggs, Sausage and Eggs Scramble, Cider Braised Corned Beef Hash, Cheddar Grits, Stout Pancakes, Biscuits and Gravy (Sausage or Mushroom Gravy), Nossa Familia Coffee, Tea and Juices.
Then as the brunch winds down towards 11:30am, the Oregon Brewers Parade will begin to assemble out in front of The Redd. No brunch ticket is needed to participate in the annual parade to the Oregon Brewers Festival and all ages are welcome to join in on the fun.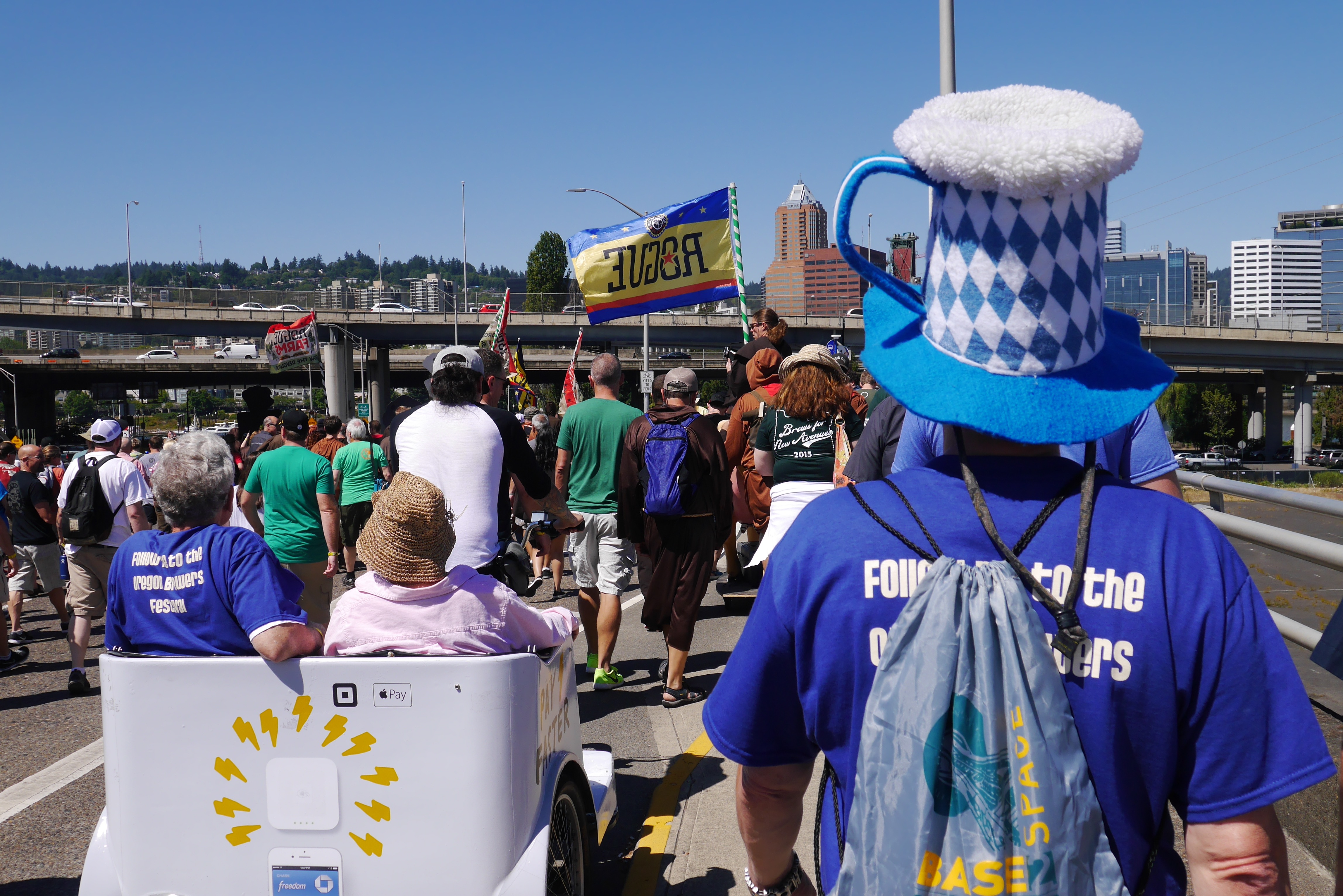 Grand Marshal John DeBenedetti of F.H. Steinbart Co. will lead the 2017 parade. The parade route will go from The Redd to Madison, cross the Hawthorne Bridge over the Willamette River, and end up on the grounds of the Oregon Brewers Festival at Tom McCall Waterfront Park in time for the opening ceremonies of the 30th annual Oregon Brewers Festival. Also joining in on the parade will be Brass Roots Movement along with the Rogue Overflow Brunch from the Rogue Eastside Pub & Pilot Brewery. Anyone with a mug and a wristband gets their first beer free at the ceremony! Cheers to that.