Hopworks Urban Brewery – Vancouver Presents 2018 Cascadian Beer Fest
|
As Hopworks Urban Brewery continues its 10th anniversary celebration throughout 2018, it has announced the beer list for its next festival, 2018 Cascadian Beer Fest. This inaugural fest will take place on November 10th from 4:00-9:00pm at its Vancouver brewpub.
The Cascadian Beer Festbrings together twelve breweries from across the Cascadian Region to brew special beers inspired by Cascadia and brewed with ingredients from Cascadia. Inspired by the mission of 1% For The Planet, each brewery will also donate a portion of their beer's proceeds to an environmental organization from their region.
Cascadia refers to the bioregion that encompasses the drainages of the greater Columbia and Fraser Rivers. This territory, extending over half a million square miles includes most of Washington, Oregon, British Columbia, and parts of Northern California and Idaho.
The full beer list is listed below.
HUB Cascadian Beer Fest Beer List:
54-40 Brewing Co' – Washougal, WA
Restoration Ale – NW Pale Ale brewed in collaboration with Steigerwald Wildlife Refuge and the Columbia Gorge Refuge Stewards. The Stewards efforts preserve and maintain the Steigerwald Refuge through public education, advocacy and habitat restoration. 5% ABV
Nonprofit: Gorge Refuge Stewards
Ashtown Brewing Company – Longview, WA
Eufaula Wet Hop IIRA – NW imperial red brewed with Washington base malt and loads of fresh, locally grown hops. Ashtown's Eufaula Farm has been providing hops for their wet hop beer series since 2013. 8.2% ABV
Nonprofit: Lower Columbia School Gardens
Barbarian Brewing – Boise, ID
#Cascadia – Brut IPA made with Mecca Grade Malt and Idaho hops and hop hash. 7% ABV
Nonprofit: Idaho Rivers United
Cascadia Ciderworkers United – Portland, OR
Cranberry Dry – This cider starts out as a true dry cider, made with the finest American dessert apples and crafted with Belgian beer yeast. For this special event, we added cranberry juice from Starvation Alley Cranberry Farms. 6.2% ABV
Nonprofit: Opal Creek Ancient Forest Center
Eel River Brewing Company – Fortuna, CA
Fortuna Fog_ – A Cascadian sourced Fall IPA, featuring Organic Copeland Pilsner Malt, Caramel Steam, and Flaked Rye. Bright red in color, with a dry, crisp finish from a generous dose of resin packed Amarillo hops from the Yakima Valley's Puterbaugh farms. 7% ABV
Nonprofit: Eel River Watershed Improvement Group
FiftyFifty Brewing Company – Truckee, CA 
CAPA (California Pale Ale) – Our hat tip to the timeless and tasty West Coast Style Pale Ale, which offers a fantastic floral aroma, bursting with hop character. Citra hops dance around your palate on this easy drinking, semi-hazy pale ale. An exceptionally smooth, medium-bodied malt finish rounds out this deliciously drinkable and balanced pale ale. 5.4% ABV
Nonprofit: POW (Protect Our Winters)
Fortside Brewing Company – Vancouver, WA
Grande Couve – A beautiful Washington beer brewed entirely from products of our beautiful state. This Belgian Dark Strong has a pilsner malt base produced by our friends at Mainstem Malt and a bit of dark malt from Skagit Valley Malting. 225 pounds of Pinot Noir grapes from White Dog Farms in La Center, WA give this complex belgian beer another layer of subtle cherry and dark fruit notes. 10% ABV
Nonprofit: TBD
Hopworks Urban Brewery Vancouver – Vancouver, WA
Grizzly Snacks – A strong amber ale fermented with Idaho huckleberries from Priest Lake. All the malt was malted by Great Western Malting in Vancouver, Washington and the hops were all came from Oregon and Washington. 6.8% ABV
Nonprofit: Washington Wild
Hopworks Urban Brewery Vancouver – Vancouver, WA
Salish Blue – Hazy IPA made with Salish Blue wheat malt. Salish Blue was developed at Washington State University by breeding wheat and wheat grass to make a perennial grain. It also features Strata hops, which were developed by Oregon State, and Indie Hops. 6% ABV
Nonprofit: Washington Wild
Payette Brewing Co. – Boise, ID 
Foothills Hazy IPA – Resiny, slightly tropical hop profile. Big sweet fruit note highlighting tropical flavors. Pure Idaho Pilsner Malt. Idaho 7 hop hash grown and processed in Parma, Idaho.
6.5% ABV
Nonprofit: Ridges to Rivers
Pelican Brewing Company – Tillamook, OR
The Grapes of Mash – A collaborative project with Ransom Winery in Sheridan, Oregon, using fresh Gewurztraminer juice fermented in a pale Saison base beer. This Belgian-inspired fruit beer has a pale color, lean body, and a dry finish. Spicy, fruity aromatics highlight both the Saison yeast and the grapes, while a slight earthy floral note adds accent via Oregon-grown Golding hops. 8% ABV
Nonprofit: Salmon Superhighway
Persephone Brewing Company – Gibsons, BC
Coast Life Lager – Crisp and refreshing! We brew our Coast Life Lager entirely with hops grown on our 11 acre farm in Gibsons, BC. All barley is also from British Columbia. 4.5% ABV
Nonprofit: Sunshine Coast Association for Community Living (SCACL)
pFriem Family Brewers – Hood River, OR
Abrikoos – 2.7 lbs. per gallon of fresh apricots from Mosier, Oregon aged in barrels previously used for Oregon Pinot Noir. This may seem like a lot of fruit, but the aromas of grape, and cantaloupe and tart notes of baked lemons and pineapple nectar don't lie. It's just right! 5.4% ABV
Nonprofit: TBD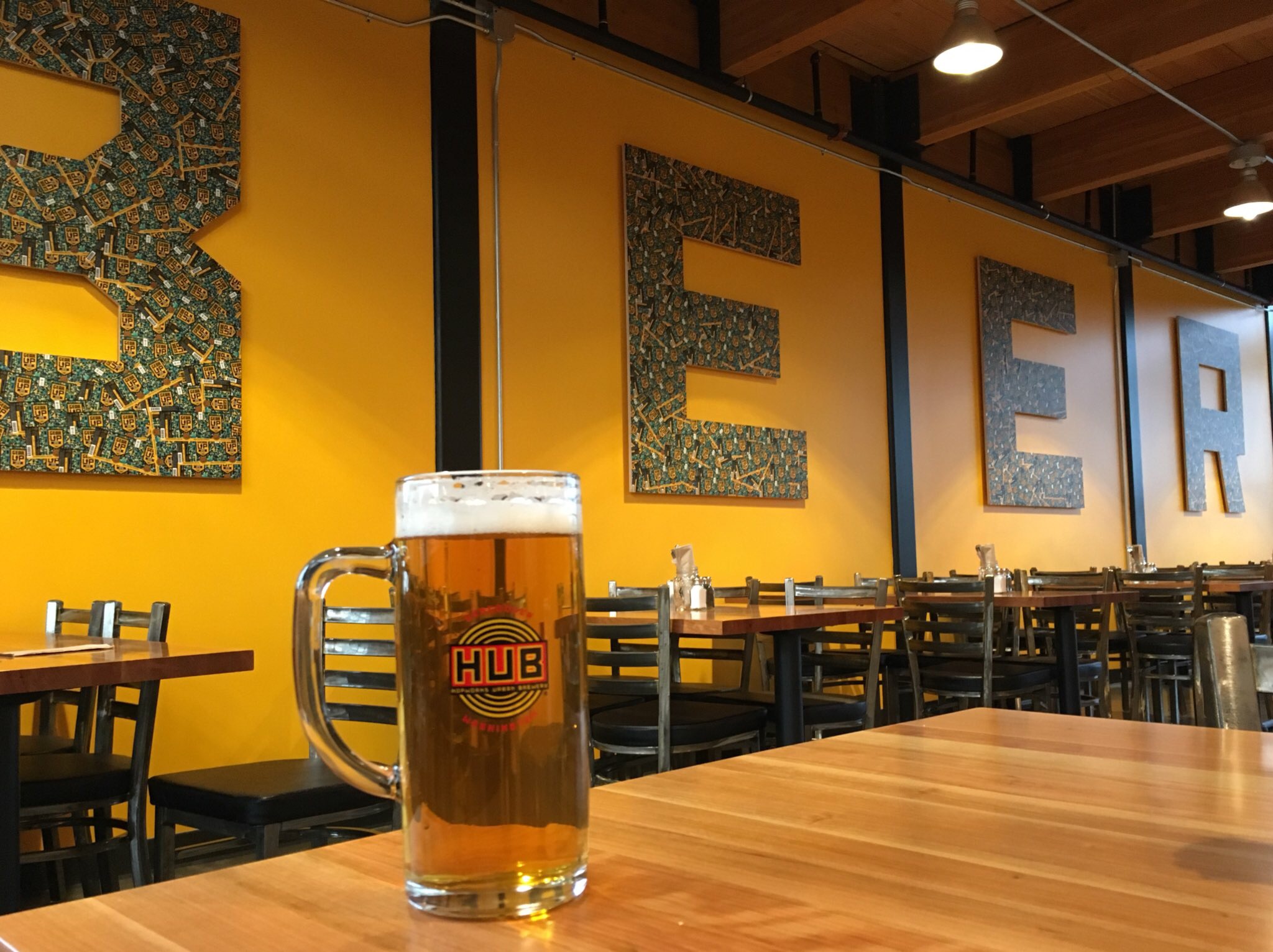 Tickets to the 2018 Cascadian Beer Fest are now available. Advance tickets are $20.00 and includes a HUB Chalice and 5 drink tickets. Pours are 8oz and most beers will be 1 ticket per pour, and additional tickets can be purchased for $3 each. Tickets can be purchased HERE. If any of the 150 total available tickets are still available the day of, entry will be $25.00 on November 10th.
The full HUB Vancouver food menu will be available to festival ticket holders. Stay warm on the (mostly covered) patio with a fire pit and heaters. While the event itself is only open to adults, the brewpub will be open for regular family-friendly dining.
Hopworks Urban Brewery – Vancouver
17707 SE Mill Plain Blvd.
Vancouver, WA 98683