Inaugural Portland Craft Beer Festival Takes Place Over 4th of July Weekend
|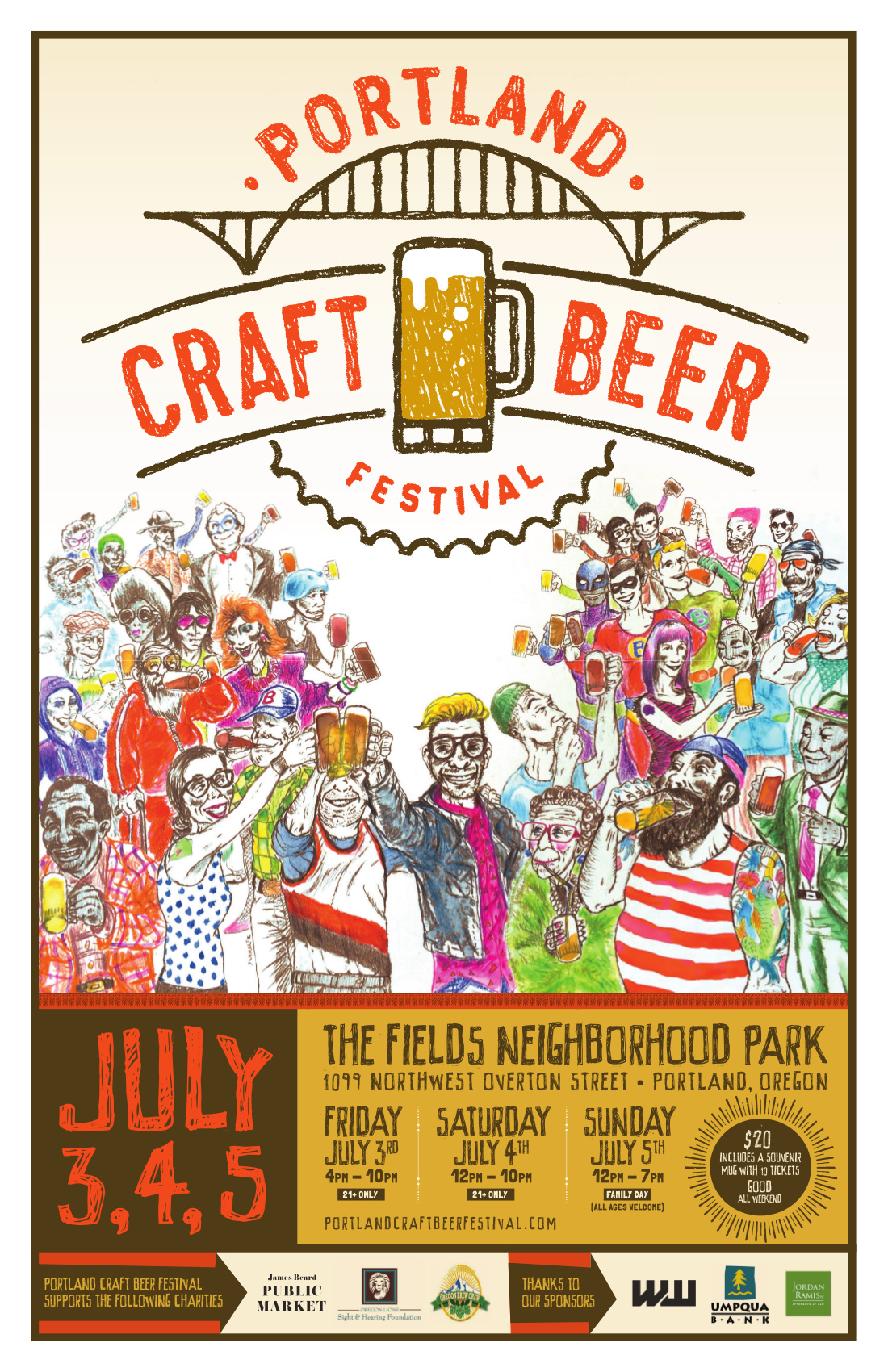 Taking place over the 4th of July Weekend will be the inaugural Portland Craft Beer Festival (PCBF) at The Fields Neighborhood Park in Portland's Pearl District. Yes, its only Tuesday but we have our mind set on the weekend but why wouldn't we with this first year festival that will feature beers from breweries that brew here in Portland.
This location of The Fields Neighborhood Park for the PCBF is one of the finest in the city for a drinking event as evident from the past two years of Cider Summit PDX being held there. The nice circular park offers comfortable, lush grass perfect for lounging out on. Plus the park is convenient to downtown and public transportation with the Portland Streetcar line along with a few TriMet bus stops near by. It does lack shade during the heat of the day so come prepared with sunblock and make sure to hydrate well for this weekend's continued heatwave. We hear that the PCBF organizers will be providing mister tents and serving beer slushies from BTU Brasserie.
The PCBF will kick off on Friday at 4:00pm with a Ribbon Cutting Ceremony and will continue through 10:00pm. It will reopen on Saturday from Noon to 10:00pm and then on Sunday its Family Day from Noon to 7:00pm.
On Saturday, July 4th at 3:00pm the first four inductees of the Portland Beer Hall of Fame will be unveiled. The Beer Goddess herself, Lisa Morrison, will announce the inaugural inductees! Ballots will be available at the fest to vote on next year's inductees.
There will also be a raffle to win the original PCBF original poster drawn by local artist Wilder Schmaltz. The winner will be announced later in the afternoon on Saturday. All proceeds from the raffle will benefit the CaskAide charities.
Then on Sunday to close out the inaugural PCBF, it will be Family Day. The fest will start the day with a yoga class for both children and adults at 11:00am (before the beer starts pouring at noon!). PCBF will be open to all ages until 7:00pm. There is no charge for children's admission. There will be a children's market with a variety of crafts created by kids, free vision testing by The Oregon Lions Sight and Hearing Foundation, face painting, and Ruby Jewel ice cream.
Advance tickets are still available through midnight, July 2nd. Remember you receive 15 beer tickets if you purchase your mug in advance, and only 10 tickets at the door! Your mug is good all weekend whether you attend one day or all three days. Additional tickets will be available for purchase at $1.00 apiece.
BEER MENU
10 BARREL BREWING
Blueberry Lemon Gose 10 IBU 5.0%
Pearl IPA 80 IBU 7.60%
13 VIRTUES BREWING
Rip City Red 50 IBU 6.00% American Amber/Red Ale – For people who love IPAs but like a little more malt sweetness. We use American 2-row, Munich, Carapils, Crystal-15 and Crystal-120, and a little chocolate malt to add some oomph. We then throw in Palisade, Calypso, and Centennial hops for a balanced, drinkable beer. Cheers!
45th Parallel IPA 60 IBU 7.00% – American IPA – Oregon's Willamette valley is on the 45th parallel, which is the same as Germany's famous hop-growing region. Reflecting that balance, our IPA is just that – a classic parallel. We use American 2-Row, Vienna, Carapils, and Crystal-40 to provide a solid, substantial malt backbone. We then add a cavalcade of "C" hops: Cascade, Centennial, Crystal, Columbus, and Citra to give you a big citrusy, floral hop smack right in the kisser.
ALAMEDA BREWHOUSE
P-Town Pilsner 20 IBU 4.00% –  Our house session Lager. This is your quintessential dry, clean and crisp German Pilsner. With a bready aroma, great Pilsner malt flavor and a slightly hoppy finish for balance. The perfect beer to beat the summer heat.
Yellow Wolf IPA 90 IBU 8.20% – With over 90 IBUs Yellow Wolf has enough eye-popping intensity to satisfy even the most ardent hopheads. It has bright piney nose and light golden color. We suggest pairing it with sunshine.
BAERLIC BREWING CO.
Eastside Oatmeal Pilsner 50 IBU 6.00% – Traditionalists would curse our additions of raw oats to this style of beer, but we just love the texture it adds. And it pairs perfectly with the spicy and fruity flavors & aromas of locally grown Sterling and Santiam hops.
Primeval Hoppy Brown 60 IBU 6.80% – A NW take on an American Brown Ale. Aromas of evergreen, cocoa & sweet orange dance with biscuit, roast and malty sweetness that finishes dry with bittersweet chocolate and citrus.
BASE CAMP BREWING
Hop in the 'Pool 22 IBU 4.90% – Late-hopped Helles
Pilgrimage Saison 29 IBU 7.10% – Saison
BREAKSIDE BREWERY
India Golden Ale 80 IBU 8.10% – Double IPA/This double IPA is the lightest, hoppiest beer you'll ever try.  It's loaded with tropical and fruity notes from Mosaic, Eldorado and Chinook hops and has a light body that really allows the hop flavor to shine. Originally a collaboration with Ninkasi Brewing, this beer is now a staple of our seasonal lineup.
Feelgood Flagship India Pale Ale 70 IBU 6.40% – IPA/This light copper beer has huge citrus and tropical fruit aromas, with hints of perfume and pine. Flavors like apricot, guava, and orange hit the tongue accompanied by a mild evergreen note. There's just enough caramel sweetness to balance the hop flavors, showcasing the beautiful varieties of hops grown in the Northwest.
BRIDGEPORT
Conviction Pale Ale 40 IBU 5.2% – brewed with Pale and Munich malts, Conviction Crystal Dry-Hopped Pale Ale delivers a fresh citrus aroma and balanced flavor true to its Northwest roots
Stumptown Tart 15 IBU 7.7% – Superbly crisp and always refreshing, this year's Stumptown Tart is brewed with fresh Northwest raspberries. With an irresistibly tart finish, you'll never want to put her down.
BURNSIDE BREWING
Other IPA 70 IBU 7.0% – The Other IPA utilizes copious amounts of Meridian, Mosaic, and Amarillo's, some of our favorite hop varietals. Other IPA's hop profile is aptly balanced with a specialty malt backbone to match its hop profile. Don't tell our original IPA, it'll be our little secret.
Sunsplash Kölsch 18 IBU Sunsplash begins as a German style Kolsch Ale brewed with premium pilsner malt and a touch of wheat and Munich malts. We then add Tettnanger hops, and ferment with the German ale yeast at 59 degrees to create a crisp, dry, and thirst quenching beer. With the aromatic additions of Caribbean Sorrel (a relative of Hibiscus), Thai Ginger, & Fresh Orange Zest, it's designed after a popular Jamaican beverage in honor of the famed reggae festivals of the 70's-90's.
BTU BRASSERIE
Balk 21 IBU 7.50% – Bock
Ghost Man White Lager 16 IBU 5.30%
BUCKMAN BREWERY
Buckman Ginger Pale Ale 20 IBU 6.00% – A malt forward pale ale brewed with freshly ground ginger.
CASCADE BREWING
Sang Rouge 8.4% – NW style sour ale is a blend of Reds ales aged in oak wine barrels and oak foudres for up to three years. Rich and complex, the 2013 Sang Rouge exhibits flavors of plums, aged red wine, currants and oak with tart lactic acidity and a lingering finish.
Strawberry 7.1% – This NW style sour ale is a crisp refreshing wheat beer barrel aged for 12 months, then aged on strawberries and vanilla for three more. Bright sweet strawberries and rich jam notes are noticed up front. A bright tartness and berry sweetness intermingles on the palate, giving way to light, and sparkling fresh berry tartness with hints of vanilla cream in the finish.
Pay Czech CIA  40 IBU 6.3% – Czech India Ale
Portland Ale  26 IBU 5.0% – Combining German Pilsner malt and Noble aromatic hops make this light bodied, straw colored ale the perfect choice for lager drinkers
COALTION BREWING CO.
Salty Beach – Sea salt lime Kölsch
Space Fruit Citrus IPA 76 IBU 7.0%  – A special seasonal India Pale Ale brewed with five different citrus zests, accompanied with a light malt backbone to give a substantial dry and tasty west coast finish.
Farm-to-Market IPA  65 IBU 6% – In honor of Zupan's 40th Anniversary and Portland's summer bounty, Zupan's Markets and Coalition Brewing have partnered together to create this one-of-a-kind IPA, dry-hopped with Ella and Galaxy hops for a citrusy and tropical nose that's balanced by its malt base and 250 pounds of local marionberries grown by Columbia Farms on Sauvie Island.
COLUMBIA RIVER BREWING
Columbia River Brewing Pale Ale 52 IBU 6.60%
Extra Special Bitter 37 IBU 5.50%
COMMONS BREWERY
Myrtle 19 IBU 5.20% – Tart, dry hopped farmhouse ale
Urban Farmhouse Ale 14 IBU 5.30% – Simple refreshing farmhouse ale
Fleur de Blanc 5.8% – White Farmhouse ale with elderflowers & rose
DESCHUTES
Cyclist Radler 7 IBUS 3.8% – Traditionally known as a Radler in Germany this beer is a mix of our German Hefeweizen and Lemonade to create a deliciously light and refreshing beer.
Pinedrops IPA 70 IBU 6.50% – This lively IPA delivers a crisp and light malt body with ample citrus and pine notes from Chinook and Equinox hops. Inspired by the aromas and silence we experience when exploring the scenic pine forests just up the road from our brewhouse.
ECLIPTIC
Aurora Crimson Saison 28 IBU 5.00% – Our Aurora Crimson Saison is a summertime refresher. Its light malt flavor is accentuated by spicy Belgian yeast character and balanced with Sterling hops. Aurora's crimson comes from rhubarb, which adds a radiant tart character to the beer.
Orbiter IPA 75 IBU 7.40% – Orbiter IPA unites a constellation of "C" hops (Cascade, Centennial, Chinook, and Columbus) to create a formidable India Pale Ale. Bright and citrusy hop flavors and aromas shine in a medium body with caramel malt character.
EX NOVO
Pre-Prohibition Lager 14 IBU 6.90% – A style mostly gone but not forgotten, the way lagers were crafted before prohibition. Pilsner malt along with a little adjunct for authenticity.
Casual Ex 50 IBU 4.90% – Session IPA. Featuring Citra, Amarillo and Simcoe hops, a bright refreshing hop showcase that drinks easy all summer long
FAT HEADS BREWING
Jack Straw Kölsch 25 IBU 5.30% – Kölsch. Light, crisp German ale with a slight fruit finish
Sunshine Zest 60 4.90% – Session IPA. Big hop aromas with flavors of citrus, peach, orange and tropical fruit with a nice light malt backbone, topped off with some citrus zest.
FOTM BREWING CO.
Electric Mud 30 IBU 6.60% – Chocolate Oatmeal Stout. "Well you know when I plug into your socket, I can charge you like no one else can." – Muddy Waters
Wonderin' Rye 43 IBU 5.0% – Our house session ale brewed with a hefty base of rye malt for a crisp dry finish.  This golden ale is light, refreshing, and a perfect palate cleanser on a hot summer day.  Drink up and don't ask any more questions.
GIGANTIC BREWING
SOLID! 6.00% – Hoppy American Wheat. Who says American wheat beers need to be mild flavored? Not us. Were redesigning what wheat beer can be – boldly hoppy, crisp, clear(ish) and absolutely solid!
Ume Umai 7.50% – Plum & Black Rice Beer. Inspired by the Japanese flavor palette, we combined plums, black rice and pilsner malt to make a unique beer experience. Brewed "dry" in the Asian manner, and soured in the kettle to give just a hint of tartness, Ume Umai is fruity, yet earthy and above all refreshing and delicious.
HAIR OF THE DOG
Adam 10.00% – Our first beer, dark and rich with notes of chocolate, leather and smoke
Fred 10.00% – Golden Strong Ale produced with Pilsner, Rye and Belgian candi sugar
HOPWORKS URBAN BREWERY
Golden Belgian with Grapefruit 50 IBU 6.50% – Made with Duvel yeast
Pig War 60 IBU 6.0% – White India Pale Ale named for the 1859 standoff between British and American forces on San Juan Island; made with Hard Red Spring wheat grown on San Juan Island; tart wheat flavors with medium body
HUMBLE BREWING
Saaz Saison 38 IBU 5.80%  – Pils, Munich and white wheat malts, Saaz hops, fermented with French Saison yeast provide a clean, slightly tart easy drinking saison.
Lo & Behold 4.9% – A kettle-soured Saison with big tropical notes; a thirst quencher
KELLS BREWPUB
Kells Summer Lager 18 IBU 4.20% –  Lager, dry hopped and packed full of citrus notes
Kells Irish Red Ale 24 IBU 4.50% – Irish Red Ale
LAURELWOOD BREWING
Laurelwood Gose 7 IBU 4.5% – Gose is an old wheat beer style originated in Leipzig, Germany. It is a beer that uses Lactobacillus bacteria, similar to what is used in yogurt or sauerkraut, to acidify the beer giving it a tart, lemony flavor. Goses are spiced with coriander and salt to give them a deep and savory character that balances nicely with the tart finish. We used Jacobsen Sea salt from the Oregon coast to give it a rich sea salt flavor. The beer itself is hazy and light, like many wheat beers, and is very refreshing.
Rando IPA
Rye Pale Ale 30 IBU 5.0% – Collaboration with Dustin Kellner of Worthy Brewing in Bend, OR.
LOMPOC BREWING
Saison de L'evolution 25 IBU 5.80% – This is a hazy Belgian style farmhouse ale that is dry and crisp. Made with candied ginger, lemon and orange peel, and coriander.
Pamplamousse Citrus IPA 70 IBU 5.80% – Deep golden medium bodied IPA. 4 varieties of hops and real grapefruit added at the end of fermentation
THE MASH TUN
Razorback Red
Alberta Street Pale Ale 5.4%
MCMENAMINS CRYSTAL
Stephenweizen 28 IBU 5.5% – Named after our brewer, we have made a traditional style Bavarian wheat (weizen) beer. The part that makes it so unique is the yeast, Weihenstephan is the strain used and it is known for producing flavors of spicy clove and banana. This weizen has medium body and the texture of wheat imparts the sensation of a fluffy, creamy fullness that progresses to a light, spritzy finish aided by high carbonation. This beer is effervescent and supremely satisfying.
Diamond Head IPA 75 IBU 6.45% – Inspired by Diamond Head Crater on Oahu, this IPA has a beautiful lush aroma of pineapple and passion fruit. Mosaic hops are the main focus here and besides the bittering hop addition, the only type used. A favorite "IPA Hop" at Oak Hills, these vivacious hops are extremely limited due to their incredibly high demand. In addition to the whole flower Mosaics, this year we secured some Mosaic pellets, 1 lb/bbl were added straight to the fermenter taking the tropical fruit aroma to the next level.
MIGRATION BREWERY
Belgian Imperial Pale
PDX Kölsch 23 IBU 4.3%
NATIAN BREWERY
Knockback 18 IBU 4.40% – Mexican lager brewed with honey malt very little hop presence
McGuinness 9.20% – Imperial Milk Stout aged on Kahlua soaked oak. More of a smooth stout with a rich dark depth rather than boozy. This beer utilizes more chocolate malt than roasted barley that helps pronounce the smooth/silky qualities of a milk stout. The more this beer ages, the more the Kahlua soaked oak develops a slight vanilla flavor to compliment the roasty/chocolate profile.
OCCIDENTAL BREWING
Occidental Czech-Style Dark Lager 30 IBU 5.0%
Occidental Maibock  7.0%
OLD TOWN BREWING CO.
C.R.E.A.M. Get the money 30 IBU 5.00% – This pre-prohibition cream ale is what your great-grandparents would have drank at the turn of the 20th century.  It is a lighter straw colored beer with a slightly sweet aroma.  The flavor has a medium bitterness from the Santiam hops and finishes with a moderate malt sweetness.
Shanghai'd IPA 65 IBU 6.50% – A medium-bodied IPA with grapefruit, resinous and piney hop aroma, and tropical flavors derived from the Columbus, Nugget, Cascade, Liberty and Crystal hops.  These characters are delicately balanced by a touch of malt sweetness from the honey malt used in this beer. Complex in character, distinct in taste.
PINTS BREWING
Konvention Kölsch 25 IBU 4.9%  –  Brewed just like they do it in Cologne: German Pilsner and Wheat Malts, German Magnum hops for bittering, Hallertauer hops for aroma and a spicy note. Fermented slow and cool with an authentic Kölsch yeast strain (brought back from the Brewmaster's studies in Berlin), this Spring seasonal will delight those looking for an authentic German ale.
Red Velvet Cake 45 IBU 6.7% – Lee likes to pull out all the stops when coming up with her fascinating recipes.  This one has Belgian Pale, Caravienne, Honey Malt, Acidulated, British Chocolate, Lactose, Belgian Candi Sugar, a hose-plugging amount of cocoa nibs (ask her about cleaning the fermentor it was in…), and is hopped with Columbus (bittering) and Willamette (aroma) hops. And it's red. That is her secret ingredient (nothing artificial or nasty, trust us). It does indeed look like Red Velvet Cake. No joke! The flavor is malty with a zingy tartness, which is balanced with a silky mouthfeel.
PORTLAND BREWING CO.
S.M.A.S.H. 35 IBU 5.60% – Single Malt and Single Hop Pale Ale
Velvet Majestic 30 IBU 5.50% – White pale ale with lemon peel
PORTLAND U-BREW & PUB
Peach Saison 20 IBU 5.00% – Brewed with Belgian and American grains, 4 yeast blended and pure peach purée added to secondary fermentation. Sorachi Ace hops.
Grapefruit IPA 75 IBU 6.40%-  Brewed with wheat and Cascade/Centennial hops, American ale yeast. All natural raw fruit added
PYRAMID
IPA 55 IBU 6.30% – Indian Pale Ale with 5 hops
H7 IPA 80 9.50% – Unfiltered Imperial IPA with 7 hops
ROCK BOTTOM BREWERY
Pale Kung Pao 30 IBU  5.6% – A rye beer brewed with the traditional Chinese herbal remedy for hangovers, with tangerine peel, cardamom, ginseng and kudzu.
Kölsch 27 IBU  4.9% –  Easily the best beer you'll ever have.
ROYALE BREWING
Royale Pilsner 25 IBU 5.00% – Czech Pils
Fat Unicorn Pale Ale 48 IBU 5.50%
SASQUATCH BREWERY
Woodboy IPA 74 IBU 6.80% – Made with Centennial hops from the Willamette Valley and then dry-hopped with 3 pounds of Cascade hops after primary fermentation. The result? An intensely floral aroma and a luscious, citrusy flavor. This beer is for the true hop lover.
STORMBREAKER BREWING
Red Storm Rider 63 IBU 7.60% – We teamed up with the awesome brewers at WILD RIDE BREWING to create this Imperial Red aged for over 3 months in Bull Run bourbon barrels just for this awesome new festival. Aromas of oak and toffee, with notes of chocolate, lend way to extenuated caramel flavors with a smooth bourbon finish. Here's to you Portland!
Triple Double IPA 90 IBU 8.5% – With ten hop additions of three hop varietals, Mosaic, Citra, and Amarillo, this beer scores on your palate, rebounds in your nose with big aromas of grapefruit citrus and pineapple, and is assisted by the punchy, juicy citrus flavors to balance the slight upfront bitterness and big 8.5% ABV to make this a Rip City slam dunk.
UPRIGHT BREWING
Four 18 IBU 4.50% – Four is a wheat based table saison embodying the spirit of country style French ales with light floral tones and a dry, tart finish.
Engelberg Pilsner 35 IBU 4.75% – Made in a north German style, using a classic Munich lager yeast that showcases the simple recipe while providing plenty of character. Named after Mt. Angel, where the Tettnanger hops in this beer are grown, the Engelberg hits the palate with a firm bitterness but remains light and with a delicate balance.
UPTOWN MARKET BREWING
Hero IPA 50 IBU 6.00% – Straight out of the Uptown Brewery, this IPA is simply too fresh to inspire a hero-worthy description. Here's all you need to know: Brewed with a Pale Malt from Chile through a 90-minute boil, the Hero is well-bittered with Ella Hops from Australia, and Orbit hops from New Zealand for aromatics.
Uptown Session Ale 26 IBU 4.9% – A simply irresistible session ale brewed with Pale, light Crystal, and Rye Malt. A wonderful citrus and floral aroma from the Crystal and Horizon hops dominate the nose of this beer, but don't assault the palate with bitterness. This flavorful yet easy drinking beer is definitely one of our best selling local fan favorites!
WIDMER
Hefe 30 IBU 4.90% – America's Original Hefeweizen. Our naturally cloudy flagship brew features a bold, clean flavor and pronounced citrus and floral aromas.
Nordlander Pils 41 IBU 5.70% – This Northern German Pilsner has aromas of lemon zest and floral hop spice, features a light body with a graham cracker malt flavor and carries a firm bitterness.
CIDERS & WINE
CIDER RIOT!
Everybody Pogo – Hoppy cider
Never Give an Inch – Oregon blackberry cider
COOPERS HALL
Rose 12.90%
Sangria 13.00%
HI WHEEL
Fizzy Wine Ginger Lemon 6.8% – The one that launched them all, Ginger Lemon Spiffy is a lightly carbonated lemon wine infused with ginger; tart and refreshing.
Fizzy Wine Blackberry Habanero 6.8%
REVEREND NAT'S HARD CIDER
¡Tepache! 3.20% – A traditional Mexican drink made from fresh Costa Rican pineapples, Michoacan piloncillo sugar, and a blend of three spices. It is meant to be served mixed with a Mexican lager.
Revival Hard Apple 6.00% – Approachable medium-sweet cider with subtle familiarity and interesting complexity
SASQUATCH BREWERY
Berry Pie 6.85% – North West apples and blueberries are used to give this semi-dry cider a refreshing twist of happiness in a glass.
Vendors at PCBF include Floyds Coffee cart, Bunk, Farm to Fire Pizza, Urban German, The Dump Truck, Zymogear, Spencer Butte, Hip Furniture, Growlerwerks, a representative from Green Energy, Illustrated Playing Cards, Lyft, Cardamom Hills Trading Co., and – on Sunday only – Ruby Jewel Ice Cream.
To make PCBF run smoothly organizers are still seeking Volunteers for a few of their shifts. Volunteers are needed to pour beer at the festival. Each volunteer session is 3.5 hours and every volunteer will receive a PCBF t-shirt and mug/10 beer tickets. Those who work the last shift on Saturday, July 4th, will receive two mugs/20 tickets to use on Sunday so you can bring a friend.
Tickets are on sale in advance and will be available at the gate. Entry to drink will cost $20 and includes a keepsake mug and 10 beer tickets. 1 ticket will yield one 4 oz pour and 4 tickets will buy a full pour.
Advance ticket purchasers will receive 15 beer tickets. Additional tickets will be available for purchase at $1.00 apiece. Tickets will be available for advance purchase through www.PortlandCraftBeerFestival.com or directly through.
The festival will be a cash only venue. There will be two ATMs on site – one inside the festival and the other outside the gate. Bring your ID – both Friday and Saturday are 21 and over only.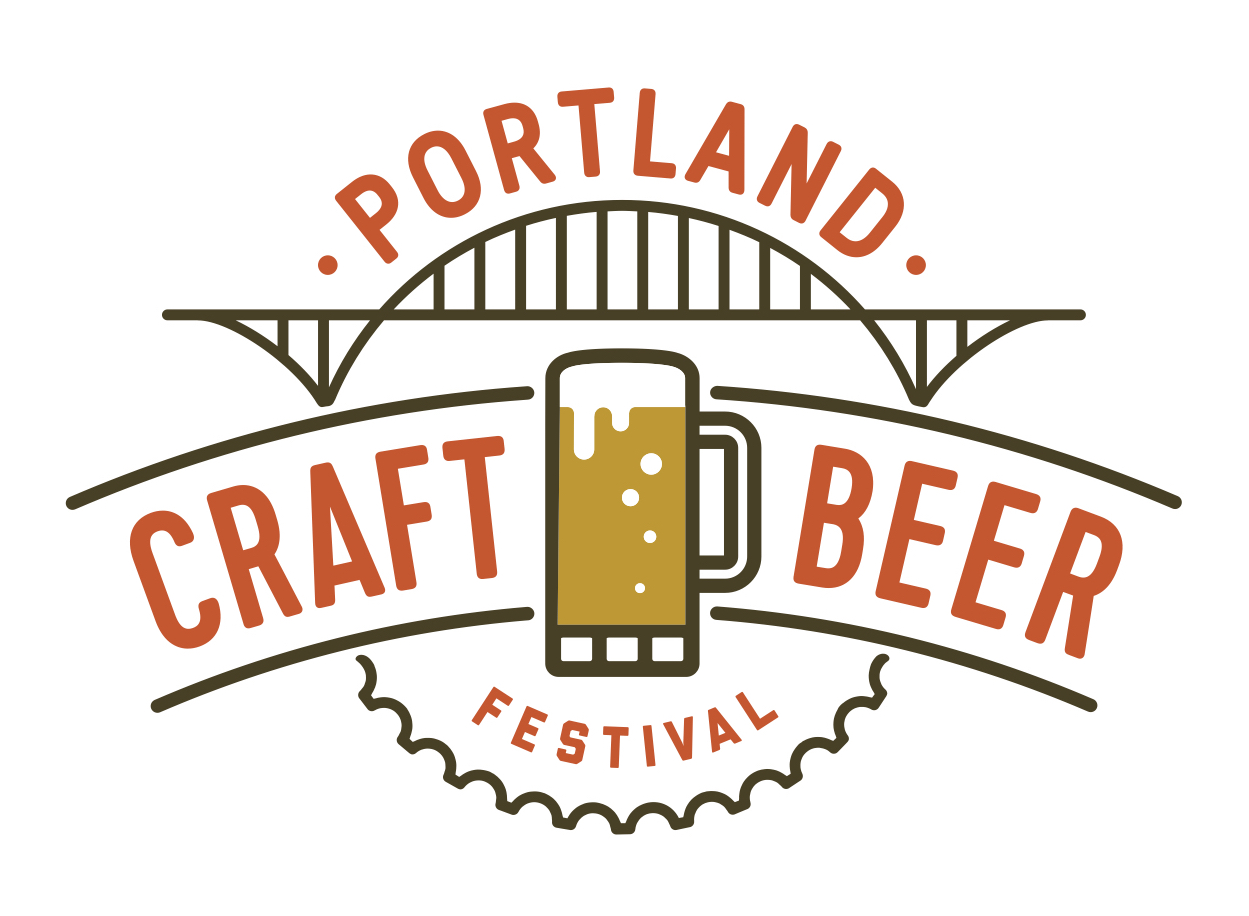 Please be responsible for planning your transportation to the PCBF. Attendees are encouraged to take public transportation or ride a bike. The Portland Streetcar conveniently stops a block from The Fields Neighborhood Park on NW Northrup. The fest will have a free bike valet, courtesy of Spinlister, The Global Bike Share. Present your valet parking stub inside the festival for 1 free ticket good for a 4 oz. pour.
PCBF will be partnering with Lyft for safe rides to and from the festival. Download the app and use the code "PCBF", redeemable by anybody new to Lyft for a free ride up to $20. Pedi-cabs will also be on hand. For those of you with designated drivers, there is a parking lot, Station Place Garage Lot 120, located at 720 NW Lovejoy Court, at the west end of the Broadway Bridge.
PCBF is a fundraiser for CaskAide, Inc. and its partner charities. CaskAide, Inc. was formed to partner with the PCBF with the intent of supporting Portland neighborhood interests through the promotion of local breweries. This year, the beneficiaries are the Oregon Lions Sight & Hearing Foundation, The James Beard Public Market and the Oregon Brew Crew. We can drink to that!
Portland Craft Beer Festival
The Fields Neighborhood Park
1099 NW Overton St
Portland, OR 97209