John's Marketplace To Host The 2016 Nano Beer Fest
|
With the festivals origins dating back to 2008, the Nano Beer Fest makes its triumphant return relocating from Max's Fanno Creek to John's Marketplace. This year the Nano Beer Fest will take place on Saturday, April 9 from Noon to 8:00pm and on Sunday, April 10 from Noon to 6:00pm.
Nano Beer Fest will feature 32 breweries, cideries, meaderies and braggot producers. There will also be craft soda for those looking for an alternative to alcohol from Crater Lake Soda and Heavily Brewing, a gypsy brewer of craft non-alcoholic beverages.
Entry to Nano Beer Fest is free but to drink the cost is $20.00 that includes a commemorative glass, 10 drink tickets and one raffle ticket. Please bring cash as credit cards will not be taken. There is an ATM on-site inside John's Marketplace. Parking is limited so please use mass transit!
New to the festival will be a Nano Brew Fest Preview Night that will take place on Friday, April 8 at The Commons Brewery in Southeast Portland. From 5:00 to 10:00pm look for six participating nano-breweries to be pouring its beers.
Each day there will be Meet the Brewer events taking place every two hours. This is an excellent opportunity to meet these new up and coming brewers to offer your feedback on their latest beers. Here's a listing of theses 17 sessions.
Saturday Noon-2pm
Abram Goldman-Armstrong – Cider Riot!
James Cardwell – Vagabond Brewing
John Griffith – Boring Brewing
Saturday 2pm-4pm
Matt Cowart – Conversion Brewing
Greg Neldner – Shattered Oak Brewing
Alex Hutchinson – Back Pedal Brewing
Saturday 4pm-6pm
Rick Strauss – Bent Shovel Brewing
Joel Sheley – Gateway Brewing
Justin Marble – Ridgewalker Brewing
Saturday 6pm-8pm
Larry Clouser, Josh Huerta, Erick Russ – Pono Brewing
Joe Hitselberger – Wolf Tree Brewery
Sunday Noon -2pm
Dan Antal, Aaron Fastenow, and Chris Sjolin – Cooper Mountain Ale Works
Theo Leikam – Leikam Brewing
Sunday 2pm-4pm
Steve Wesley – Hop Haus Brewing
Aaron Hanson – Bunsen Brewer
Sunday 4pm-6pm
Gary Gross – Ethereal Meads
Charlie Johnson – The Labrewatory
The tentative brewery and beer list is as follows.
Ridgewalker Brewing – Forest Grove, OR
Longstride – IPA ~ 6.7 ABV – 70 IBUs
Citrusy, floral, and resinous with plenty of NW hops.
Treewise – IIPA ~ 8.5 ABV – 102 IBUs
Malty, darker than most Imperial IPA's, but with plenty of bitterness and hop slam to balance it out.
Storm – Brown Ale ~ 5.5 ABV – 28 IBUs
Toasted notes with caramel undertones. Smooth and creamy mouthfeel.
The Hoppy Brewer / Krauskis Brewskis – Gresham, OR
Off Piste IPA – IIPA ~ 14% ABV – 110 IBUs
The name is French for Out Of Bounds. We wanted to push the limits on how big a beer could be brewed on our system and be able.
Leikam Brewing – Portland, OR
Grateful Red – Red Ale ~ 7.1% – 70 IBUs
One of our flagship beers featuring 5 different malts and 4 different hops.
Across the Universe – IPA ~ 6.6% – 65 IBUs
A one-off brew featuring Cascade, Amarillo and Galaxy hops.
The Ale Apothecary – Bend, OR
Sahalie – Mixed Fermentation Ale ~ 9-10% ABV
SAHALIE is the flagship brand of The Ale Apothecary, brewed year-round of malted barley & wheat and Goschie Farms Cascade Hops. Hop bitterness and acid produced by our house lactobacillus culture provide the balance to the malt and oak structure of the beer. She spends over 1 year in our oak barrels during a long, relaxed fermentation prior to a month-long dry-hopping (yes, in oak barrels!). Our sensory experience is a tropical & citrus fruit nose of apricots, pineapple, and orange produced from yeast esters and hop oils. The palate is tart and pithy, combining earthy and herbal undertones that evolve as the beer warms & opens up within your glass.
Carpe Diem Mañana – Hoppy Barrel Aged Wild Ale ~ 9% ABV
A departure from our 'standard' line of ales that age for over a year in barrels as this beer is packaged within just a few months of brewing. It's very hoppy (gasp) and is our fond testimony to a period of brewing history where creative and observant brewers noticed that with the use of fairly large quantities of hops, their beer would be 'preserved' and last a while longer without spoiling… Instead of using high hopping rates to make the beer last longer, we are using hops to inhibit bacteria from producing too much acid, and allowing us to serve the beer in a younger state. Seize the day some other time. Idle time is necessary for creative thinking. Change the world with imagination.
Cider Riot! – Portland, OR
Everybody Pogo – Hoppy Cider ~ 6.7% ABV
A refreshingly dry cider that's got hops, Everybody Pogo mates Hood River and Yakima grown apples and organic Willamette Valley Goldings hops.
Never Give An Inch – Oregon Blackberry Cider ~ 6.9% ABV
Blackberry bushes riot across the fencerows of Cascadia. Never Give an Inch, a dry blackberry cider celebrates the tenacity of life in the elements.
Humble Brewing – Portland, OR
Meccanized – Saison ~ 7.1% ABV – 23 IBUs
Brewed with 100% Mecca Grade Estate "Pelton" malt. Lightly hopped with Cascade and Saaz, fermented with Imperial Organic "Napoleon" strain. Notes of table-water cracker, banana bread, popped corn, with a peppery citrus finish.
Hop Haus Brewing – Gresham, OR
Cocos Nucifera – Porter ~ 5.5% ABV – 34 IBUs
A robust porter with a rich chocolate, crystal malt backbone and creamy mocha head. Earthy hop balance and toasted organic coconut adds a subtle flavor that doesn't overpower and finishes slightly sweet but not a dessert beer either.
Route 66 – NW Red Ale ~ 6.3% ABV – 48 IBUs
A slightly malty, somewhat sweet finish with good hop flavor and subtle bitterness. This is a lighter version of the style with the signature red hue provided by the melanoidin malt. It's balanced and drinkable for all food pairings and occasions.
Grauchy Roadrunner – Rye Ale ~ 5.7% ABV – 40 IBUs
An altered pale ale with smoked malt and rye to provide a very interesting and drinkable ale that adds the element of a classic German Rauchbier smokiness without the "campfire" component and rye spiciness. Slightly sweet finish with balanced hop bitterness.
West Highland Brewing Company – Vancouver, WA
Ethereal Meads – Battle Ground, WA
Happy Troll – Melomel ~ 6% ABV
A blackberry-raspberry session mead (melomel) from Willamette Valley blackberry flower honey, regional blackberries and raspberries, and finished with Willamette Valley meadowfoam honey.
Happy Bear – Apple Metheglyn Mead ~ 6.75% ABV
A spiced apple session mead (apple metheglyn) from Willamette Valley blackberry flower honey, Yakima Valley apple juice, and select spices.
Wolf Tree Brewery – Seal Rock, OR
Spruce Tip Ale – American Brown Ale ~ 6.5% ABV, 20 IBUs
Crisp and malty unfiltered American Brown Ale packed with spruce tips and a light citrus flavor.
Camille's Golden IPA – Golden Ale ~ 6% ABV – 80 IBUs
A blend of the Pacific Northwest's most intriguing aroma hop varieties are used in this golden Ale. Very complex hop flavors and a smooth, clean finish.
Vagabond Brewing – Salem, OR
Attack Owl – IPA ~ 7.5% ABV – 80 IBUs – 7 SRM
Shattered Oak Brewing – Oregon City, OR
Dopple berry – Dopple-bock with fruit ~ 9.5% ABV
Pours a pale pink with a rocky white head. Aromas of sweet berries and floral honey burst from the glass. The fruit forward flavor is nicely offset by the dry finish of the fermented honey.
Kölsch – Kölsch ~ 5% ABV
Bready malt gives way to a floral character with just a hint of citrus. Light and crisp.
IPA – IPA ~ 6.5% ABV
Easy drinking malt forward IPA heavily hopp'd with Magnum, chinook, and centennial for a robust hop finish.
Back Pedal Brewing – Portland, OR
Lightning Bolt – India Pale Lager ~ 6.5% ABV – 82 IBUs
A bold lupulin bolt strike to your senses. We fermented this cloudy golden IPA recipe with clean lager yeast to allow the hop bouquet of Mosaic, Simcoe, Citra and Amarillo to shine through.
Blood Orange Blonde – Fruit Beer ~ 6.6% ABV – 25 IBUs
Easy drinking ale with subtle citrus layers from real blood orange and Cascade hops. This beer will transport you to summertime.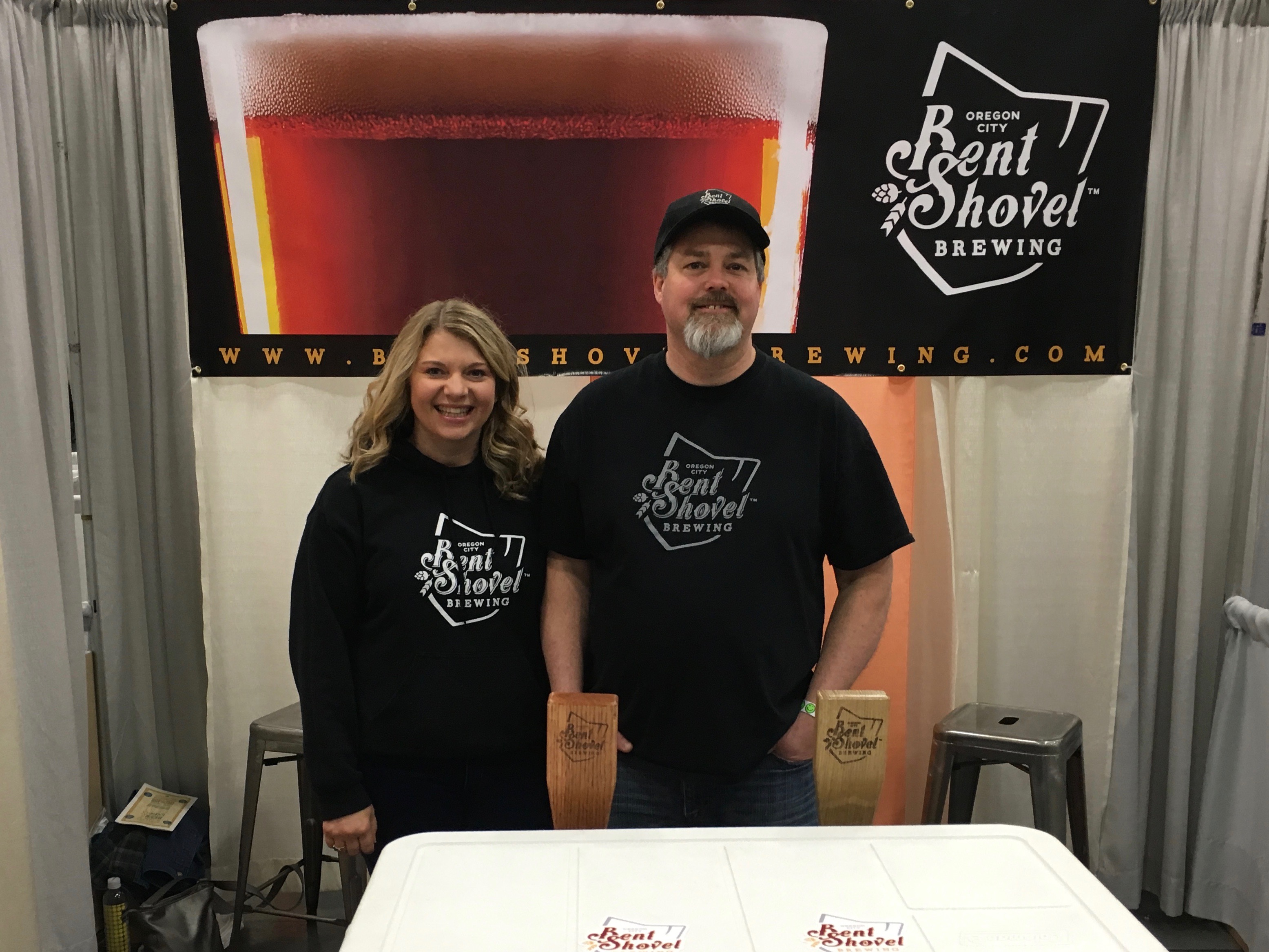 Bent Shovel Brewing – Oregon City, OR
One Wagon *New Release* – Pilsner ~ 4.7% ABV – 30 IBUs
Our take on a classic German Pilsner. Named for the rope operated ferry that spanned the Clackamas River in 1847. Ultra pale straw in color, this crisp and light lager is smooth with aromas of German hops and malt with just a touch of bitterness to balance the maltiness.
Springer *New Release* – Pale Ale ~ 6% ABV – 45 IBUs
Pale smooth easy drinking beer featuring Amarillo hops. Nicely citrusy with hints of tropical fruit without the bitterness of an IPA.
Leafwalker – Red Ale ~ 7.5% ABV – 60 IBUs
Rich maltiness, deep amber colors and the aroma of orange peel and honeysuckle meet a big malt backbone. A big, red, delicious beer, not especially bitter.
Gateway Brewing – Portland, OR
Glendoveer Golden – Kölsch ~ 4.5% ABV – 25 IBUs
A Kölsch with northwest inspiration, is brewed with Saaz and Tettnang hops and 2 row and pilsner malts. The name gives a shout out to Glendoveer golf course and fitness trail in the heart of the Gateway District. First opened in 1923, Glendoveer also hosts community events throughout the year such as summer movie nights and holiday celebrations.
Mahogany Lager – Dark Lager ~ 4.5% ABV – 20 IBUs
Mahogany Lager brings new color to the lager spectrum. This smooth, dark lager is the US debut of Great Western Malting's Sacchra-50 malt. Sacchara's unique characteristics, produced by a steam injection prior to kilning, give Mahogany its rich, malty depth. Mahogany's malt bill is rounded out with Two Row and Chocolate malts and features Chinook and Cascade hops.
Pono Brewing – Portland, OR
Pineapple Express – Pineapple Kolsch ~ 6.2% ABV – 11.6 IBUs
A Pineapple Kolsch style beer named after one of Josh's favorite movies but it's wet and refreshing just like the weather it brings.
Kikiao – South Pacific Farmhouse ~ 5.2% ABV – 8.2 IBUs
South Pacific Farmhouse style beer made with notes of Passion fruit and Mango. An instant getaway in every glass!
Bunsen Brewer – Sandy, OR
Wozniak – Grapefruit Radler ~ 2.5% ABV – 9 IBUs
Dragon's Gate Brewery – Milton Freewater, OR
Morgan le Fey – Hibiscus Wit ~ 5.7% ABV – 18 IBUs
A Belgian Wit brewed with bitter orange, cracked coriander, dried Hibiscus flowers and Lemongrass.
Le Morte d'Arthur – Belgian Chocolate Stout ~ 6.9% ABV – 35 IBUs
A Chocolate Stout brewed with Belgian chocolate malts, organic cocoa nibs, and vanilla beans.
Fire Cirkl – White City, OR
One-Eyed Ginger – Ginger Sour ~ 8% ABV – 19 IBUs
Hopless ginger ale brewed with a Saison grain bill, Belgian yeast, and ginger. Light body, but smooth rich malt character. Well-balanced ginger and sourness, without being too sour. Delightful, summer or winter.
Dragon's Blood – Braggot ~ 12.5% ABV – 47 IBUs
Deep, rich, dark braggot, real honey presence, roasted, chocolatey malt, caramely sweet, but not cloying. Smooth alcohol.
Boring Brewing – Boring, OR
RyPA – Rye IPA ~ 6.5% ABV – 65 IBUs
10% Rye Malt lends a bit of spicy character to this well balanced take on an IPA. Hopped with Centennial and Cascade hops.
Hot Scotch – Scottish Ale with peppers ~ 8.0% ABV – 25 IBUs
A strong Scottish Ale with the addition of Scotch bonnet peppers. Very malt forward followed by the mild heat of the peppers. One try and you will be hooked.
The Labrewatory – Portland, OR
Oregon Brew Crew Collaboration – TBD Soon!
Cooper Mountain Ale Works – Beaverton, OR
Stout Scout Stout – Stout ~ 6.3% ABV – 28 IBUs
This rich and roasty tasting stout will give a slight flavor of cocoa. Best enjoyed with your friends on a cold afternoon while trying to solve all the worlds problems.
Red Headed Step Child – Red Ale ~ 5.5% ABV – 26 IBUs
If you don't think you like beer, or have a friend who says they're not a fan, welcome to the gateway beer. This balanced Red ale is a symphony of what hops and malt can do when they work together instead of trying to overpower each other.
Ambacht Brewing – Hillsboro, OR
Golden – Farmhouse Ale ~ 6.5% ABV – 17 IBUs
A deep golden, saison style ale with a wonderful aroma that provides a preview to the spice, fruit and honey flavors to come. Balanced and drinkable with mild carbonation and dry, yet slightly sweet finish from bottle conditioning with local blackberry honey, this ale goes great with everything from pretzels to plank grilled salmon.
Ginger – Farmhouse Ale ~ 6.5% ABV – 17 IBUs
Crisp, clean yet well rounded with a ginger punch that will leave you yearning for your next sip!
Bushwhacker Cider – Portland, OR
Alice – Cider ~ 6.7% ABV
Alice is one of our most popular ciders, a single varietal made with Granny Smith apples and named after Cidermaker Jeff Smith's grandmother Alice. The Alice is created with Oregon grown Granny Smith apples, fermented to dryness and has no added juice, sugar, or flavorings. It is crisp and refreshing, with a tart Granny Smith apple flavor.
Forgotten Trail – Cider ~ 6.7% ABV
Our flagship cider, named after a trail that you may not have time to travel as much as you'd like. This is a blend of estate grown fruit, sourced from Eastern Oregon. It comes out as a semi-dry cider, appealing to fans of dry cider, yet has a bit of natural sweetness to please.
Bridge 99 Brewery – Bend, OR
Rock Crawler Red – Red Ale ~ 7.2% ABV – 42 IBUs
A classic American Amber Ale with a toffee-like malt base tempered by a roasty charachter and the spiciness of rye malt. The hops are full of earthy, resin-like flavors, but retstrained and balanced allowin the luscious malt body to shine.
Red Ox Brewing – Tigard, OR
Sunporch – Pale Ale ~ 5.2% ABV
Our most popular brew. Light and crisp with citra hops and a touch of orange peel. Smooth enough for all drinkers with enough hop to keep things interesting.
Green Dragon Brew Crew – Portland, OR
Cascade SHIPA – NW IPA ~ 7.8% ABV – 85 IBUs
Clean, classic, single-hop Cascade IPA
Conversion Brewing – Lebanon, OR
Wee Heavy – Strong British Ale: Wee Heavy ~ 8.0% ABV
We brewed this in celebration of the Bard of Scotland, Robert Burns, on his birthday, January 25th…
Three Mugs Brewing – Hillsboro, OR
Brombeere Hefeweizen – Fruit Wheat Beer ~ 6% ABV – 14 IBUs
Traditional German-style Hefeweizen with a twist – real blackberries.
Mo' Honey Ale – Honey Beer ~ 6.9% ABV – 6.7 IBUs
Smooth, light, malty beer with the delicate flavor & aroma of orange blossom honey.
Columbia County Brewing – Saint Helens, OR
Coin Toss Brewing – Oregon City, OR
Heads Red – NW Red Session Ale ~ 4.9% ABV – 42 IBUs
A Northwest-style session red ale, brewed with Northwest Pale, Munich, Caramel, Victory and Black malts and hopped with Chinook, Centennial and Crystal.
Nine Eyes – IPA ~ 6.3% ABV – 65 IBUs
Our house IPA features a blend of five grains and generous amounts of Galena, Chinook and Cascade hops in the boil. Dry-hopped with Equinox and Crystal to make a traditional yet tropical beer. Named for the Pacific Lamprey which are indigenous to Oregon City's Willamette Falls and harvested each year as part of a Native American ritual.
With each entry a raffle ticket is given out. Organizers will raffle off rare bottles of beer, beer memorabilia, and other great prizes every hour of the festival with 100% of the proceeds benefitting the Oregon Humane Society. The OHS will also be onsite Sunday from Noon to 3:00pm with dogs and puppies available for adoption.
The Oregon Brew Crew and PDXBrewers will also have tables both days to meet with and chat about home brewing and a chance to taste some of their homebrews.
John's Marketplace
3535 SW Multnomah Blvd.
Portland, OR 97219