Kells Brewery 2nd Annual Irish Beer Festival
|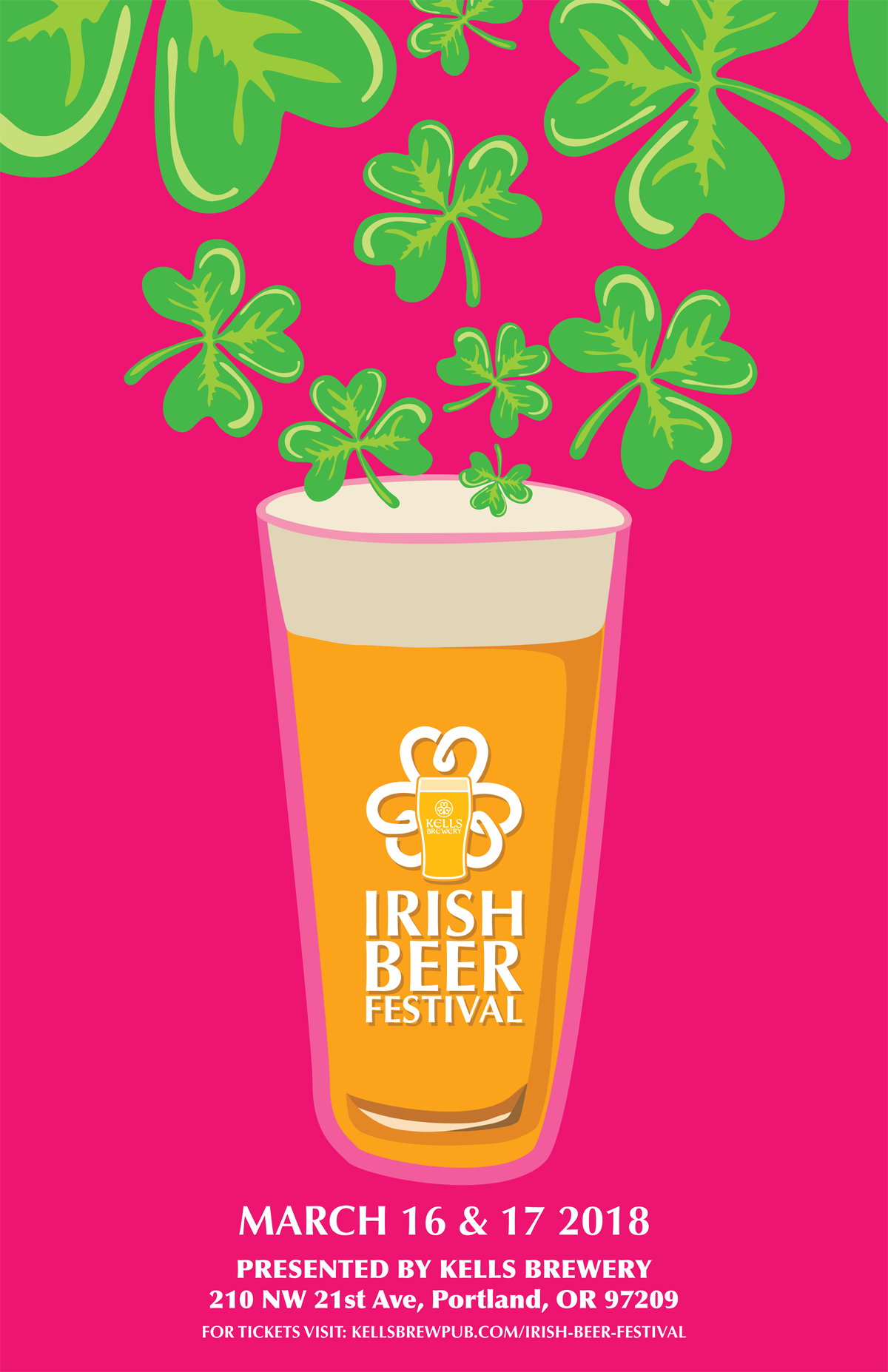 PORTLAND, Ore. – Feb. 8, 2018 – Portland's second annual Irish Beer Festival will feature specialty Irish style beer and cider from a score of Northwest breweries and cidermakers, plus two from Ireland. The event will take place on March 16 from 12pm to 1am and March 17 from 11am to 1am in the tented and heated parking lot of Kells Brewery, located at 210 NW 21st Ave. Minors are welcome each day until 4pm.
The Irish Beer Festival will also present Irish dancers, bagpipers, fortune tellers, and meet the brewer sessions. Attendees are encouraged to travel between the Irish Beer Festival and the 27th annual Kells Irish Festival, taking place inside the brewpub next door, with live music, dancing, bagpipers, and Irish food specials.
Festival participants include 54°40′ Brewing Co., Ancestry Brewing, Cider Riot!, Coalition Brewing, Deschutes Brewery, Grixsen Brewing Co., Ground Breaker Brewing, Kells Brewery, Lucky Lab Brewing, McMenamins Edgefield Brewery, Migration Brewing, Mt. Hood Brewing Co., Ninkasi Brewing Co., O'Hara's Brewery (Ireland), Old Town Brewing, pFriem Family Brewers, PINTS Brewing Co., Portland Cider Co., Soul Water Creative Beer Project (Ireland), Sunriver Brewing Co., and Widmer Bros. Brewing. Each brewery or cidery is serving an Irish themed product, ranging from Irish red ales, stouts, and cream ales, to Irish ciders, bitters, and lagers.
General admission, which includes a souvenir festival glass and seven tokens, will cost $10 for Friday between Noon and 5pm; $20 for Friday from 5pm to 1pm; and $20 all day Saturday. Most beers will cost one token for a taste or five tokens for a full glass; both ciders and select beers will cost additional tokens. Ticket will go on sale on Feb. 14 on the event website.
The Irish Beer Festival is part of the 27th annual Kells Irish Festival, the largest Saint Patrick's Day Festival in the Northwest, taking place March 16 through March 18 at three venues: inside the original downtown Kells Irish Pub at 112 SW 2nd Ave.; in a festival tent located in the parking lot directly behind the pub; and at Kells Brewery.
For more information about the Irish Beer Festival, visit KellsBrewery.com or follow @IrishBeerFestPDX on Facebook and Instagram and @IrishFestPDX on Twitter. For more information on the Kells Irish Festival, visit KellsPortland.com.
About Kells Brewery
Kells Brewery is an Irish family-owned and operated 10-barrel brewery located in the heart of Northwest Portland. The brewery, which offers a full service bar and restaurant, is open to all ages from 11:30 a.m.to close seven days a week. Learn more at www.kellsbrewery.com and @kellsbrewery on social media. For more information, call 503-719-7175.