Killer Beer Summit aka Killer Beer Week Kick Off Tonight at Roscoe's
|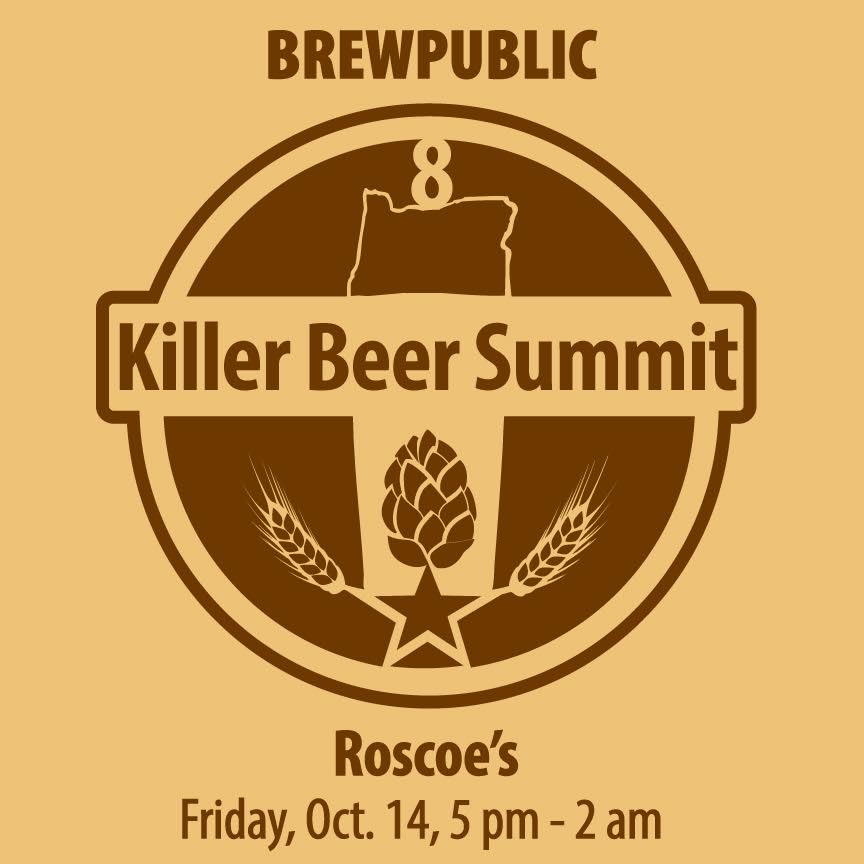 As we still prepare for our 8th Annual Killer Beer Week, all of this preparation of securing some of the most highly sought after beers will come to fruition. Later today, Friday, October 14th, Roscoe's will host the kick off to the 8th edition of Killer Beer Week when Killer Beer Summit takes place from 5:00pm to 2:00am.
At many of this year's events we have managed to secure various highly sought after beers from breweries both near and afar. Tonight is no exception as we are extremely proud to be serving some beers from Bagby Beer based in Oceanside, California. This is the brewery that was founded Jeff Bagby who made quit the name for himself from his many years at Pizza Port winning brewing awards left and right. We worked with Robby Roda of the newly established Day One Distribution to bring some of Bagby's beers for a one time drop into the Portland market. Roda is also the one bringing in some of the other beers that will be featured at other various Killer Beer Week events.
Tonight we will be featuring two beers from Bagby Beer, Corn Star and Grief Counselor. Corn Star is an American Malt Liquor that's a collaboration with Sun King Brewing and Beachwood BBQ and Brewing. Sitting at a big 9.2% ABV, Corn Star was brewed using 50 pounds of heirloom popcorn that Sun King brought to Oceanside from Indiana that the brewers popped with air poppers. This popcorn was added alongside flaked corn and corn sugar to make this as authentic as possible to a Malt Liquor but retaining that craft authenticity. We are told to be "Careful, it will sneak up on you very quick!" Grief Counselor is an American Strong Pale Ale that resembles this classic style but with just a little bit more umpf to it that brings it to 6.1% ABV.
Here's a list of some of the offerings to expect later today at Roscoe's.
Alesong Brewing & Blending – Gin Hop Farm
Baerlic Brewing – Barrel Fermented Apricot Les Bois
Bagby Beer – Corn Star (Collaboration with Sun King Brewery and Beachwood BBQ & Brewery)
Bagby Beer – Grief Counselor
Crooked Stave – Wild Sage
Elysian Brewing– Huckleberry Berliner
Flat Tail Brewing– 2013 Wallet Phone
Fort George Brewery – Slam Dunkleweiss
Gigantic Brewing – Null Space
Melvin Brewing – Melvin IPA
Melvin Brewing – 2×4 DIPA
Melvin Brewing– Brosaic
Noble Ale Works – Citra Showers
Occidental Brewing – Barrel Aged Lucubrator
Oedipus Brewing – Transatlantic Foosball (Collaboration with The Commons Brewery)
And to make this event even more special, Melvin Brewing will be at Roscoe's serving up 4 draft offerings as the Wyoming brewery parades itself through the Willamette Valley on its 12 oz. can launch.
Taster trays will be available so there will be ample time to sample many of these tasty treats!
Roscoe's
8105 SE Stark St.
Portland, OR