Killer Beer Week Continues, Ecliptic Turns Three + Craft Beer Events Beginning Oct. 20
|
Killer Beer Week continues, Ecliptic turns three and the rest of craft beer events for the week beginning October 20th.
Killer Benefit Night
5-10 pm Thursday Oct. 20, Garrison Tap Room, 8773 N. Lombard St., St. Johns;
This is a benefit for Brewpublic founder Angelo De Ieso and all proceeds from the evening's generously donated beer will go to continuing fight against an inoperable brain tumor. The event will feature some rare kegs from eight outstanding breweries.
The Garrison will be pouring exclusive offerings such as:
Royale Brewing – Barrel #1 (Spelt Ale aged in Oak with plums and Pluots)
Hair of the Dog – Brandy Aged Fred (4 Years In Wood)
Melvin – Asterisk DIPA (Brewed with Mosaics)
Burnside Brewing – It Makes Reindeer Fly (3 yrs old imperial Rye made with heirloom carrots and golden raisins in the mash)
Gigantic Brewing – Massive! Barleywine
Alesong Blending & Brewing – Indi's Gold
Upright Brewing – Roggen Weisse
Cascade Brewing – Pumpkin Smash
Other Half/Great Notion Pre-Collaboration Party
5-7 p.m. Thursday Oct. 20, Belmont Station, 4500 S.E. Stark St.;
The Other Half Brewing crew is coming from Brooklyn to join Portland's Great Notion in a collaborative brew. Each is well known for its hoppy double IPAs so guess what the collab's purported to be? Join the Belmont Station crew and welcome the Other Half's Samuel Richardson and Matt Monahan along with the brew crew from Great Notion and enjoy several drafts from each brewery.
From Great Notion:
Passion Fruit Zest Berliner Weisse
Blueberry Muffin Sour Ale
Double Stack Imperial Stout
Juice Box DIPA
Orange Creamsicle IPA
From Other Half:
All Green Everything DIPA
Simcoe / Wai-Iti DIPA
Tropical Depression DIPA
Short, Dark and Handsome Stout
Surprise Me Hoppy Session Wheat Ale
Unfiltered Pilsner Urquell
5-8 p.m. Friday Oct. 21, The BeerMongers, 1125 S.E. Division St.;
Enjoy the world's first golden lager in its original, unfiltered state, fresh from a keg flown over from Czech Republic.
Brewpublic's Eighth Brewniversary
6-11 p.m. Friday Oct. 21, Saraveza, 1004 N. Killingsworth St.;
Celebrate Brewpublic's 8th year at the newly renovated Saraveza by hanging out with the crew, drinking some of our favorite picks including two 2016 GABF Gold Medal winning beers: Touch of Brett from Alesong Brewing & Blending and Sweet Ride from Bagby Beer.
Here's the complete draft list:
Bagby Beer – Sweet Ride
Fat Head's Brewery – Lager Feuer Smoked Helles
Gigantic Brewing – Holy Oak
Alesong Brewing & Blending – Touch Of Brett
Cider Riot!I – In The Pit
Fort George Brewery – Java the Hop
Double Mountain Brewery – Killer Randall Knife IPA
Laurelwood Brewing – Eazy Duz It IIPA
Ninkasi Brewing – N10
Breakside Brewing – The Oligarch
Baerlic Woodwoorker Bottle Release
2-7 p.m. Friday Oct. 21, Baerlic brewing Co., 2235 S.E. 11th Ave.;
Harshmellow Mountain is a 9.1 percent Belgian Blonde Ale aged in a blend of neutral and second use gin oak barrels on Brett Brux and dryhopped with Ella hops right before bottling…"you'll be overwhelmed with huge aromas of tropical fruit, white wine & juniper."
A limited run of 500 ml bottles that are hand bottled, wax-dipped will go on sale for $12 each at 2 p.m. on Friday October 28th. Customers can purchase bottles to go with a 3 bottle limit per person. Woodworker Harshmellow Mountain will also be available on draft.
Coalition End-of-Season Blow-out
Friday Oct. 21 – Sunday Oct.23, Coalition Brewing, 2705 S.E. Ankeny St.;
Coalition's in-brewery tasting room will be closing for the winter this coming Sunday and all weekend they'll have $3.50 beers on flagships and specialty beers, $10 Growler Fills and $20 for select cases of beer. Tasting room hours are Friday 5-9 p.m., Saturday 2-9 p.m. and Sunday 2-6 p.m.
The Coalition folks plan to have some special events over the season, and the space is also available for private events. Contact Phil@Coalitionbrewing.com for any inquiries.
Third Annual Halloween Pre-Funk
6 p.m.-close Friday Oct. 21, Belmont Station, 4500 S.E. Stark St.;
Test-drive your costume and get ready to shake your bones at the Station's third Annual Halloween Pre-Funk. They'll have a costume contest, great prizes, music by DJ "Monster" B-Murph, and an awesome curated tap list with some very special-occasion beers.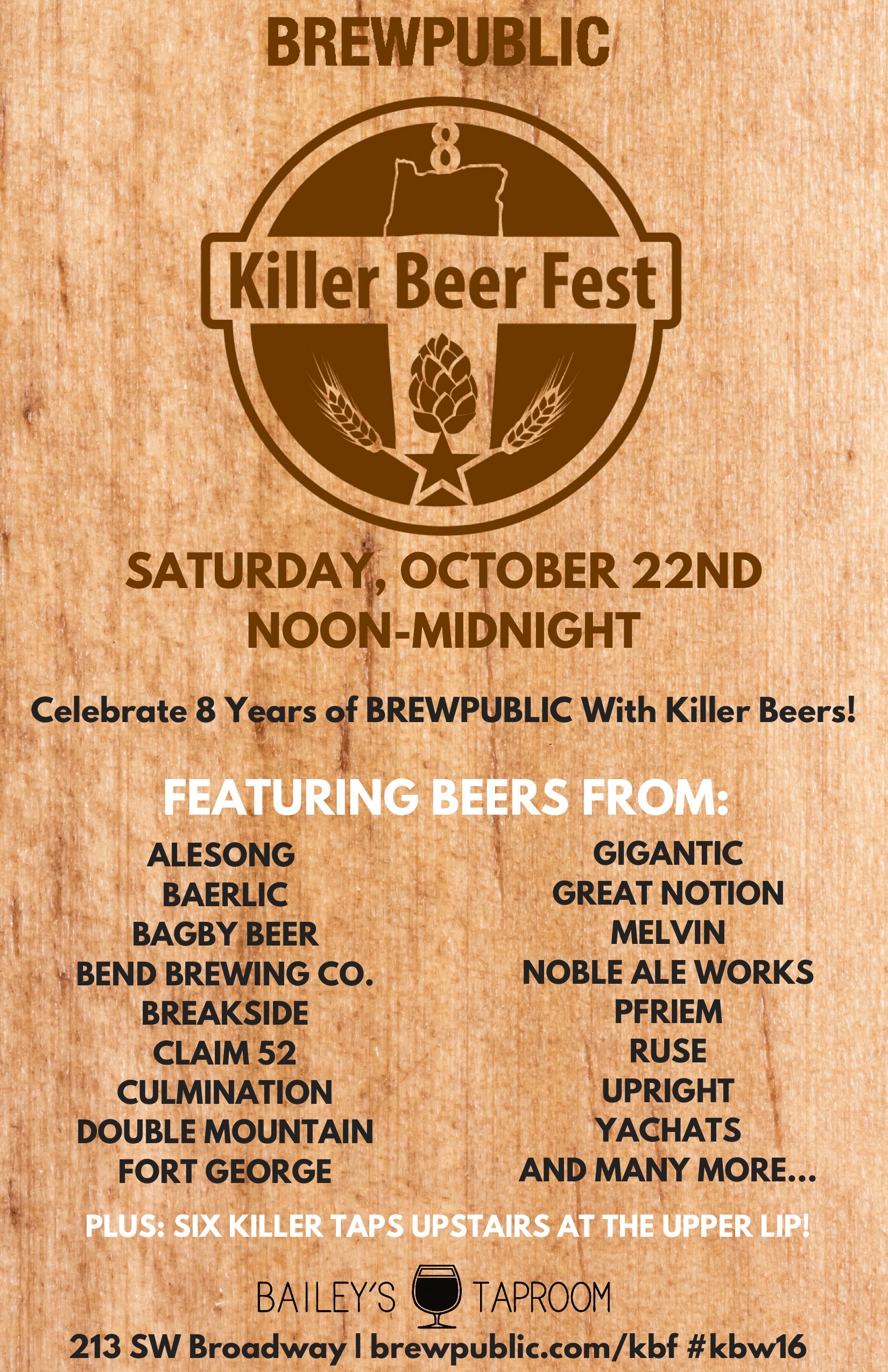 KillerBeerFestival
Noon-close, Saturday Oct. 22, Bailey's Tap Room, 213 S.W. Broadway; Free Admission
The long week of killer beers culminates with what we feel is the BEST little beer fest in Portland at one of the best beer bars in town, Bailey's Taproom. During this day we seek out only the finest craft beers – the very best of what is available, including some you might never find again. To make year eight truly great, there are more special beers pouring upstairs at The Upper Lip…
BAILEY'S TAPROOM
Wildcraft – Winter Witch's Brew
Nectar Creek – Mellifera Sour Mead
Gigantic – Most Premium Russian Imperial Stout – Firkin
Wayfinder/Widmer – Supergeil Festbier
Bend – India Pale Kolsch
The Common/Oedipus – Transatlantic Foosball
Noble Ale Works – Naughty Sauce Blonde Stout – Nitro
Crux – Nuggetzilla IPA, 100% Denali hops
Great Notion – Ripe IPA
Melvin – 2×4 DIPA
Bagby Beer – Genius IIPA
Claim 52 – Not Everyone Wants to be a Butterfly IPL
Fort George – Pekko Pale Ale
Yachats – Tears of the Innocent, Sour Wit
Breakside – Portmanteu, blended Sour Ale
pFreim – Kumquat Farmhouse
Upright – Fresh Hop Sideline Blend
Alesong Brewing & Blending – Tangled Up In Blueberry
Ruse/Culmination – Red Wedding
Baerlic – Oktobaerfest
Wolves & People – La Truffe, Stout w/ white truffles, hazelnuts
Goose Island – Imperial Stout aged in Duck Pond Pinot Noir Barrels
Buoy – Mr. Robusto, Maple Porter
Silver Moon – Barrel Rye'd, Rye BA Rye Barleywine
Culmination – The Funky Punch, BA Gose w/ keylime, cranberry
Ecliptic – Rye BA UltraViolet
THE UPPER LIP
Pilsner Uquell – Unfiltered Pilsner
Lagunitas – Born Yesterday
Georgetown – Bohdizafa
Double Mountain – Tahoma Kriek
Double Mountain – Devil's Kriek
Epic – Big Bad Baptist
Ecliptic Third Orbit Anniversary Part
11 a.m.-11 p.m., Saturday Oct. 22, Ecliptic Brewing Co., 825 N. Cook St.;
John Harris's fine brewery celebrates three years with the release of Third Orbit Anniversary Ale, an Imperial Porter brewed with cherries, plus rare beer, great food, live music, and good times. Free brewery tours from 11am-3pm.
Amuse Bouches from Chef Michael offered throughout the day.
Special Third Orbit anniversary shirts will be available.
Rare beers tapped on the hour from 11 am – 5 p.m. and are available for three hours from tapping or until they run out.
11 a.m.: Belmont Station 19th Anniv. Barrel-Aged Barleywine
12 p.m.: Gin Barrel-Aged Orbiter IPA
1 p.m.: 2014 Bourbon Barrel-Aged Oort Imperial Stout
2 p.m.: 2015 Wine Barrel-Aged Rastaban Oud Bruin
3 p.m.: Barrel-Aged Spock Saison with Brettanomyces
4 p.m.: 2015 Barrel-Aged Orange Giant Barleywine
5 p.m.: Rye Barrel-Aged UltraViolet Blackberry Sour Ale
Live music open to all ages. There will be a suggested donation for entry with all donations going to the Jeremy Wilson Foundation.
5:30 p.m.: Ed and the Boats
6:30 p.m.: Jeremy Wilson
7:30 p.m.: Kory Quinn
8:30 p.m.: Fernando
Portland Brewing Third Annual Fall Fest
1-5 p.m. Sunday Oct. 23, Portland Brewing Co., 2730 NW 31st Ave.; free admission, all ages.
Kicking off the holiday season at this benefit for Oregon's oldest home brewing club, the Oregon Brew Crew. Enjoy a free beer tasting, and vote for your favorite home brew –16 home brewers are bringing 20 beers. Donate $10 to the Oregon Brew Crew and leave with a 6-pack of beer, donated by Portland Brewing. Fall Fest is a family friendly event featuring live music from the Hops & Honey String Band, raffles, food specials and kids activities.
Fall Fest also features the return of BlackWatch Cream Porter and MacTarnahan's Fresh Hop Amber Ale. BlackWatch Cream Porter is 5.3 percent and a blend of Caramel, Black Roast, Wheat and Oats Malts, with Willamette and Northern Brewer hops, lending a subtle bitterness to the beer. MacTarnahan's Fresh Hop Amber Ale is another Portland Brewing favorite. Every year during harvest, the brewers head to Goschie Farms in Silverton, Ore. to pick wet Cascade hops. The fresh hops are rushed back to the brewery and added to MacTarnahan's Amber Ale, resulting in refreshingly green flavors, with subtle and complex fruit notes. The wet Cascade hops are complemented by 2-Row Pale and Caramel malts.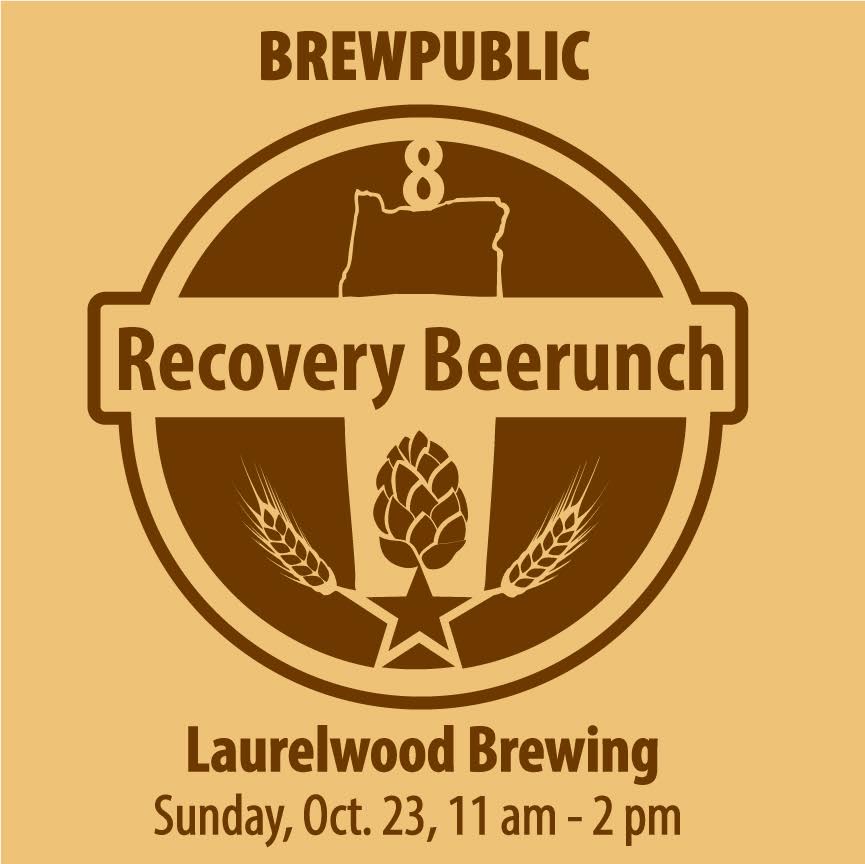 Killer Beer Fest Recovery Beerunch
Sunday Oct. 23, Laurelwood Public House & Brewery, 5115 NE Sandy Blvd.;
The best way to recover from this year's Killer Beer Week is with our annual Killer Beer Week Recovery Beerunch. This year's brunch will be hosted by Laurelwood Brewing in its quaint upstairs Brewers' Den and features two beer-centric food offerings served alongside Laurelwood's standard brunch menu: Golden Ale waffles topped with fresh fruit, served with sausage links; and a bacon wrapped brat topped with Golden Ale kraut and porter mustard on a hoagie served with choice of side. Also: Beermosas, Bloody Marys and beers from Laurelwood and a few other special breweries.
"How To Market Beer To Women" Book Release and Signing
5-7 p.m. Wednesday Oct. 26, Belmont Station, 4500 S.E. Stark St.;
Ginger Johnson, founder of Women Enjoying Beer, is releasing a comprehensive new book that instructs beer-industry companies on how to properly market beer to female consumers, "How To Market Beer To Women: Don't Sell Me A Pink Hammer." The book's insights are based on surveys Johnson conducted with female beer drinkers and her eight years running Women Enjoying Beer, the nation's only female-focused beer marketing company.
"I wrote this book," Johnson says, "because beer companies don't completely and respectfully market beer to women. They are incredibly overdue in realizing they must reach out to women with a dedicated effort. It's not about pinkifying – that's pandering. It's about acknowledging with full respect that you want female beer drinkers to be your customers."
Admission is free, seating is limited and books will be available for signing and purchase at the event, and one imagines that beer will be available.