Lompoc Brewing Presents Night of the Living Red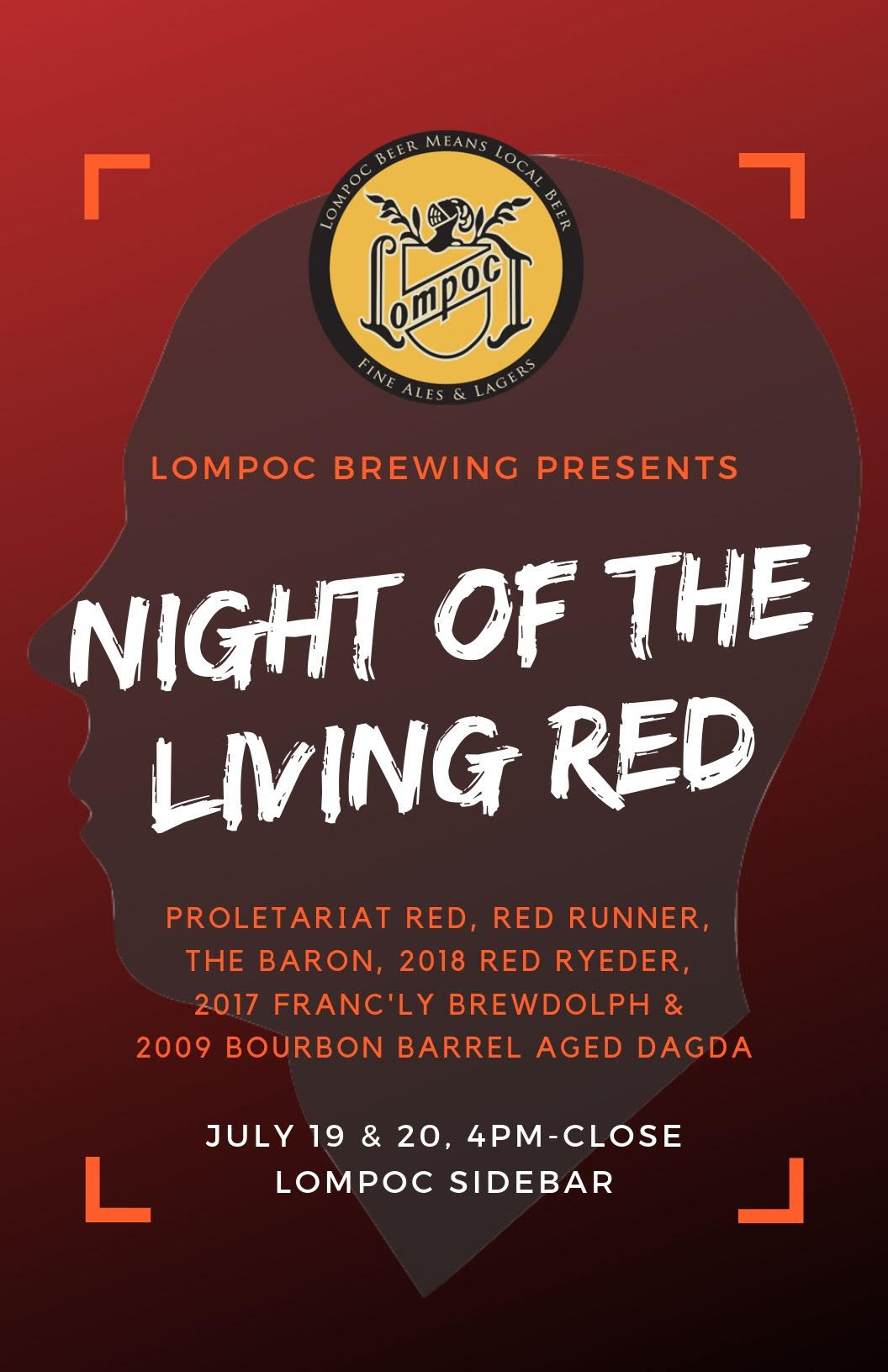 A beer style that is not as trendy in today's beer culture will be the highlight of Night of the Living Red, a tasting event that will feature six different red ales from Lompoc Brewing. This evening of red ales will take place at Lompoc Sidebar located at 3901 N Williams Avenue on Friday, July 19th and Saturday, July 20th from 4:00pm until close each day. The event is for ages 21 and up.
Here are additional details from the press release…
The Night of the Living Red event will offer a taster tray of six of Lompoc's favorite red ales for $15. The lineup includes the award-winning Proletariat Red, along with Red Runner, The Baron, 2018, Red Ryeder, 2017 Franc'ly Brewdolph, and 2009 Bourbon Barrel Aged Dagda. Each beer may also be ordered individually.
Headlining the beer list is Proletariat Red, a Lompoc flagship ale and a silver medal winner at the 2015 Great American Beer Festival. Proletariat Red is deep chestnut in color, and features toasted malt with biscuit undertones leading to caramelized pear and cinnamon. It strikes a good balance between malt and hops (6.2% ABV).
A collaboration with Mark Buscher, Red Runner is a dry hopped Red Ale that's crimson in color with a slight bitterness and a malty backbone. It features notes of citrus, pine, and spice (6% ABV).
The Baron is a Red Ale with a slight bitterness followed by a spicy and floral character with some fruity notes (5.5% ABV).
A collaboration with Nomcraft Brewing of Aridagawa, Japan, Red Ryeder is an India Red Ale that's crimson in color with a citrus and spice profile (6.7% ABV).
2017 Franc'ly Brewdolph is a Belgian style Red Ale aged in Maryhill Winery Cabernet Franc barrels for 11 months, offering an oaky aroma with a mild fruitiness and finishing with a spicy clove flavor (7.7% ABV).
Bourbon Barrel Aged Dagda is Lompoc's traditional St. Patrick's Day seasonal aged in bourbon barrels for 11 months and cellared for an additional month. It has a mohagany color and a cherry, oak aroma with a malty body and a slight toasted oak flavor (5.5%).
About The Author
DJ
D.J. is a Portland, Oregon based writer that spent his formative years in the Midwest. With over 25 years under his belt of drinking beer at festivals across America and the world, he has developed a strong appreciation and understanding of craft beer and the industry that surrounds it. He can be found in any of the great breweries or beer bars that make Portland the best beer city in the world. His writing can also be found in the archives of Northwest Brewing News and can be followed on Twitter and Instagram at @hopapalooza.