Lompoc Brewing To Release Seven Holiday Beers on November 29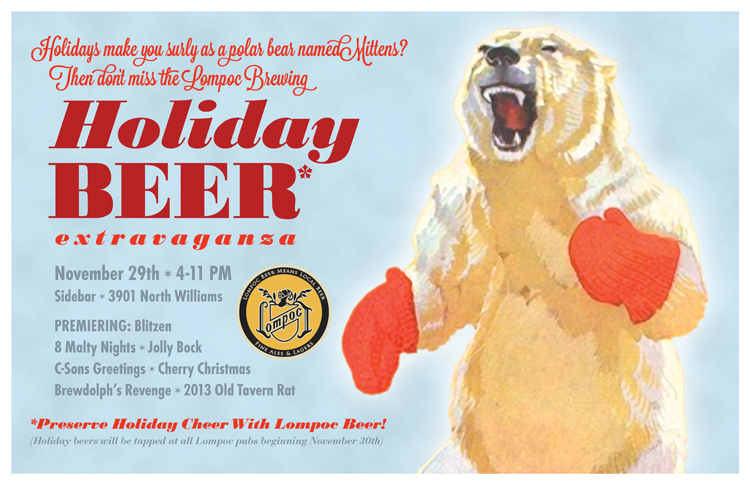 Once again Lompoc Brewing celebrates the upcoming holiday season with a barrage of holiday themed beers. This year's annual holiday release lineup features seven winter beers that includes Blitzen, Jolly Bock, 8 Malty Nights, C-Sons Greetings, 2013 Old Tavern Rat, Cherry Christmas, and Brewdolph's Revenge. All seven of these beers will be released at the Lompoc Brewing Holiday BEER Extravaganza that will take place on Tuesday, November 29th from 4:00 to 11:00pm at Sidebar.
Beer descriptions provided by Lompoc Brewing on each of this year's offerings include the following.
Blitzen: A bright straw-colored holiday favorite dry hopped with Mandarina Bavaria hops, orange peel and cinnamon. The hops and orange peel combine for a citrusy aroma and flavor while the cinnamon gives a slight spice at the back end. 4.6% ABV
Jolly Bock: A lager brewed with a generous amount of Munich malt to develop the deep amber color and rich malt flavor. The malty flavor is balanced with a spicy hop bitterness. 7.3% ABV
8 Malty Nights: A Chocolate Rye beer featuring a roasted chocolate flavor and a sweet finish. It is dark brown in color and lightly hopped with English style hops.  Raise a glass and toast, L'chaim, to Porltand's first Hanukkah seasonal. 6.5% ABV
C-Sons Greetings: A deep copper-colored imperial IPA brewed and dry-hopped with all seven "C" hops for a piney, citrusy, floral and resinous aroma. Offers a full hop flavor with a rich caramel malt finish and an endless developing hop presence. 8% ABV
2013 Old Tavern Rat: A dark amber-colored barleywine that was aged for two years prior to its release. It has a strong bitterness that is balanced with the sweetness of caramel and toffee flavors. 9.4% ABV
Cherry Christmas: This hazy Belgian-style farmhouse ale is slightly pink in color coming from the addition of tart cherries added at the end of fermentation. It is dry and crisp, with plenty of fruitiness complemented by a spicy bitterness. 6.5% ABV
Brewdolph's Revenge: A Belgian-style red ale aged in Bourbon barrels on sour cherries for nine months. 6.5% ABV.
Sidebar is for ages 21+. The above holiday beers will also be tapped at all other Lompoc pubs the following day on Wednesday, November 30th.
Sidebar
3901 N Williams Ave.
Portland, OR
About The Author
DJ
D.J. is a Portland, Oregon based writer that spent his formative years in the Midwest. With over 25 years under his belt of drinking beer at festivals across America and the world, he has developed a strong appreciation and understanding of craft beer and the industry that surrounds it. He can be found in any of the great breweries or beer bars that make Portland the best beer city in the world. His writing can also be found in the archives of Northwest Brewing News and can be followed on Twitter and Instagram at @hopapalooza.