McMenamins 29th Annual Hillsdale Brewfest – Battle for the Belt – Returns on June 25th
|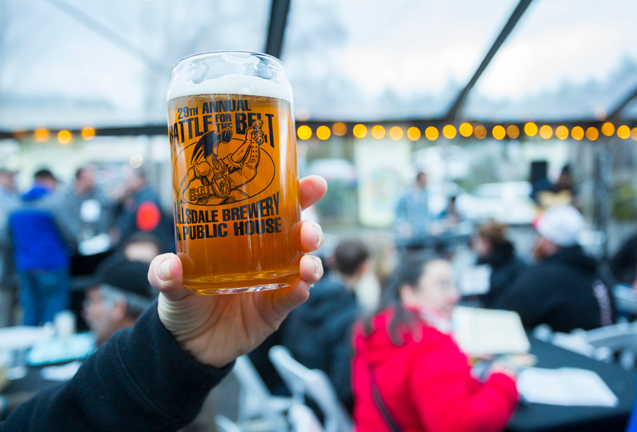 What normally has been held during the month of February, McMenamins Hillsdale Brewery & Public House will host its 29th Annual Hillsdale Brewfest on Saturday, June 25, 2022.
Also known as the Battle for the Belt, the annual Hillsdale Brewfest pits each McMenamins brewery against one another in this fan choice beer festival. This year the Hillsdale Brewfest comes in a new form as it spills across the parking lot with 20 taps and official glasses for tasting. Yep, there's no two taster tray options for sampling all of the beers this year. Votes will be placed, hearts will be won, the competition will be fierce, and one brewer will walk away with the prize for the best.
This year's Hillsdale Brewfest will also share the day with Barley Mill's Birthday. Attend both celebrations and collect 2-part stamp; earn half at Barley Mill Pub's Birthday celebration and half at Hillsdale Brewfest.
Plus, for this special, rare occasion, McMenamins Hillsdale Brewery & Public House has brewed Bold Deceiver IPA to honor both celebrations. Bold Deceiver IPA is brewed with Mosaic and HBC 586 Hops that delivers a tropical, smooth IPA that won't double-cross you with bitterness. Citrus notes wack you in the nostrils as you fall nose first into this ceremonial IPA.
The 29th Annual Hillsdale Brewfest will take place on Saturday, June 25, 2022 from 11:00am – 8:00pm. Tickets are $25 and includes a Hillsdale Brewfest glass and 10 tokens. All ages are welcome. Advance tickets can be purchased by clicking here.
With your tokens, you can order sample or full size beers throughout the parking lot. Tokens can also be used to purchase food at the festival.
Hillsdale Brewfest Beer List:
Anderson School Brewery – Desperado Mexican Lager
Concordia Brewery – Northwest Corner IPA
Cornelius Pass Roadhouse Brewery – Doppia Italian Pilsner
Crystal Brewery – Aunt Patty's Galette Wheat Ale
Edgefield Brewery – Hi-Chew Chew Choose You Sour
Elks Temple Brewery – Jekyll Island Peach Sour
Fulton Brewery – Cap'n Paul's Pale
High Street Brewery – Felurian's Kölsch
Hillsdale Brewery – Bold Deceiver IPA
John Barleycorns Brewery – Cocoa Beware Chocolate Stout
Kalama Harbor Lodge Brewery – Mosaic Deluge Hazy IPA
Lighthouse Brewery – Tiff D's Big Double IPA
Monroe Brewery – West Coast Produce DIPA
Mill Creek Brewery – Intercontinental Vienna Lager
Oak Hills Brewery – Red Rhino American Red Ale American Red Ale
Old St. Francis School Brewery – Fruit Addiction Sour
Roseburg Brewery – Cosmic Hammer Hazy NW Pale
Thompson Brewery – Mochaccino Cream Ale
West Linn Brewery – Cherry Good Wheat
Wilsonville Brewery – Windowpane Alt Bier
Live music will be performed throughout the day with High Deductibles performing from 1:00-3:00pm, followed by My Siamese Twin from 5:00-7:00pm.
Hillsdale Brewery & Public House
1505 S.W. Sunset Blvd.
Portland, OR, 97239