McMenamins to Host the 2nd Annual Edgefield Brewfest
|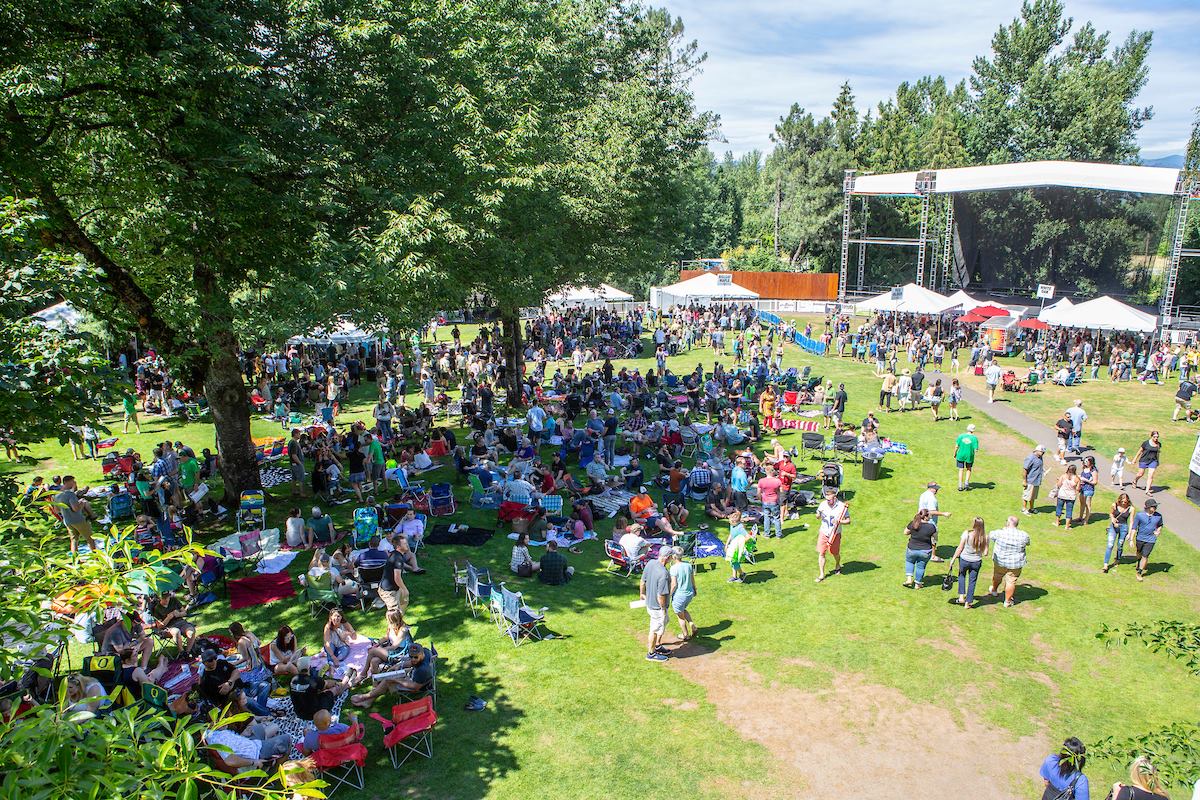 Over 60 craft breweries and cideries from the Pacific Northwest will converge on the large lawn at McMenamins Edgefield for the 2nd Annual Edgefield Brewfest. After a very successful first year, McMenamins has wisely chosen to bring back this new beer festival that is a great addition to Portland's eastern suburbs.
Taking place on Saturday, June 29th from Noon-8:00pm, the Edgefield Brewfest brings together breweries from McMenamins and over 60 others from the Pacific Northwest for this daylong beer festival. The comfortable grass in addition to the peaceful ambience made this festival one of the best new beer festivals from last summer.
Entry into the 2019 Edgefield Brewfest is $30 that includes a glass and 10 beer tokens. All ages are welcome and there is no need to have a ticket for entry if you're not drinking. Plus, the fest is pet friendly. Purchase advance tickets here.

Here's a preview of many of the breweries that will be pouring this year on Saturday, June 29th.
BREWERIES:
54°40′ Brewing Company
Backwoods Brewing Company
Bent Shovel Brewing
Breakside Brewery
Buoy Beer Company
Culmination Brewing Co.
Doomsday Brewing Company
Double Mountain Brewery
Ecliptic Brewing
Everybody's Brewing
Ex Novo Brewing Company
Feckin Brewery
Ferment Brewing Company
Fort George Brewery
Fortside Brewing Company
Freebridge Brewing
Full Sail Brewing Company
Gateway Brewing
Ghost Runners Brewery, LLC
Gigantic Brewing
Golden Valley Brewery
Ground Breaker Brewing
Heater Allen Brewing
Kells Brewery
Laurelwood Brewery & Public House
Leikam Brewing
Level Beer
Loowit Brewing Company
Migration Brewing
Montavilla Brew Works
Old Town Brewing
Ordnance Brewing
Oregon City Brewing
pFriem Family Brewers
Plank Town Brewing Co.
Public Coast Brewing Co.
Rogue
Stickmen Brewing
StormBreaker Brewing
Sunriver Brewing
The Prodigal Son Brewery & Pub
Three Mugs Brewing Co
Thunder Island Brewing Co.
Trap Door Brewing
Upright Brewing
Vanguard Brewing Company
Von Ebert Brewing
Wild Ride Brewing
Wolf Tree Brewery
Xicha Brewing
Yachats Brewing
CIDERIES:
1859 Cider Co.
Finnriver Farm & Cidery
Portland Cider Company
Runcible Cider
Stone Circle Cider
Tumalo Cider Co
Wandering Aengus/Anthem Cider
WildCraft Cider Works
KOMBUCHA:
Kyla Hard Kombucha

There will also be live music at the 2nd Annual McMenamins Edgefield Brewfest. Live music will take place from Noon until 7:00pm on two stages. The Red Shed Stage will host the The Hillwilliams (Bluegrass) from Noon-3:00pm and Bigfoot Mojo (Gypsy Swing Bluegrass) from 4:00-7:00pm. The Lower Venue will host Sliver Lake 66 (Americana) from 2:00-5:00pm.
Feel free to pack up your chairs, bring the blankets, the kids and the dog (on a leash) and join us McMenamins and many other breweries for some of the best beverages around!
McMenamins Edgefield
2126 SW Halsey St.
Troutdale, OR 97060