Melvin Brewing Announces its 2022 Beer Release Calendar + 2×4 Day
|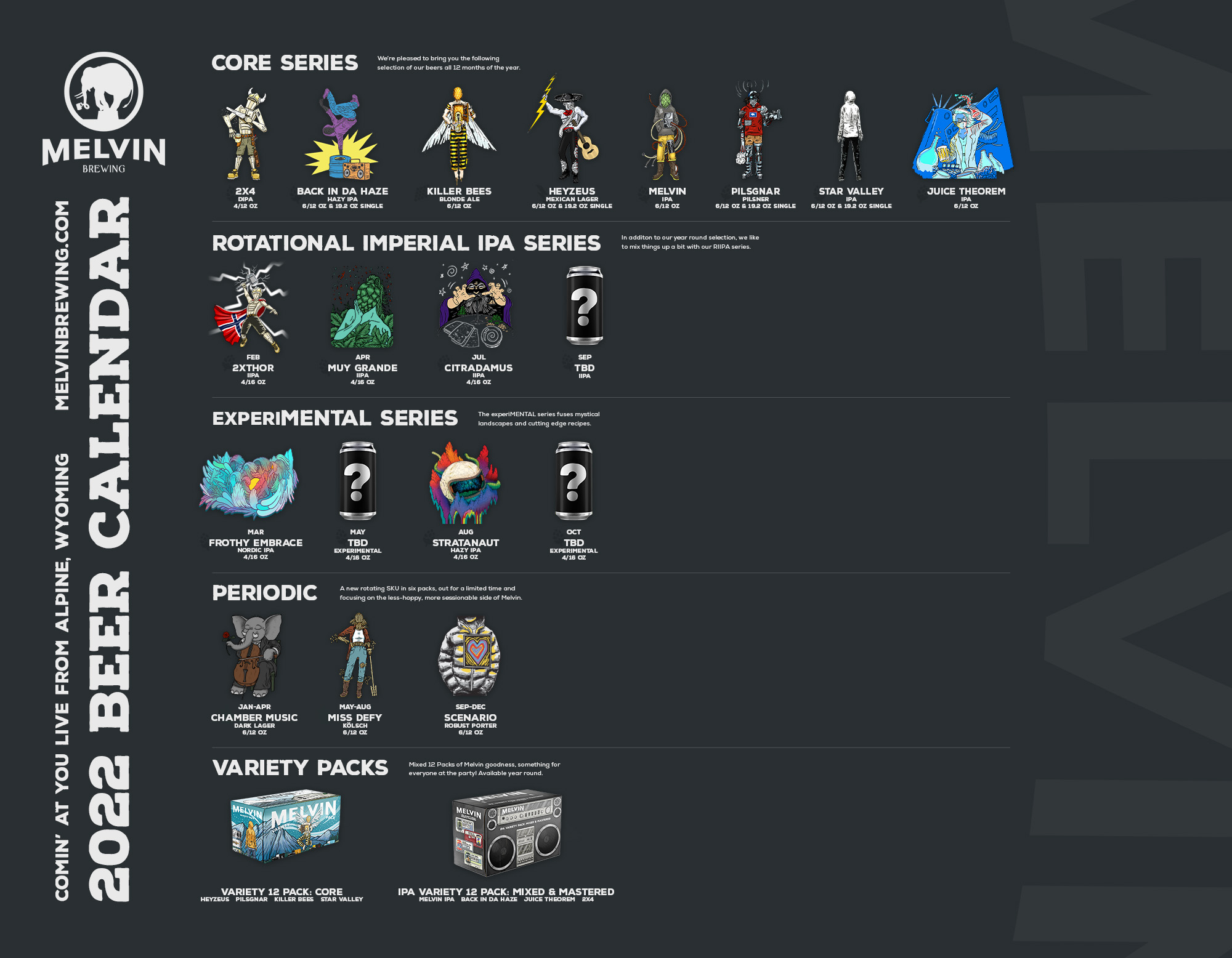 Melvin Brewing has prepped its 2022 Beer Release Calendar that'll bring 20 or so beers packaged in cans to market. The releases in the coming year see the return of many fan favorites, plus a few new offerings.
Throughout 2022, Melvin Brewing will release beers from four different beer series – Core Series, Rotational Imperial IPA Series, ExperiMENTAL Series, and Periodic. The brewer will also release two Variety Packs, one with beers from its Core Series and the other an IPA Variety Pack.
Core Series
2×4 DIPA
Back In Da Haze Hazy IPA
Killer Bees Blonde Ale
Heyzeus Mexican Lager
Melvin IPA
Pilsgnar Pilsner
Star Valley IPA
Juice Theorem IPA
Rotational Imperial IPA Series
2xThor IIPA
Muy Grande IIPA
Citradamus IIPA
ExperiMENTAL Series
Frothy Embrace Nordic IPA
Stratanaut Hazy IPA
Periodic
Chamber Music Daker Lager (January – April)
Miss Defy Kölsch (May – August)
Scenario Robust Porter (September – December)
Then a week from today, Friday, February 4, 2022, Melvin Brewing returns with its most well-known event, International 2×4 Day! Each year, Melvin Brewing honors the Fourth of February with a day that celebrates its most beloved beer, 2×4 DIPA. This beer has been awarded the triple crown medals at the Great American Beer Festival, World Beer Cup and Alpha King.
Official 2022 2×4 Day Bars:
WYOMING
The Mothership — Alpine, WY
Gaslight Social — Casper, WY
COLORADO
Backcountry Pizza — Boulder, CO
Backcountry Pizza — Nederland, CO
Romero's K9 Club — Lafayette, CO
Hops & Pie — Denver, CO
Tap & Handle — Fort Collins, CO
Parker Pour House — Parker, CO
OREGON
Valley Public House — Happy Valley, OR
OHIO
Edison's Pub — Cleveland, OH
CALIFORNIA
The Regal Beagle — San Diego, CA
IDAHO
The Handlebar — Boise, ID
Hops & Bottles — Boise, ID
Tap N Fill — Idaho Falls, ID
MISSOURI
iTap Soulard — St. Louis, MO
UTAH
The Angry Goat — Ogden, UT
Once again Melvin Brewing will be seeking out a few of the best and most festive 2×4 Day fans. Post a video in your best Melvin ninja wear and get creative. Do you build human pyramids with your friends in your spare time? Do you have a secret ninja move and 2×4 chug you've been waiting to reveal on social media? Hashtag #2x4day, wear your Melvin gear and make sure to get that can of 2×4 in the shot for your chance to get noticed. Members from the Melvin Brewing reams will be looking for the most creative content and you may just be contacted for some future secret projects and fun.