Melvin Brewing Night, The Weird Beer Bonanza and Sour Solstice Berliner Weisse & Gose Festival at Imperial Bottleshop
|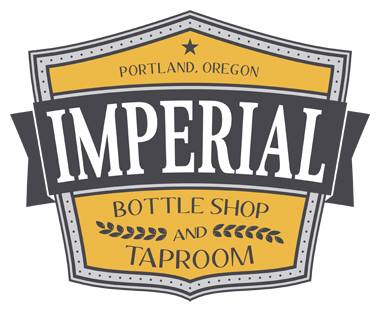 With PDX Beer Week about half way over, Imperial Bottleshop and Taproom will begin to offer its three events for the week. This begins tonight with Melvin Brewing Night, and continues on Wednesday with The Weird Beer Bonanza and then wraps up over the weekend with Sour Solstice Berliner Weisse & Gose Festival. More details on these three events are listed below.
Melvin Brewing Night
Join Imperial Bottleshop today, Tuesday, June 16th as they host Melvin Brewing and its co-founder Jeremy Tofte. This small 3 BBL brewery from Jackson, Wyoming, Melvin Brewing, has quickly gained notoriety for its world-class beers. This includes its 2×4 Imperial IPA, which won a gold medal at the 2014 World Beer Cup.
Beginning at 5:00pm Imperial Bottleshop will be pouring the following hoppy treats:
Morris IPA
Melvin IPA
Drunken Master DIPA
2×4 DIPA
In addition to 12 oz pours, Imperial Bottleshop will also be offering a 4×4 sampler tray for $8.50 (four 4 oz pours), and a 4×8 sampler for $16 (four 8 oz pours).
And if you haven't had the PDX Beer Week donut from Blue Star Donuts arrive early, as these will be given out free while supplies last. This donut has an IPA glaze made with Hopworks IPA coated with a crushed pretzel topping.
The Weird Beer Bonanza
A couple of things that Portland is recognized for are its "weirdness" and its plentiful craft beers. For The Weird Beer Bonanza Imperial Bottleshop has gathered a draft list of beers that have strayed from the beaten path to scintillate your taste buds.
Stop by to drink some strange brews on Wednesday, June 17th from 5:00 to 10:00pm. If you arrive a bit early KGW TV will be broadcasting live from 4:00 to 5:00pm before the official start of the event.
There is no fee for entry. Both 12 oz pours and $1.50 drink tickets for 4 oz sample pours will be available. Tap list to include:
Upright Orange Dream – Farmhouse ale with an addition of Townshend's No.72 herbal tea
Breakside Cedarbaumbier – Amber wheat ale made with foraged Western red cedar tips and fresh ginger
Fort George Spruce Budd – A hopless brew made with nothing more than organic two-row malt and Spruce tips for ingredients
Baerlic/Rev Nat's Apolis Cider Weisse – Berliner Weisse brewed with wild lactobacillus harvested from apples
Ninkasi Ground Control Imperial Stout – Brewed with yeast that's been to space and back, hazelnuts, coca nibs and star anise
Payette/Ninkasi Magic Gardens Asian Pear and Lemongrass IPA
Lagunitas Flower Time IPA – A version of their Daytime Session IPA with Elderflowers, heather flowers, Meyer lemon peel, and a touch of honey
SixPoint Ever Upward Fuji Apple Wheat
Coalition Dill Dose Sour Pickle Ale
Oakshire Cranberry Ginger Berliner Weisse
13 Virtues Morocco Mole – A dunkel-ish lager with Mana chocolate, cacao nibs, and habanero and chipotle peppers.
Burnside Silence of the Lambs  – Irish Stout brewed w/ Grilled Lamb Hearts. Yep, you read that right.
Double Mountain Aging Experiment
Ecliptic Moon Fruit Saison – A special one-off blend of saison with strawberries, rhubarb and basil
Hi-Wheel Wine & Mead Beet, Horseradish and Rosemary Fizzy Wine
Base Camp All Jacked Up Firkin containing a blend of Pilgrimage Saison and Berliner Weisse and 10lbs of fresh Jackfruit
Reverend Nat's Kumiss (milk wine) – through the miracles of modern science, Rev Nat's is fermenting milk.
Sour Solstice Berliner Weisse & Gose Festival
Begin the first days of summer with some tart beers when Imperial Bottleshop hosts its Inaugural Sour Solstice Berliner Weisse & Gose Festival. This two-day festival begins at Noon on Saturday, June 20th and ends at 10:00pm on Sunday, June 21st. Two days of tart beer drinking.
Spend the longest day of the year sipping a selection of 10 tart and refreshing, German-style sour wheat beers brewed by breweries across the States. To turn up the flavor dial to your liking, a handful of house made syrups will be available for mixing with the Berliners, including traditional Woodruff, seasonal berry, peach, dry-hopped, bourbon ginger, and jalapeño agave.
And if you come hungry, Portland's first bicycle food cart, The Portland Crab Cart, will be onsite cooking up delicious Dungeness crab cakes from 2:00 to 8:00pm each day.
Initial tap list includes:
De Garde Imperial Orchard Bu
Bend Brewing Ching-Ching
Bear Republic Tartare Berliner Weisse
Bell's Oarsmen Berliner Weisse
Oakshire Gose to 11
DESTIHL Brewing Black Berliner Weisse
Breakside / Fat Head's Juggling Plums Gose
Ex Novo / Gigantic Blackberry Gose
Victory Kirsch Gose
Commons / Occidental CBC 2015 Gose
A limited amount of early-bird tickets will be $15.00 ($16.82 after fees) and includes entry, commemorative glass, and 5 drink tickets that are available by clicking here. Tickets at the door will be $20.00. Pours will be a 6 oz and additional drink tickets will cost $2.00.
Imperial Bottle Shop & Taproom
3090 SE Division St
Portland, OR 97202