Naked City Brewery & Taphouse Hosts the 2018 Seattle Beers Made By Walking Beer Tapping
|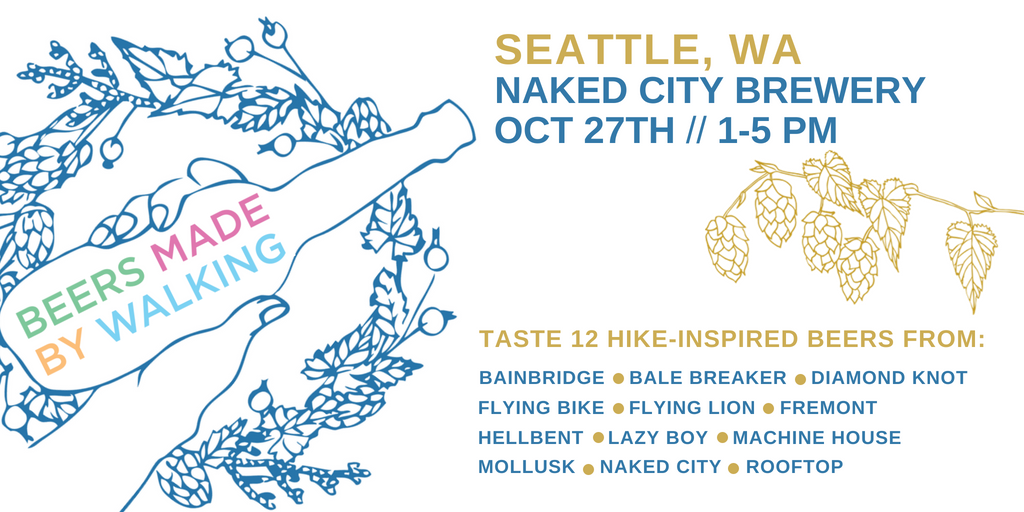 All of the 2018 Seattle brewed Beers Made By Walking beers will come together at the 2018 Seattle Beers Made By Walking Beer Tapping on Saturday, October 27th. Returning to Naked City Brewery & Taphouse, this year's tapping festivities will take place from 1:00-5:00pm and will feature 12 nature inspired beers.
During the past few months 12 Washington State breweries brewed beers that were inspired by one of three trails hiked. Washington Wild, an organization that helps protect public lands, wild spaces, and clean and healthy watersheds in Washington State, organized these hikes. Hikes included the Pratt River Trail, South Tiger Traverse, and Heather Lake. Each beer is said to be a unique, drinkable portrait of the landscape.
All the breweries participating are Washington Wild Brewshed® Alliance partners. The Brewshed Alliance is an outreach program of Washington Wild including over 50 breweries that helps people make a simple connection: healthy watersheds mean clean water, and clean water makes better beer.
At this event you can sample these unique and local craft brews showcasing what Seattle area landscapes have to offer. Here's a preview of the dozen beers that will be pouring on Saturday at Naked City Brewery & Taphouse.
2018 Seattle Beers Made By Walking Beer List:
Bainbridge Brewing – Bull Kelp Gose – A foraged tribute to Bainbridge Island. Inspired by the island's long Japanese-American history, the beer is based on Japanese dashi stock; a kettle soured Gose brewed with Skagit Valley malt, fresh snorkel-harvested Bull Kelp fronds, and for salt, a big bucket of seawater we collected from the middle of the Sound while out fishing the last day of Chinook season. (And a few little hitchhiking shrimps and kelp crabs may have made the ultimate sacrifice for this beer too.) 4.2% ABV, 15 IBU
Bale Breaker Brewing – Crouching Cougar, Hidden Sagerat IPA – Which hidden masters of flavor are hiding in the hills around Yakima, waiting to teach brave brewers their lessons? To make this beer inspired by an aromatic sage species on the Pratt River Trail, we hand-harvested big sagebrush (Artemisia tridentata) flowers then paired them with green tea and Palisade hops to highlight the herb's grassy qualities and ginger root and Ahtanum hops to bring out the spicy, floral character. Gracefully walks the line between beer and cocktail with aromas of juniper, ginger, eucalyptus, and hay. 6.8% ABV, 65 IBU
Diamond Knot Brewing – Mediterranean Strawberry Blonde – Diamond Knot's Blonde Ale, infused with a reduction of the fruit of the Mediterranean Strawberry Tree (Arbutus unedo).  There are several of these lovely trees along the route I often walk from home-to-brewery here in Mukilteo.  The delicate sweetness should provide a perfect complement to the character of Diamond Knot's Blonde. 4.2% ABV; 13 IBU
Flying Bike Cooperative Brewery – Hoppy Itch IPA – Inspired by the ubiquitous nature of both New England IPAs and Nettles in the Pacific Northwest, this beer is a blend of our Polly Porpoise (a hazy pale with Ekuanot, Simcoe, Mosaic and Zythos hops) and a strong batch of nettle tea to create a totally unique and refreshing beer. Conceived of during our hike along the Pratt River Trail and perfected with the help of co-op members. 5.5% ABV, 35 IBU
Flying Lion Brewing – Thimbleberry Stout – A classic American Stout full of chocolate, roasted, and vanilla flavors then aged on the elusive Thimbleberry. The delicate clover-honey flavor of the berries comes through with impressions of peach and strawberry. 6.0% ABV, 37 IBU
Fremont Brewing –Dark Star Imperial Oatmeal Stout, infused with Oak, Hazelnut and Fresh Mint – Dark Star is a dark, mysterious yet silky oatmeal stout of grand proportions balanced by a firm hop handshake. We've infused it with oak, hazelnut and fresh mint, inspired by the natural beauty of the Pratt River Trail.   Go ahead, enjoy the journey…Because Beer Journeys Matter! 8.0% ABV, 50 IBU
Hellbent Brewing Company – Backyard Bounty IPA – Hellbent's beer made by walking begins with a base beer of our newest Brut IPA, called Brut Scootin' Boogie. It was then infused with crushed blackberries, fresh hops from our hop trellises, pine needles and spruce tips. It's a light bodied IPA with a fruity hop character, blackberry, and a crisp pine finish. 7.6% ABV, 44 IBU
Lazy Boy Brewing– Belgian Golden Strong Ale – Inspired by our walk along Tiger Mountain. We have infused fresh Juniper berries, lavender, and oak chips. Brewed with traditional Belgian Yeast. 8.1% ABV
Machine House Brewery – Chestnut Chickadee Cedar IPA – Inspired by the small chirps coming from the grand cedars on the Heather Lake Trail this IPA is infused with Spanish Cedar. 6.2% ABV
Mollusk Brewing – Porcini Stout – American style stout brewed with proximities mushrooms. Nutty, earthy and toasty. Hints of coconut, chocolate and forest floor. 6.0% ABV
Naked City Brewery & Taphouse – Brown Ale Infused with thimbleberry leaves and flowers, salmonberry leaves, and western hemlock needles. 5.8% ABV
Rooftop Brewing Company – Inglorious Basker – A sinister cousin of our Glorious Basker – where the Glorious is full of blood orange summer and sunshine, the Inglorious is full of fall blackberry tart. Inglorious Basker is a wheated Bavarian beer, chock full of Blackberries just like the ones you will find on many-a-hike in the PNW. 5.0% ABV, 11 IBU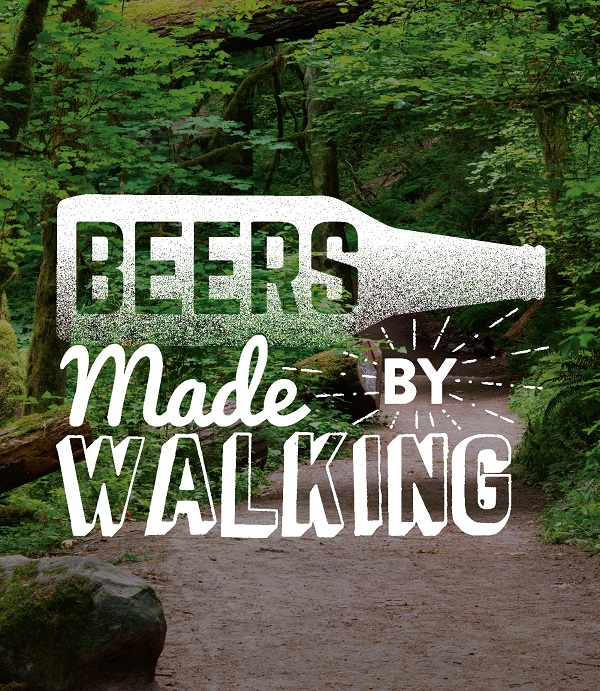 Entry into the 2018 Seattle Beers Made By Walking Beer Tasting is $20.00 and includes entry and 8 tasting tokens for 4 oz pours. Additional tokens will be available for purchase for $2.00 each. All guests must be over 21 with valid ID. Purchase advance tickets here: https://wawild.org/bmbw
Stay up to date by following the Facebook Event Page.
Naked City Brewery & Taphouse
8564 Greenwood Ave N
Seattle, WA 98103