New Hopworks Opens in Vancouver, Vote For your Favorite Gigantic Beer and Beer Events For the Week of December 29
|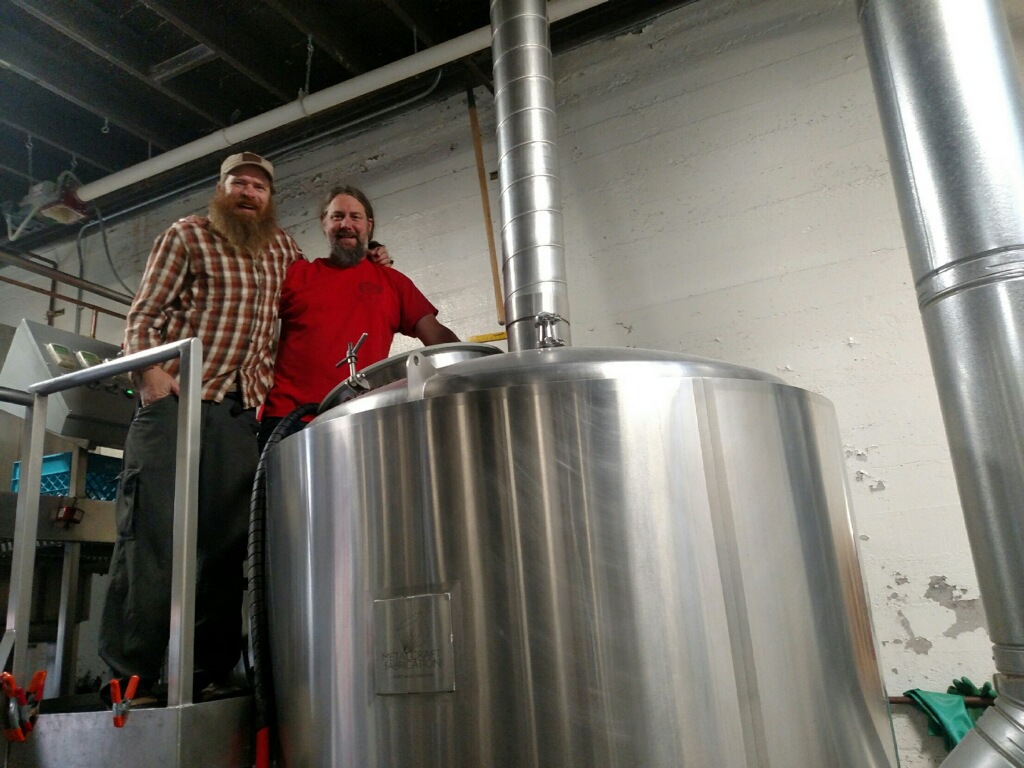 The new Hopworks Urban Brewery opens in Vancouver, Washington on Friday, there is still time to get your vote in for your favorite Gigantic beer plus the rest of the beer events for the week of December 29th.
Old Bald Fart ESB Release
6 p.m. Thursday Dec. 29, Baerlic Brewing, 2235 SE 11th Ave.;
6 p.m. Friday Dec. 30, Loyal Legion, 710 SE Sixth Ave.;
Baerlic Brewing and Loyal Legion Beer Hall will hold back-to-back release nights Thursday and Friday for a collaboration beer based on a 21-year-old recipe from Baerlic sales manager Jim Parker's first brewing job.  Old Bald Farts is a hoppy strong ale Parker first brewed in the winter of 1995 at the short-lived Dimmer's Brewpub in Fort Collins, Colo. This year's version is 8.6 percent alcohol by volume with a pronounced hop bitterness, flavor and aroma. The copper-hued beer doesn't fit neatly into any beer style. The original batch was listed as an "ESB on steroids."
"Back in 1995 Colorado – when it was just called Old Bald Fart — this was a fairly extreme beer," Parker says. "In 2016 Portland, it's not far outside of the mainstream." Loyal Legion's Herb Apon came to Baerlic's brewhouse to participate in the brew to celebrate Parker's one-year anniversary as Baerlic's sales manager.  Parker and Apon observed a 21-year-old tradition on brew day: "I used to insist that whenever anyone came and brewed with me we had to do a hot Scotchie (wort and single malt Scotch) at the start of the brew day," Parker said, " and a shot of Jameson's with each hop addition. Old Bald Farts has a hop addition every 15 minutes during a 60-minute boil, so it's a good thing Herb and I had only to with mill the grain and stir and empty the mash tun — brewer Sean Rubbo did all of the real work."
After this week's releases, the beer will be on tap at Baerlic's Taproom, Loyal Legion and a few other select accounts. In about three months, Baerlic will release a barrel-aged version, aged in a Bull Run Distilling Oregon Single Malt Whiskey barrel.
St Bernardus Abt 12 Magnum Vertical Tasting
6-10 p.m. Thursday Dec. 29, Bazi, 1522 SE 32nd Ave.; $15, advance tix at Eventbrite recommended.
The Bazi crew is pouring a special St Bernardus Abt 12 Magnum Edition vertical flight – 2012, 2013, 2014 and 2015. St.Bernardus Abt 12 is an Abbey ale brewed in the classic 'Quadrupel' style of Belgium's best Abbey Ales. Dark with a full, ivory-colored head, this 10 percent ale has a fruity aroma, full of complex flavors and excels because of its long bittersweet finish with a hoppy bite, according to Bazi's press release, which calls it a very balanced beer, with a full-bodied taste and a perfect equilibrium between malty, bitter and sweet. The tasting will include 4 oz pours of each vintage of Abt 12 plus a bonus pour of St Bernardus Christmas.
New Hopworks Brewpub Opens in Vancouver
11 a.m. Friday Dec. 30, Hopworks Vancouver Brewpub, 17707 SE Mill Plain Blvd., Vancouver;
The new Hopworks brewpub is a 6,000 square foot, eight-barrel brewery and 300-seat restaurant in East Vancouver. It continues the commitment to sustainability that made Hopworks the first Certified B Corporation brewery in the Northwest. The brewpub will serve a number of beers exclusively for Vancouver, including a new Imperial IPA that debuts on Friday. All beers are brewed with thoughtfully sourced ingredients from Washington and Oregon, including organic barley malted in Vancouver, and a combination of local, organic, and Salmon-Safe hops. In true Hopworks fashion, the Vancouver site is at the intersection of two bike paths, with plenty of bike parking. The brewpub is a Salmon-Safe Certified development and contains a 10Kw solar array, native landscaping, and energy and water efficient design.
"We are a neighborhood brewery," said Hopworks Brewmaster and Founder, Christian Ettinger. "Part of being a good neighbor is simple – treat the neighborhood with love and respect, and always serve your neighbors the best beer you can. Vancouver is packed with families and people who love craft beer, and it has a rich brewing history. There is such a great community feeling here, so we are happy to share our beer and space with the people of this beautiful city."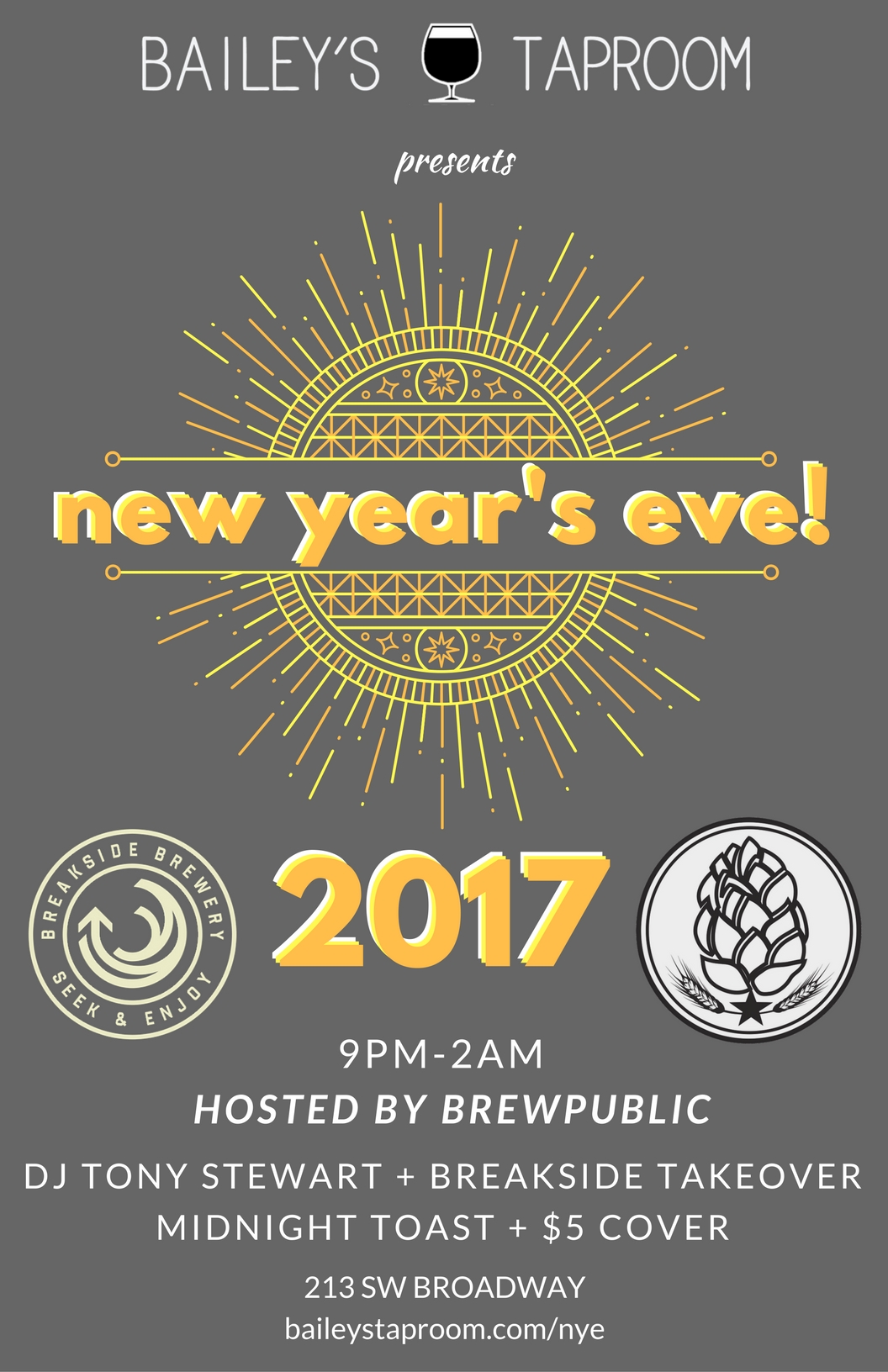 New Year's Eve at Bailey's Taproom
9 p.m. – 2 a.m., Saturday, Dec 31, Bailey's Taproom, 213 SW Broadway, $5 cover
Bailey's Taproom partners with BREWPUBLIC and Breakside Brewery for its 2nd annual New Year's Eve Party. On hand will be DJ Tony Stewart with his signature blend of house & hip-hop gems. Plus this year Bailey's is adding Breakside Brewery into the mix as they will feature 10 Breakside beers on tap, a mixture of classics & rarities, to make sure you stay properly beered to ring in 2017.
Breakside Draft List:
Bourbon Barrel-Aged Aztec
Salted Caramel Stout
Vienna Coffee Beer
Fourth Wave Bourbon Barrel-Aged Coffee Beer
Wanderlust IPA
Breakside Pilsner
Kissing Cousins Gose with honey & sea salt
Ice Fishing in America Gin Barrel-Aged Wisco Tavern Beer
La Tormenta Dry-Hopped Kettle Sour Ale
Mic Drop Imperial IPA
The party starts at 9PM and goes until 2AM! There will be a $5 cover at the door which gets you a complimentary glass of bubbles for a midnight toast. Trimet MAX and bus stops are always close by and rides are free citywide after 8PM.
An Evening with Cascade Brewing
5 – 7 p.m. Tuesday Jan. 3, Belmont Station, 4500 SE Stark
Cascade Brewing is celebrating joining forces with Day One Distributing with some very special and rare draft offerings!
Blueberry 2016 – Sour wheat and blond ales aged in oak barrels for 12 months with fresh blueberries
Brambleberry Quad – Wheat and quad ales aged in wine and Bourbon barrels with red and black raspberries
Date Night – Imperial reds and quads aged in bourbon barrels with rum-soaked dates and spices
Sang Royal 2015 – Imperial spiced red ales aged in bourbon & wine barrels with Bing cherries
Gin Gimlet 2015 – Sour wheat ales aged in white wine barrels with lime peel & juniper berries
Vlad the Imp Aler 2013 – Sour quad and blonde ales aged in bourbon & wine barrels with spices
Bourbonic Plague 2013 – Spiced double porters aged in bourbon barrels with dates, vanilla and cinnamon
Vote for you favorite Gigantic Brewing beers
Gigantic Brewing's fifth anniversary is on Tuesday May 9, 2017 and they'll begin reprising and releasing their greatest hits beers in April,  and will continue through to March 2018. Best of all, you, the beer drinker gets to vote for the beers you want to see again. (And see is a valid word here — look at all the unique, artist-created labels, a different one for each beer — it's a reminder that Gigantic beers are a treat for the eye as well as that palate…) Here's Dr. Ben Love himself:  "In honor of Gigantic Brewing's fifth year in business we are letting our loyal fans choose their favorite bottled beers for us to re-brew in 2017. Pick two from each group (four beers total) and send your choices to vote@giganticbrewing.com. If you are worried your electronic vote may be compromised by Russian hackers, you may cast a paper vote at the taproom…"