Oakshire Brewing Dark Days of February – Hellshire XII Release
|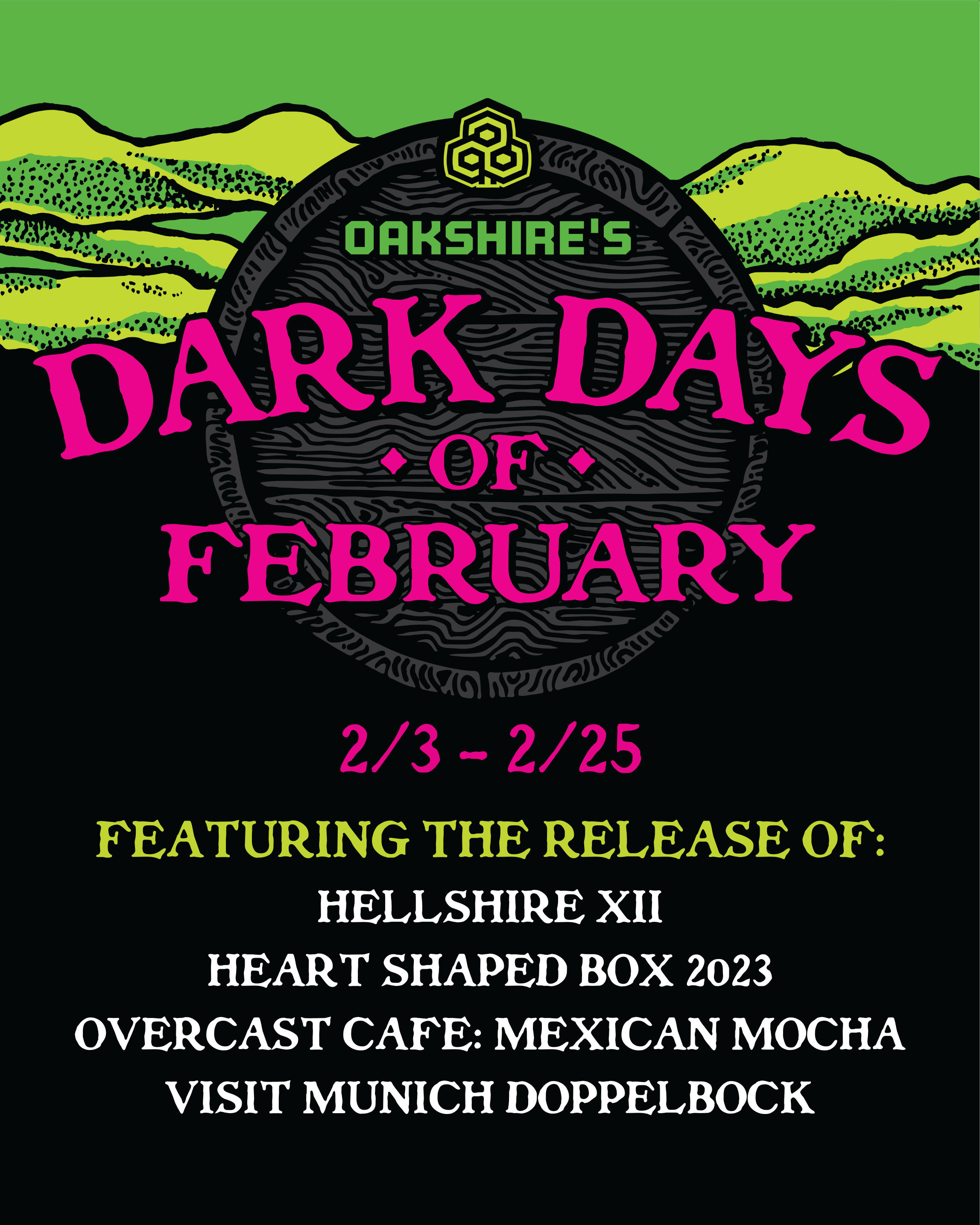 January 17, 2023: EUGENE, OR – Oakshire Brewing has a long history of producing exceptional and award-winning dark beers. From the classic core beer Overcast Espresso Stout to big bourbon barrel aged stouts, Oakshire's direct-fired kettle and talented production team is known for its dark beer expertise. To showcase Oakshire's range of dark beers, the brewery is pleased to announce the Dark Days of February, headlined by the release of Hellshire XII.
The Dark Days of February will feature four dark and delicious beer releases, all of which will be available for pre-order and purchase at Oakshire's taproom locations, as well as at specialty beer retailers in Oregon, Washington, and Colorado:
Hellshire XII is an Imperial Stout aged in Elijah Craig 12 Year Bourbon Barrels. It is the 12th installment in Oakshire's annual bourbon barrel-aged Hellshire series. 22oz Bottle, 13.5% ABV
Heart Shaped Box, last produced in 2021, is a bourbon barrel-aged Imperial Stout with raspberries, coffee, cocoa, and vanilla beans. 22oz Bottle, 14.5% ABV
Overcast Café: Mexican Mocha is the first variation of the limited-series Café variants. This Imperial version of the classic Overcast stout adds vanilla, cocoa nibs, cinnamon, and peppers. 16oz Can, 8.2% ABV
Visit Munich Doppelbock is a strong, dark German-style lager cold-conditioned for an ultra- rewarding four months. The Visit series explores classic international pilsners and lagers. 16oz/4pk, 8.1% ABV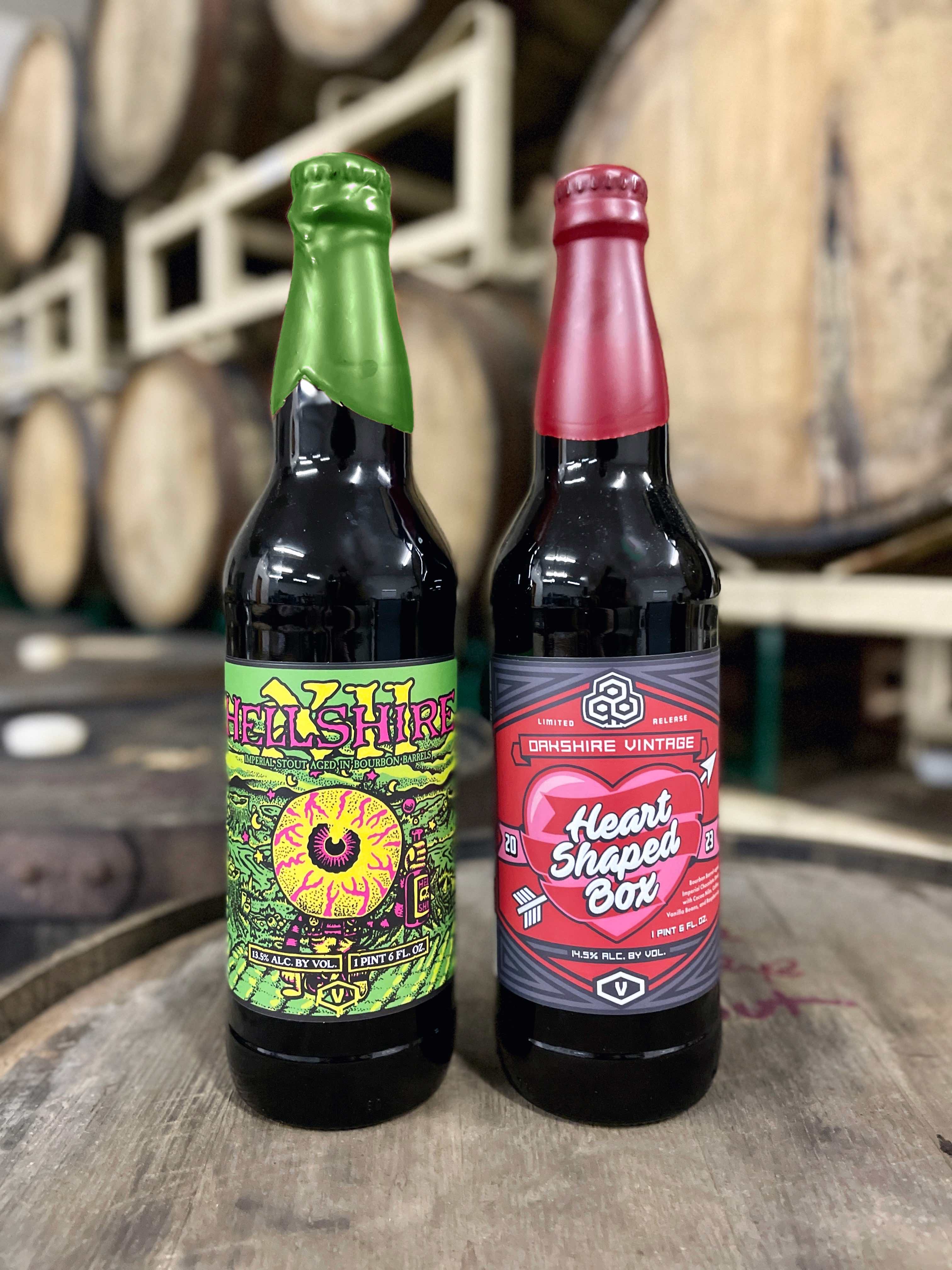 "We are excited for the annual release of Hellshire to return to its rightful position in the cold, dark part of the year. Past Hellshire releases coincided with our Hellshire Day Brewfest, but that's going to look different going forward. This year, we'll celebrate Hellshire XII with a lineup of taproom and retailer events. Will the Hellshire Day Brewfest return in 2024? We're excited to explore the possibility," says Hannah Child, Oakshire Marketing Director.
The Dark Days event schedule includes releases at Belmont Station in Portland on February 3rd, Bridge & Tunnel Bottleshop in Astoria on February 9th, and Peaks & Pints in Tacoma, WA on February 16th. A special ticketed Brunch in Hell will take place on February 5th at The Bier Stein in Eugene. There Dan Russo, Oakshire's Director of Brewing Operations, will release the brunch-inspired barrel-aged Imperial Stout Brunch in Hell '23, specially brewed for this event, which also serves as a celebration of his 10th Anniversary with Oakshire. The Brunch in Hell menu was carefully curated using Oakshire beers by The Bier Stein's Chef, Katie Nordgren. Tickets will go on sale online on Tuesday, 1/17 at 12pm.
"Dan Russo is Oakshire's longest-tenured employee other than me, and it has been my pleasure to grow as a professional alongside Dan, as he grew into a phenomenally talented brewer. Oakshire is fortunate to have Dan and the production team he's built running one of Oregon's longest operating independent small brewing facilities," says Jeff Althouse, CEO and Oakshire Co-Founder.
Other Dark Days where the beer releases can be found are at the KLCC Brewfest in Eugene on February 10th and 11th, Ft. George's Festival of Dark Arts in Astoria on February 18th, Tap & Vine at 559 Beer Dinner in Medford on February 23rd, and the Hops & Props Fest in Seattle on February 25th.
To pre-order these beers, purchase Brunch in Hell tickets, or learn more about the events for Oakshire's Dark Days of February, visit oakbrew.com/oakshires-dark-days-of-february/
About Oakshire Brewing: Oakshire Brewing of Eugene, Oregon, is a community inspired small batch brewing company founded in 2006. Oakshire is privately owned by the family and friends of its founders, employs 28 people, and produces a wide variety of beers through its three distinct brewing programs: Core, Pilot, and Vintage. These beers are available on draft and in package through Oakshire's exceptional wholesale partners in Oregon, Washington, and Colorado. Oakshire operates two taprooms in Oregon, the Oakshire Public House in Eugene is located at 207 Madison Street, and the Oakshire Beer Hall in NE Portland, which is located at 5013 NE 42nd Ave. For more information about Oakshire, including our people, locations and beers, visit our website at oakbrew.com.