Old Town Brewing Glow Torch Hazy IPA – Official Beer of The 2018 Portland Rose Festival
|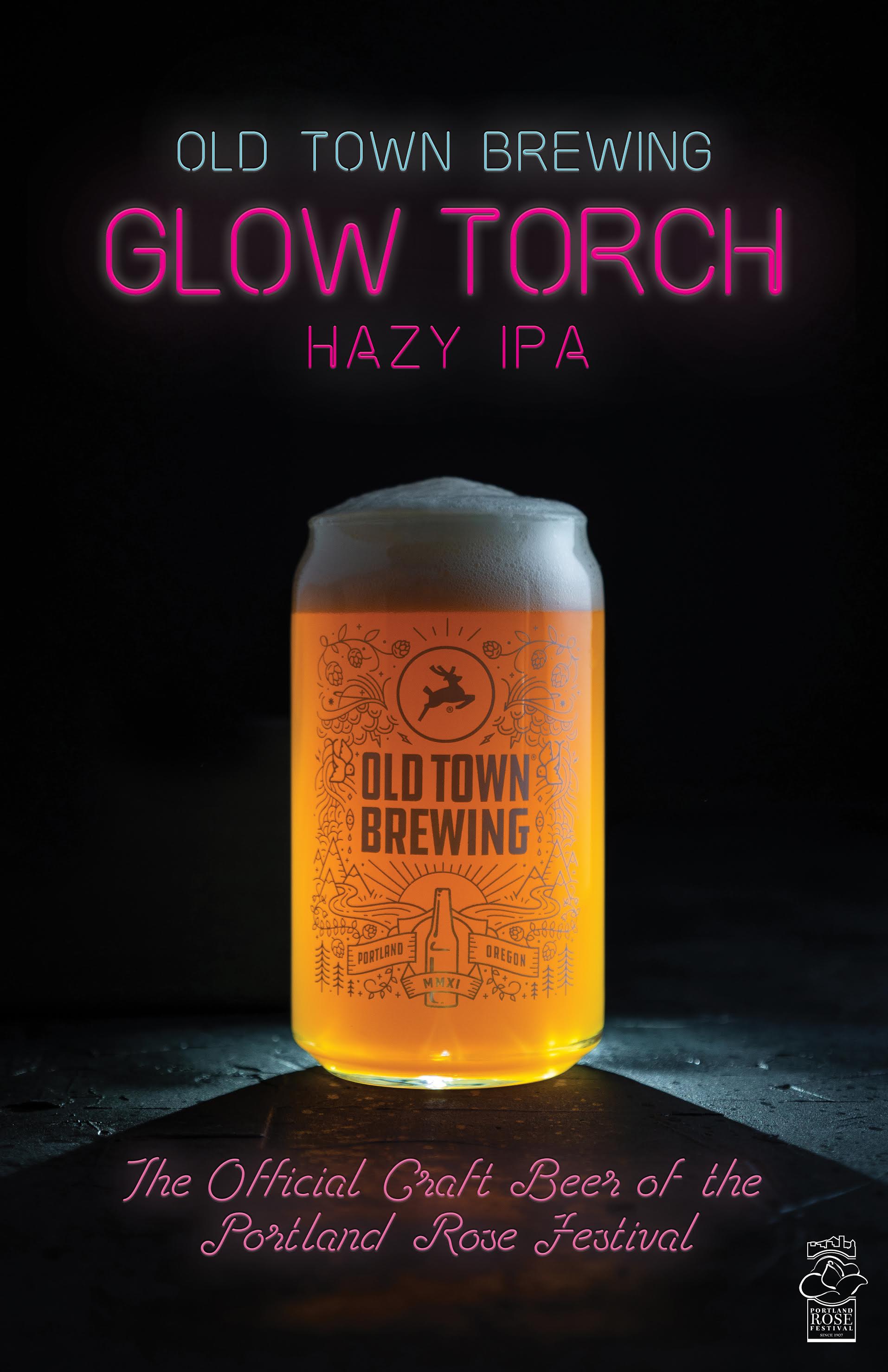 When the 2018 Portland Rose Festival returns from May 25 – June 10, Old Town Brewing will brew the official beer with its Glow Torch Hazy IPA. The brewer will also launch a pop-up taproom along the Waterfront called the Old Town Brewing Speakeasy for the three-week festival.
Today, April 26th from 3:30-6:00pm, Old Town Brewing will host the Rose Festival's Official Kick-Off Party at its brewery location in Northeast Portland. Also present at today's kick off party the Rose Festival will introduce the 2018 artwork exclusively created for its signature wine labels produced by Oak Knoll Winery and reveal a new Kenneth Poirier Festival themed collector's edition poster.
In attendance at today's event will be Jeff Curtis – CEO Portland Rose Festival; Felicia Reyes – Wine Label Artist – Art Institute of Portland; Greg Lint – Oak Knoll Winery; Adam Milne – Owner Old Town Brewing; and Joe Sanders – Sales Director Old Town Brewing.
Here are a few additional details from today's press release from the Portland Rose Festival…
The Rose Festival is delighted to welcome Old Town Brewing as the official craft beer of the 2018 Festival. Old Town will feature a Rose Festival signature craft beer at CityFair, called the Glow Torch – Hazy IPA.  Old Town Brewing is a brand that aligns well with the Festival It sources most of their ingredients from local farms and will feature a limited release batch at the Old Town Brewing Speakeasy in CityFair, May 25 – June 10.
Oak Knoll Winery is celebrating 48 years of Oregon Wine! The Rose Festival annually promotes art and education in partnership with Oak Knoll Winery. Each year the work of a local college level art student is selected to create the Rose Festival Pinot Gris, Pinot Noir and Rosé labels. Each bottle, individually numbered, of the collector's commemorative series is a unique and special blend with limited cases produced under this label. Bottles can be purchased at their official retailer Fred Meyer and directly from Oak Knoll Winery in Hillsboro or on their website: http://www.oakknollwinery.com/
Kenneth Poirier is a professional graphic artist commissioned by the Rose Festival to provide new and creative works based on the festival's yearly themes and activities.
Old Town Brewing
5201 NE MLK Blvd.
Portland, OR