OMSI After Dark: Brewfest Goes Virtual
|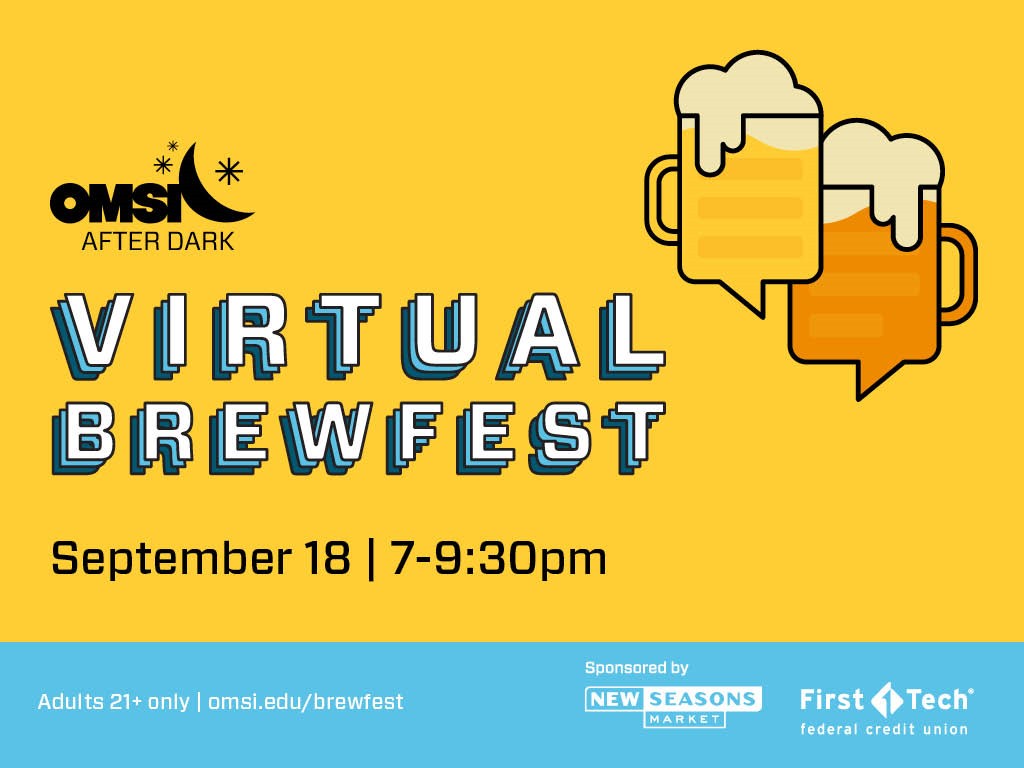 Beer and science will come directly to your home when the annual OMSI After Dark: Brewfest goes virtual that includes home beer delivery. The popular OMSI After Dark Series brings together adult fun and science and now OMSI brings it to you virtually with safe, fun activities from the comfort of your home.
The Virtual OMSI After Dark: Brewfest will take place on Friday, September 18th from 7:00-9:30pm. The evening's activities will be Co-Hosted by Rebecca Reilly, OMSI's Teen and Adult Engagement Assistant Manager and a yet to be named beer expert. Expect science demos, brewery experts, trivia, music and more. Information on how to access the live stream will be emailed to ticket holders the day of the event.
Entry into Virtual OMSI After Dark: Brewfest include 10 beers, 2 tasting glasses and access to the virtual event for those 21+. Tickets are $40 until September 1st, then thereafter it increases to $45. OMSI members receive a 15% discount on virtual entry.
Contact-less pick up will be available Sept 15-17 from 2:00-6:00pm at OMSI along with valid ID required for pick up. You can also ship your beer to you within the state of Oregon for $15/shipping per box. All orders must be placed by Sept 11 at 5:00pm.
Information on how to access the live stream will be emailed to ticket holders the day of the event. The link will be valid for 72 hours.
Here's a preview of the ten breweries that are involved.
Virtual OMSI After Dark: Brewfest Breweries:
Baerlic Brewing Co. – Dream Life Farmhouse Ale w/ Meyer Lemon and Sea Salt
Fort George Brewery – Rock, Paper, Sterling (Fresh Hopped Pilsner)
Little Beast Brewing – Mr. Nice (Sour Ale w/Passionfruit)
Monkless Belgian Ales – Peppercorn Imperial Wit
Ninkasi – Steady Orbit ("Grounded" IPA)
Stormbreaker Brewing – Opacus Stout (Oatmeal Stout)
Sunriver Brewing Co. – Turtle in the Clouds (Hazy IPA)
Von Ebert Brewing – Newer American Pils (Dry-hopped Pilsner )
Wayfinder Beer – Freiheit (German-Style Oktoberfest)
Worthy Brewing – Lights Out Stout
In addition to the beer tasting, OMSI will also offer some remote science demonstrations and activities, just as you would expect at a normal, non-pandemic OMSI After Dark.
The Science Demonstrations will include Hydrogen Balloon Explosion, LN2 Ping Pong Ball Explosion, Night Sky Report with Jim Todd, Director of Space Science Education at OMSI, and TBD Beer Science Demos. There will also be Cooking Demos with Andrew Garrett, Chef and Owner of NW Elixirs, Beer Trivia, Ice Carving and Interviews with the breweries, videos and tasting notes for each beer.
Learn more about Virtual OMSI After Dark: Brewfest from visiting its website by clicking here.