Portland Fruit Beer Festival Moves to North Park Blocks From June 10-12
|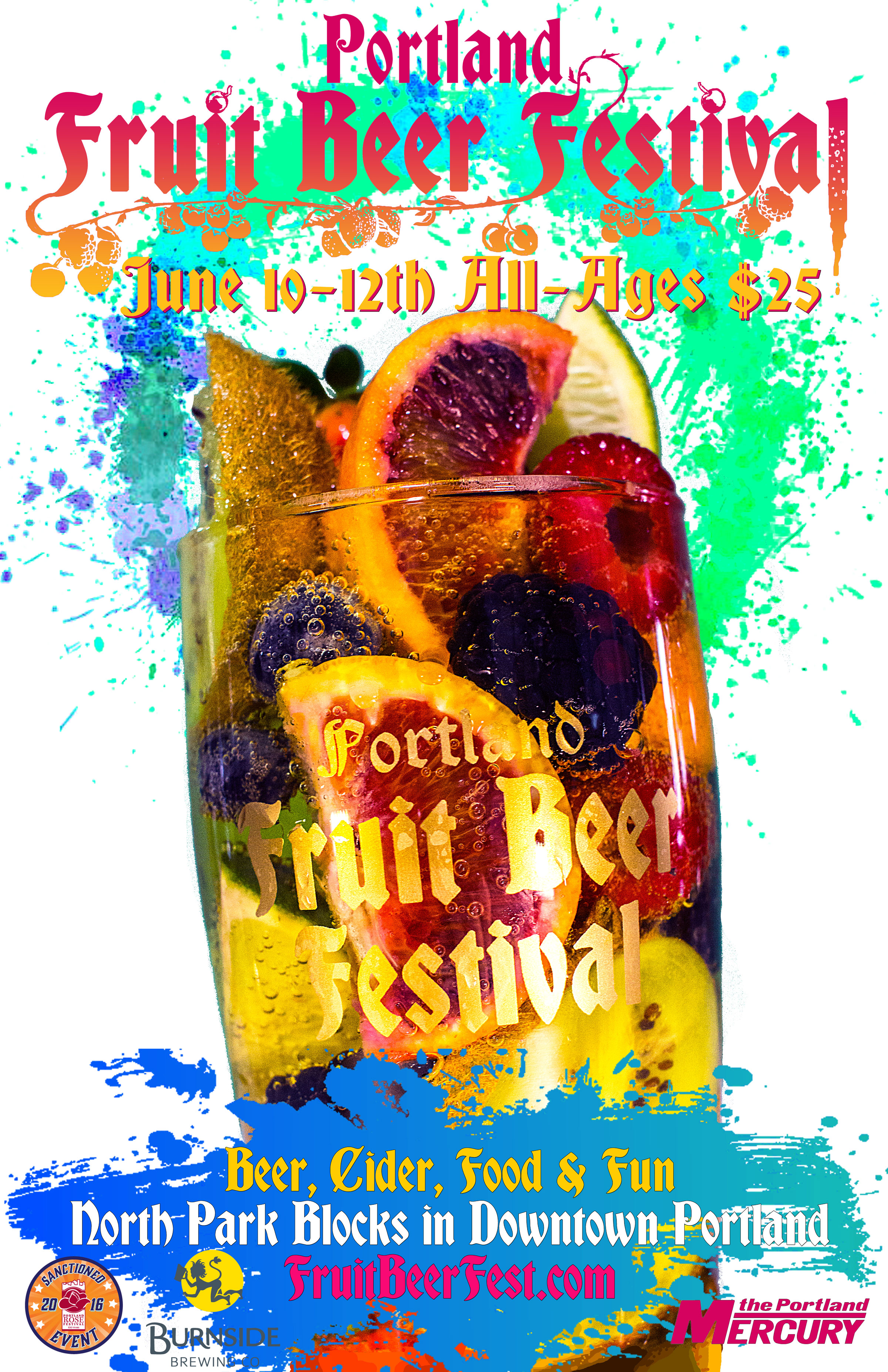 After being held for five years at Burnside Brewing Co., this year the Portland Fruit Beer Festival makes a move west across the Willamette River to Portland's North Park Blocks from June 10 – 12. This new location for the festival will bring with it more shade, additional space and even more beer and cider offerings.
The Portland Fruit Beer Festival will be held at the North Park Blocks in downtown Portland for it's sixth year from June 10-12th, 2016. Festival hours are 11:30am – 9:00pm on June 10, 11:00am – 9:00pm on June 11, and 11:00am – 6:00pm on June 12.
Tickets for are now on sale at $25.00 each for General Admission. If currently purchased online attendees will receive 4 3 extra drink tickets than received at the gate. This means purchasing in advance you'll receive a Govino cup and 16 15 drink tickets instead of the 12 tickets received when purchasing entry at the gate. Tickets may be used on any of the 3 days.
In addition to the new location at Portland's centrally located North Park Blocks, the Portland Fruit Beer Festival adds a 3rd full day with 3 bonus tickets to walk-up General Admission attendees arriving before 2:30pm on Friday June 10th. Beers and ciders will be 4oz pours for 1-3 tickets and additional drink tickets are $1.00 each.
New to the festival, Burnside Brewing will host the Burnside Can Garden inside the Portland Fruit Beer Festival, and offer $3 and $4 cans of Burnside Couch Lager and Burnside IPA respectively.
The Portland Fruit Beer Festival will expand the list of participating breweries and cideries from 27 in 2015 to as many as 35 in 2016. With both more beer and more cideries that offer plenty of gluten-free options. The rare and rotating taps of very limited special kegs will also return each of the three days.
As in years past, the Portland Fruit Beer Fest is an all ages, family friendly event that will feature some of the best local food vendors including Hot Lips Pizza, Bunk Sandwiches and more. Some of Portland's best local DJ's will provide music and for non-drinkers there will be Hot Lips fruit juices and sodas. Organizers are also excited to announce that the Portland Fruit Beer Festival is now a Rose Festival sanctioned event, also sponsored by the Portland Mercury and Burnside Brewing.
The Portland Fruit Beer Fest is now seeking OLCC certified volunteers, additional info on volunteering can be found here.
Portland Fruit Beer Festival
North Park Blocks
NW Davis & 8th Avenue
Portland, OR 97209