Previewing the 2022 Oregon Brewers Festival Beer List
|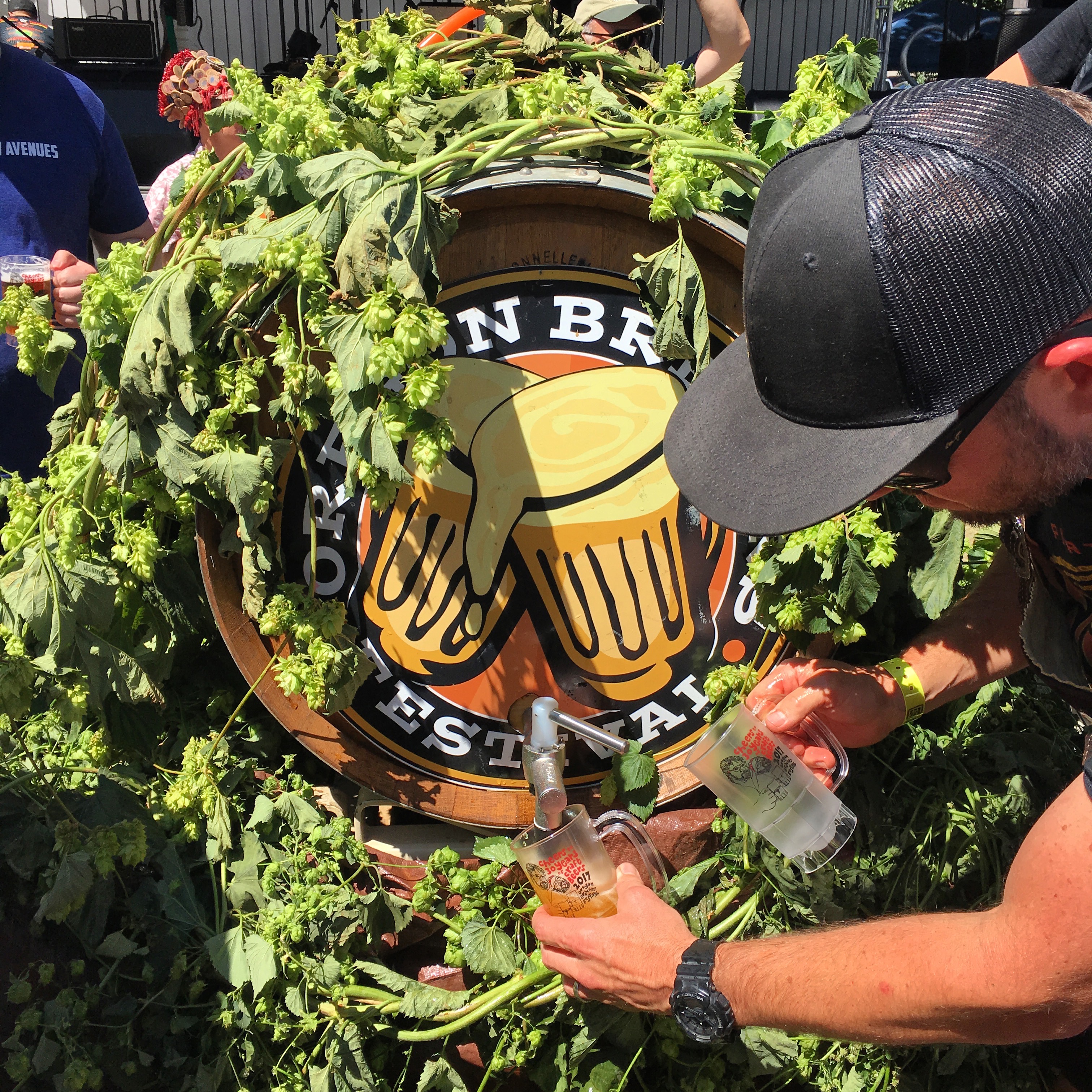 Since serving its last beer nearly three years ago, the 33rd Oregon Brewers Festival returns to Tom McCall Waterfront Park in Portland, Oregon from Thursday, July 28 through Saturday, July 30, 2022.
Founded in 1988, the Oregon Brewers Festival is one of the nation's longest-running and most beloved craft beer festivals. It's one that brings people from all over the world to attend and is a highlight of the summer here in the Rose City.
Now after a two-year hiatus, OBF returns to Portland. And with its return comes a few changes from previous years. The most noticeable change is that the festival has been downsized in both the number of days, size and beers being served.
These changes are a result of the pandemic and people traveling less due to inflation and so many other factors. Nearly half of OBF attendees arrive to the festival from outside the Portland area, therefore it was wise on Art Larrance, founder/owner of OBF, to address these issues so the festival stays financially viable.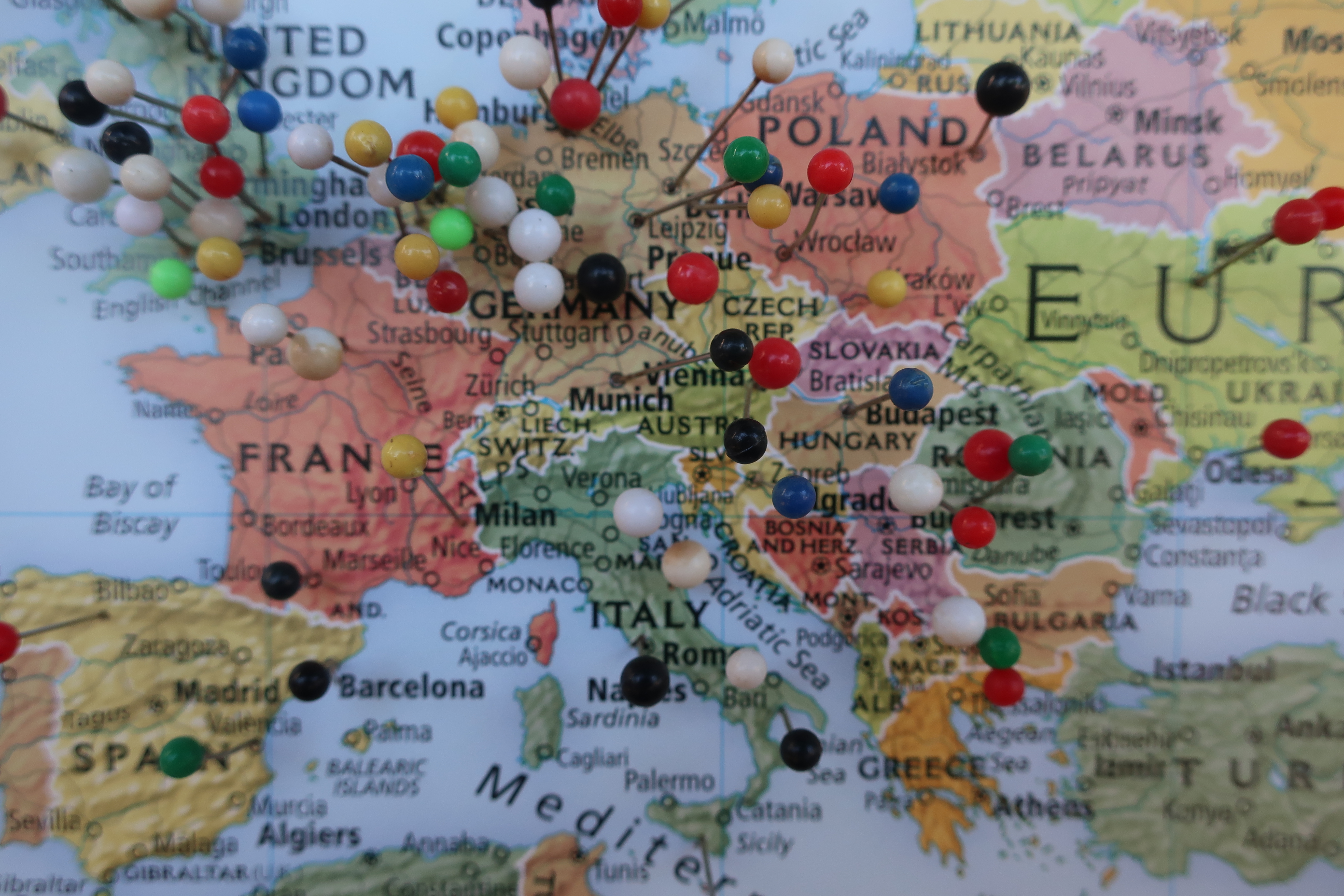 Fortunately the festival has returned and will once again take place along Portland's beautiful waterfront. For 2022, the footprint of the festival will be consolidated. It'll take place in Tom McCall Waterfront Park from the Morrison Bridge heading north to Pine Street to make for a more compact, yet enjoyable festival!
This year's lineup of beers comes full circle to the inaugural festival held in 1988 when only beers from the state of Oregon were served. For only the second time in OBF's history, it will feature only beers brewed within Oregon. Yes, all 41 beers and the two ciders are produced in 16 different cities across the state.
Of these 41 beers being served, 31 beers will be making their debut at OBF. Plus, both ciders will also make their debut at the festival. Therefore, there's plenty of choices to be had down along the waterfront this year! Here's a preview.
2022 OREGON BREWERS FEST TAP LIST:
BARREL-AGED WINE/BEER HYBRID
Alesong Brewing & Blending: Raindrops on Rose City*
BERLINER WEISSE
Ecliptic Brewing: Kinetic Kiwi*
Upright Brewing: Country Time Weisse*
BLONDE
Wild Ride Brewing: Roots of Love Lemongrass Summer Ale*
CIDER
Portland Cider Co.: Lemon Drop*
Reverend Nat's Hard Cider: Raspberry Saint Citron*
GOSE
Hammer & Stitch Brewing Co.: Raspberry Gose*
Threshold Brewing & Blending: Cheeky Dribble*
IPA
Boneyard Beer: Mental Paradise IPA
Coin Toss Brewing: Black Hohl Dark IPA
Double Mountain Brewery: Ring My Bell IPA* (Collab with Solera Brewing Co.)
Cascade Brewing: Incontrovertible Hazy IPA*
Great Notion: The Queen's Select Hazy IPA*
Migration Brewing: Passionate Phantasy Hazy IPA*
Rogue Ales: Makgeolli Culkin Hazy IPA*
StormBreaker Brewing: Supermassive HDHC IPA*
Terminal Gravity: Hop Vault Series No. 3 Juicy IPA*
Fort George Brewery: 3-Way IPA
Sunriver Brewing Co.: Something Dank This Way Comes*
KÖLSCH
Zoiglhaus Brewing: Lime Leaf Kölsch*
KOTTBUSSER
Steeplejack Brewing Kottbusser*
LAGER
Breakside Brewery: Float Mexican Lager
Caldera Brewing Co.: 25th Anniversary Hoppy Lager*
Deschutes Brewery: Hachimitsu Mai Japanese Rice Lager*
Evasion Brewing: Michelada*
pFriem Family Brewers: American Lager
Widmer Brothers Brewing: Crimson Eagle Red Czech Style Lager*
PALE ALE
Ex Novo Brewing: You Guava Be Kidding Me Hazy Pale Ale*
Goodlife Brewing Co.: Beach Life P.O.G. Pale Ale
Level Beer: Cool Kids Drink Pale Ale*
Ninkasi Brewing: A Toast To Art Dry Hopped Pale*
PILSNER
Buoy Beer: Pile Buck Pils*
ForeLand Beer: Horizontal Reflection Bohemian Pils*
Gorges Beer: Cucumbia River Pilsner*
Stickmen Brewing: I'm About It Black Pilsner*
Van Henion Brewing: German-style Pilsner
RYE
Three Creeks Brewing: Stonefly Session Ale
SAISON
Gigantic Brewing: The Royale*
Monkless Belgian Ales: Passionfruit Belgian Saison*
SOUR
Crux Fermentation Project: Tangy Boomerang
Hopworks Urban Brewing: Tequila Barrel-aged Cactus Attactus*
McMenamins Edgefield: Tropic Heat
WHEAT
Von Ebert Brewing: Ti Bwason*
*Beers & Ciders debuting at the 2022 Oregon Brewers Festival
To view a Google Doc of all the beers and ciders with complete descriptions visit: https://tinyurl.com/obf2022.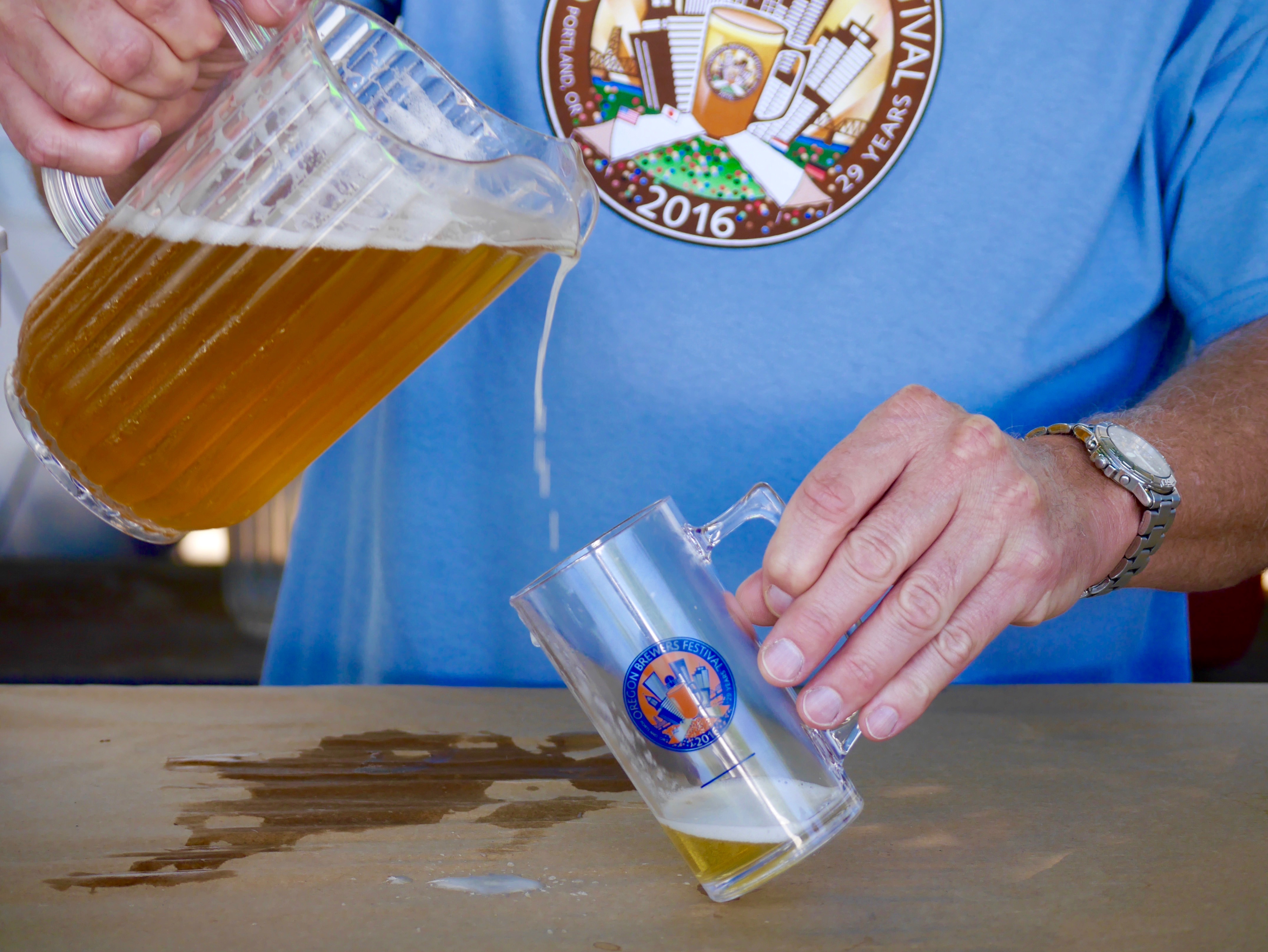 OBF is free to enter. Mugs and drink tickets must be purchased to taste beer and cider. The festival will accept cash or credit/debit and ATMs will be available.
Advance tickets are currently on-sale with options of purchasing a complete tasting package or just additional drink tickets or festival tasting mugs. To purchase advance ticket packages, drink tickets, or tasting mug, click here.
OBF Tasting Mug & 10 Tickets – $30.00 ($33.85 after fees)
Everything you need to get started at OBF! A special OBF keepsake tasting mug plus ten tasting tickets. Each ticket gets you a 4-ounce taster, and three tickets gives you a full mug. **This mug is required to drink beer and cider at the festival!**
Additional Drink Tickets ONLY – $20.00 ($23.23 after fees)
Ten drink tickets to try more beers and ciders at the festival! One ticket gets you a taster, and three tickets get you a mug full. This ticket does NOT include a tasting mug.
Keepsake Tasting Mug ONLY – $10.00 ($12.61 after fees)
This mug is required to taste beer and cider at the festival! No drink tickets are included in this price. Drink tickets may be purchased in advance, or at the door.
Seasoned festival attendees may have noticed that drink tickets have doubled in cost and the mention of "tasting tickets" this year. Yes, OBF also faces inflation. Plus the festival is making a switching from its former wooden tokens to new paper drink tickets. So if you have a stockpile of the wooden tokens from past OBFs, these can be swapped one two for one for the new paper drink tickets while at this year's festival.
To attend OBF, all ages are welcome, minors must be accompanied by a parent or legal guardian. IDs will be checked to verify 21+ age for anyone purchasing a mug or drink tickets.
And if you've seen the extended weather forecast for Portland, a bit of heat is said to be arriving next week with temperatures possibly breaking into the triple digits. It appears that our earlier cooler summer has left us. To accommodate the potential hot weather, OBF will be providing as much shade as possible along with misting stations to help everyone stay cool. Attendees are welcome to bring in water bottles, and can refill them for free on site.
Arriving to the brewfest is easy as there are many various ways to do so safely. Use Trimet.org to plan your trip via transit. There are bus and MAX light rail stops just a block from the festival entrance! Take Radio Cab to and from the fest. Call them at 503-227-1212. Use Uber or Lyft from your mobile device. Bring a designated driver! Entry to the festival is free, and DDs can visit our complimentary Soda Garden for delicious alcohol-free beverages. There are many pay-to-park lots within just a few blocks of the festival entrance, as well as metered street parking. Or arrive by bike and park for free at the Hopworks Bike Corral!
Finally, each year OBF chooses a local charity to benefit. For 2022, OHSU Doernbecher Children's Hospital is the benefiting charity of the 2022 Oregon Brewers Festival. Proceeds from the event will directly support the Friends of Doernbecher Grant Program.
For more than 30 years, Friends of Doernbecher has been a valued partner in promoting hope and healing at Doernbecher Children's Hospital. This all-volunteer organization has been tireless in its efforts to raise funds and increase awareness for an array of programs and projects that make a transformative difference in the lives of Doernbecher patients and their families.
Oregon Brewers Festival Hours:
Thursday:12:00pm – 9:00pm
Friday:12:00pm – 9:00pm
Saturday:12:00pm – 9:00pm
*Taps are open the above times. Mugs/Tokens sales close 1/2 hour prior to the taps closing.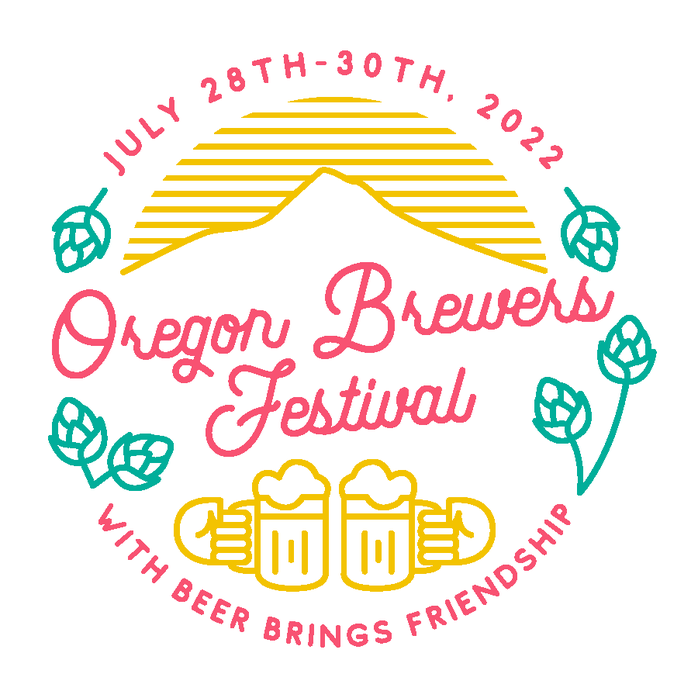 Tom McCall Waterfront Park
300 SW Naito Parkway
Portland, OR 97204