Puckerfest Returns To Belmont Station July 18-24, 2017
|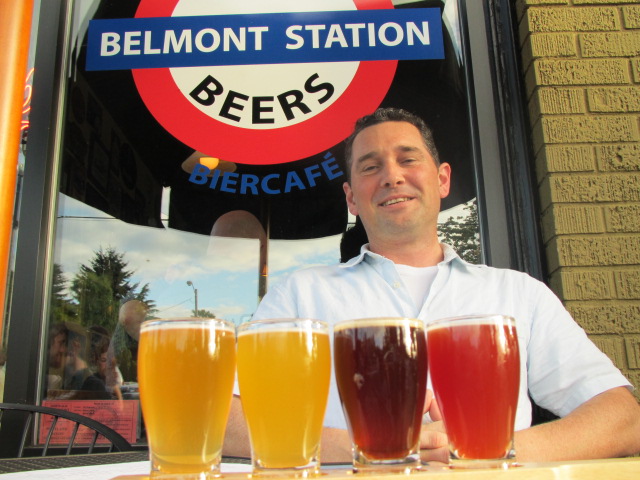 Eleven years ago when Belmont Station launched its annual Puckerfest sour and tart beers were not a common beer seen on many tap lists. This was a way that The Station introduced sour beers to many more beer drinkers. Speed up to today and it's fairly common to see plenty of choices of sour beers on tap at any watering hole in the Portland metro area.
The 11th annual Puckerfest will make its glorious return to Belmont Station from Tuesday, July 18th through Monday, July 24th. This seven day run will feature meet the brewer events along with rare and special draft offerings from the featured breweries.
Here is what to expect for each day during Puckerfest.
Tuesday July 18 – Kick-off Party (5:00-8:00pm)
Cascade Brewing:
Summer Gose
Sang Royale 2012
Citrus Sunshine
Sang Rouge 2009
Double Mountain: If you've ever been to Double Mountain night during Puckerfest than you know Matt Swihart will be here with a bushel of cherries to go with his beers. We're still working out details so check be soon for final draft offerings.
Breakside:
Dog & Pony Show, a Belmont Station 20th anniversary exclusive! Also available in bottles to go! Portmanteau
Persona Non Grata
Plus a very special keg of "Something Wicked" a Hazy IPA from Breakside's Slabtown Location
Ale Apothecary:
Sahalie with Huckleberries on Cask
Flat Tail:
DAM Wild Belmont Station 20th Anniversary Sour Ale
Brew teams from Cascade, Double Mountain and Breakside will be on hanging out to chat about their beers 5-8 PM!
Wednesday July 19 – pFriem pFruit Salad and Vintage Russian River
Join the pFriem pFamily of Brewers from 5:00-8:00pm for a wide variety of pFriem fruited Lambic-style and wild beers which will include:
Bosbessen
Oude Kriek
Abrikoos
Gose
Brett IPA
Kettle Soured Mango Berliner Weisse
Kumquat Farmhouse Ale Peche Flander Red
Vintage Russian River Sours (All Cafe Hours)
Supplication 2013
Consecration 2014
Temptation 2014
Thursday July 20 – The Commons, Upright Brewing, and Ruse (5:00-8:00pm)
Upright Brewing:
Special Herbs (New Vintage)
Fantasia (2016)
Oregon Native (2017)
Ives: First release in April for our 20th anniversary celebration
**Along with these Upright draft offerings we will have a limited amount of the new batch of Special Herbs in bottles to go.**
The Commons:
Brett Berliner Weisse – A berliner weisse aged in neutral oak barrels for 6 months with Brettanomyces Lambicus.
Biere Royale – sour ale with black currants
Khthonios – sour stout aged in pinot noir and aquavit barrels (The last of its kind)
Ruse:
Bryer Run Black Raspberry Barrel Aged Farmhouse Ale
Friday July 21 – International Night featuring Belgian beer expert, Luc de Raedemaeker (5:00-8:00pm)
Join us for a fabulous variety of international flavors from around the world! On tap:
Ritterguts: Gose (Germany)
Freigeist: Vineyard Peach (Germany)
Trois Dames: Brett Saison (Switzerland)
Mikkeller: Hallo Ich Bin Berliner Weisse Raspberry (Denmark)
Petrus: Sour Passion Fruit (Belgium)
Rodenbach: Alexander (Belgium)
Panil: Barrique (Italy)
Tilquin: Gueuze (Belgium)
Driftwood:Cry Me a River – Gose (Canada)
Belgian beer expert and author Luc De Raedemaeker will be on site 5-7 PM to talk about Belgian sours and sell and sign limited quantities of his book!
Saturday July 22 – Block 15 and de Garde (2:00-5:00pm)
We started featuring two Puckerfest-favorite breweries in tandem five years ago, and now it's become a time-honored tradition to put Block 15 and de Garde together on Saturday afternoon!
Block 15 Draft:
Summer Shortcake
Sour Cherry Blonde
Cardinal Coalescence
Peche
Block 15 Bottles:
Cuvee Rouge (2013)
Psidium (2011)
de Garde:
Kriek Premiere
Violet de Mer
The Florist
Vache de Mer
A limited amount of "The Station", an exclusive blend that de Garde made for our 20th Anniversary, will be released FOR IN-HOUSE DRINKING ONLY.
Sunday July 23 – The Freshmen
First-timers to our annual Puckerfest party will be showcasing their sour and wild ales this Sunday.
Culmination:
Beers TBD
Alesong:
Strawberry Symphony
Yachats:
Blackberry Sour
Cashmere Outside
Loowit:
Guava Berliner Weisse
Royale:
Berliner Weisse
Monday July 24 – Puckerfest Finale
Join us for a last chance to drink in all the sours and wild ales on this last day of Puckerfest! We might even have a surprise or two in store, so keep an eye on this spot for upcoming details!
During Puckerfest the Biercafe will be cash only during the events. There is an on site ATM. There is no entry fee and many of the beers will be on tap all hours of the day.
Stay up to date on all of the happenings during Puckerfest by visiting Belmont Station's website.