R-Day from Rainier Beer Returns in September 2022
|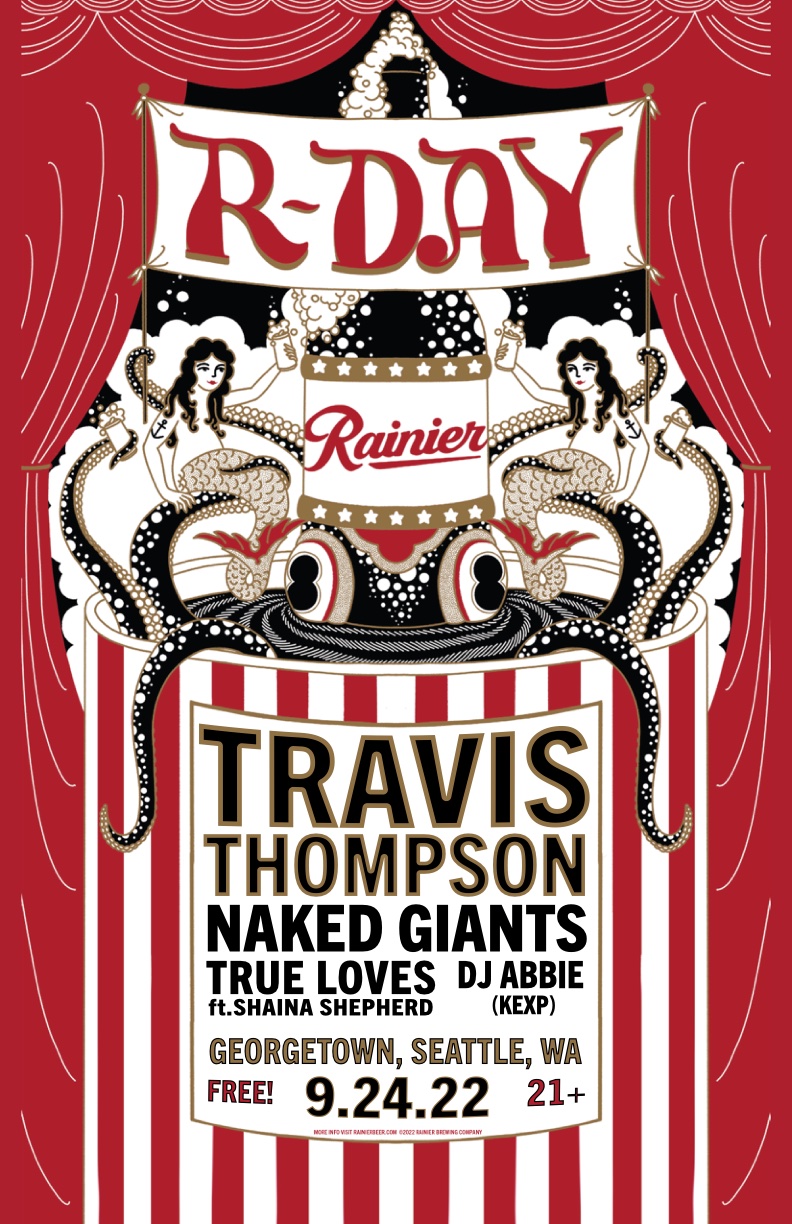 The streets of Seattle's Georgetown neighborhood will come alive on Saturday, September 24 when Rainier Beer returns with its R-Day! This day of beery fun will include the iconic Wild Rainiers, Barbeerian, and a host of other colorful characters as they all return to the streets of Georgetown for games and music to celebrate the legendary tradition of R-Day.
Though the Rainier brewery closed up years ago, the brand lives on and Rainier Beer is still a fashionable beer in the Pacific Northwest. It could be that the beer is proudly brewed with Yakima Valley Hops or maybe it's the more affordable price point. But no matter what, Rainier Beer can be found in bars and stores all across the region.
And to honor this heritage, Rainier Beer will host R-Day on September 24, 2022 beginning at 4:00pm in the neighborhood where the brewery began back in 1878. Then known as the Seattle Brewing & Malting Company, portions of the building still stand and there's even a brewery located inside with Machine House Brewery.
A party like no other, R-Day is a chance to revel in the unique spirit that inhabits the region and its beverage of choice. The day will be soundtracked by a musical menagerie of Seattle's finest, led by a headline performance from breakout Burien hip-hop artist Travis Thompson and anchored by a rocking performance from Naked Giants. Rounding out the grooves will be the eight-piece funk and soul group True Loves, accompanied by Shaina Shepherd. KEXP's DJ Abbie will kickstart the day by setting the vibe on the decks. Attendees must be 21+ years old to attend this FREE event, courtesy of Rainier Beer.
"We're beyond thrilled to reconnect with Rainier's most loyal enthusiasts and newest fans in the Georgetown neighborhood, a bastion of old Seattle," said Sean McKillop, Rainier Brand Manager, in a press release.
The historic and fabled legacy of Rainier Beer runs deep in Seattle as it was first introduced way back in 1878 and has persevered through the prohibition era to its modern-day revered status. In the early 2000s, Seattle lost the iconic red R atop Rainier's former brewery, much to the dismay of local residents. While a decade passed, the R was eventually resurrected in 2013, and to celebrate the momentous occasion, R-Day was born.
Rainier's R-Day continues to attract droves of loyal fans each year, many of whom pay tribute to the brand by adorning their wackiest Rainier costumes. Today, the iconic R remains a beacon over the city, and the R-Day celebration is a clarion call for the drinkers that want to honor it. Join the Mountain Fresh brew crew at its one-of-a-kind party, R-Day – September 24th, 2022, in the historic Georgetown neighborhood of Seattle, WA.
Rainier Beer R-Day
5813 Airport Way S
Seattle, WA 98108