Rainier's R-Day 2023 Celebrates its 10 Year Anniversary
|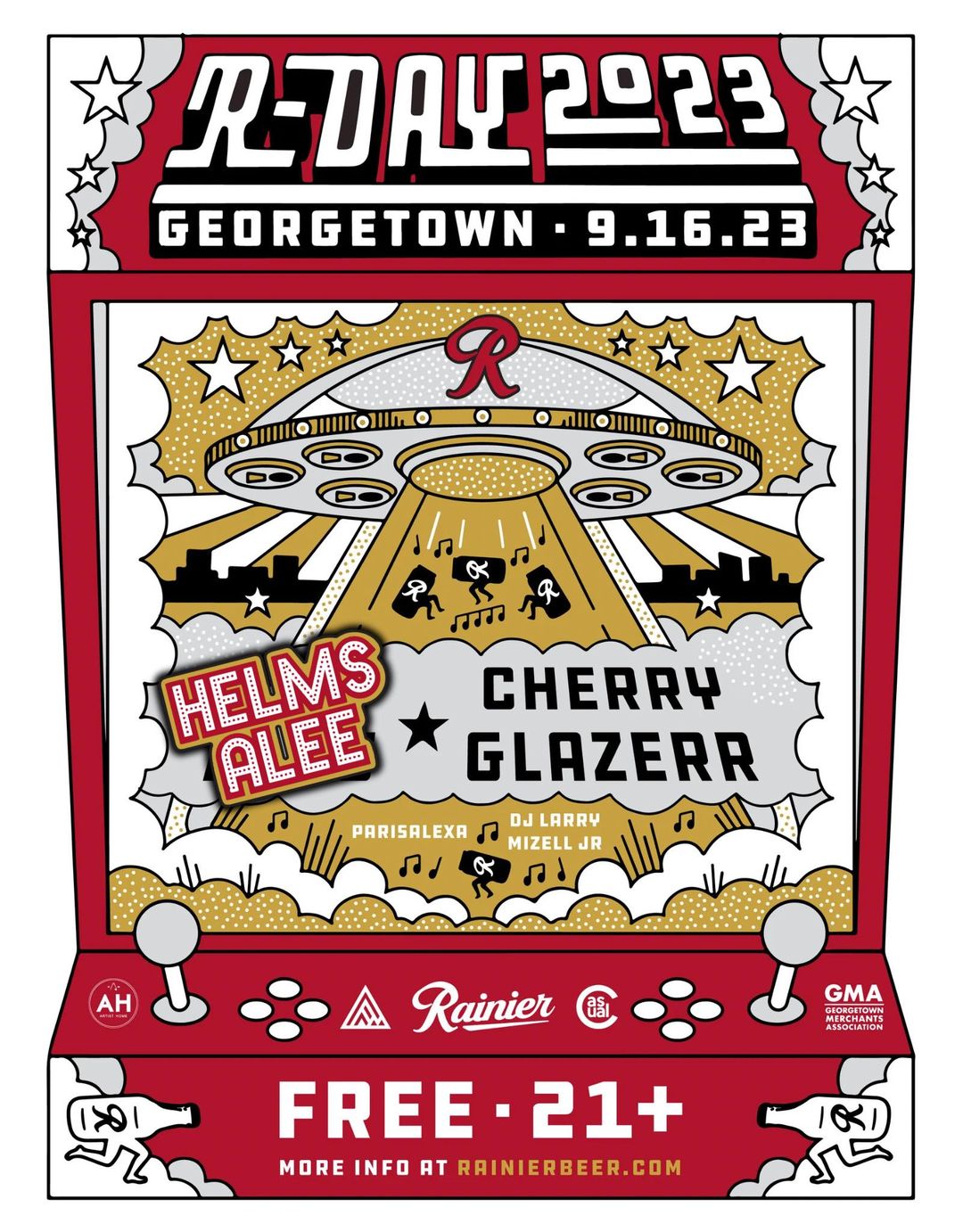 R-Day 2023, a day of celebrating the Pacific Northwest born Rainier Beer returns to Seattle this weekend. Taking place on Saturday, September 16 beginning at 4:00pm, R-Day 2023 will once again be held in the Georgetown neighborhood of Seattle, Washington.
The return of R-Day marks the ten year anniversary of this day that honors Mountain Fresh Rainier beer and its iconic mythic wild Rainiers! R-Day will bring together live music, food, fun times and of course, ice cold Rainier beer!
On the bill for R-Day 2023 is the Seattle based Helms Alee that replaced Red Fang that recently had to cancel its headlining gig. Helms Alee will take the stage at 8:45pm and will be joined by the West Coast guitar grooves of Cherry Glazer who performs at 7:15pm. In addition to these two bands, R-Day will also feature the region's pre-eminent R&B beat master and vocal powerhouse, Parisalexa at 6:10pm and KEXP's afternoon groove anchor Larry Mizell Jr. will man the decks beginning at 4:30pm.
Ten years ago, and many years since Rainier halted its brewing operations in Seattle, Rainier Beer's iconic "R" was restored to be a beacon of Seattle. The R's resting place is atop the Old Rainier Brewery in the city's Industrial District, just north of the Georgetown neighborhood.
But prior to the final location where Rainier was brewed in Seattle, the beer was first introduced a few miles south in Georgetown in the old Seattle Brewing & Malting Company building. This building is still partially standing and is located in the neighborhood that R-Day 2023 will take place.
The historic and fabled legacy of Rainier Beer runs deep in Seattle as it was first introduced way back in 1878 and has persevered through the prohibition era to its modern-day revered status. In the early 2000s, Seattle lost the iconic red "R" atop Rainier's former brewery, much to the dismay of local residents, but the "R" was eventually resurrected in 2013, and R-Day was born.
Each year, R-Day attracts thousands of loyal diehard fans, many of whom pay tribute to the brand by adorning their wackiest Rainier costumes. This year will be no different when R-Day 2023 takes place on Saturday, September 16th.