Reuben's Brews 9th Anniversary – Reuben's & Friends Invitational
|
Seattle, WA (8/4/21) – On August 7th, Reuben's Brews will celebrate their 9th Anniversary. In a tumultuous world that feels like it's changing by the hour, it's comforting to know that some things like great beer and friendship remain. In the face of the storm we're all weathering together, the commitment of Reuben's to their craft and their community has never been stronger.
Back in 2012 Adam and Grace Robbings opened their original brewery and tasting room in what has become the nationally renowned Ballard Brewery District. Famously named after their first-born son Reuben, the brewery was founded following Adam's award-winning homebrewing career and after convincing their brother-in-law Mike to move across the country to dive into the crazy world of brewing together. Nine years later, Reuben's is focused on pouring delight for people by brewing a wide breadth of beers that are balanced and highly drinkable regardless of style, helping people grow their love of beer.
The outdoor festivities are taking place on Saturday from 11am to 10pm in the open-air spaces of their Taproom in Ballard, including the beer garden on the patio, and significantly expanded outdoor areas back behind the brewery. In addition to offering free commemorative pint glasses to the first 100 people through the doors, the celebration features live music, food trucks, and multiple tap stations pouring a wide selection of Reuben's Brews, plus Warren's Cider and Fruitfizz Hard Seltzers. And because it wouldn't be a birthday party without inviting a whole bunch of friends over, the day-long festivities will also include the "Reuben's & Friends Invitational" in a modified form for 2021, with special guest beers being poured from 10 different brewery pals including Alvarado Street, Ecliptic, Great Notion, Hair Of The Dog, Kings And Daughters, Ravenna, Single Hill, Stemma, Varietal, and Wander.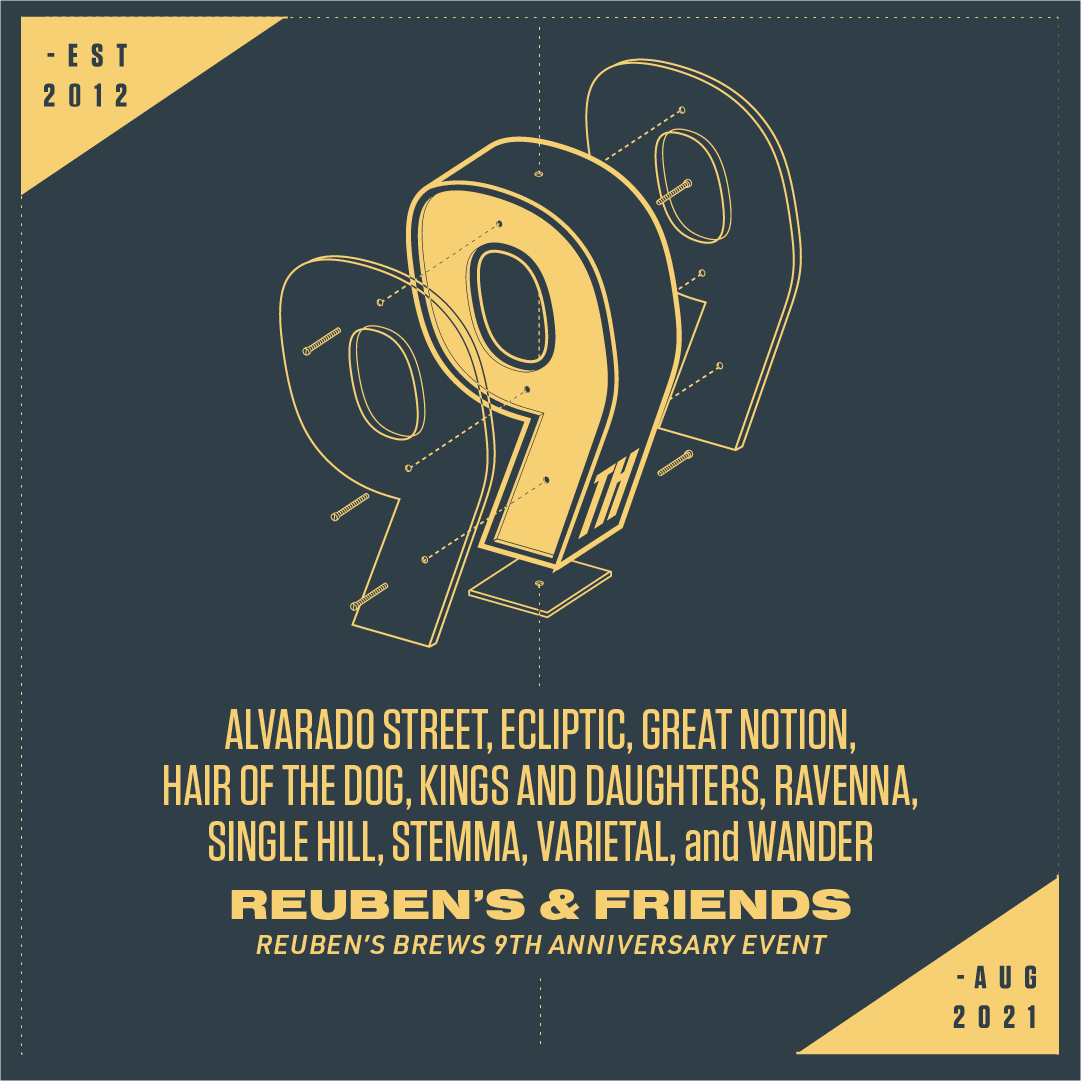 "Each year at this time we take a moment to reflect on how far we've come, and there is just so much to celebrate this year, "said Co- Founder Grace Robbings. "Turning 9 as a brewery is truly a tribute to the tireless team who keeps Reuben's humming every day, and to the many friends, partners, and supporters who have been along with us on this wild ride. We can't wait to celebrate that journey this weekend."
To commemorate the Anniversary, Reuben's is also proud to announce their ambitious "9th Anniversary Triple Barrel Aged Blend". This rare brew begins with imperial stout and barleywine, both individually aged in bourbon and rye barrels before being blended and aged in a second round of bourbon barrels. The blend is then aged a third time in a unique Pineau des Charentes puncheon, with the French aperitif barrel adding a new layer of complex sweetness, honey, and stone fruits.
"This beer is special, and truly reflects our continuous effort to innovate and push boundaries – to think from the glass backwards," said Co-Founder Adam Robbings. Being a soccer fan, the opportunity to use a hattrick of barrels was one I couldn't resist! And our team has really excelled with this beer – after more than a year in development we're excited to share this exciting beer in celebration our 9th birthday."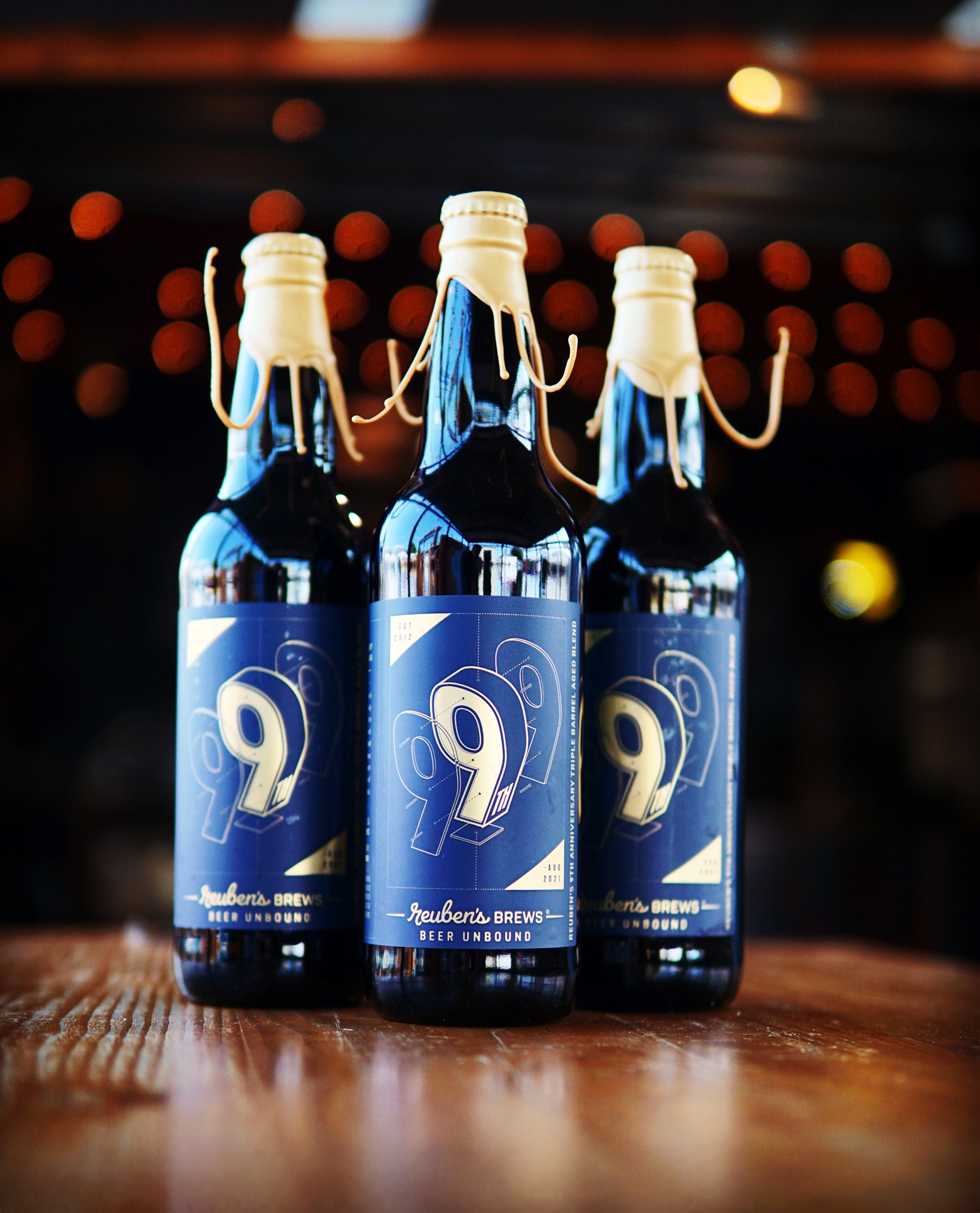 Reuben's invites you to join the Reuben's team at the Taproom this Saturday for a celebration of commitment to craft and community. While this big 9th Anniversary celebration comes in the middle of a summer full of uncertainty, we are excited to celebrate how far we've come as a brewery with the community that made it possible.
About Reuben's Brews
Adam and Grace Robbings opened Reuben's Brews in 2012, after an award-winning homebrewing career, naming the brewery after their first child, Reuben. At their employee-owned family brewery they brew from the glass backwards: designing each beer with intention, unbound by constraints. They know that making that extra effort is worth it. From their everyday favorite beers to innovative new releases, they help you grow your love of beer. Reuben's Brews. Beer Unbound.
The Reuben's Taproom (5010 14th Ave NW in Ballard) is open daily 11am-10pm, featuring an expanded outdoor seating area and To- Go Store. They strictly adhere to all current state and local health precautions to keep their customers and team safe. Customers are invited to order online for contactless pickup at reubensbrews.com/shop or stop by for walk-up purchase. Reuben's Brews also has two more tasting room locations in Ballard: The Canning Line (800 NW 46th St.) and The Barrel House (1133 51st St.). Visit reubensbrews.com for details, and follow @reubensbrews on Facebook, Twitter, and Instagram for updates.