Reuben's Brews Brings Back Fort George & Great Notion for Dream Team Hazy IPA
|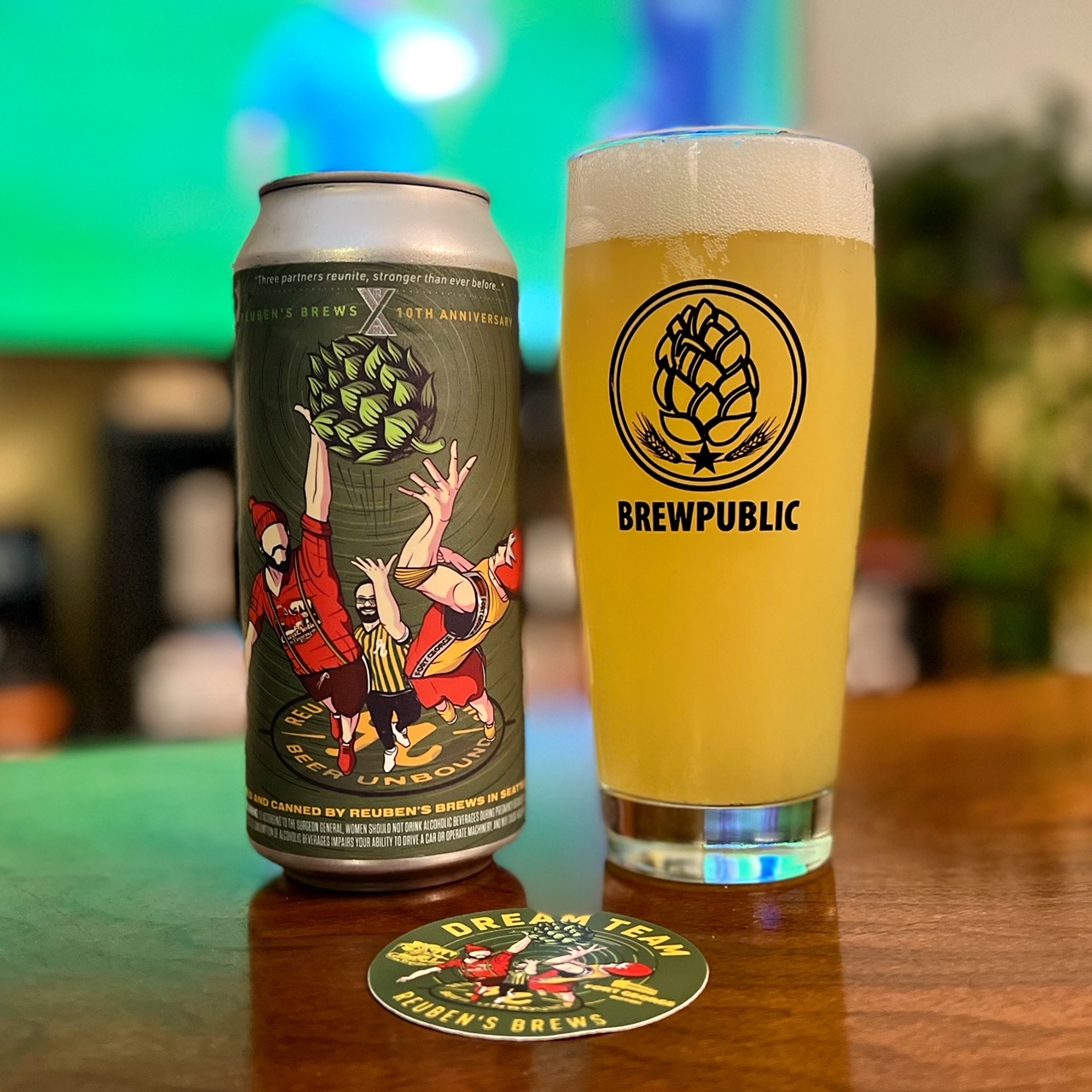 As Reuben's Brews celebrates its 10th Anniversary, it will collaborate with many of its friends from the brewing industry for a 10th Anniversary Beer Series. Throughout 2022, the 10th Anniversary series will feature collaborations with partners from inside and outside of the brewing industry, all of which were integral to the story of Reuben's over the past decade,
In January Reuben's kicked off the series with Metamodern PNW Amber, a collaboration with Georgetown Brewing. This was followed up last month with Supreme Triumvirate, a collaboration with two Seattle institutions, Brower's Café and Bottleworks.
For the month of March, Reuben's Brews brings back the Dream Team of 2017! Five years ago, Fort George Brewery recruited Reuben's Brews and Great Notion Brewing to brew the 2017 vintage of 3-Way IPA. Now it's Reuben's Brews turn as the Seattle brewer brings the other two breweries back, this time to Seattle, to recreate this popular and satisfying Hazy IPA!
As Fort George Brewery Co-Founder Chris Nemlowill sees it, "This team created a truly innovative beer together in 2017 that helped usher in the Hazy 'New England IPA' style here on the West Coast. We all love pushing the boundaries, and this year's collaboration is an innovative evolution of what we created back in 2017."
Dream Team Hazy IPA is a new take on that very popular beer from the summer of 2017. This beer comes in loaded with fresh juicy flavors of grapefruit, stone fruit and passionfruit. We even got a bit of pineapple in the pleasant lingering finish. Its cloudy appearance is lighter in color and offers a nice white head. The malt bill of Dream Team includes Gambrinus Pils, Malted Oats, Flaked Oats, and Flaked Rice while the hop bill shines with Cryo Simcoe®, Nelson Sauvin™, Riwaka™, and Citra Incognito®. Dream Team sits at well hidden 7.2% ABV.
"With this new collaboration we didn't just want to recreate the beer we brewed five years ago, so we focused on trying to recapture the magic that made that collaboration a success," said Reuben's Brews Co-Founder Adam Robbings. "We've all learned a lot since then, and we all brought new ideas to the table this time around. It felt like the old days, just having fun, trying new ideas, playfully one-upping each other."
For James Dugan, Great Notion Brewing's Co-Founder / Brewer, the thing that made this collaboration so strong is that each of the players shares the same goal: making the game more enjoyable for everyone. "It's a real honor to come together again as part of the 'Dream Team'," said Dugan. "We're all good friends on and off the court, and this collaboration reflects that. We just really enjoying playing together."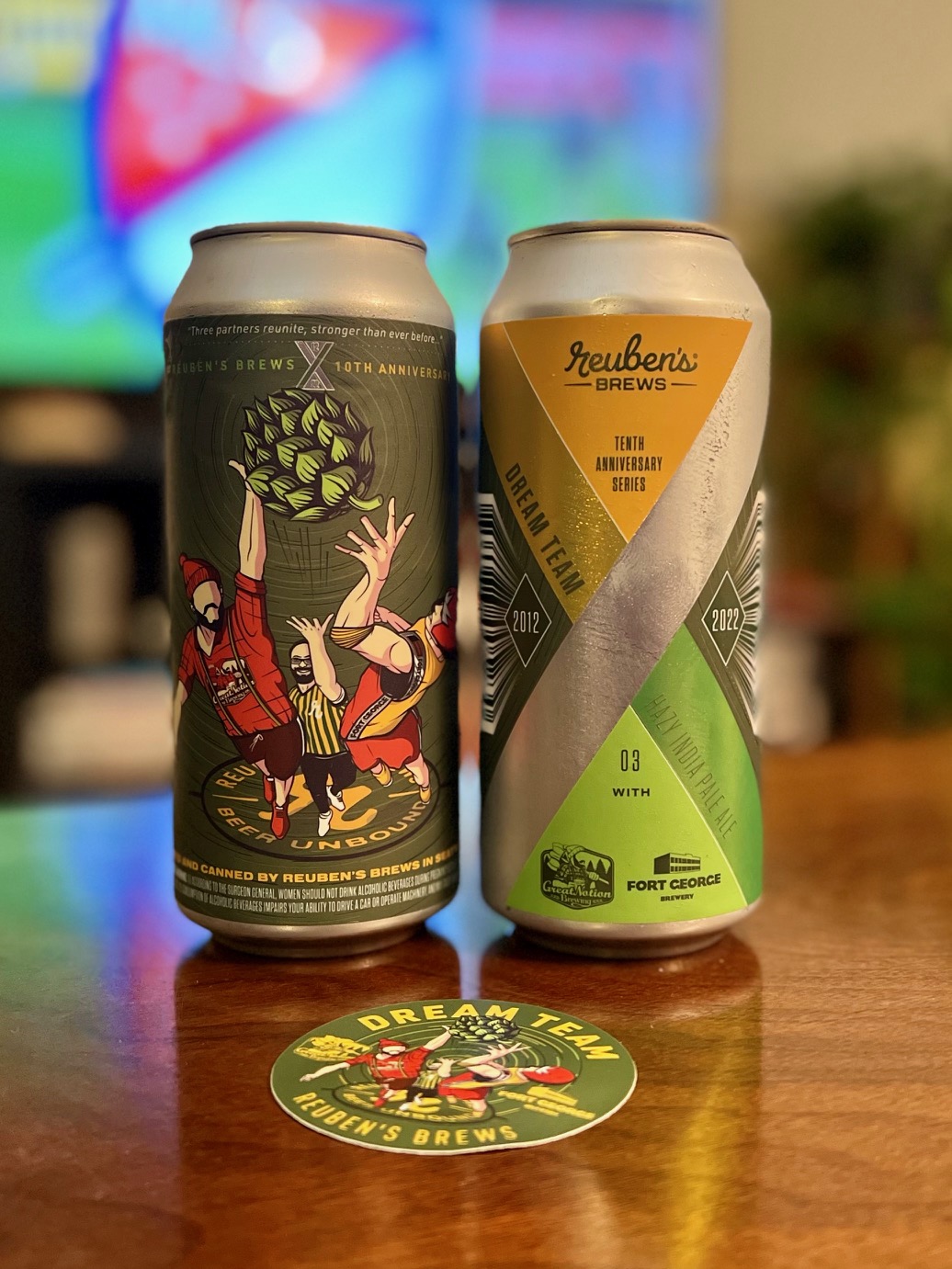 Dream Team launch events will take place this week in Portland, Oregon and Seattle, Washington. After this week's release events, Dream Team will be available on draft and in 4-packs of 16-ounce cans in distribution around the Pacific Northwest.
Details are below.
Thursday, March 10 – John's Marketplace, Portland, OR
Dream Team makes its world debut at Portland's famous John's Marketplace. Stay tuned to Reuben's social media for all of the important details!
Saturday, March 12 – Reuben's Brews: The Taproom in Ballard
The Seattle debut of Reuben's third anniversary collaboration happens on Saturday 3/12 at its Taproom in Ballard! Come down to raise a pint to this great team of collaborators and enjoy the beer fresh at the source. The Reuben's Brews team will be on hand for a toast at 3pm!
There are seven additional 10th Anniversary beers in the pipeline from Reuben's Brews, a new released each month through September. Here's a look at the remaining collaborators.
The Homebrewers Guild of Seattle Proper (April)
Ballard FC (May)
Hair of the Dog Brewing (June)
Chuckanut Brewery (July)
Phinney Neighborhood Association (July)
Our mug club, the Reuben's Crew (August)
The Team of Reuben's Brews (September)
Except for the barrel-aged blend created by the Reuben's team which will be a Taproom-only brew, all releases will hit distribution in 4-pks of 16 oz. cans featuring a stunning "10th Anniversary Collab Series" can design that beautifully showcases each partner. Throughout the year, look for commemorative t-shirts, special glassware, and limited-edition merch on a release-by-release basis at the Taproom, and visit reubensbrews.com for all the details on the 10 collab beers celebrating Reuben's 10 years.