Reuben's Brews, Melvin Brewing, Pub Crawls, Fruit Beer Fest – The Week Of Beer Events
|
Reuben's Brews from Seattle launches in Portland, Melvin Brewing is all around Portland, 3-Way IPA release party, Fruit Beer Fest and the rest of the week of beer events beginning June 8th.
Reuben's Brews Come to Portland 
4-7 p.m. Thursday June 8, Bailey's Taproom, 213 SW Broadway;
6-8 p.m. Thursday June 8, Belmont Station, 4500 SE Stark St.;
6-8 p.m. Friday June 9, The BeerMongers, 1125 SE Division St.;
Seattle's Reuben's Brews are in town with a good list of beers AND the honor of being a collaborator, along with our own Great Notion Brewing, in making this year's edition of Fort George Three-Way IPA. It's your chance to meet founder Adam Robbings, who started as a homebrewer in England and whose brewery has won multiple national and international awards.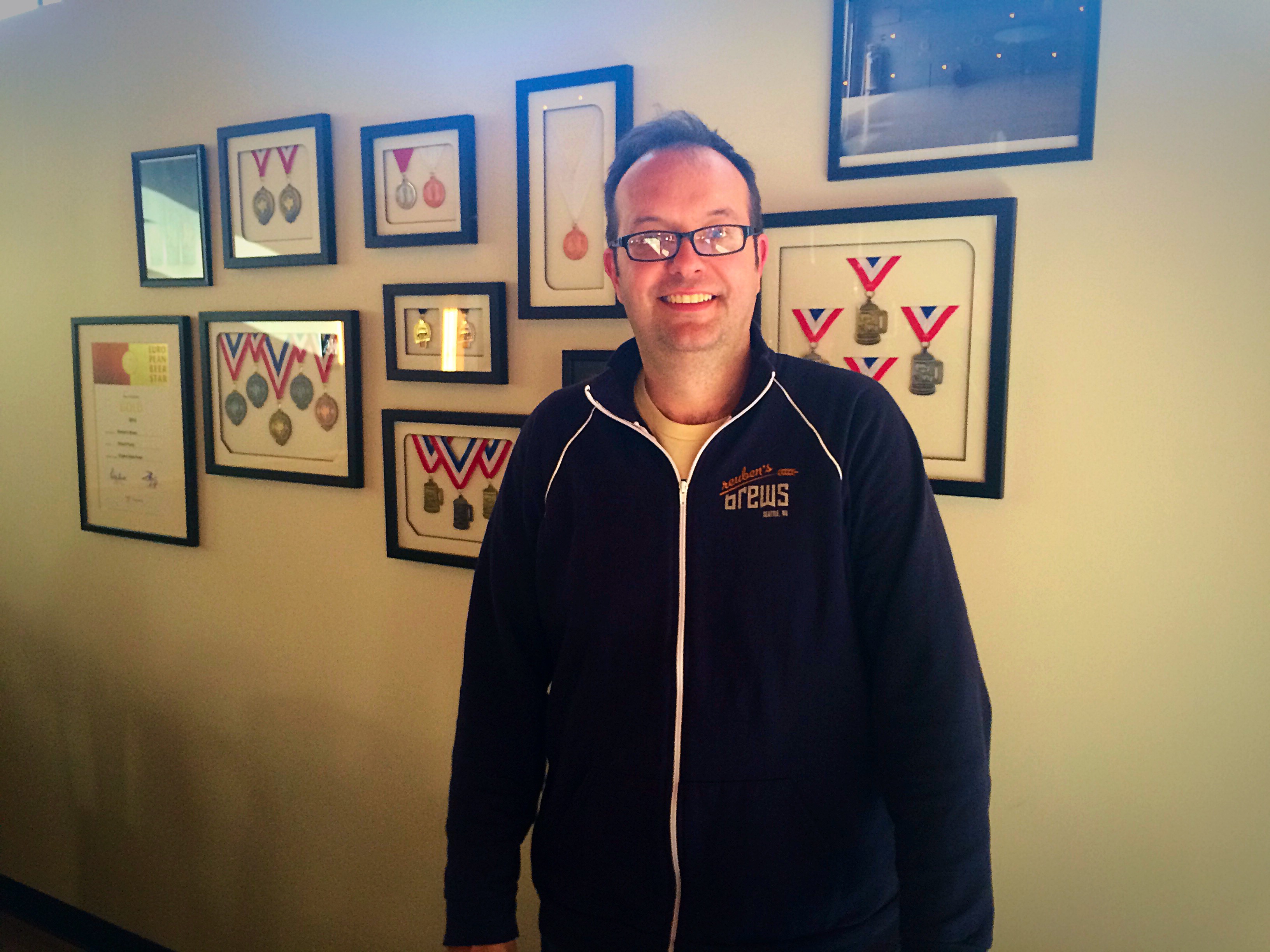 Here are some of the Reubens beers you might find on tap at the various events:
Crikey – American IPA
Robust Porter
Gose – Traditional German Sour Ale
Pilsner – Czech-style Pilsner
Summer IPA
Expat IPA – Double IPA
Sauvignon Blanc Saison
Bourbon Barrel Aged Breakfast Stout – Imperial Oatmeal & Coffee Stout
Rye Crush – Hazy IPA
Air of the Night – Baltic Porter
Kentucky Common – Sour Rye
r&R Pils – Rainier Collaboration
Melvin Brewing Comes to Town
Thursday June 8- Wednesday June 15 – tap takeover at Lardo, 1212 SE Hawthorne;
For Portland beer Week, the Wyoming brewery is doing a tap takeover with 17 Melvin's beers at Lardo plus daily entertainment and schwag giveaways.
Fourth Annual Melvin vs. the World IPA Battle
5 p.m. Friday June 9, Roscoe's 8105 SE Stark St.;
Melvin will be bringing some of their best award-winning IPAs to battle for your taste buds against those of breweries such as Comrade Brewing, Boneyard/Sierra Nevada, Russian River, Beachwood, El Segundo, Gigantic, and more. Jeremy and the Melvin crew will be in the house and the beers will be on tap all night.
Seventh Annual Portland Beer Week Opening Pub Crawl
Crawl http://pdxbeerweek.com/
5 p.m. Friday June 9, Hotlips Pizza, 4630 NE Sandy Blvd.;
6:45 p.m. Friday June 9, Culmination Brewing Taproom, 2117 NE Oregon St.;
8 p.m. Friday June 9, Hawthorne Hophouse, 4111 SE Hawthorne Blvd.;
5:30 p.m. Friday June 9, Beer Store Milwaukee, 10610 SE Main St, Milwaukie.;
7:30 p.m. Friday June 9, The Beermongers, 1125 SE Division St.;
5 p.m. Friday June 9, Lardo Sandwiches, 1205 SW Washington St.;
7:45 p.m. Friday June 9, The Westgate Bourbon Bar & Taphouse, 3800 SW Cedar Hills Blvd, Beaverton;
3-Way IPA Release Parties
Noon 5 p.m. Friday June 9, Great Notion Brewing and Barrel House, 2204 NE Alberta St.;
6-9 p.m. Friday June 9, Alberta Street Public House, 1036 NE Alberta St.;
Join Fort George, Reuben's, and Great Notion as they kick-start Portland Beer Week. Live music at Alberta Street Pub from Portland supergroup Boys II Gentlemen plus plenty of taps from the collaborators including 3-Way IPA. Robot costumes are optional, but highly recommended.
The release of Fort George's collaborative 3-Way IPA has become part of summer, and especially this year when they brewed a hazy New England style IPA with Seattle's Reuben Brews and our own Great Notion Brewing. Here's what the website says: This fruit-forward haze of Azacca, X331, Mosaic, and Citra hops plays on a balanced baseline of malt with a wicked unfiltered keytar solo. 3-Way IPA 2017 is a juicy collaboration between Fort George, Great Notion, and Reuben's Brews that strikes a smooth, electric gold riff on a Vermont style. Available at Pacific Northwest venues summer 2017…
2017 Portland Fruit Beer Festival
4- 9 p.m. Friday June 9, 11 a.m.-9 p.m. Saturday June 10, 11 a.m.-6 p.m. Sunday June 11, Burnside Brewing Co., 701 E. Burnside St.; $25 for glass and 14 tix; $20 for cup- and 12 tix. All ages, 21 & older to drink.
This year's Portland Fruit Beer Festival will showcase more than two dozen hand-crafted fruit beers and fruited hard ciders in a variety of styles from light, tart and refreshing to hoppy, citrusy, barrel-aged and dark and rich.
Festival Tap List:
Baerlic Brewing: Fancy Umbrella Drink
Pink Guava Kettle Sour Gose partially fermented in a gin barrel.
Breakside Brewery: Mango Sticky Rice
Buoy Beer: Foraged for Thought – North Coast Gruit
Brewed in absence of hops, and inspired by the terroir of our region. Brewed with freshly foraged Spruce Tips, Douglas Fir Tips, and Woodsorrel (or sour grass) along with local Knappa honey. Conditioned atop Cranberries from Starvation Alley Cranberry farms along with Rose hips, fresh citrus zest and un-cracked Coriander. 5.2% // 0 BU
Burnside Brewing: Wheatberry Wine
Black Current, Boysenberry, Blackberry Wheat Wine
The Commons Brewery: Biere Royale
American Sour Ale brewed with black currants and Greek yogurt.
Culmination Brewing: Portland Beer Week "Hop Berry IPA"
A Pale IPA stuffed with fruity and tropical hops and balanced flavor, color and tartness from Oregon grown Marionberries.
Deschutes Brewery: Passionfruit IPA
54-50 Brewing: Chocolate Raspberry Schwarzbier
Fort George Brewery: There Will Be Blood
7% ABV – Hazy IPA with blood oranges
Gigantic Brewing: Marionberry Tart
Made with Oregon grown Marionberries and kettle soured for a subtle tartness. 5.5%
Hopworks Urban Brewery: Inflorescence
Barrel aged mixed-culture golden ale with foraged elderberry and fresh elderflower.
Laurelwood Brewing: Raspberry, Wheat, Lime
brewed with brettanomyces
Lompoc Brewing: Benny Appleseed
This apple, cinnamon sour mash was a collaboration with Ben Flerchinger. 120 pounds of Granny Smith apples and a pound of cinnamon were added to the kettle of this crimson colored ale. Fruity and dry with a slight tart twinge. 7.0% ABV
Modern Times: Blood Orange & Hibiscus Gose
pFriem Family Brewers: Kumquat Farmhouse Ale
4.9% 24 IBUs
Portland Brewing: Clown Pie Banana Cream Ale
Reuben's Brews: Cherry Pils
Ruse Brewing: Patchwork
This tart ale is kettle soured then conditioned with a touch of basil and a massive amount of local strawberries. 4.8%abv
Sixpoint Brewery: Blueish Hue
Belgian Pale Ale with Brett & Plums
StormBreaker: Boysenroggenbierry
Dark rye German-style roggenbier with boysenberries.
Sunriver Brewing: Tiki Club
This version of the Tiki Club is based around a moderately hopped India Wheat Ale. We combined a unique blend of real fruit (Mango, Pineapple and Lime) along with fruity Denali and Citra hops. The overall impression is tropical, juicy and hoppy, with just a hint of tartness. 7% ABV, 40 IBU.
10 Barrel Brewing: Key Lime
A new conceptual beer that fuses cream ale with American sour and tropical fruit into a fruity milkshake of a beer, both creamy and refreshingly tart.
Upright Brewing: Kiwi Cocktail
In addition to beer and cider, the fruit beer fest features local food vendors Hotlips Pizza, Urban German Grill and Fifty Licks Ice Cream, non-alcoholic juices and sodas, plus a full menu inside host Burnside Brewing Co.'s restaurant/pub. Also: live DJ's spinning vinyl and a series of special tappings throughout the weekend.
Timber Jim IPA Release Party
1- 4 p.m. Saturday June 10, Hopworks Urban Brewery, 2944 SE Powell Blvd.;
Here's what the Hopworks folks have to say about their new IPA in honor of Timber icon Timber Jim: With an attitude of gratitude we present our collaboration with Timber Jim Serrill. Admired for climbing trees, cutting slabs off victory logs, fighting cancer, building gardens, feeding the hungry, and spreading the love, Timber Jim knows that beer can be used as a force for good in this world. Together we present this tasty Northwest-Style IPA brewed with locally sourced malted barley and hops. A portion of this beer's proceeds is donated to Meals on Wheels People, Timber Jim's charity of choice. Meals on Wheels has been changing lives, one meal at a time, since 1970 through neighborhood meal sites and delivery to homebound seniors. Meals on Wheels will have a very special raffle package with limited tickets.
Weird Beer Bonanza
Noon-close, Saturday June 10, Imperial Bottle Shop, 3090 SE Division St; $17 includes glass and 10 tix.
As part of your Portland Beer Week, be daring and try some brews that strayed from the beaten path with the weirdest of ingredients and brewing methods.
Peaches and Kriek of the Gorge
5 p.m. Monday June 12, Roscoe's, 8105 SE Stark St.;
Here's your chance to try both peach and cherry beers from some of the best brewers of these styles in the Columbia River Gorge. Peach and Kriek style beers will be on tap from pFriem Family Brewers, Double Mountain Brewery & Taproom, Solera Brewery, and Logsdon Farmhouse Ales, LLC.. Representtives from the breweries will be in the house to answer questions about the beers. There will also be a couple of guest beers on tap that you won't want to miss including Firestone Walker Brewing Co. Krieky Bones
New Oregon Breweries Showcase
5-8 p.m. Monday June 12, Bailey's Taproom, 213 SW Broadway; no cover
The New School presents their annual New Oregon Breweries Showcase during Portland Beer Week. 11 new breweries from Oregon, all opened in less than a year from the date will be present pouring two beers each. Meet-the-brewers and owners from the new school of breweries from across the state and try their beers.
Kegs Deep in Boneyard
4-8 p.m. Wednesday June 14, Bailey's Taproom, 213 SW Broadway;
Expect some classics and a handful of new brews from the popular Bend brewery in what the Bailey's crew says is the biggest tap takeover in the taproom's decade-long history.
Tap List:
Batch #4 IPA
Bombay Golden Ale
Big Chew American Wheat
The Femur Barleywine
Broken Femur Barrel Aged Barleywine
Suge Knite
Pabo Pilsner
VanDuzer Kolsch
RPM
Diablo Rojo
Notorious
Hop Venum
BoneAFide
HopAWheelie