Reviewing the 29th Annual Oregon Brewers Festival
|
The 29th edition of the Oregon Brewers Festival (OBF) began yesterday at Noon when it welcomed over 100 beers from three continents, North America, Europe, and Asia. The beer choices this year include a large amount of standouts and many of the beers were brewed solely for OBF, 53 beers to be exact.
Prior to tapping the ceremonial keg of Workhorse IPA from Laurelwood Brewing that officially kicked off the 29th OBF, over 500 craft beer fans met up on the east side of the Willamette River for the sold out 10th Annual Oregon Brewers Brunch. This year's host brewery was Laurelwood Brewing. In lieu of hosting the brunch at its brewery at 5115 NE Sandy Boulevard, Laurelwood took over the Melody Ballroom at 615 SE Alder Street. Here attendees were treated to a spread of food that included eggs, potatoes, bacon, sausage, scones, fresh fruit and more. So how many eggs does it take to feed a beer hungry crowd this size? We were told that Laurelwood had to crack a total of 10,000 eggs for all of the food options on the tasty breakfast buffet. And of course there were plenty of Laurelwood beers flowing to get everyone ready for the Oregon Brewers Parade.
As the brunch wrapped up, the parade crowd began to descend upon SE Alder. Then towards 11:00am additional OBF patrons began to gather out in front of the Melody Ballroom to get all set for the annual parade. Each year OBF organizers invite a new Grand Marshal to lead the annual march to Tom McCall Waterfront Park. Last year it was two of the fathers of Portland craft beer, Rob and Kurt Widmer. This year's parade was led by one of the region's most well-known craft beer evangelists, Lisa Morrison. She is better known as The Beer Goddess and has been one of the friendly faces at Belmont Station since she took over a majority stake a few years back. It was great to see Lisa lead this year's route that took the parade marchers westward over the Hawthorne Bridge and into the festival grounds.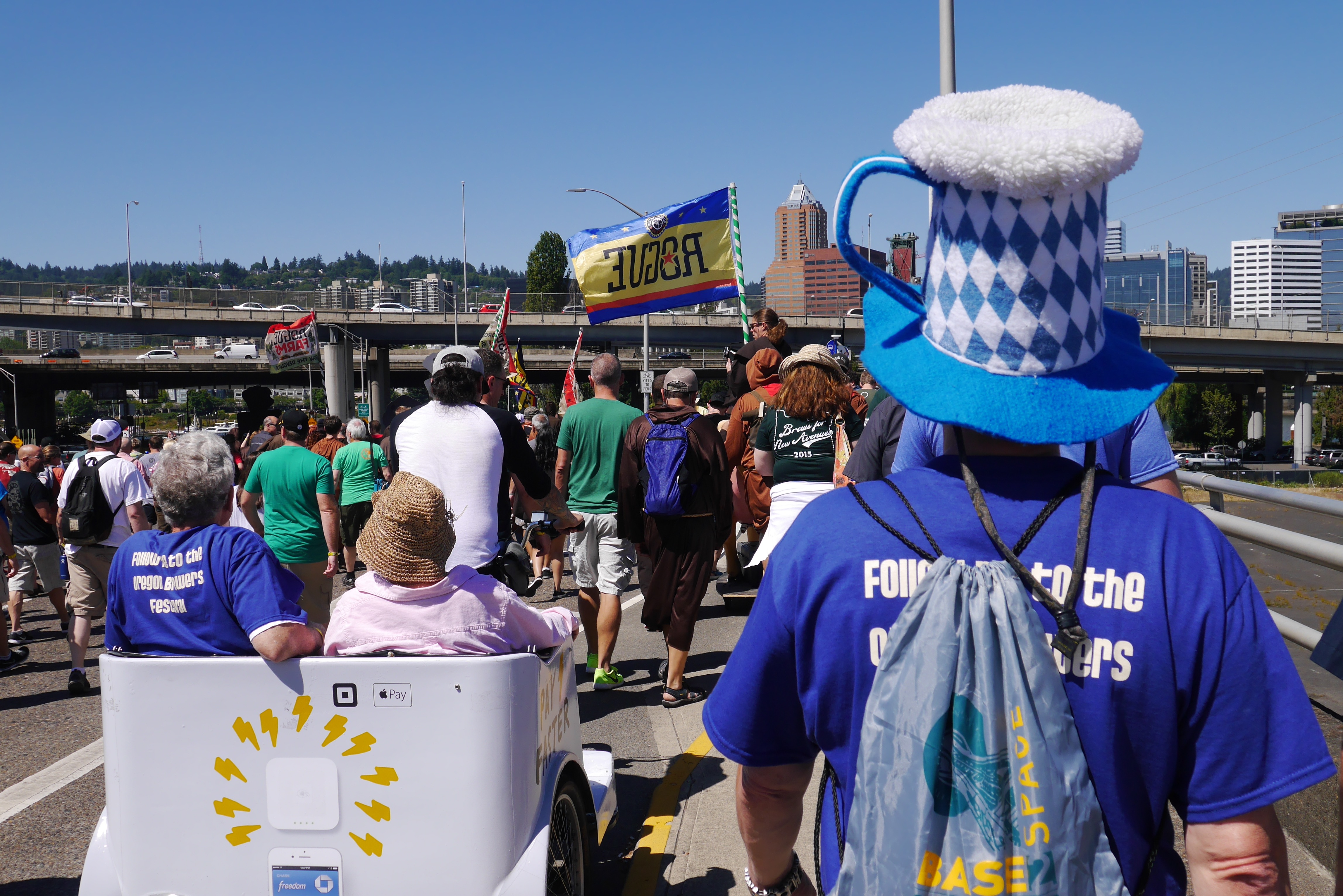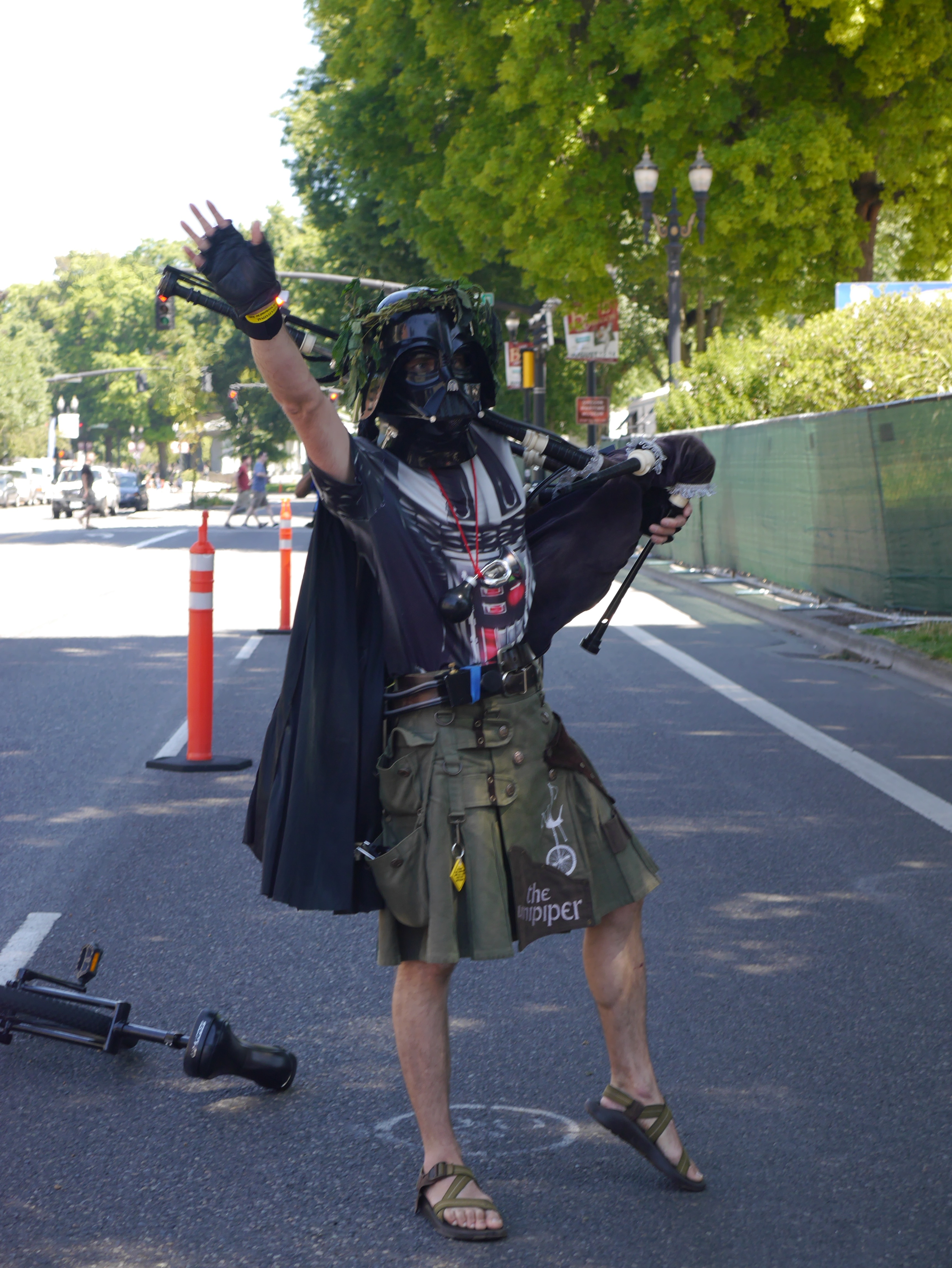 As the parade entered Tom McCall Waterfront Park the ceremonial keg was wheeled out on its now famous cart. After some speeches from OBF founder Art Larrance and Mike DeKalb founder of Laurelwood Brewing, the ceremonial keg was tapped. It was here where we learned that Hopworks Urban Brewery would take the honors on being the host brewery for the 30th OBF.
After we received our complimentary pour of Workhorse IPA from Laurelwood we ventured towards the beer trailers to search for this year's white whale. Our first stop was to the International Beer Garden that is located just north of Trailer 5 on the southern portion of the festival grounds.
The International Beer Garden will feature 24 beers from breweries that call home in The Netherlands, Germany, Japan and China. On any given day there will be one beer pouring from each of the breweries. Now in its third year, the International Beer Garden has seen brewers and breweries from The Netherlands each year and last year it also featured New Zealand breweries. It was great to see a few including Rick Nelson that is as friendly as any brewer out there. Nelson is very active in the burgeoning craft beer scene and helped produce a film, It All Starts With Beer, about him and his fellow Dutch Brewers journey to the 27th OBF. He even hosts, Kimchi Radio, a weekly radio show that covers beer and more.
With breweries from Germany, China and Japan joining the ones from The Netherlands made this year's lineup even more diverse and intriguing. All the pours in the nicely shaded International Beer Garden are one token each, quite the value for these rare gems. All of the beers we sampled from the international brewers were impressive. Jing-A Brewing from China uses Koji sake rice in its Koji Red Ale that results in a unique, pleasant taste and beautiful color. This the Dutch brewers returned along with a few breweries new to OBF. Oedipus Brewing poured its Mannenliefde, a great tasting saison and Oersoep Brewery offered up its Schnappi, a Berliner-Weisse that impressed many attendees. Moving south of The Netherland, the beer rich culture of Germany was represented with two breweries, Lang Bräu and Brauerei Nothhaft. Both offerings were quite impressive but the Rawetzer Premium Export Festbier from Brauerei Nothhaft stood out on top with its subtle malt sweetness that delivered a great tasting, flavorful Pilsner.
But the country that doesn't receive all that much notoriety for its craft beer scene truly shined at OBF. All six breweries from Japan brought their A-Game to this year's OBF. If you're looking for a beer that resembles Alaskan Brewing's Smoked Porter order a Pacific Porter from Baird Beer. This one comes in a close second to the legendary brew from our northernmost state. North Island Beer brought its hop forward India Pale Ale, at 94 IBUs this is sure to attract the Northwest IPA drinker. However the true highlight from Japan was Yellow Sky Pale Ale from Y Market Brewing. With the addition of yuzu fruit peel, this pale ale utilizes Citra Hops to create a perfect summer afternoon beer.
If you missed meeting and talking to any of these brewers during OBF there will be a few other opportunities outside the festival at Belmont Station, Hair of the Dog, and Base Camp Brewing.
Today, Thursday, July 28, there will be a Meet the Japanese Brewer session from 6:00 to 8:00pm at Belmont Station. The brewers that will be in attendance include Chris Poel of Baird Beer, Wataru Sato of Iwate Kura Beer, Takeshi Tagaya of North Island Beer, Riku Oba and Eigo Sato of Shiga Kogen, Takashi Tsutui of Shonan, and Makoto Kachi of Y Market.
On Saturday, July 30, Hair of the Dog Brewing will have beers and the brewers from both Brouwerij de Molen and Shiga Kogen in its Tasting Room. There will be three beers on tap from each brewery beginning at 11:30am and pouring untill they are gone. Alan Sprints and the visiting brewers will also be doing a special collaborative brew that day blending cultures from each of the breweries.
Then next Tuesday, August 2, look for the brewers from The Netherlands to be hosting an event at Base Camp Brewing from 4:00 to 10:00pm. There the brewers will be pouring their collaborations that they have done with some of the area's local breweries. Look for Bea Brinkman and Menno Olivier from Brouwerij de Molen, Roel Buckens from Brouwerij Frontaal, Marcel Snater and Ewald Visser from Brouwerij Maximus, Rick Nelson from Oedipus Brewing, Bart-Jan Hoeijmakers and Mark Strooker from Oproer Brouwerij, and Erwin Van Moll from Van Moll Eindhoven in attendance.
Beyond the International Beer Garden, OBF is featuring 88 beers from breweries as far away as Florida through Sunday. (A complete list of beers pouring along with each of their descriptions can be found here.) With this many beers pouring its wise to prepare before attending the festival. But it's also fun just to sample a beer on a whim. A 3 oz. sample pour is one token that costs $1.00 each or a full 12 oz. pour is 4 tokens. We did not notice any beers costing more than one token each. This is a great thing. However we had many pours that were under the 3 oz. pour line. It seemed as if the alcohol monitors were keeping a very tight ship on the volunteer pourers.
From the beers within the main festival we enjoyed many of the offerings that we sampled. Some of the highlights were Bayern Brewing, Double Mountain Brewery, Upright Brewing, August Schell Brewing, Lost Abbey, GoodLife Brewing, Gigantic Brewing, Pelican Brewing, and pFriem all beers that were pouring in the South Tent Area.
Moving onto North Tent Area the highlights included 54°40′ Brewing, Melvin Brewing, Sunriver Brewing, Aslan Brewing, Cascade Brewing, Lakefront Brewing, Natian Brewing, Boundary Bay Brewing, Georgetown Brewing and Zoiglhaus Brewing.
As with any beer festival, there will be a few beers that were not all that intriguing to the palate. The beers that we found to be not all that intriguing to a few that needed to be poured out were not that many. There are a couple of beers that we would recommend avoiding. One beer is from Bent Paddle Brewing and its Venture Pilsener. A whiff and one taste confirmed that there were too many off flavors going on in this one from Duluth, Minnesota. The other beer is Sagefight from Deschutes Brewery. This beer had a bit too much sage for our liking.
One beer that we were truly looking forward to was Kentucky Refresh-Mint from Old Town Brewing. Last year the brewery went out on a creative limb to brew 1-Up Mushroom Ale, yes a beer brewed with mushrooms. This beer received mixed reviews last year but we were in the camp that truly enjoyed its uniqueness. Plus the beer went quite well with the brewery's famous pizza! However, Old Town's entry into the 2016 OBF went too strong on the mint. But at only one token this is a beer that deserves to be tried by all so you can make your own opinion.
Oregon Brewers Festival continues through Sunday, July 31. Doors open each day at 11:30am with taps flowing each day from Noon to 9:00pm through Saturday and Noon to 7:00pm on Sunday. Entry is free, a souvenir 2016 OBF mug is required to sample and this costs $7.00. Tokens good for a 3 oz. pour are $1.00 each.
Oregon Brewers Festival
Tom McCall Waterfront Park
SW Naito Parkway & SW Oak Street
Portland, OR