Sasquatch Brewers Festival Returns on June 10 to Eugene
|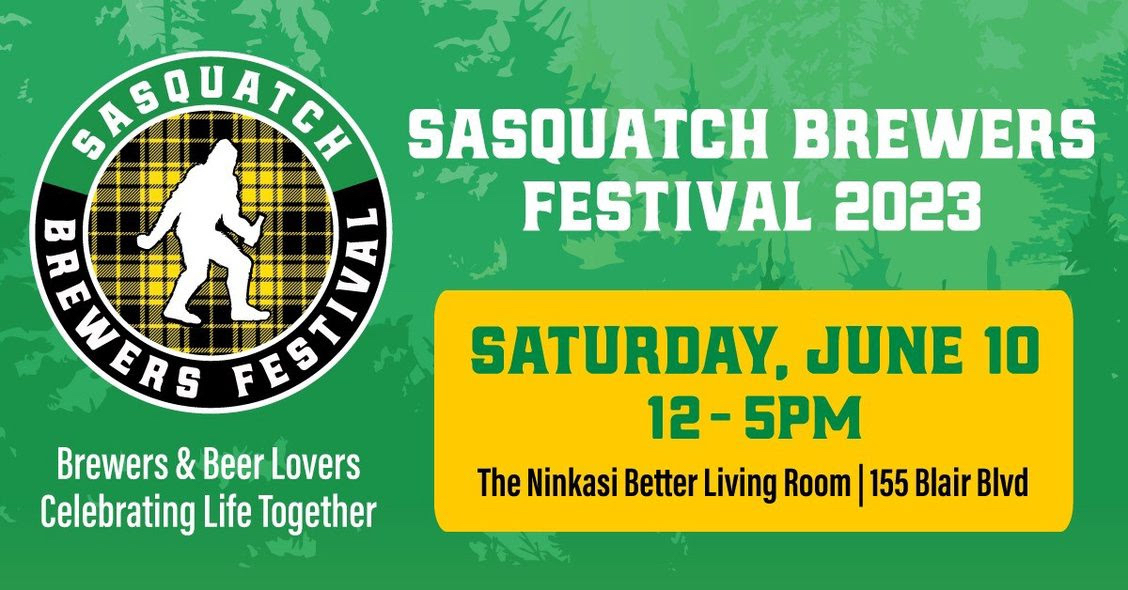 One of Eugene's most popular beer festivals makes its return on Saturday, June 10 to Ninkasi Brewing. Held at the Ninkasi Better Living Room from Noon – 5:00pm, the Sasquatch Brewers Festival raises funds for The Glen Hay Falconer Foundation. The mission of the foundation is to contribute the northwest craft brewing community by providing opportunities for professional and aspiring brewers to further their knowledge and expertise.
The afternoon festival will feature exclusive beers, live music, food trucks and is open to all ages to enjoy. The full lineup of breweries and beers will be announced soon! Be sure to check the website and social media for brewery updates.
Brewery + Beer List:
Breweries with scholarship recipients are designated by a * below
10 Barrel Brewing – Portland*
Darth Lager – Schwarzbier – 4.6% ABV
Baerlic Brewing*
Chill – Helles Lager – 4.5% ABV
Coast Fork Brewing
Sign of the Prancing Pony – Double IPA – 9% ABV
Deschutes Brewery
Pineapple/Key Lime Gose – Gose – 4.4% ABV
ELYSIAN BREWING COMPANY*
Hot Tropic – Sour IPA – 6.7% ABV
Heater Allen
Pils – Bohemian-style Pilsner – 5.1% ABV
Manifest Beer Company
Imminent Haze – New England IIPA – 8.4% ABV
Oakshire Brewing*
Hoptical Envelopment – IPA – 6.5% ABV
Ruse Brewing
Phases of Darkness w/ Coconut – Barrel-Aged Imperial Stout – 15% ABV
The 3 Legged Crane Pub & Brewhouse*
Olde Skalleywag – Old School/Traditional IPA – 7.4% ABV
Van Henion
Van Henion Pilsner – German Style Pilsner – 5.5% ABV
Alesong brewing & Blending
Señor Rhino – Bourbon Barrel Aged Pastry Stout – 12.5% ABV
Breakside Brewery*
Life, Volume 4 – Barleywine – 9.4% ABV
ColdFire Brewing Company
Hefe – German Style Hefeweizen – 5.2% ABV
Drop Bear Brewery
Bondi Babe Haze – Hazy IPA – 6.2% ABV
Falling Sky Brewing
Lil' Squatch – NW Session Red Ale – 4.5% ABV
Hopworks Brewery
Ferocious Citrus – Tangerine IPA – 6.2% ABV
Mckenzie Brewing
End All Be All (Limited Series) – Necatoronic IPA – 6.4% ABV
PlankTown Brewing Co.*
Soft n' Sassy – IPA – 7.35% ABV
Steeplejack Brewing Company*
Czech Dark Lager – Czech Dark Lager – 4.8% ABV
The Wheel
Our Kind – Double IPA – 8.7% ABV
Von Ebert Brewing
Fir Tip Helles – Bavarian-style Helles – 4.8% ABV
Xicha Brewing
Torogoz – Pilsner – 4.6% ABV
Tickets are priced from just $12 and includes two drink tickets and a festival glass. At the door, tickets will increase to $15. Additional drink tickets can also be purchased at a discount in advance or at the event on Saturday at $2 each. To purchase tickets, click here.
But if you're looking at volunteering for Sasquatch Brewers Festival, Ninkasi Brewing is offering up some nice treats. Just sign up to serve beer, assist with registration, or be festival runners. Volunteers will receive a $50 gift card for The Better Living Room and access to an after-party as a thank you. The volunteer shift is from 11:15am-5pm on festival day and beer servers are required to have their OLCC servers permit. Sign up at https://sasquatchbrewfest.squarespace.com/volunteer.
Ninkasi Better Living Room
155 Blair Blvd.
Eugene, OR 97402