Seattle brewers in town, Hip Hop IPAs; your week in beer for April 1-7
|
Seattle brewers in town, Hip Hop IPAs, it's your week in beer for April 1-7.
April Fool's Day with Victory at Sea and Variants
5 p.m. Friday April 1, the BeerMongers, 1125 S.E. Division St.;
Choose from among a whole taplist of variations on Ballast Point's Victory at Sea, including:
Victory At Sea Imperial Porter
Victory At Sea Peanut Butter
Victory At Sea Coconut
Victory At Sea Peppermint
Pineapple Sculpin IPA
Calm Before The Storm
Selfie Fest Road Show 2016: A Celebration of Self-Distribution
3 p.m. Saturday April 2, Imperial Bottleshop and Taproom, 3090 S.E. Division St.;
This series of tap takeover events at retailers across the state celebrates Oregon brewers who make, sell and deliver their beer directly to their retail accounts. They will gather at select taphouses, bars and restaurants to share their beers and stories of how self-distribution is allowing them to build their businesses and form closer ties to retailers and beer lovers. It starts Saturday at Portland's Imperial Bottleshop and Taproom when all 16 taps will be devoted to self-distributed beer and cider, and the tour will continue throughout the spring and summer with events at locations across the state. At each stop, retailers will invite at least four self-distributed breweries and pour two beers from each brewery. The retailers will choose the breweries that participate in their event and the breweries will send at least one representative to participate. Other scheduled stops on the Selfie Fest Roadshow include Uptown Market on April 9, IBU Public House on May 10, Untapped Bottleshop and Beer.
Super Fuzz Wig Out Patio Party
5-10 p.m. Saturday April 2, The Cruzroom, 2338 NE Alberta St.; 21 & over only.
Elysian Brewing and the Vinylogy DJ Crew & Friend's are taking over The Cruzroom patio once again with wigs, funky dance beats, tasty brews and a free photo booth.
Put on your favorite wig and celebrate the release of Super Fuzz Blood Orange Pale Ale – a mind-bending whirl of the aromas and flavors of blood orange and Northwest hops – and the return of warm weather patio action.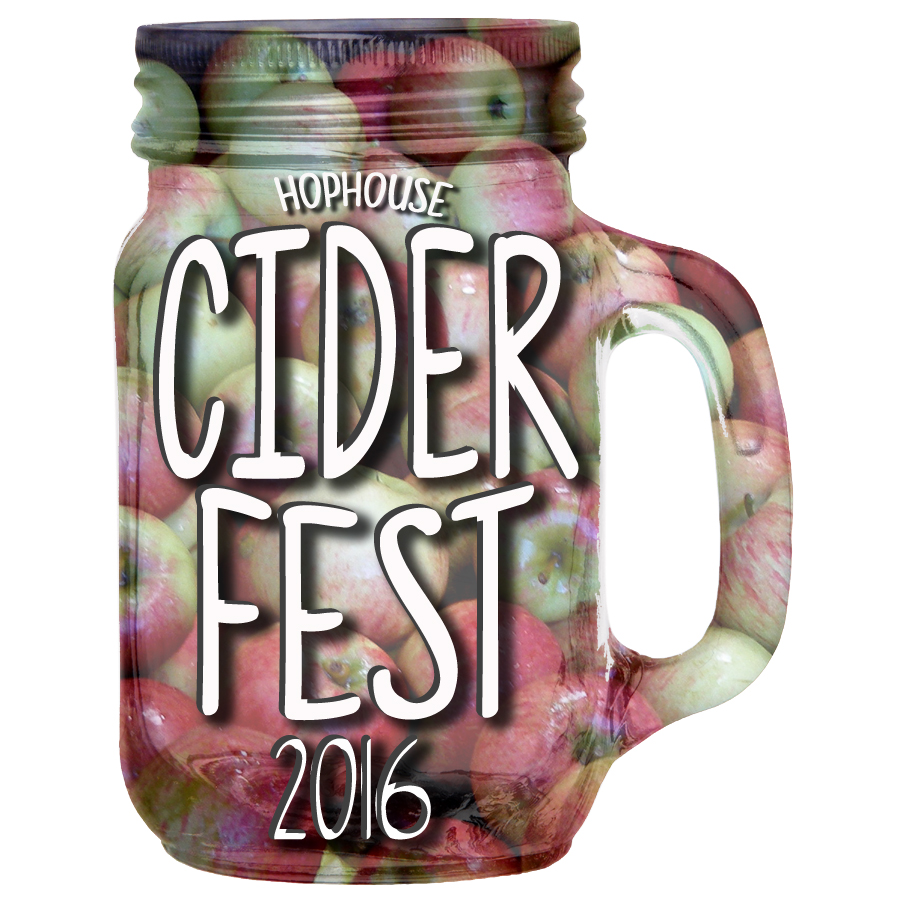 Ciderfest
2-7 p.m. Saturday April 2 & Sunday April 3, 15th Avenue Hophouse, 1517 NE Brazee; $35 for entry, glass and 12 tokens, or $45 for entry, glass and 24 tokens.
The Hophouse folks have 83 hard ciders on tap this weekend including apple ciders, hopped ciders, pear ciders, specialty fruit ciders and mead, plus they're serving a limited menu with smoked ribs all and spicy slaw during the weekend – and all pints of beer are $5 all weekend, in case you get your fill of cider.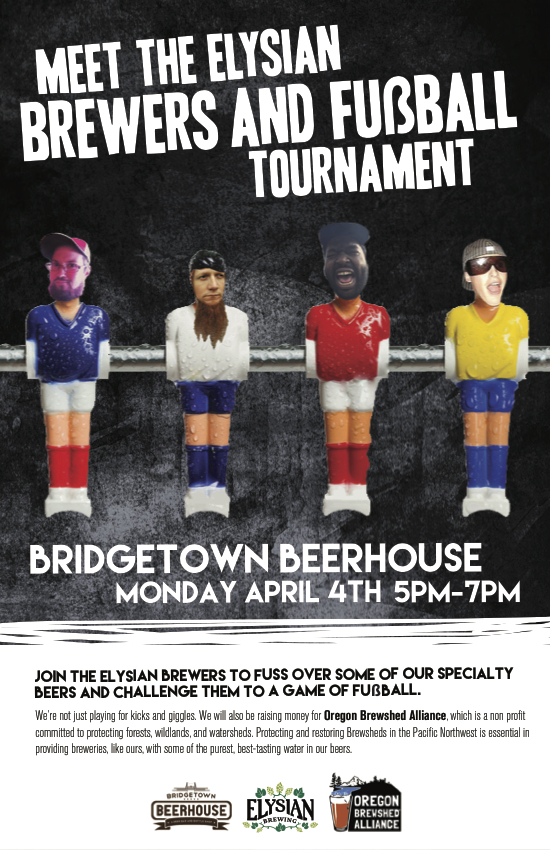 Meet the Elysian Brewer's and Foosball Tournament
5-7 p.m. Monday April 4, Bridgetown Beerhouse; 915 N Shaver St.;
The Elysian Brewers are in town and they want to share some of their specialty beers and play some foosball to raise money for Oregon Brewshed Alliance.
Meet the Schooner Exact Brewer
5 p.m. Monday April 4, Green Dragon, 928 S.E. Ninth Ave.
It's a good week to catch up with some of Seattle's finest, such as Schooner Exact Owner/Head Brewer Matt McClung, who will be coming in to not only participate in our event, but also sit in with The Brew Happy show for a live podcast. Lineup includes: Peach Sour, Mosaic Pale, Lager (1/2 brett, 1/2 chard), Evergreen IPA and the Barrel-aged Porter.
Meet the Elysian Brewers/Pink Boots Society Benefit
5-7 p.m. Tuesday April 5, Belmont Station, 4500 SE Stark St.;
The Pink Ladies and T-Birds of Elysian Brewing will be tapping Boozy School Dropout, a strawberry kiwi gose that was brewed on International Women's Brew Day by the women who work for the brewery. They'll be raising money throughout the night for Pink Boots Society, which empowers women beer professionals to advance their careers in the beer industry through education and scholarships.
Brewvana's Fifth Anniversary
5-9 p.m. Wednesday April 6, Ecliptic Brewing, 825 N. Cook St.; $12 at the door.
The bright Brewvana tour buses have become a great part of the Portland brewing scene and the crew is celebrating five years in typical Brewvana fashion: with good beer and giving back to the community. They've partnered with the Oregon Brewshed Alliance to donate $2 from every ticket directly back to their organization to keep Oregon's precious natural resources healthy and thriving. Join them for a family friendly evening of great beer, small appetizers, and local music performed by Space Shark, a unique pairing of KIND bars with Ecliptic beers on tap. There'll also be a raffle showcasing local businesses such as KEEN, Betsy and Iya, Shwood Eyewear, Nike, work/shop, Marine Layer and Timbuk2
Hip Hop IPA Night
4 p.m.-close Wednesday April 6, Lompoc Tavern, 1620 NW 23rd Ave.;
Lompoc and friends love to brew them some IPAs: According to head brewer Bryan Keilty, "If someone suggests a them and it sounds like fun, we'll do it!"  True enough, it seems, and Hip Hop IPA Night celebrates five of their new Hip Hop themed IPAs, including:
World Class Wreckin Brew: Brewed in collaboration with Willamette Week writers Martin Cizmar and Parker Hall, this is the first in the series. Pale orange in color with a strong tropical fruit aroma with hints of fresh lime zest. Hopped with Simcoe, Huell Melon and Mandarina Bavaria, then aged in a brite tank on mango puree. 6.3 percent.
Mama Said Hop You Out: this IPA packs a punch, with additions of Nugget, CTZ, Hull Melon, Mandarina Bavaria, Wakatu hops and a subtle malty balance. Tropical fruit, citrus and earthy notes will keep you coming back the next time round. 6.3 percent.
Hotel Motel Holiday Inn: The 3rd in the Hip Hop IPA series has a copper-orange hue. Brewed with nine different hop varieties, there is a chalky aroma with flavors of orange and apricot, finishing very smooth. 5.6 percent.
MCA IPA: The 4th in the Hip Hop series of IPAs is a collaboration with Lompoc bartender Cody Bottorf. Nugget, Cascade and Galaxy hops give these copper-colored IPA aromas of pine, tropical fruit and citrus. 6.2 percent.
Hopster's Paradise: Brewed in collaboration with former Lompoc brewer Josh Merrick, this is the 5th in the Hip Hop series of IPAs. Copper to orange in hue and hopped with five different hop varietals, this beer gives off a flowery, citrus aroma. A resiny flavor with hints of pine and tangerine mingle on the tongue. 6 percent.
All five beers will be available on a taster tray or individually by the pint. Lompoc will also have a Gin & Juice cocktail special featuring Aria Portland Dry Gin.
Knee Deep Tap Takeover
6-9 p.m. Wednesday April 6, NW IPA, 6350 S.E. Foster Rd.;
Knee Deep Brewing in Auburn, CA are killing the IPA game right now and the N-Dubs crew couldn't wait any longer for someone from the brewery to come up here, so they're throwing their own party with your new favorites such as Breaking Bud and Lupulin F'n River plus Tanilla Imperial Stout – and some tasty exclusive beers too.