Space Beers, Best Beers, Black Beers, Beer & Spirits: Beer Events For The Week Of February 23
|
The Space/Beer Continuum Expands
Two local breweries and nationally distributed Shmaltz Brewing have released a pair of beers that should be well received by beer geeks, Trekkers and Star Wars fans alike: Gigantic/Ecliptic Star Destroyer Imperial Darkside Lager and Shmaltz Klingon Imperial Porter, which looks a helluva lot more tasty than the bottles of blue (!) "Romulan Ale" I once saw for sale at a Star Trek convention years back. I'd actually drink Klingon Imperial Porter for instance…
Ecliptic Brewing partnered with Gigantic Brewing on the newest addition to its Cosmic Collaboration series, Star Destroyer. Brewed in the style of an Imperial Schwarzbier and with a nod to Star Wars, Star Destroyer is cleverly styled as an Imperial Darkside Lager. "In 2016 I approached Van Havig of Gigantic about a collaboration for 2017. He agreed only if we called the beer Star Destroyer," said Ecliptic Brewmaster John Harris. The 8 percent ale will be available at Ecliptic Brewing, 825 North Cook St., starting on March 1.
In 2016, Shmaltz Brewing debuted two critically acclaimed Star Trek Golden Anniversary Ales to celebrate the 50th Anniversary of Star Trek. 2017 brings triple the excitement with the limited release of three Star Trek specialty beers rolling out throughout the year. The first extraterrestrial elixir of 2017 is Star Trek Klingon Imperial Porter. Six malts including Specialty 2-Row, Vienna, Melanoidin, Crystal, Honey, and Pale Chocolate are brewed with Columbus and Vanguard hops to make this big — 7.3 percent — porter, which will be available in 4-packs and on draft at select bars.
Sixth annual Cascade Brewing Sour Fruit Fest
Noon- close through Sunday Feb. 26, Cascade Brewing Barrel House, 939 SE Belmont St. & Raccoon Lodge and Brewpub, 7424 SW Beaverton Hillsdale Hwy;
Sour Fruit Fest features more than 50 exclusive Cascade sour fruit beers on rotation throughout the week, with at least 25 sour beers on tap each day at the Barrel House, and 10 at the Raccoon Lodge. The Barrel House will also offer a savory/sweet food-pairing menu and vintage bottles for sale.
The following five beers will headline each day at both locations:
Thursday, 2/23: Crazy Navel
Friday, 2/24: Cherry Vlad
Saturday, 2/25: Kentucky Peach
Sunday, 2/26: Tangerine Dream
At the Barrel House, in addition to the above, Cascade's lineup of fruit beers will be on tap daily, including Apricot, Elderberry, Figaro, Kriek, Manhattan, Noyaux, Sang Noir and The Vine, plus many more on rotating taps — and Cascade's most popular — Honey Lime Ginger — will be pouring throughout the event.
Stout Summit
2 p.m. Friday Feb. 24- Sunday Feb. 26, Roscoe's, 8105 SE Stark St.;
Roscoe's will be pouring a phenomenal collection of vintage and unique stouts for its seventh Annual Stout Summit all weekend long. Some of the stouts will include: Deschutes Abyss (Fresh and Vintage, Perennial Abraxus, Upright Oyster Stout, Vietnamese Coffee Speedway Stout from Alesmith, Alesong Brewing and Blending Rhino Suit, Ex Novo Brewing Strawberry Garcia Stout, Crux Fermentation Project Tough Love, New Holland Brewing Coconut Rum Barrel Stout, and many more. Taster trays will be available.
Cuvee Van De Keizer Day
5-9 p.m. Friday Feb. 24, Bazi Bierbrasserie, 1522 SE 32nd Ave.; $12 for 4 oz pours of each beer and 1 oz pour of the whiskey.
Since 1999 Brouwerij Het Anker has been brewing Gouden Carolus Cuvee van de Keizer, the Grand Cru of the Emperor, every February 24th, to celebrate the birthday of Emperor Charles V, the only Holy Roman Emperor to rule Europe from Belgium. Cuvee van de Keizer Day celebrates this very special brew, which has won won numerous international awards, including World's Best Belgian-Style Strong Beer at the 2015 World Beer Awards. The two beers and whisky tasting will consist of the Cuvee Van De Keizer, the Gouden Carolus Classic paired with the Gouden Carolus Single Malt whiskey – a refined whisky distilled from the mash of the Gouden Carolus Tripel beer.
Ninth Annual Wurstfest
10 a.m. – 10 p.m. Friday Feb. 24 and Saturday Feb. 25. Mt. Angel Festhalle, 500 S. Wilco Dr. Mt. Angel; $5, $10 includes logo glass.
Mt. Angel Sausage, the Glockenspiel and the Urban German present fifteen varieties of wurst including bratwurst, currywurst, frickadelwurst and many others garnished with sauerkraut, grilled onions and Monastery Mustard. Also: Warsteiner beers from Germany and Seven Brides Wurstfest, German and regional wines and nonstop live music.
Fifth annual Black Out Beer Fest
Noon-10 p.m. Saturday Feb. 25, Lompoc Sidebar, 3901 N Williams Ave.; free admission, $20 tasting package includes souvenir glass & eight beer tix. 21 and over, minors OK inside the Fifth Quadrant.
The Lompoc crew is taking a break from its annual Chowder Challenge this year to devote energy to the popular Black Out Beer fest which features 25 rotating dark beers – porters, stouts, coffee beers and black IPAs – from Lompoc and more than 20 guest breweries from around the Northwest and happens at Sidebar and in the heated & tented parking lot in front of the Fifth Quadrant. A portion of the proceeds will be donated to the Community Transitional School and the day starts with a pre-fest brunch featuring a brunch menu paired with specialty dark beers at Fifth Quadrant from 9 a.m.-1 p.m.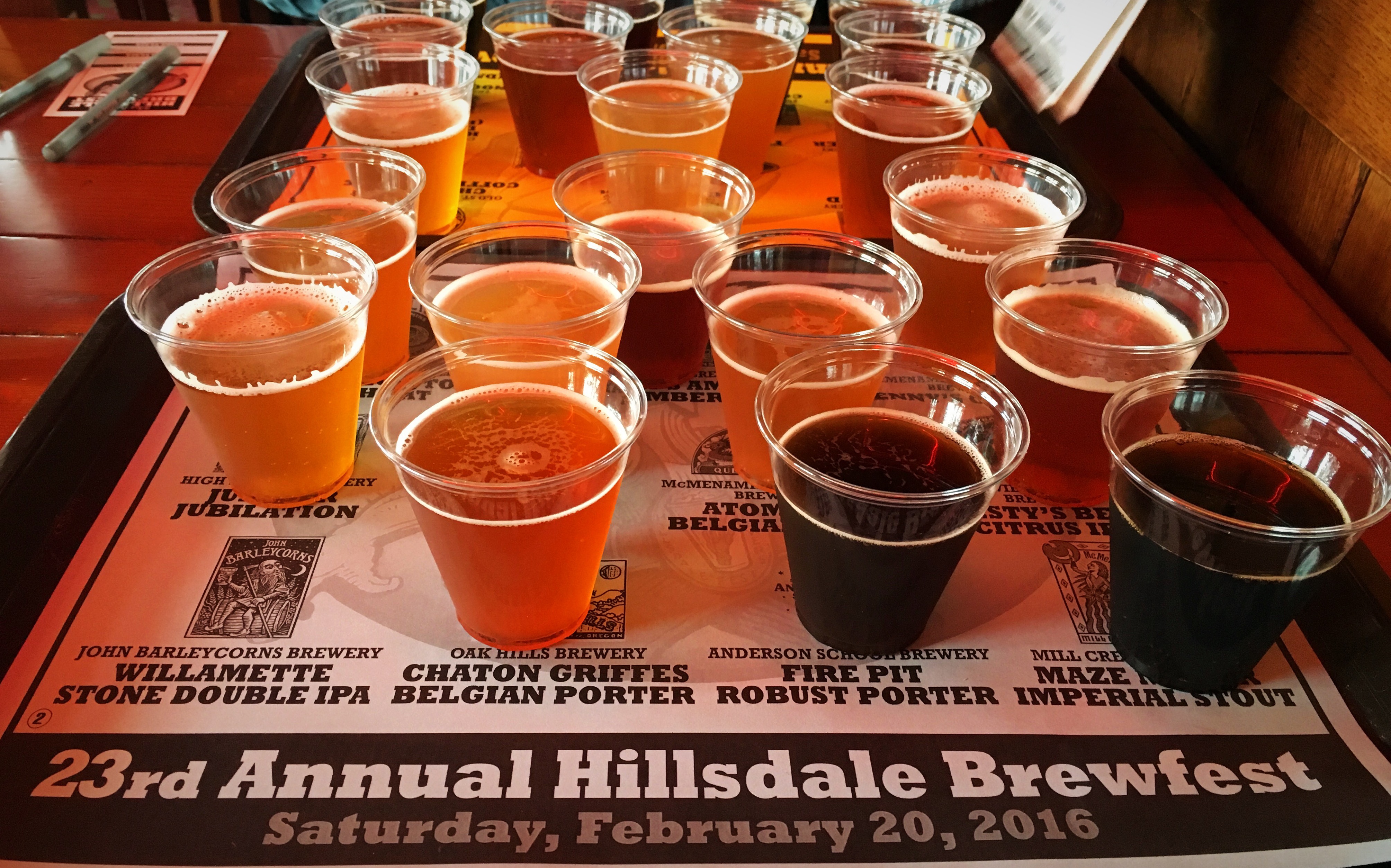 Hillsdale Brewfest
11 a.m.-close Saturday Feb. 25, Hillsdale Brewery & Public House, 1505 S.W. Sunset Blvd.; Free admission, $11 taster tray. All ages OK, 21 & older to sample.
The 24th annual Hillsdale Brewfest pits 22 of the finest ales from McMenamins breweries against each other for the chance at winning the championship belt, bragging rights and the tight to brew the McMenamins beer for this year's Oregon Brewers Festival. Along with your taster tray, you get a ballot to vote for your favorite beer and those ballots determine the winner of the belt. It's a fun, family friendly festival, and a great tradition that reminds us that Hillsdale was Oregon's first post-Prohibition brewpub, opened shortly after the McMenamins, Widmers, Ponzis and others helped make brewpubs legal in Oregon in 1985.
Third Annual Brewstillery Festival
Non-8 p.m. Saturday Feb. 25, StormBreaker Brewing, 832 N Beech St.; $20 includes glass and 10 tix.
In this era of craft beers and spirits, the boilermaker is an endangered species, rarely seen except in the pages of hard-boiled crime fiction. But that doesn't mean that the combination of beer and spirits is dead. Dan and Rob at StormBreaker rounded up beers from 19 breweries and spirits from as many craft distilleries to prove that the new kids on the block play exceedingly well together, complementing each other and creating a complex interplay in ways that industrial lager and cheap rye never could. Even if it was Mickey Spillane's favorite. Here's what the organizers say:
Brewstillery is breweries and distilleries teaming up to create the perfect pairings, each comprising a 4-oz beer pour and a ¼-oz spirit taste. Only like beer? Then just drink beer. You can pick and choose, although we strongly recommend going for the pairing.
Here are the teams:
Baerlic; Bend Distilling
Barley Brown's; Stein Distillery
Base Camp; 4 Spirits Distillery
Breakside; Clear Creek Distillery
Cascade; Thomas and Sons Distillery
Coin Toss; 503 Distilling
Commons; Stone Barn Brandyworks
Culmination; Indio Spirits
Double Mountain; Hood River Distillers
Ecliptic; Rolling River Spirits
Fatheads; Big Bottom Distilling
Gigantic; Ransom Spirits
Golden Valley; 3G Spirits/Famosinha de Minas
Great Notion; Bull Run Distillery
Laurelwood; Vinn Distillery
Migration; House Spirits
pFriem; New Deal Distillery
StormBreaker; Eastside Distilling
Wild Ride; Camp 1805 Distillery
Zwickelmania Part Deux
11 a.m. – 4 p.m. Saturday Feb. 25 for most non-Portland Oregon breweries & brewpubs; Free.
There are a few ways to experience a working brewery, but only Saturday's Zwickelmania skips the rubber boots, cleaning beer kegs and schlepping 50-pond sacks of grain. In 2009, the Oregon Brewers Guild held its first statewide brewery open house to celebrate 150 years of Oregon statehood. They called the new event Zwickelmania after the sampling tap on fermenters and tanks that allows brewers and visitors to try a beer while it's still conditioning – a perfect name that nicely captures the spirit of generosity that prevails among most brewers, who seem always to have a little something special tucked away that they want y
Cascadian Craft Spirits Class
2-5 p.m. Sunday Feb. 26, Lewis Room in the Paramount Hotel, 808 SW Taylor St. $80 Registration and pre-payment required: 503-805-6763
Stuart Ramsay knows his whiskies, and after you take his classes, so will you. This class on our own crop of craft spirits is the last5 of four in-depth, comprehensive classes exploring major whisky categories, and a great way to learn more about the whiskeys you drank Saturday at the Brewstillery fest… the class is three hours long (with a food break provided by the Swank & Swine restaurant), and will cover the history, culture, production methods, and flavor profiles of the category. At least five classic whiskies will be sampled per class, representing regional and production styles, and every participant will receive a whisky booklet related to the class plus you'll get to sampler Ramsay's own WhiskyBack beers, designed to pair with whiskey.
Third Annual Oregon Beer Awards
6-10 p.m. Tuesday Feb. 28, Revolution Hall, 1300 SE Stark St.; $15.
Willamette Week recognizes and celebrates Oregon's outstanding beers and breweries in what they call the Academy Awards of beer. Winners will be announced during the ceremony and the 2017 OBA Hall of Fame induction by JVNW will also take place. In addition to 22 judged beer style categories, awards will also be given for Best New Brewery, Best Beer Bar/Bottle Shop, Best Brewpub Experience, Best Beer Festival, Brewery of the Year – Small, Medium and Large. The event benefits Oregon Wild's Oregon Brewshed Alliance.