STEELPORT Knife Pre-Thanksgiving Open House
|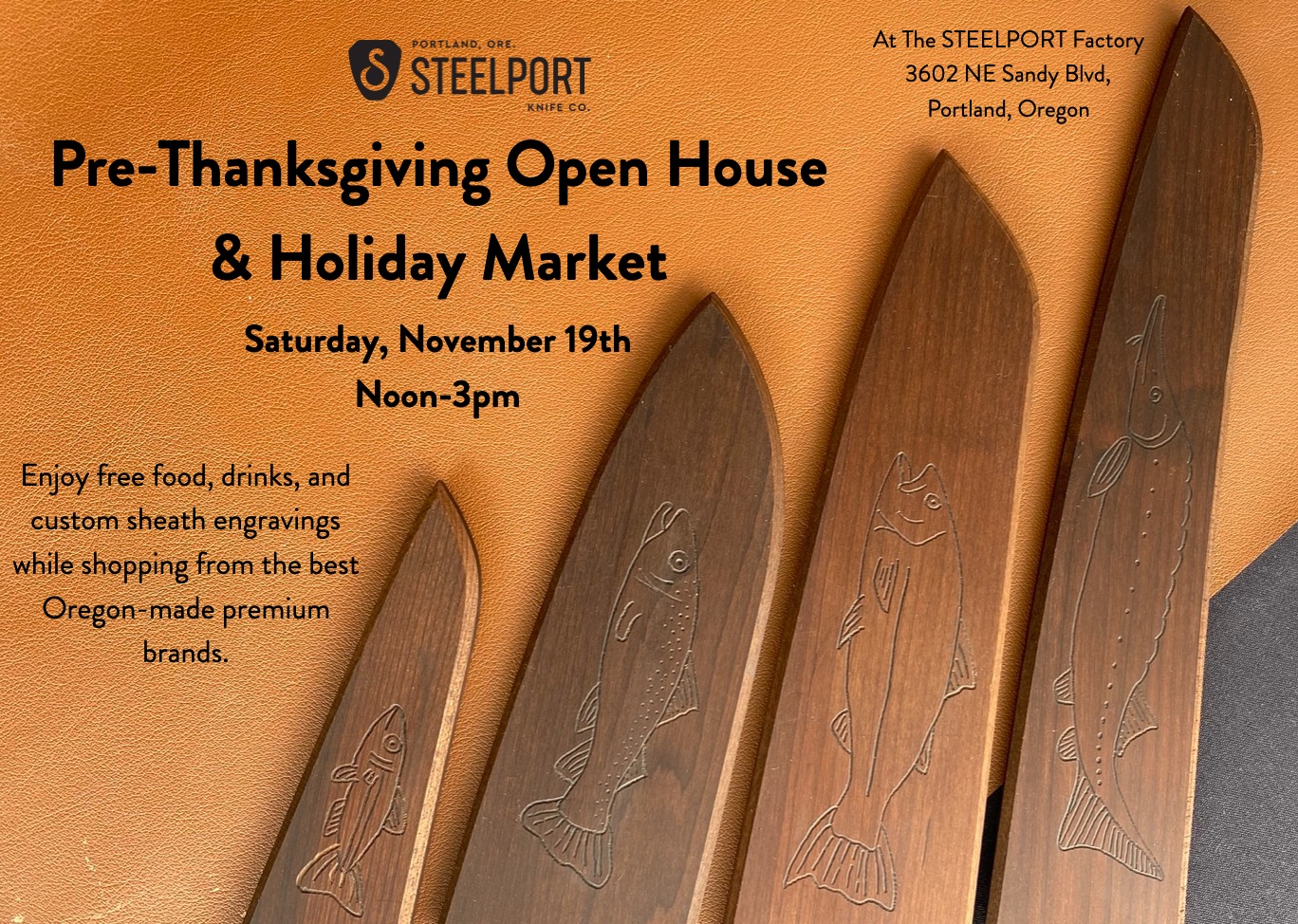 The holiday shopping season is right around the corner and STEELPORT Knife Co. will be hosting its annual Pre-Thanksgiving Holiday Open House. Beyond checking out their fabulous chef's knives, STEELPORT Knife will also be host to a few of the Portland areas food and beverage purveyors offering up free samples!
The Pre-Thanksgiving Holiday Open House takes place on Saturday, November, 19 at its factory on NE Sandy Boulevard from Noon-3:00pm.
Enjoy free food and drinks while you shop from some of Oregon's best local brands, including:
Chef Doug Adams sampling food and beer from his highly anticipated new brewery and restaurant, Grand Fir Brewing.
Kachka Lavka, the cafe and deli from famed Chef Bonnie Morales serving dishes from the former Soviet Union through a Pacific Northwest lens.
Ken's Artisan Bakery, serving delicious breads and signed copies of Ken Forkish's cookbook
Argyle Wines, Oregon's original sparkling wine house, celebrating 35 years in the Willamette Valley.
Honey Mama's delicious truffle bars Paleo, Dairy Free, Gluten Free, No Refined Sugar
Wellspent Market offering unique wines, cider and pantry staples from around the world
Westward Whiskey, American Single Malt Whiskey made in Portland
FINEX Cast Iron, cast iron cookware for those that believe details make the difference. Made in USA & guaranteed good forever.
Coava Coffee's freshly roasted single origin specialty coffee.
Attendees of our Open House will also have the option of a getting a free custom knife sheath engraving from illustrator Becca Nguyen of Line & Wave. Bring your current STEELPORT sheath from home, or buy one at the factory to take advantage of this rare chance to personalize your knife.
STEELPORT Knife Co.
3602 Northeast Sandy Blvd #Suite B
Portland, OR 97232