StormBreaker Brewing 3rd Anniversary
|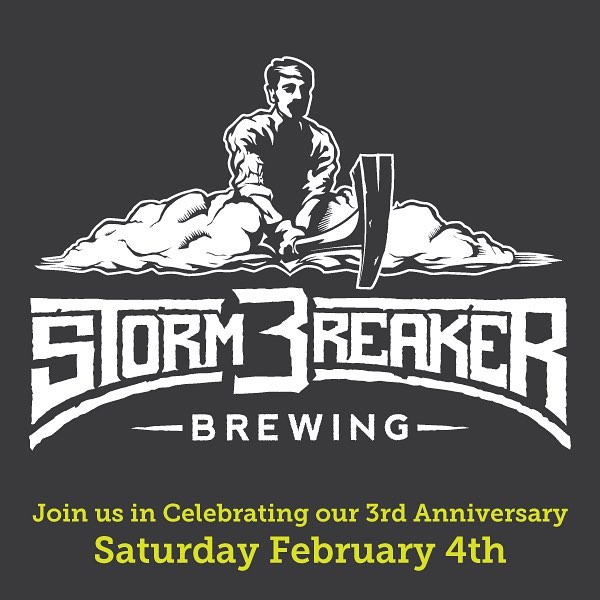 Its been three years since StormBreaker Brewing opened in the former home of Amnesia Brewing. Tomorrow on Saturday, February 4th, StormBreaker Brewing will celebrate its 3rd Anniversary all day long from Noon until Midnight.
For the special occasion StormBreaker will release a few beers for the milestone including its Anniversary Triple IPA and Barrel Aged Winter Coat. The brewery will also debut its Barrels Full of Chocolate, an imperial brown ale aged on cocoa nibs and aged in bourbon barrels for one full year. There will be a limited supply of bottles for purchase.
Throughout the day there will be raffle prizes, a special guest beer slinger from 2:00 to 4:00pm and some anniversary cake at some point during the day.
And mark your calendars for the 3rd Annual Brewstillery Festival when it returns to StormBreaker Brewing on Saturday February 25th beginning at Noon. Look for 19 breweries and 19 distilleries teaming up to offer some pairings that are sure to delight.
Entry is only $20.00 and comes with event branded beer tasting glass and 10 taster tickets. There is also a VIP Ticket for $40.00 that allows for entry an hour early, 15 taster tickets, the event branded beer-tasting glass, plus a commemorative event branded whiskey glass! Click HERE for advance tickets.
Check out the pairing teams:
Baerlic Brewing – Bend Distilling
Barley Brown's – Stein Distillery
Base Camp Brewing – 4 Spirits Distillery
Breakside Brewing – Clear Creek Distillery
Cascade Brewing – Thomas and Sons Distillery
Coin Toss Brewing – 503 Distilling
Commons Brewing – Stone Barn Brandyworks
Culmination Brewing – Indio Spirits
Double Mountain Brewing – Hood River Distillers
Ecliptic Brewing – Rolling River Spirits
Fatheads Brewing – Big Bottom Distilling
Gigantic Brewing – Ransom Spirits
Golden Valley Brewing – 3G Spirits/Famosinha de Minas
Great Notion Brewing – Bull Run Distillery
Laurelwood Brewing – Vinn Distillery
Migration Brewing – House Spirits
pFriem – New Deal Distillery
StormBreaker – Eastside Distilling
Wild Ride Brewing – Camp 1805 Distillery
If you're interested in volunteering contact atha@stormbreakerbrewing.com.
StormBreaker Brewing
832 N Beech St.
Portland, OR 97227