StormBreaker Presents the 5th Annual Brewstillery Festival
|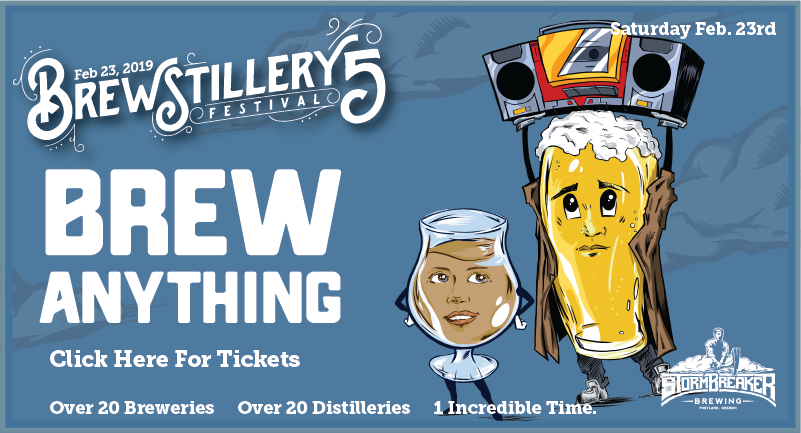 "When we opened StormBreaker, we wanted to pair every one of our beers with whiskey," said Dan Malech, co-founder of StormBreaker Brewing. Well this will happen once again when StormBreaker Brewing hosts its 5th Annual Brewstillery Festival on Saturday, February 23, 2019.
On Saturday 23 beer and spirits creative pairings come together from 22 breweries and 20 distilleries from Noon-8:00pm with a special VIP entry at 11:00am. Once again StormBreaker will tent off half of Beech Street at Mississippi Avenue along with most of its outdoor beer garden. These tents will be heated including the two fire pits that are part of the brewery's beer garden.
Here's a preview of the pairing teams along with the pairing names. A more detailed look can be seen here: Pairing List Brewstillery 5
Beer and Spirits Pairing Teams:
Baerlic / Captive Spirts Distilling – Peat, The Pioneer
Breakside / Stone Barn Brandyworks – From Paris with Passion
Cascasde / Eastside Distilling – Tongue Tai'd
Coalition / Townshend's Distillery – Hazed and Infused
Coin Toss / Trail Distilling – Trail Toss
Culmination / Hood River Distillery – F*#& Breakfast
Double Mountain / Clear Creek Distilling – The Classic Irish Exit
Ecliptic / Bull Run Distilling – Peach For The Stars
Ferment / Camp 1805 Distillery – The Woody Surveyor
Grains of Wrath / Westward Whiskey – Necronomicon
Great Notion / Freeland Spirits – Blueberry Gin Smash!
Laurelwood / 4 Spirits – Gintergalactic Planetary!
Lompoc / Stein Distillery – Rhythm and Blues
Migration / Wanderback Whiskey Co. – Migrate & Wander
Old Town Brewing / Bull Run Distilling – Foam Noir
Pono / Engenho Buriti – Amigos e Amigas
Rogue Ales / Rogue Spirits – The Filbert in the Rye
Ruse / Big Bottom – Dry Juice
StormBreaker / Rose City Distilling – BrewStillaTron
StormBreaker / Westward Whiskey – Resilience For Those In Need
Von Ebert / Rolling River Spirits – Still Life with Dill
Wayfinder / Crater Lake Spirits – The Berry Black Hole
Wild Ride / New Basin – Wild Basin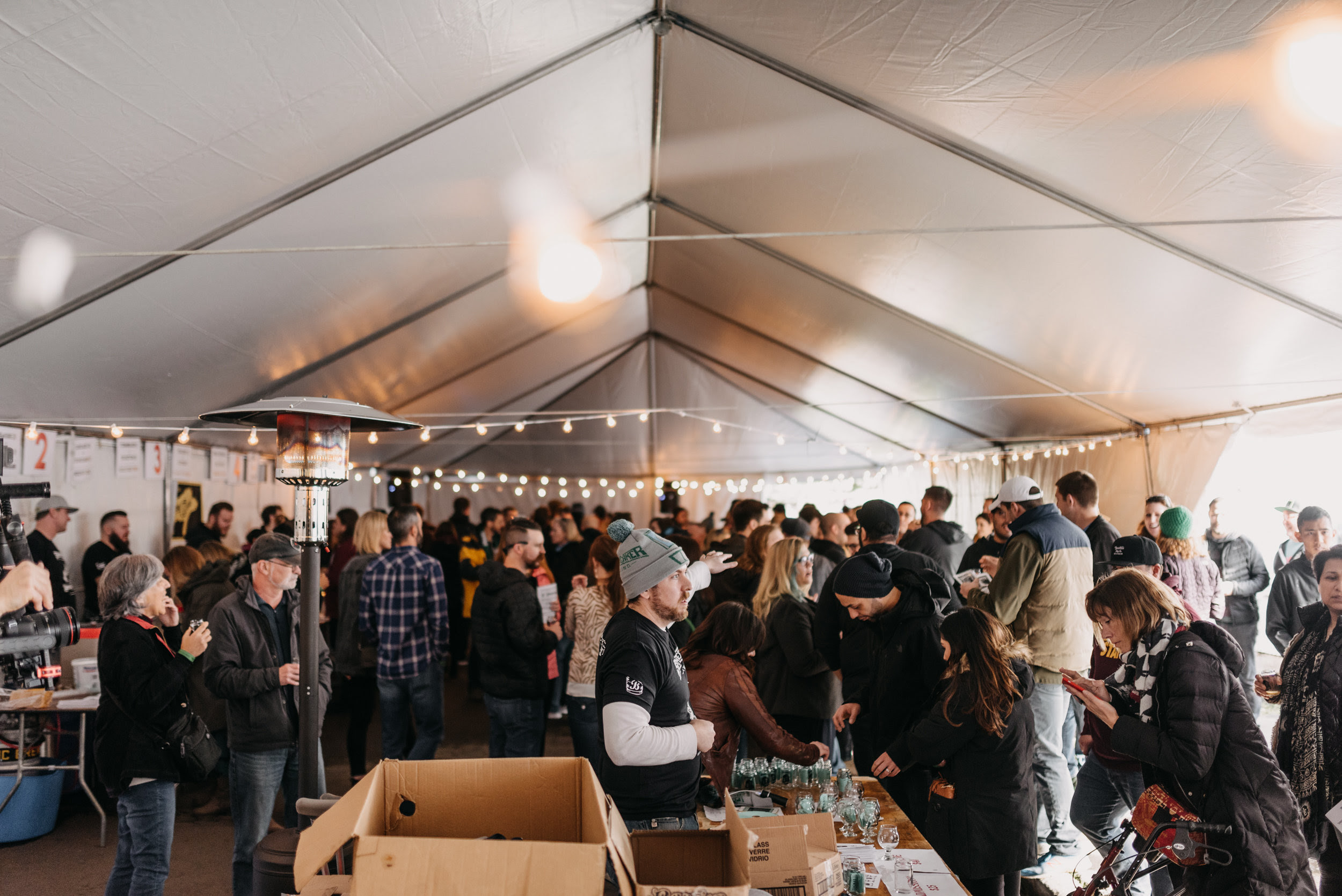 Last week we tasted through eight of the event's pairings. Many were very noteworthy and will be exciting to revisit on Saturday. The pairing we enjoyed most was the Ecliptic Brewing and Bull Run Distillery pairing. Ecliptic's Barrel-Aged Carina Peach Sour Ale paired with Bull Run's Single Malt Whiskey made for the perfect blending of flavors. The peach melds well with the oak whiskey flavors.
Rogue Ales & Spirits paired up with themselves for another notable pairing with two of its award-winning beverages, Hazelnut Brown Nectar with its Oregon Rye Malt Whiskey. Rogue's sprits program was revamped a year or so back and its Rye Malt Whiskey is a favorite of ours with its Oregon grown rye at the Rogue Farms in Tygh Valley.
Another pairing worthy of seeking out is the one from Wild Ride Brewing and New Basin. For Wild Basin, the paired its Laughing Face Imperial Coconut Porter with New Basin Strong American Light Whiskey. The Porter screams out with plenty of coconut and pairs quite nicely with this 80-proof whiskey.
One pairing we did not sample but are most interested in sampling on Saturday is the new Resilience For Those In Need pairing from StormBreaker and Westward Whiskey. This pairing brings together a Barrel-Aged Resilience IPA and Westward Whiskey. This new BA Resilience IPA was aged in former Westward Whiskey barrels and then Westward received the barrel back to age its American Single Malt whiskey in for another go-round.
The event will also feature a day filled with live music. Here's a rundown on the bands performing.
12:00 – 2:00pm Dead Lee (Featuring Brian Koch, the drummer and co-founder of Blitzen Trapper)
2:30 – 4:30pm Euge Organ Trio
5:00 – 8:00pm Pagan Jug Band
Advanced General Admission is $25.00 ($27.54 after fees) and includes festival beer tasting glass and ten drink tickets. For you BREWPUBLIC readers use code beerandwhiskey5 for a $5.00 discount available online only.
Advanced VIP Admission is $45.00 ($48.78 after fees) and includes festival whiskey snifter, festival beer tasting glass and early entry one hour early at 11:00am. VIP attendees will also be able to mingle and discuss the pairings in more detail with many of the brewers and distillers. For you BREWPUBLIC readers use code brewstilleryVIP5 for a $5.00 discount available online only.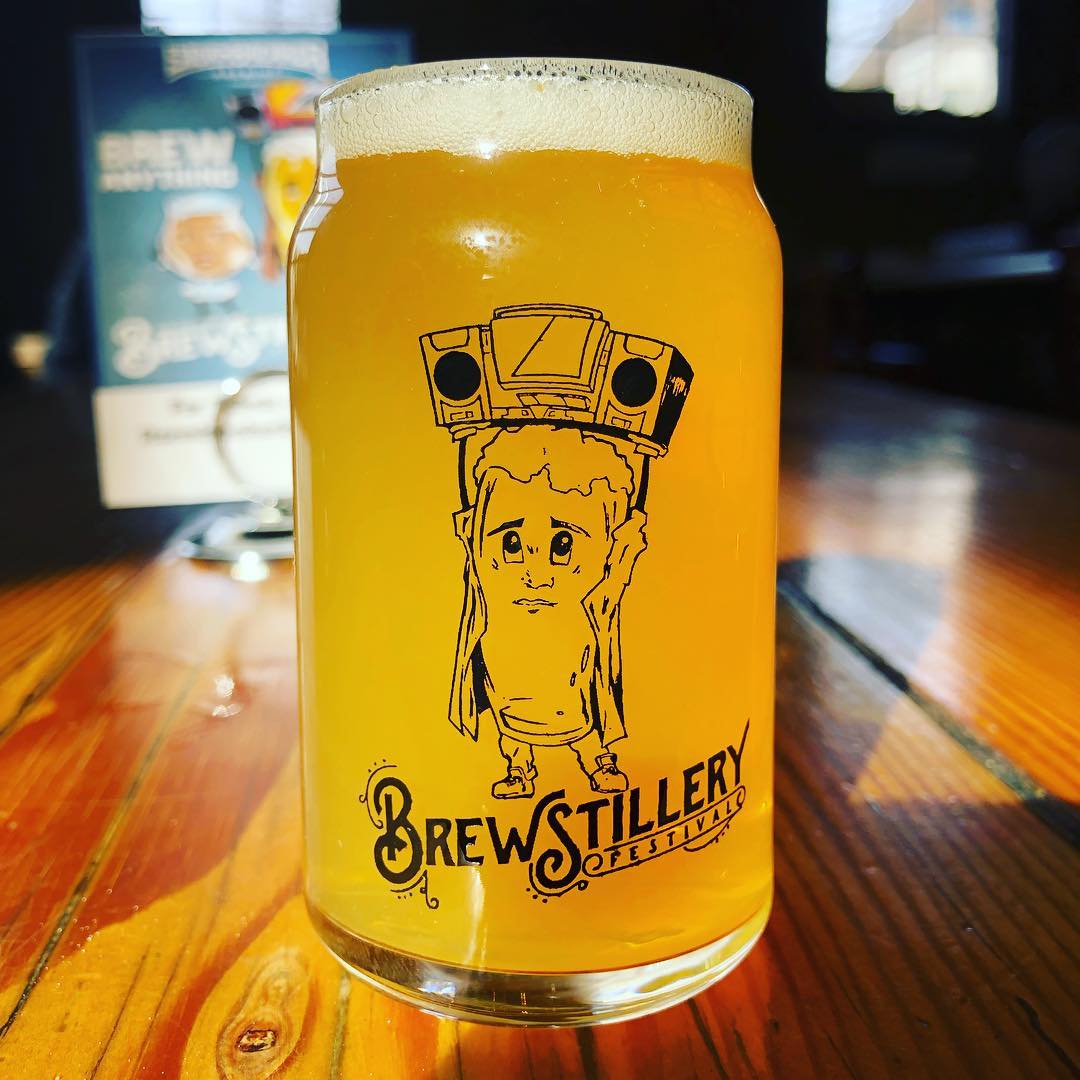 The charitable partner for the 2019 edition of Brewstillery is Dollar For Portland. A portion of the festival's proceeds will go to this Portland charitable organization that assists those with financial burdens due to medical and hospital debt. Its goal is to support local Portland families get themselves out of medical debt and get them back on their own feet.
StormBreaker Brewing
832 NE Beech St
Portland, OR 97227