Stout Month Returns to Fort George Brewery During February 2022
|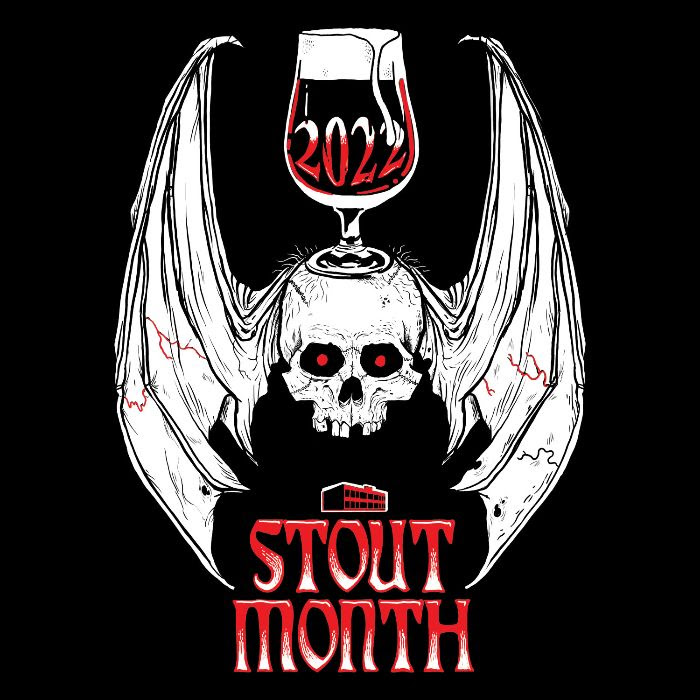 Darkness will reign over Astoria during the month of February at Fort George Brewery. Though the brewery's coveted Festival of Dark Arts has been canceled for a second consecutive year, Fort George Brewery will feature a month worth of dark beer releases and smaller taproom events during its 2022 Stout Month.
When the calendar flips over to February 1st on Tuesday, Fort George will be delivering the dark goods from dark food specials, dark desserts, dark guest beers, semi-dark lectures every Thursday night, somewhat dark live music on Sundays, and Guest Brewers from the West Coast. These guest breweries include Ex Novo Brewing, Moksa, Reuben's Brews, and Structures Brewing. More details are listed below in the month long calendar of events.
February 2022 Stout Month Events:
2/1 – DRINK:
Cavatica Stout
2022 Matryoshka Barrel Aged Russian Imperial Stout
Cellared Matryoshkas: The Ghosts of Stout Months Past
Waves of Silence: Embayed 
Table Stout 
Bananza Stout
Elkah Stout
2/3 – Thursday Talk: Ales & Ideas
2/4 – Guest Brewer: Ex Novo in the Taproom
2/5 – DRINK:
Mint Chocula Stout
Favorite Everything Stout
2/6 – Live Music Sunday Night
2/8 – Guest Brewer: Moksa in the Taproom
2/10 – Thursday Talk: Wit & Wisdom
2/12 – DRINK:
Favorite Everything Stout (Nitro)
Chaiway 101 Vegan Milk Stout 
Gone Pecan (Pecan Praline Stout)
2/13 – Live Music Sunday Night
2/17 – Guest Brewer: Reuben's in the Taproom
2/17 – The Liberty Presents: Live Music Thursday Night
2/19 – DRINK:
Antediluvian Stout Barrel Aged Stout 
Antediluvian Stout with Vanilla & Cinnamon
5 Piece Stout (Samoa Girl Scout Cookie Stout)
Matryoshka with Vanilla and Cardamom
Matryoshka with Vanilla and Cinnamon
Matryoshka with Vanilla and Ginger
Matryoshka with Vanilla, Cardamom, Cinnamon, Ginger and Coffee
2/20 – Matryoshka Variant Bottle Release
2/20 – Live Music Sunday Night
2/24 – Guest Brewer: Structures in the Taproom
2/24 – Thursday Talk: Nature Matters
2/27 – Live Music Sunday Night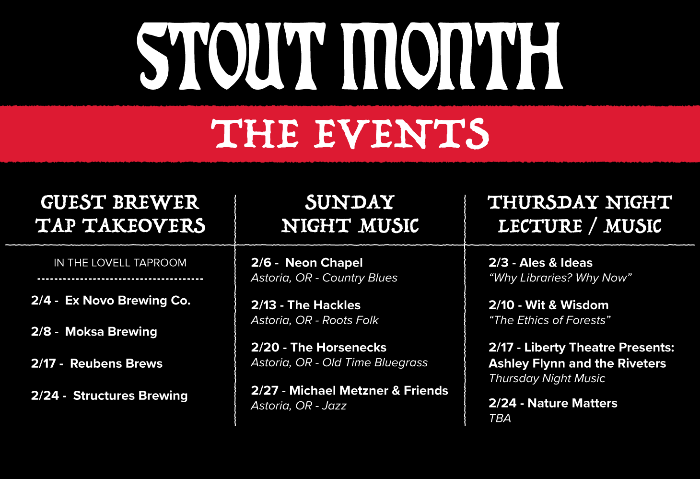 To stay up to date on all of the events taking place at Fort George Brewery during its Stout Month visit https://fortgeorgebrewery.com/.
Fort George Brewery
1483 Duane Street
Astoria, OR 97103