The Beer Here: A Three-Fest Saturday, A Visit to Yachats and Beer Events for the Week of August 9
|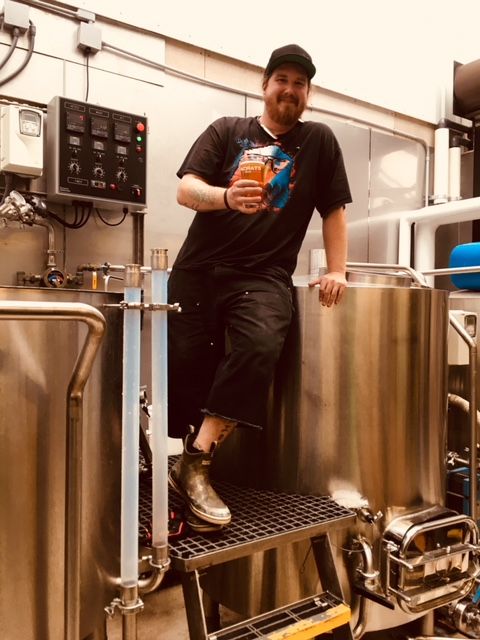 A visit last week to the coast included Yachats and Yachats Brewing, where old friend Aaron Gilham — late of Portland U-Brew and Fanno Creek Pub — is now the head brewer. The brewery has expanded since my last visit, and the farm store/locavore part of the business has made way for more pub and restaurant seating much to the apparent enthusiasm of tourists and locals alike. And owners Nathan & Cicely Bernard have bought property a block or so to the north, with the idea of reopening the farm store under a different roof.
Back at the pub, we were treated to three sampler tray featuring a dozen of the beers that Aaron brews on the pub's seven-barrel system, including Thor's Well IPA, Pacific Wind IPA, Perpetua Xtra Pale Ale, Buckle (brewed with wild yeast Aaron first cultured at Fanno Creek and lovingly nurtured by him ever since), Lemon Verbena, Blackberry Sour and 804 Pils, named for the much-loved coastal hiking trail. All excellent beers by the way, and definitely worthy of an afternoon at the pub…or better yet stay over and have dinner at the pub, which has a great menu featuring locally-sourced ingredients.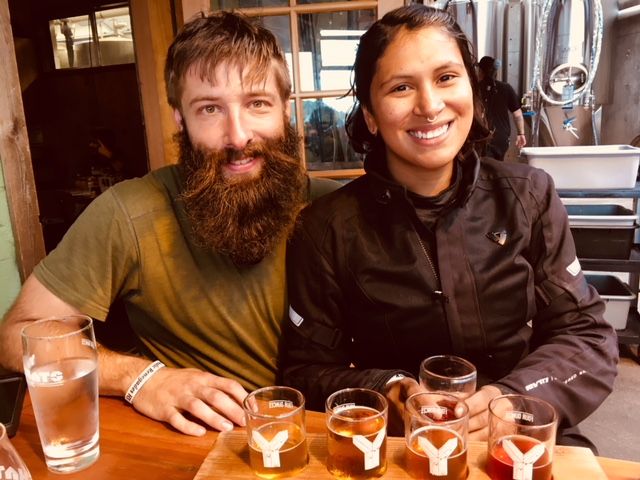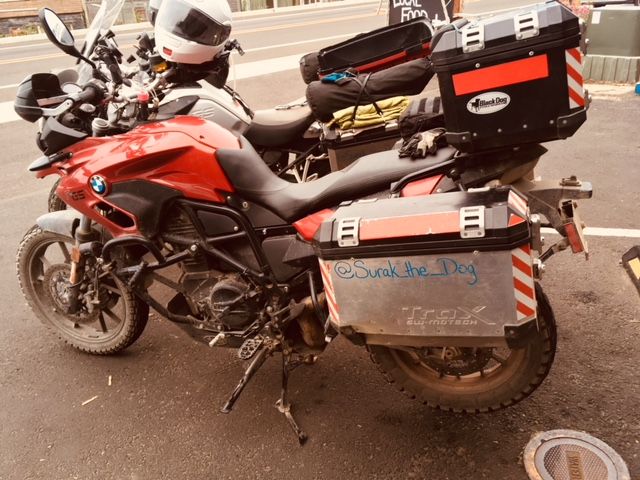 We were staying and glad of it, and we dragooned the younger couple whose table we had joined to sample with us. They, too were traveling on motorcycles, and accounted for the BMW dualsport bikes parked in front of the pub — well used, muddy dualsport Beemers, which — believe me — is not always the case. Many look to never have ventured further off-road than a gravel parking lot or two, but Scott and Odessa clearly had some miles under their tires: several thousand so far in their seven-week trip from Washington DC, and they were camping all the way with only one night in a hotel. They plan to head north to Alaska, and back east across Canada and perhaps relocate out of the Left Coast. "When we reached Bend," Odessa said, "I thought to myself, 'I could live here…'"
Odessa is also a brewer, so Aaron soon bundled us off to see the brewery and the rest of the operation, including that inspiring rooftop view, and when we got back, Odessa introduced us to their traveling companion, a wonderfully mannerly eight-month-old German Shepherd mix by the name of Surak, who has an Instagram account and travels with them in a special hutch on the back of one of the bikes. Odessa is training Surak as a service dog and she said one of the main goals is for the animal to be invisible…given the fact that we had been chatting and drinking for an hour without knowing that Surak was under the table, I'd say "mission accomplished…"
It was a perfect afternoon and reaffirmation of the power of good beer to build community…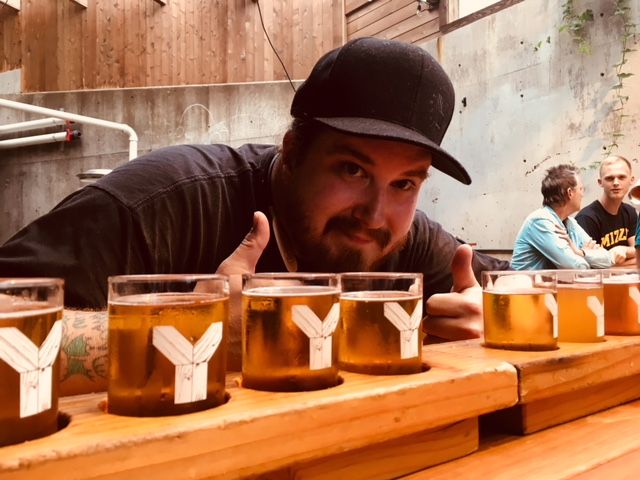 Here's the list of beer events for the week of August 9th include a three-fest Saturday with events in Vancouver, Milwaukie, and Wilsonville plus the rest of the happenings for the week.
McMenamins Egyptian Cotton IPA Can Release Party
6-8 pm Friday August 10, McMenamins 23rd Ave. Bottle Shop, 2290 NW Thurman St.; 21 & older.
Come raise a pint of this Gold Medal-winning New England-style IPA with brewer Mark Harris. "This 6.5 percent IPA is so soft," quoth the website, "it's like drinking a cloud of hops and malt. Like a basket full of kittens that smell like citrus and candied fruit. Like the inside of a snuggle…." Centennial, Mosaic, Simcoe and Citra hops, plus rolled oats in the malt bill.
Seventh Annual Vancouver Brewfest
4-9:30 pm Friday August 10, noon-9 pm Saturday August 11, Esther Short Park, Vancouver, Wash.; $25 includes admission, pint glass and 8 tix, other packages available, tickets good for food or beer onsite, 21 & older only.
The Vancouver Brewfest is a celebration of craft beer that raises funds for various charities. This summer's event includes more than 100 beers, ciders, and meads, plus food, local arts & crafts vendors and live music, and it supports local businesses. The list of brewers and beers is here http://vancouverbrewfest.com/the-breweries/ though I didn't get past 54-40, which will be pouring one of my favorite styles — Dortmund Lager — brewed by one of my favorite brewers, Bolt Minister: see you there!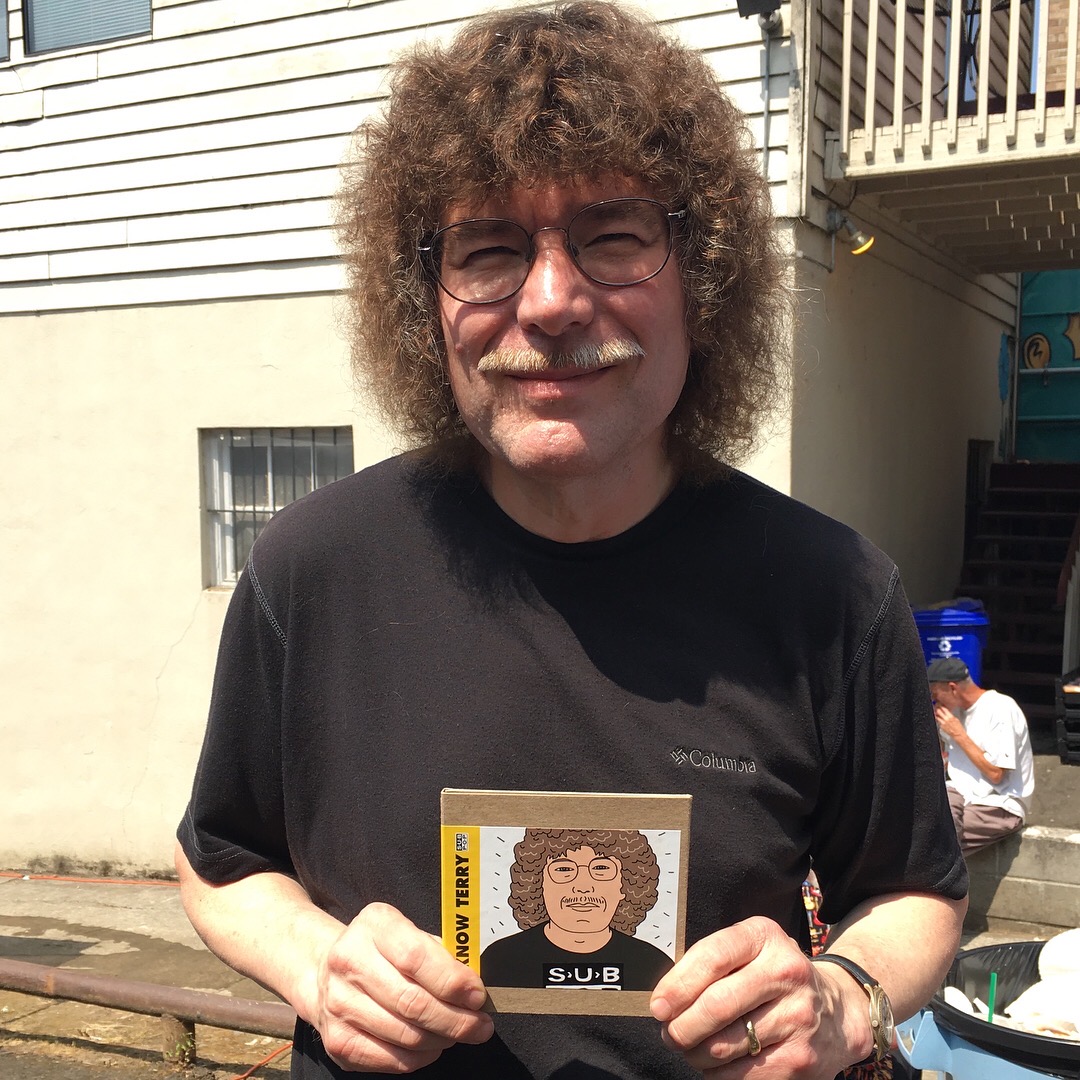 26th annual Music Millennium Customer Appreciation Barbecue
11 am-6 pm Saturday August 11, Music Millennium, 3158 E Burnside St.;
Portland is incredibly lucky to have a fine independent music store such as Music Millennium, which, thanks to owner Terry Currier, has become a pillar of Portland's music community over the last quarter century. This yearly event is their way of showing gratitude to customers and community for their support and has become a major community event, and features local food and beverage businesses such as Ecliptic Brewing, Pie Spot, Staccato Gelato, La Buca, Guayakí Yerba Mate, Crema Coffee + Bakery, Portland Beverage Co., Happy Mountain Kombucha, Voodoo Doughnut, American Dream Pizza, Elephants Delicatessen, Market of Choice, The Doghouse PDX, Portlandia Foods Inc., Secret Aardvark Trading Company, Dave's Killer Bread, and Viso Energy Drinks. As you might expect, there's a full roster of live music, too, with a dozen acts playing during the day, including the pretty danged legendary Jon Koonce at 2 pm.
Taste of Milwaukie Beer Fest
Noon-8:00 pm Saturday August 11, downtown Milwaukie in the parking lot area across from City Hall at Harrison & Main Street. All ages. $15 includes admission, glass & four tix.
Get a Taste of Milwaukie at Milwaukie's first beer fest, which features more than 40 craft beers and ciders, plus music, local vendors, food and art.
Fourth Annual Wilsonville Brewfest
Noon-8:00 pm Saturday August 11, Piazza Villebois, Wilsonville; $25 includes glass and 10 tix. All ages.
The usual fine fest stuff: brews from the Pacific Northwest, food carts, live music all day, fun entertainment for the whole family, and it benefits Wilsonville Community Sharing, the local food bank.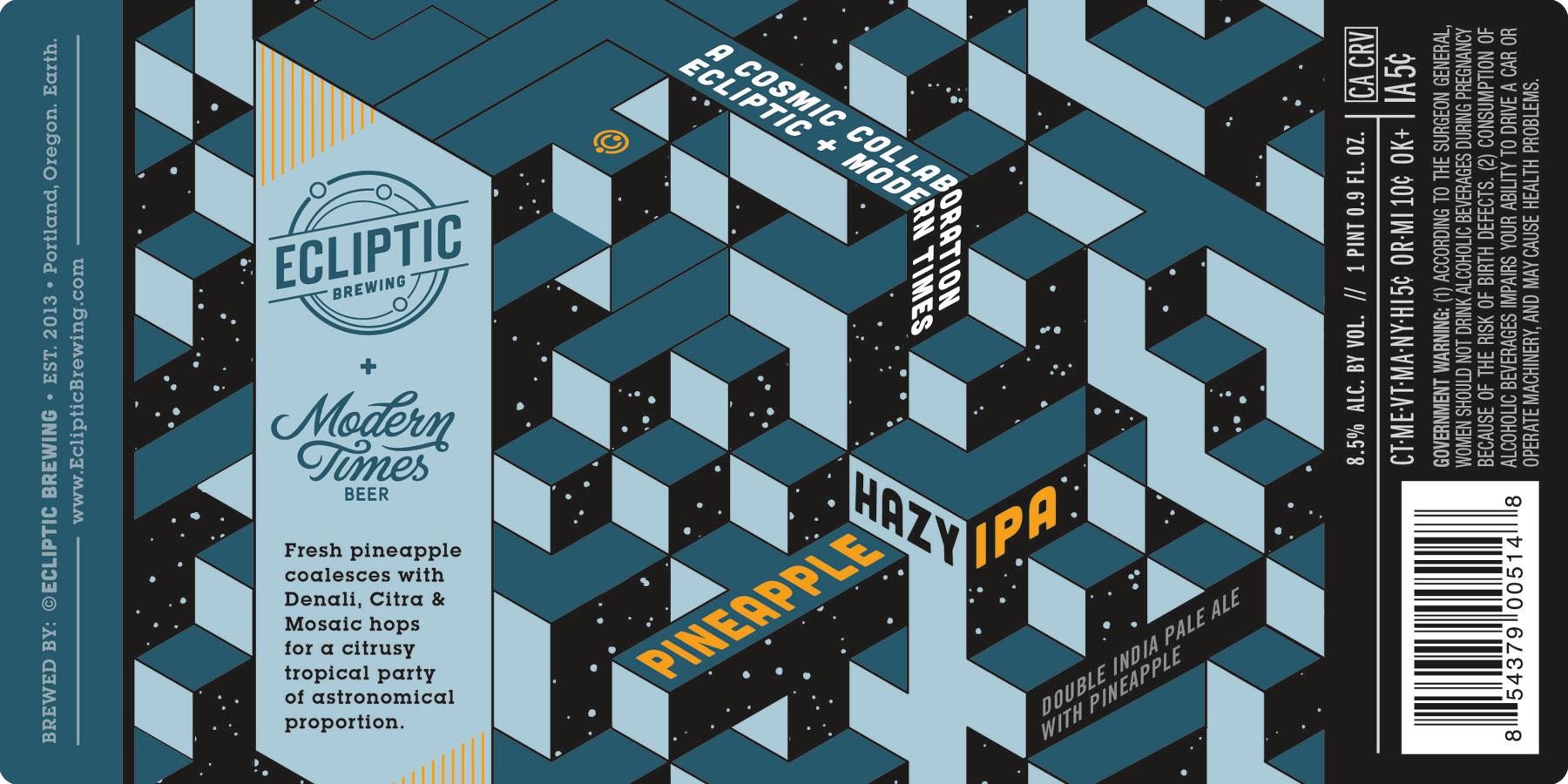 Ecliptic/Modern Times Cosmic Collaboration Release Party
6-9 pm Wednesday August 15, ABV Public House, 5676 NE Clara Lane, Hillsboro; 5-7 pm Thursday August 16, Tin Bucket, 3520 N Williams Ave;
John Harris welcomed Modern Times to Portland by collaborating with them to brew a Pineapple Hazy IPA, an 8.5 percent IPA brewed with Denali, Citra & Mosaic hops. "I had mentioned pineapple with Mat Sandoval of the Belmont Fermentorium," said Harris, "when we were talking about what to make. Mat said we should definitely use Denali hops for their tropical qualities and almost pineapple like character." In addition to draft, this will be Ecliptic Brewing's first release in 500ml bottles. Bottles will be available at the Portland release party, along with tasty draft treats from both breweries. And let's just note that the Hillsboro party includes a flying-paper-model-rocket contest with prizes…I am SO there…