The Beer Here: Anniversaries, Honoring Mike Moscarellli, Fresh Hops – Craft Beer Events For the Week of September 6, 2018
|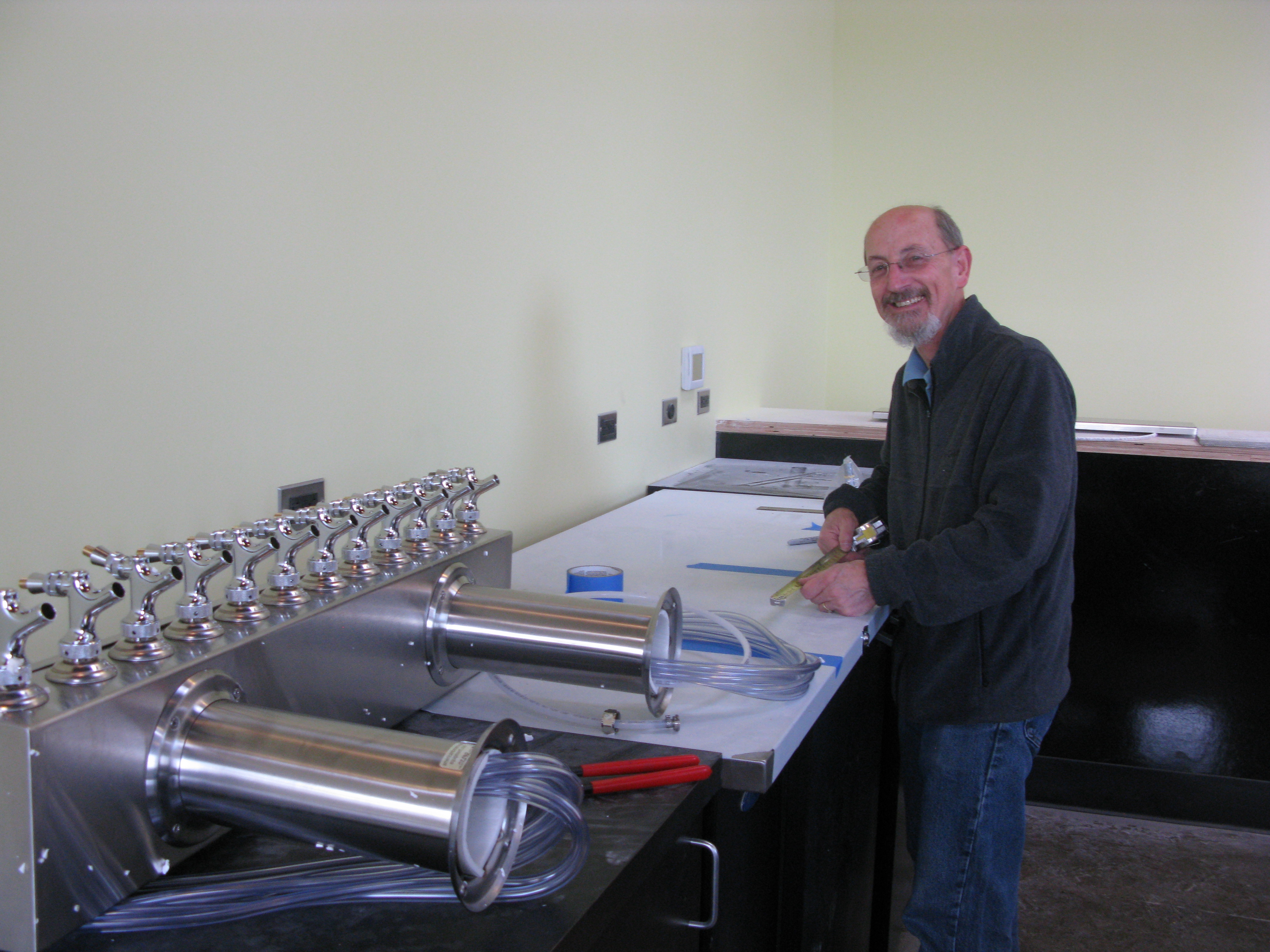 If you've ever had a cold, perfectly carbonated pint of draft beer in Portland or much of Oregon, you've got Mike Moscarelli to thank. Since 1991, Moscarelli has worked in and managed the draft department at F.H. Steinbart and during that time, he's created dozens of Oregon draft systems at pubs and breweries, weaving the complex web of hoses, fittings, tanks and taps that ensure the beer in our pints is just as the brewer intended. He's a master craftsman and it's a shame that his work is locked away in coolers, because he's an artist of the artfully plumbed line and the elegant curve.
He's also been a stalwart of the Oregon brewing community, and it's a rare beer festival, release party or other event where he's not among the crowd, beer in hand and a smile on his face. On top of it all, despite the fact that his talent, skill and experience would go a long way to excuse or explain any instances of artistic temperament, there are none to be excused: Moscarelli is probably the nicest guy in all of Oregon brewing. Drop by for a perfectly served pint and some stories from decades behind the scenes at Moscarelli's retirement party, 5-8 pm Monday Sept. 10, Lucky Labrador Brewpub, 915 SE Hawthorne Blvd.;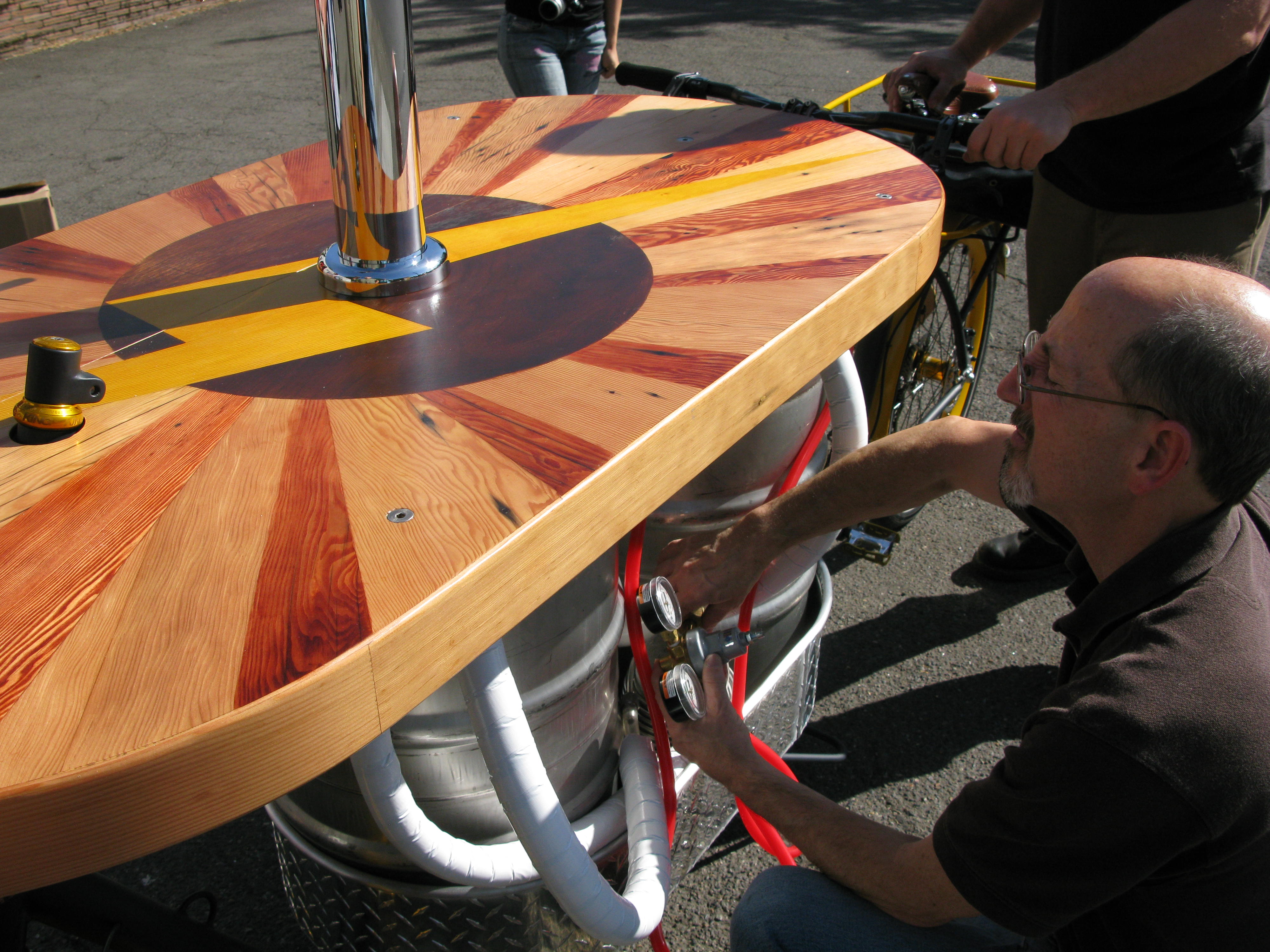 The Beer Here this week brings us anniversaries at The BeerMongers, NWIPA, Chill N Fill, new beers plus celebrating Mr.-behind-the-scenes Mike Moscarelli on his retirement from F.H. Steinbart
BeerMongers Ninth Anniversary Cellar Sale
Thursday Sept. 6, The BeerMongers, 1125 SE Division St.;
Thursday is the day to see what the Mongers dragged in — vintage bottles, cans and kegs from the voluminous BeerMongers cellar. The anniversary party continues all weekend and includes live music, a customer appreciation day and a Sunday cookout, plus special taplists all weekend.
Chill N Fill Fourth Anniversary Party
4-9 pm Thursday Sept. 6, Chill N Fill, 5215 N. Lombard St.;
The Chill N Fill crew and pFriem Family Brewers invite you to a 4 Year Anniversary Party that features Hama Hama Oysters for $1 a shuck including the Disco Hama's and Summerstones. They'll also tap several pFriem selections including the new Hazy Guava IPA, plus Mango Pale, Bosbessen Barrel Aged Lambic Style Ale w/ Blueberries, Pumpkin Bier and Fest Bier.
Little Beast Beer Garden Features new Pilsner & Saison
Thursday Sept. 6, Little Beast Brewing Beer Garden, 3412 SE Hawthorne Blvd.;
The Little Beast crew invites you to the new Beer Garden — formerly the Lompoc Hedge House — for a couple of new beers: a first taste of their Czech Pilsner crafted in collaboration with Matchless Brewing, Ležák, which is quite simply the Czech word for 'Lager' as this beer is simply inspired by old world Czech lagers. A friend at Taste Local Beer brought back a beloved strain of yeast direct from Prague which they put to work alongside Bohemian Floor Malted Pilsner and žatecký chmel (Saaz Hops) for an authentic, draft-only treat – Na zdravi! They should also be pouring Long Monday Traditional Saison, their traditional, 5.2 percent version of the Saison style that has both Noble and neo Noble hops along with a Pilsner malt base. Utilizing a favorite Walloon saison yeast, you can look forward to an authentic and dry character.
Fresh Hop Fridays
Each Friday in September, Uptown Market, 6620 SW Scholls Fy. Rd., Beaverton;
Uptown Market plans to have a new roster of fresh hop beers each Friday in September.
First Binary Brewing Tap Takeover
5-8 pm Friday Sept. 7, Craft Pour House, 16055 SW Regatta Lane, #700, Beaverton;
Binary Brewing is the name of the new brewery at Uptown Market, and for the first time, they'll be taking their show on the road when they bring five beers to the Craft Pour House.
Portland Lager Festival
Noon-8 pm Saturday Sept 8, Zoiglhaus Brewing Co., 5716 SE 92nd Ave.; $25 includes glass and 10 tix, kids and designated drivers get in for free, all ages until 4 pm; 21 & older 4-8 pm.
Zoiglhaus Brewing Co. presents its first ever Portland Lager Festival, featuring more than 30 craft-brewed lagers from Portland and beyond and celebrating the resurgence of good lagers…Every brewery will be featuring a gift basket for the raffle filled with swag such as hats, shirts, tackers, and more. Raffle tickets will be $1 and 100 percent of proceeds will go to benefit National Brain Tumor Society.
Schedule of Events:
1-3pm Face Painting, Fancy Faces by Amy – Free.
Mini craft market featuring art and craft from local artisans and artists.
5-6:30pm Comedy Showcase Presented by Hunter Donaldson
Participating Breweries:
Migration Brewing Company
Ordnance Brewing
Wayfinder Beer
Bent Shovel Brewing
Sasquatch Brewing Company
Pono Brewing
Heater Allen Brewing
Breakside Brewery
Zoiglhaus Brewing Company
Oskar Blues Brewery
StormBreaker Brewing
Firestone Walker Brewing Co.
West Coast Grocery Company
Binary Brewing
Ex Novo Brewing
Level Beer
Rosenstadt Brewery
Klosterbrauerei Andechs
Ancestry Brewing
Ecliptic Brewing
54-40 Brewing Co
pFriem Family Brewers
Modern Times PDX
Widmer Brothers Brewing
Old Town Brewing
Gigantic Brewing Company
Upright Brewing
Little Beast Brewing
Oakshire Brewing
Ascendant Beer Company
NWIPA Sixth Anniversary Party
5 pm – close Saturday Sept. 8, N.W.I.P.A., 6350 SE Foster Rd.;
Portland's favorite IPA house celebrates six years with a line up of favorite IPAs from Block 15, Moonraker, Revision, Grains Of Wrath, Ruse, E9, Cascade, de Garde & Claim 52 on draft. They'll also provide tasty snacks and Cobra Thief will be rocking the house in the evening.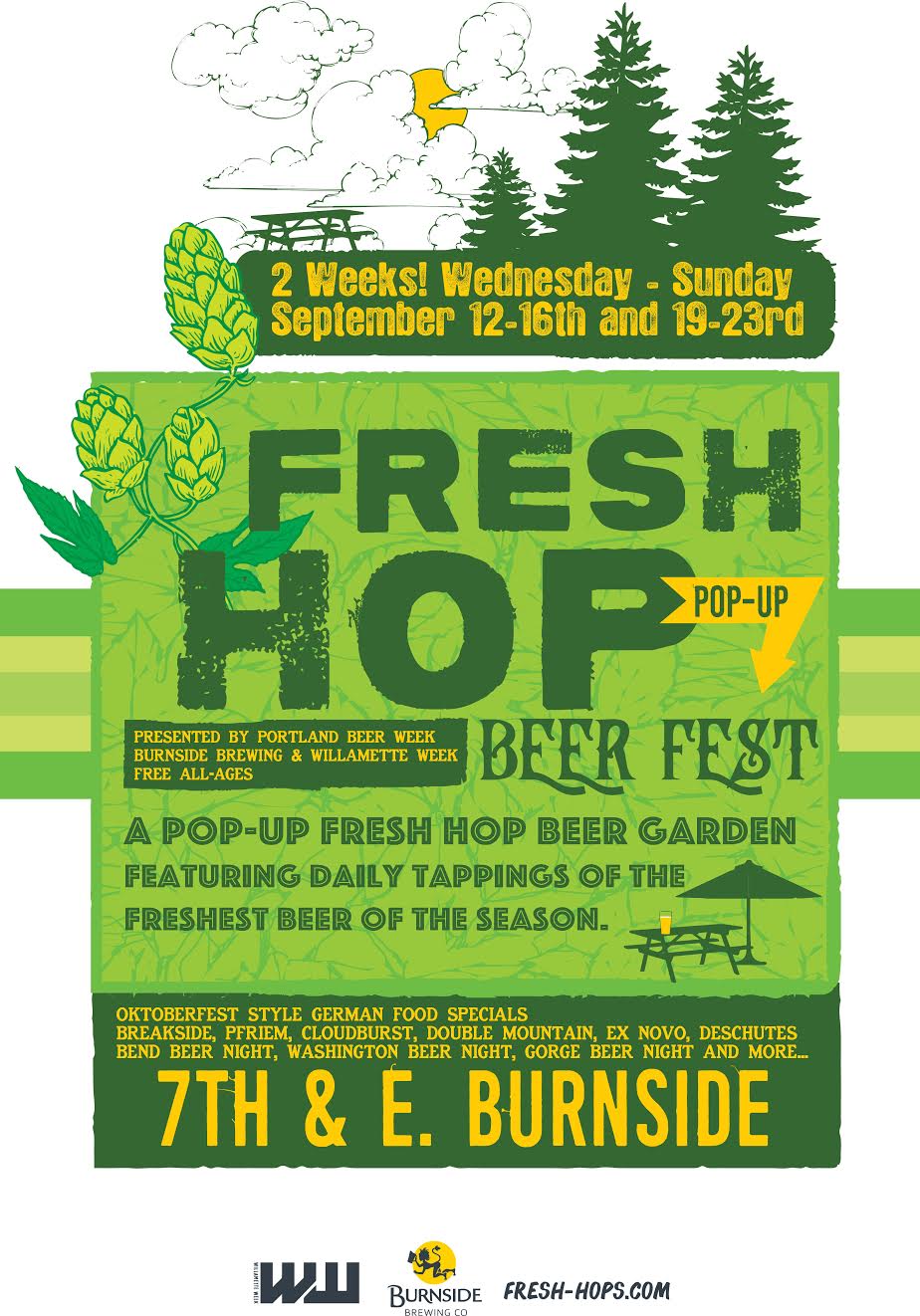 Portland Beer Week Fresh Hop Kickoff Party
11:30 am-9 pm Wednesday Sept. 12, Burnside Brewing, 701 E. Burnside St.; free admission.
Get 'em while they're fresh is the abiding principle of the upcoming fresh-hop beer season and the Fresh Hop Pop-Up Beer Fest is the place to do it. In order to best showcase the green, oily, lupulin-filled fresh hop beers that are only made once a season and unique to the Pacific Northwest, the Fresh Hop Pop-Up takes place early as the beers are first being released. The event takes place Wednesday-Sunday for two weeks: September 12-16 and 19-23rd, in a temporary covered outdoor beer garden featuring ten rotating taps of 100% fresh hop beer, an outdoor fire pit, boombox and Oktoberfest-style food specials with no cover charge and $5 beers with $3 half pours with $13 growler fills to-go on Sundays.
Taplist:
Little Beast: Fresh Hop Fera
Hopworks: Fresh Hop Totally Chill IPA
Ex Novo: FH Eliot with Amarillos
Deschutes: FH Mirror Pond
Stormbreaker: Handfuls of Fresh Hops
Level Beer: FH Oktöberfest
Culmination: FH Phaedrus IPA
Baerlic Brewing: Milo (FH barrel fermented Saison)
Ancestry: Amarillo Fresh Hop
Burnside Brewing: Fresh Hop