The Beer Here: Fresh Hops at BridgePort, Brewing at House Spirits, 9 Years at The BeerMongers
|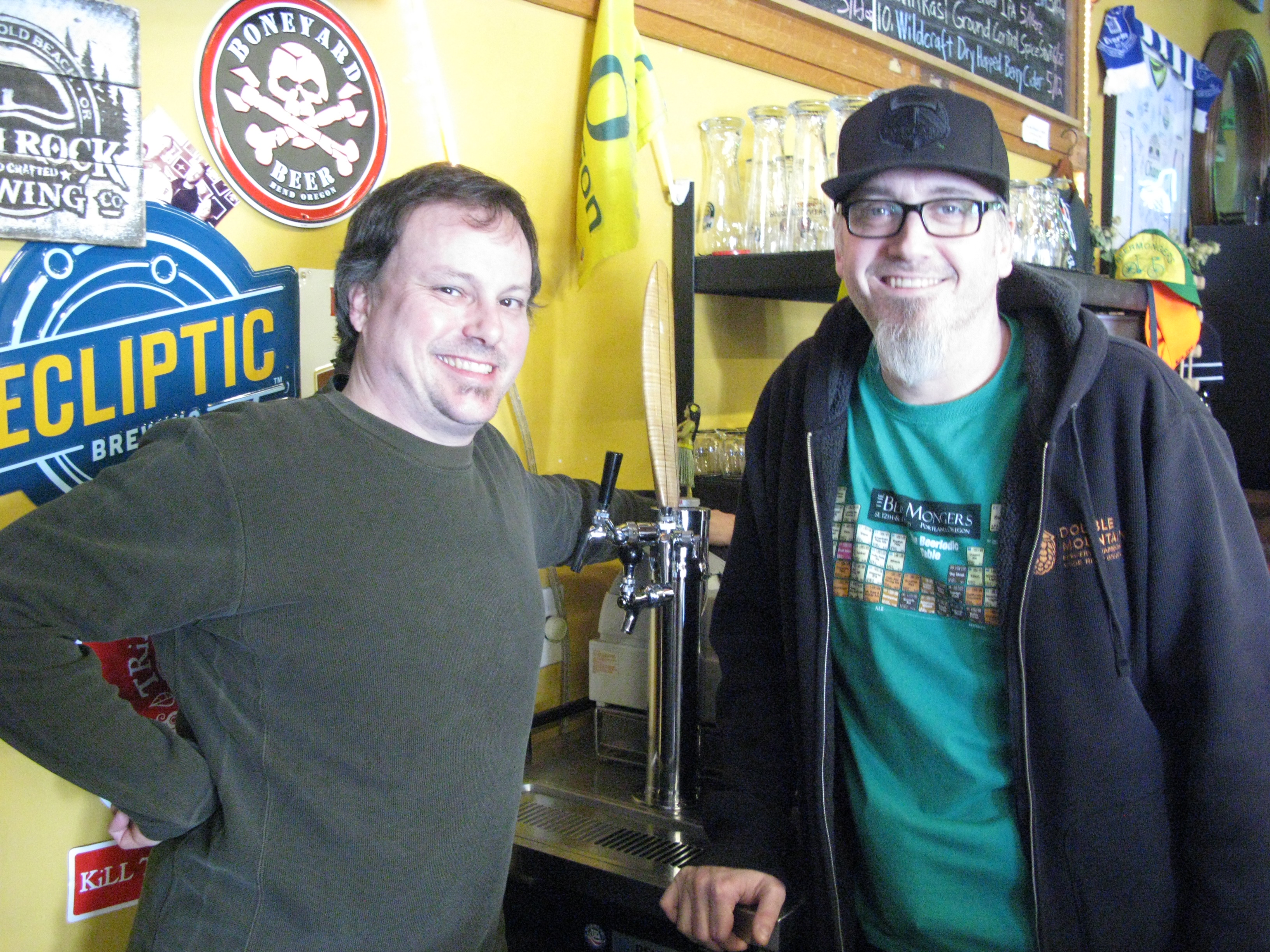 This week we have fresh hops at BridgePort, brewing at House Spirits, nine years at The BeerMongers along with the rest of the beer events for Labor Day Weekend 2018.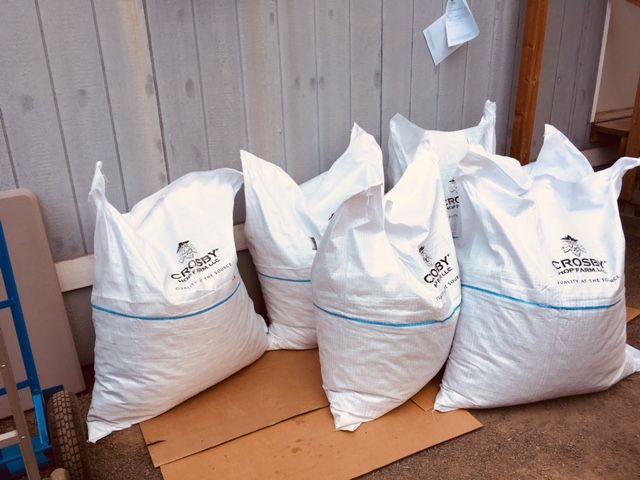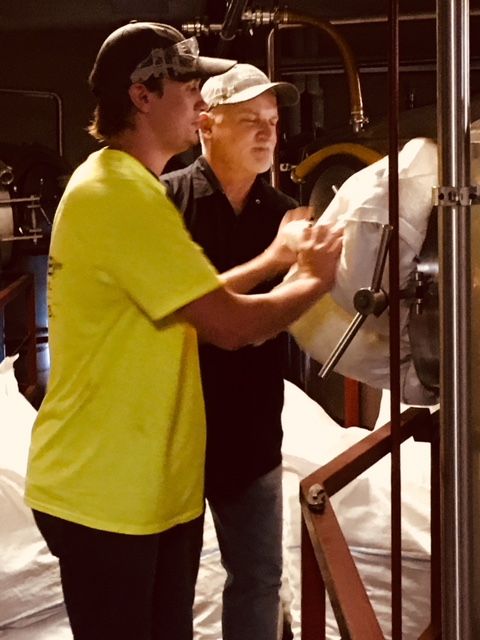 Fresh hop season is officially open…
BridgePort Brewmaster Jeff Edgerton  — he and then-brewmaster Karl Ockert brewed Hop Harvest, one of Oregon's earliest fresh hop beers back in 2000 — took a group to Crosby Hop Farms to haul the 280 or so pounds of fresh hops going into the first batch of BridgePort's Hoptoberfest Marzen-Style Fresh Hop IPA…the first of three batches dry-wet-hopped with different hop varieties: "This beer is already such a money maker." Edgerton joked, "that we wanted to make the brewing process as difficult as possible…"
To that end, his crew brewed up a Marzen and they'll divide into three batches, each of which has been fermenting already. Then each of those batches will be poured into a fermenter loaded with about 300 pounds of wet hop cones: the first batch used cascade hops, the second and the third will ferment on mt. hood hops, then all three batches will blend together. Among the various fresh hop events coming up, add BridgePort's second Hoptoberfest on Saturday, October 6 to your calendar…
Brewing at House Spirits
The saying is that it takes a lot of good beer to make wine, but that's literally true for distillers: whiskey starts out as a wash — basically strong, un-hopped beer. House Spirits used to buy whiskey wash from brewer friends, including Roots and Breakside — with whom they still do a barrel exchange program. But when House Spirits moved to its new digs three years ago (65 SE Washington St.;) a 30-barrel Triple A brewhouse was part of the spec for the handsome new space, and this year, they're brewing 500 barrels a week of what's basically a strong golden ale of about 8 percent, which becomes the basis for the breweries popular Westward American Single malt Whiskey. How popular? Next year, they plan on brewing 700 barrels a week to keep up with demand…here are some pics from a recent tour of the distillery: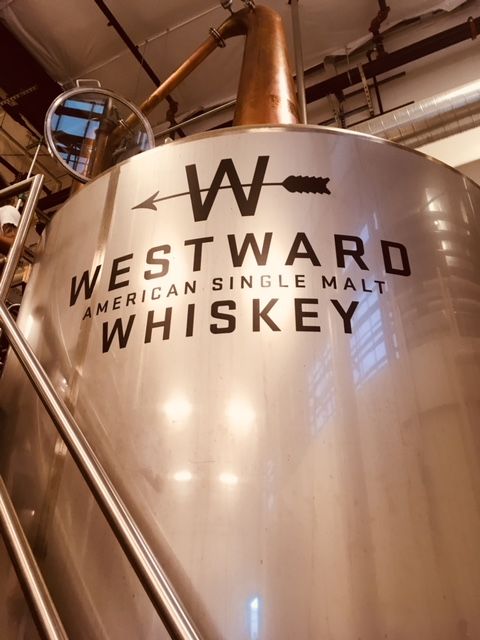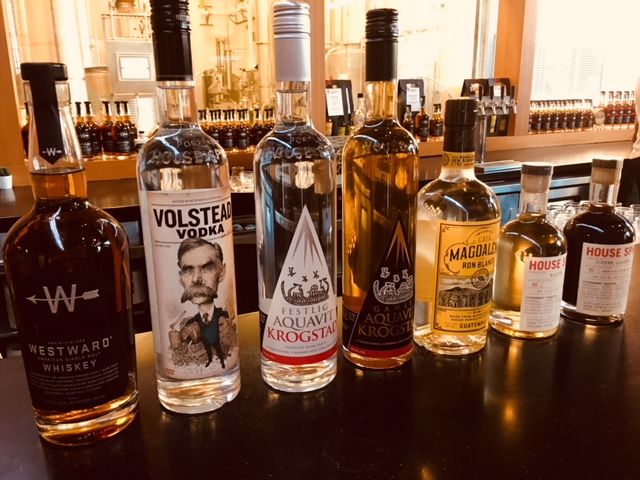 Fresh Hop Fridays
Each Friday in September, Uptown Market, 6620 SW Scholls Ferry Rd., Beaverton;
Uptown Market plans to have a new roster of fresh hop beers each Friday in September.
Heater Allen Bobtoberfest
Noon-6 p.m. Monday Sept. 3, Heater Allen Tasting Room, 907 NE 10th Ave., McMinnville;
Rick Allen and crew release their popular Bobtoberfest, which is named after Allen's late brother and brewing inspiration, in the newly expanded taproom.(air conditioned inside, a big porch, six Heater Allen beers on tap, and mannerly dogs and kids permitted…)
Here's what Rick Allen has to say about the day: "We brew Bobtoberfest in honor of Bob and it is a beer that we pay special attention to in the process. The finest ingredients, extended lagering time, racking off sediment, and a special dose of the Grateful Dead (whom Bob loved) are all part of the deal…We will be bottling Bob on Friday and it should start showing up in Portland area stores shortly after Labor Day. Relative to a lot of beers out there, we don't make very much (although it seems like a lot to us!), so it's usually only available for a limited time. The first chance to try (and buy) Bob will be in our Tap Room on September 4th (Labor Day) from Noon to 6. We'll probably have some Grateful Dead in the playlist, our friends at R&R Catering will be here selling sausages and other German fare, and if you bring an official Heater Allen 10-year Anniversary mug, your first beer is free. Please join us in celebrating Bob and the end of summer."
The BeerMongers Ninth Anniversary Bottle Share party
5-9 pm Wednesday Sept. 5, The BeerMongers, 1125 SE Division St.;
Wednesday is just the start of party at my favorite beer spot. There's a vintage-beer cellar sale on Thursday Sept. 6 and events right through the weekend. For Wednesday, bring a bottle — 5 years or more old — to share with the BeerMongers crowd.