The Beer Here: Kriekfest, Peche Fest, Oktoberfests + Widmer Small Batch Cans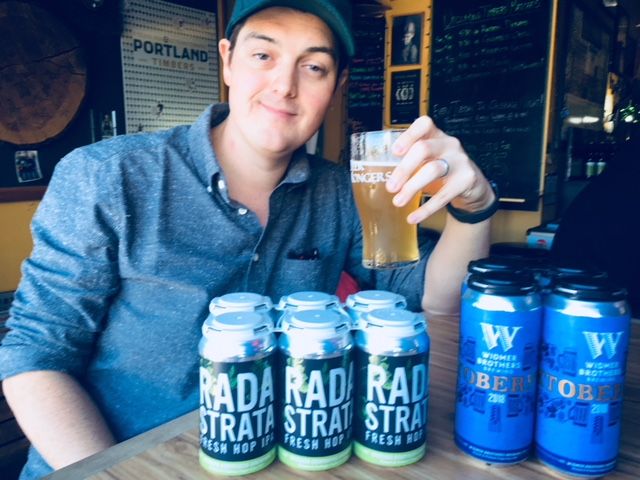 Jake Neilson, above, innovation brewer Tom Bleigh and Widmer management are the folks behind the innovative, loss-leader small-batch beers available at the Widmer Pub. Current offerings include Rada Strata Fresh hop IPA, which Neilson says is his favorite, "In my opinion, it's the best beer we make," he said. "I have a can or two every night, all the while remembering that I should save some for everybody else…"
Also: Dreifecta Hoppy Pilsner which was brewed with three hop varieties for Kimpton Hotels and my favorite, 16-oz cans of Oktoberfest, back in package (with a label that includes verbiage from the original 1996 Okto packaging, which Jake dug up from the Widmer archive…) for the first time in a long while and brewed for the recent 14th Annual Widmer Brothers Brewing Oktoberfest.
"Small batch cans are a fun way for us to experiment," said Jake, "and management so far has not imposed limits of recipe costs. The project also gives us invaluable feedback as to how people react to different beers and styles…there's a big difference in risk between the 100 cases that our 10-barrel innovation brewery yields and the 10,000 cases or so that we get from a brew on the big system."
Next in the small batch series is Closing Time, brewed for Lyft and packaged in a can with an arresting neon-look label. It's a 4.7 percent session IPA which is actually pink, thanks to hibiscus juice and should be available — at the pub and perhaps ten other places — later this month. And if you think a hoppy pink IPA is unusual, just don't get him started on the hit of a recent Feast Portland party — Widmer's flagship Hefeweizen with a dollop of Tang...I haven't tried it yet, but definitely plan to…
My First First Thursday
6:30-9 pm Thursday Oct. 4, Artistic Portland , 318 SW Taylor St.;
As some readers may know, I've been an oil painter for a dozen years now, painting what I like to call Western rustscapes — scenes from Eastern Oregon, Washington and beyond, reachable by the beautiful 2-lane roads well away from the Interstates. I've recently joined a co-op gallery and about 16 of my paintings are hanging in the gallery…and yes, beer is involved: As H.L.Mencken said of Bach's music when he was forced to attend a concert in a dry county, "alcohol is its natural solvent…"
Live Music/BBQ Wings
5-9 pm Thursday Oct. 4, Chill N Fill, 5215 N Lombard St.;
John White & The Unlikely Renegades and their brand of Alt Country from 7-9 pm, plus the Chill N Fill crew will be grilling 50-cent Chill Hot Wings from 5-9 pm.
Loyal Legion Oktoberfest
continues through Sunday Oct. 7, Loyal Loyal Legion, 710 SE Sixth Ave;
Once again Loyal Legion will be celebrating Oktoberfest the whole 16 days with Oregon brewed German style beers from Occidental Brewing Company Zoiglhaus Brewing Company Heater Allen Brewing and Rosenstadt Brewery specials on beer and food.
Asher David Portland Launch Party
5-8 pm, Thursday Oct. 4, Belmont Station, 4500 SE Stark St;
Asher David Brewing & Cellarworks is a new collaboration between Jim Parker and David Lederfine; learn all about, sample the beer and check out the stories…
Crux/Bale Breaker Way Two Fresh IPA Release Party
5-8 pm Friday Oct. 5, Belmont Station, 4500 SE Stark St;
Two breweries making the same Fresh Hop beer at the same time — Come try Way Two Fresh Double IPA — both versions — on tap in the Biercafe. Then stick around for some other great offerings from both Bale Breaker and Crux Fermentation Project:
Bale Breaker:
Palm Springs Pils
Piled High Fresh Hop IPA
Crux:
Dr. Jack Fresh Hop IPA
Off the Fence Fresh Hop Pale Ale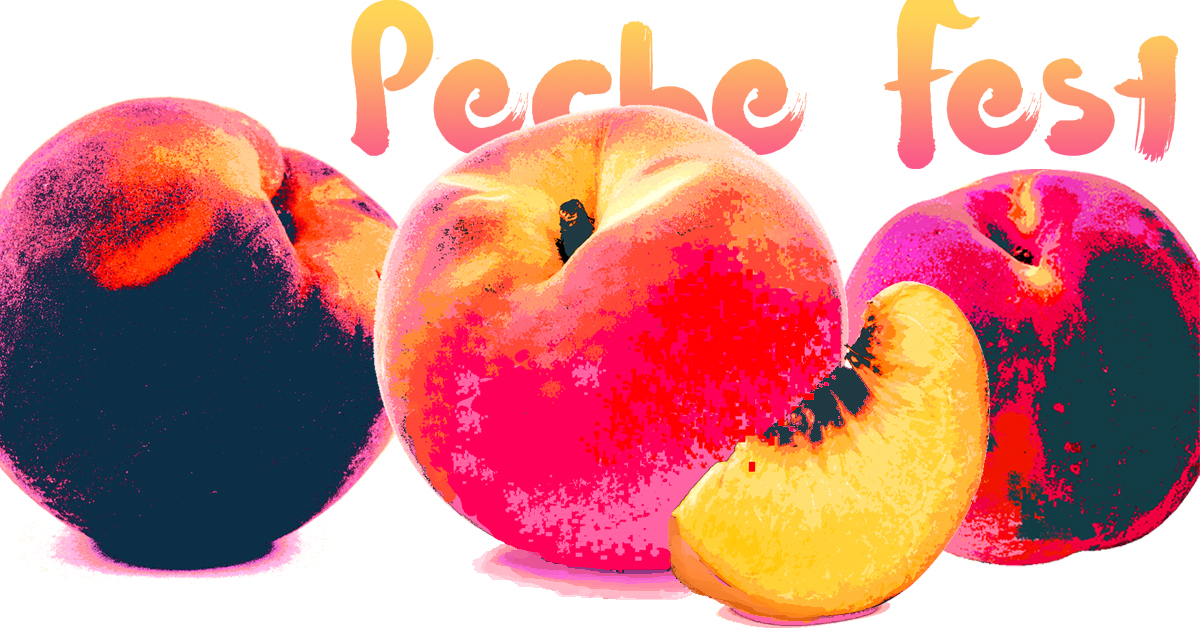 Peche Fest
noon-10 pm Saturday Oct. 6, Saraveza, 1004 N Killingsworth St.; $10 entry includes a collectible branded glass and 2 drink tickets. Additional drink tix $2 each or three for $5.
Oregon's most delectable single-fruit varietal beer event the Peche Fest returns to Saraveza and the Bad Habit Room with more than 20 peach beers and ciders — some of the rarest and tastiest fruit beers in the world from all over the country with an emphasis on the pacific northwest. There will be peach farmhouse ales, wheat ales, sour ales, barrel-aged beers, ciders and Peach IPAs and food specials too:
Achiote Pork Sandwich: Peach Puree, Cotija, Cilantro, Lime Crema on Ciabatta
Fish Tacos: Pacific Cod, Peach Salsa, Cabbage, Lime Crema
Homemade Peach Poptarts
Kriekfest Sour Cherry Beer Festival
Saturday Oct. 6, Hood River Waterfront Park, 650 Portway Avenue, Hood River; $45 includes 18 tix and stemmed glassware.
Kriekfest features more than 30 Lambic-style krieks in the heart of cherry country. An all-cherry beer and cider festival was initially conceived in 2013 over a beer at Solera Brewery. Awe-struck by the view of Mt. Hood's glaciers looming over neighboring orchards, fest creator Brian Yaeger suggested to brewer Jason Kahler that they their own festival of krieks. In 2015 and 2016, Solera hosted the festival. Now held in the riverside town of Hood River, the Columbia River Gorge is the ideal setting for a cherry beer festival because in the summer cherry trees blossom in red and sometimes yellow and white. Naturally, Oregon's brewers use the freshest ones to brew otherworldly cherry beers. A few other superlative Kriek makers from around the US and the world are also participating.
Second Annual HoptoberFest PDX Block Party
Noon-6 pm Saturday Oct. 6, BridgePort Brewing, 1313 NW Marshall St.; $18 includes Commemorative stainless steel cup; three 10oz pours of featured beers; entertainment, photo booth and more, plus $1 from every ticket and every beer purchased will be donated to Oregon Food Bank.
BridgePort throws an Oktoberfest-inspired party featuring sausages from Olympia Provisions, German-style pretzels from Fressen Artisan Bakery, music, a photo booth, and more. Silver Julep, Portland's award-winning bar caterer in a classic Airstream trailer will be on-site serving up a variety of BridgePort beers, including BridgePort's 2018 HoptoberFest IPA Fresh Hop Beer: "This year we are changing gears and making a malty Marzen beer base first," says BP Brewmaster Jeff Edgerton,"We use Pilsner and Munich malts to create a rich, malty, Marzen-style base. We ferment this with our German lager yeast. We allow this to ferment for a few days then we dry-hop generously with fresh Centennial, Amarillo, and Mt. Hood hops to create a unique fresh hop flavor like no other…"
Octapalooza
6 pm Saturday Oct. 6, Uptown Market, 6620 SW Scholls Ferry Rd., Beaverton;
Uptown Market's Octapalooza features beer from Zoiglhaus, Occidental and Rosenstadt, beer sausages, beer-drinking songs and the Portland Beer Choir…sounds like fun to me…
Steinhaus Oktoberfest
Saturday Oct. 6, SteinhausPDX, 2366 SE 82nd Ave,
Break out you lederhosen and dirndls and warm up your Stein Hoisting arm, says Jeremy of Roscoe's and Steinhauspdx, becausae they're celebrating Oktoberfest with Occidental and Ayinger Privatbrauerei: There will be several specialty beers on tap from each brewery, and it'll be an excellent opportunity to try German brewed beers side-by-side with their Oregon counterparts. Taster tray flights will be available and other guest breweries will also have Oktoberfest beers available. And ask Jeremy what the big Oktoberfest is like — he was just there…
Zoiglhaus Oktoberfest
2-10 pm Saturday Oct. 6, Zoiglhaus, 5716 SE 92nd Ave; Free admission, $25 includes 20oz ceramic stein and two pours of beer for legal age drinkers, all ages ok.
A special food menu will be available featuring sausage, potato salad, and sauerkraut plus haus-made beer and sausage. Also: a strolling accordion player, a stein holding contest, Lederhosen Fashion Show, Face Painting, Brewery Tours and 5 pm Festbier Tapping.
Dog Daze Afternoon IPA Release/Fundraiser
Noon-7 pm Sunday Oct. 7, Coalition Brewing, 2705 NE Ankeny St,; dog-and-kid-friendly.
They chase away burglars, mail men and even the occasional squirrel that encroaches upon their yard and now it's our turn to chase away their cancer, quoth the FaceBook page for this fundraiser with BMW Portland, Sons of grip, and Original Bully to raise money to defeat K9 Cancer. Coalition will release their Limited Dog Daze Hazy IPA, there will be raffle prizes, a silent auction, costume contest, food and drink carts, local vendors, and much more…
Tags:
Asher David Brewing & Cellarworks
,
Ayinger Privatbrauerei
,
Bale Breaker
,
Belmont Station
,
BridgePort Brewing
,
Coalition Brewing
,
Crux Fermentation Project
,
David Lederfine
,
Hood River Waterfront Park
,
HoptoberFest PDX Block Party
,
Jake Neilson
,
Jim Parker
,
Kriekfest
,
Peche Fest
,
Saraveza
,
Steinhaus Oktoberfest
,
Tom Bleigh
,
Uptown Market
,
Widmer Brothers Brewing
,
Zoiglhaus Oktoberfest
About The Author
John
John Foyston is Oregon's longest serving beer writer, and wrote a weekly beer column for The Oregonian until just recently. His work has appeared on CNN, and in Beer Connoisseur, Celebrator Beer News, Oregon Beer Growler, Mix Magazine and other publications and will occasionally appear on these pages, at least until Angelo and DJ get tired of him too...He can be followed on Twitter at @beerherejohnny.