The Upper Lip to Host Ecliptic + Brooklyn Cosmic Collaboration Release Party
|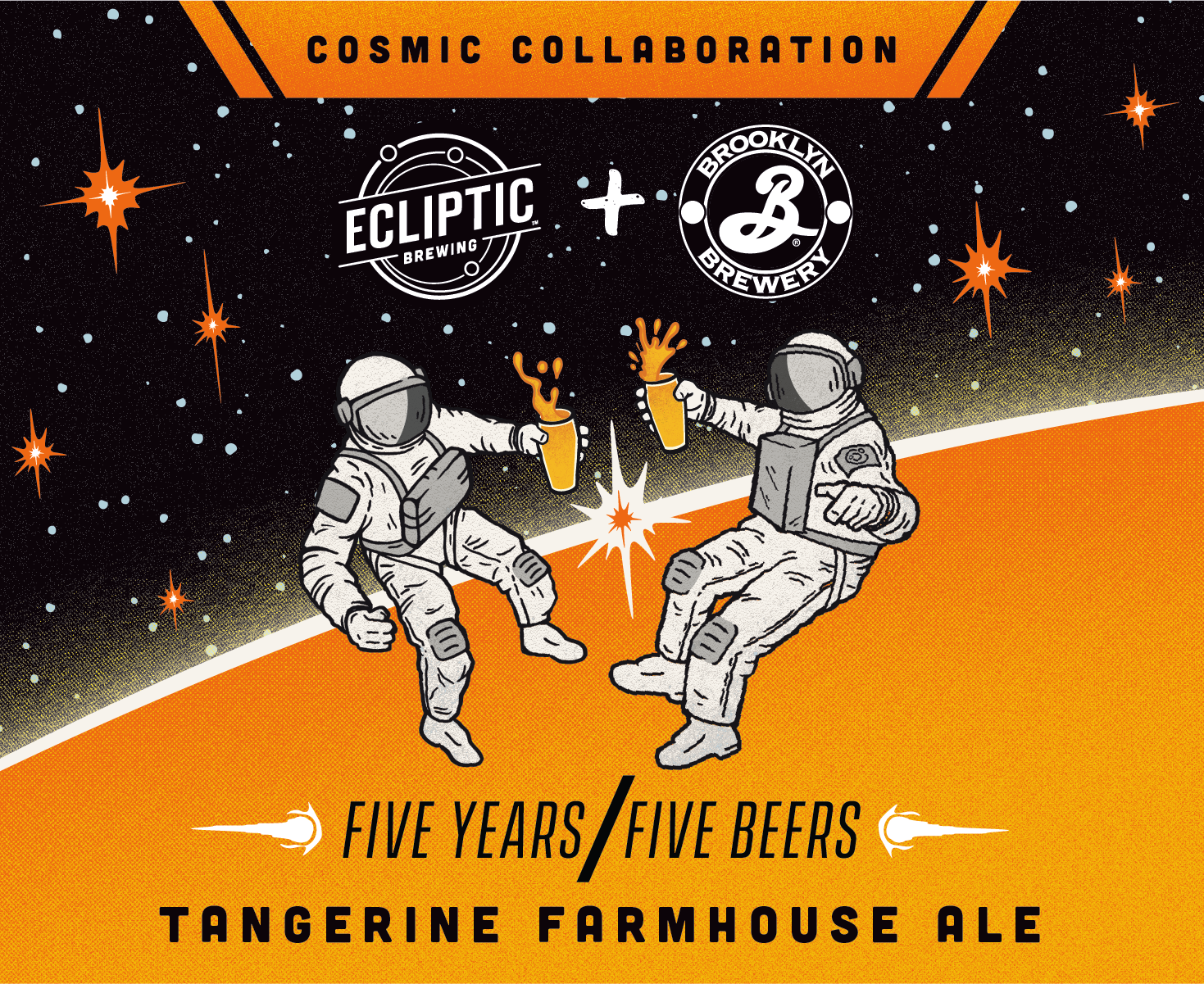 As Ecliptic Brewing celebrates its fifth orbit around the sun, it will partner with The Upper Lip throughout 2019 to host Cosmic Collaboration Release Parties.
First up is the Ecliptic + Brooklyn Cosmic Collaboration Release Party that will take place on Saturday, February 2nd from 5:00-8:00pm. Be one of the first to try the Tangerine Farmhouse Ale, a Cosmic Collaboration with Ecliptic Brewing and Brooklyn Brewery. Meet Ecliptic Brewmaster, John Harris, and Brooklyn Brewmaster, Garrett Oliver, who will be in attendance!
"I'm very excited to celebrate five years in business by creating beers with Brooklyn Brewery, Firestone Walker, Breakside Brewery, Bell's Brewery, and Russian River Brewing Company," said Harris in a statement. "The collaborations will celebrate old and new brewing styles and will be available in 500ml bottles and draft."
Cosmic Collaboration Tap List:
Ecliptic/Brooklyn Tangerine Farmhouse Ale
Ecliptic Luna Kolsch
Ecliptic Starburst IPA
Brooklyn Sorachi Ace Saison
Brooklyn Bel Air Sour
Brooklyn Black Chocolate Stout
After a Saturday evening prelude at The Upper Lip on February 2nd, Ecliptic Brewing and Brooklyn Brewery will host the Tangerine Farmhouse Ale Cosmic Brunch on Sunday, February 3rd. The beer brunch will take place at Ecliptic Brewing and will feature both Harris and Brooklyn Brewery's Brewmaster Garrett Oliver in attendance. Attendees will enjoy five courses from Ecliptic Brewing Chef Michael Molitor with pairings from each of the breweries and signed bottles of the collaboration to take home.
Brunch Menu:
First Course: Michelada with Octopus, Shrimp, Cauliflower Escabeche
Second Course: Potato Paillasson, Smoked Sturgeon, Caviar
Third Course: Citrus Salad with Winter Chicories
Fourth Course: Hangtown Fry, Tasso Ham Omelet, Fried Oysters, Herbed Crème Fraiche
Fifth Course: Goat Cheese Crepe, Candy Cap Mushroom Ice Cream, Huckleberries, Black Pepper
For tickets and additional information, visit here.
The Upper Lip
720 SW Ankeny St.
Portland, OR 97205