The Weekend in Beer – Beginning August 26, 2022
|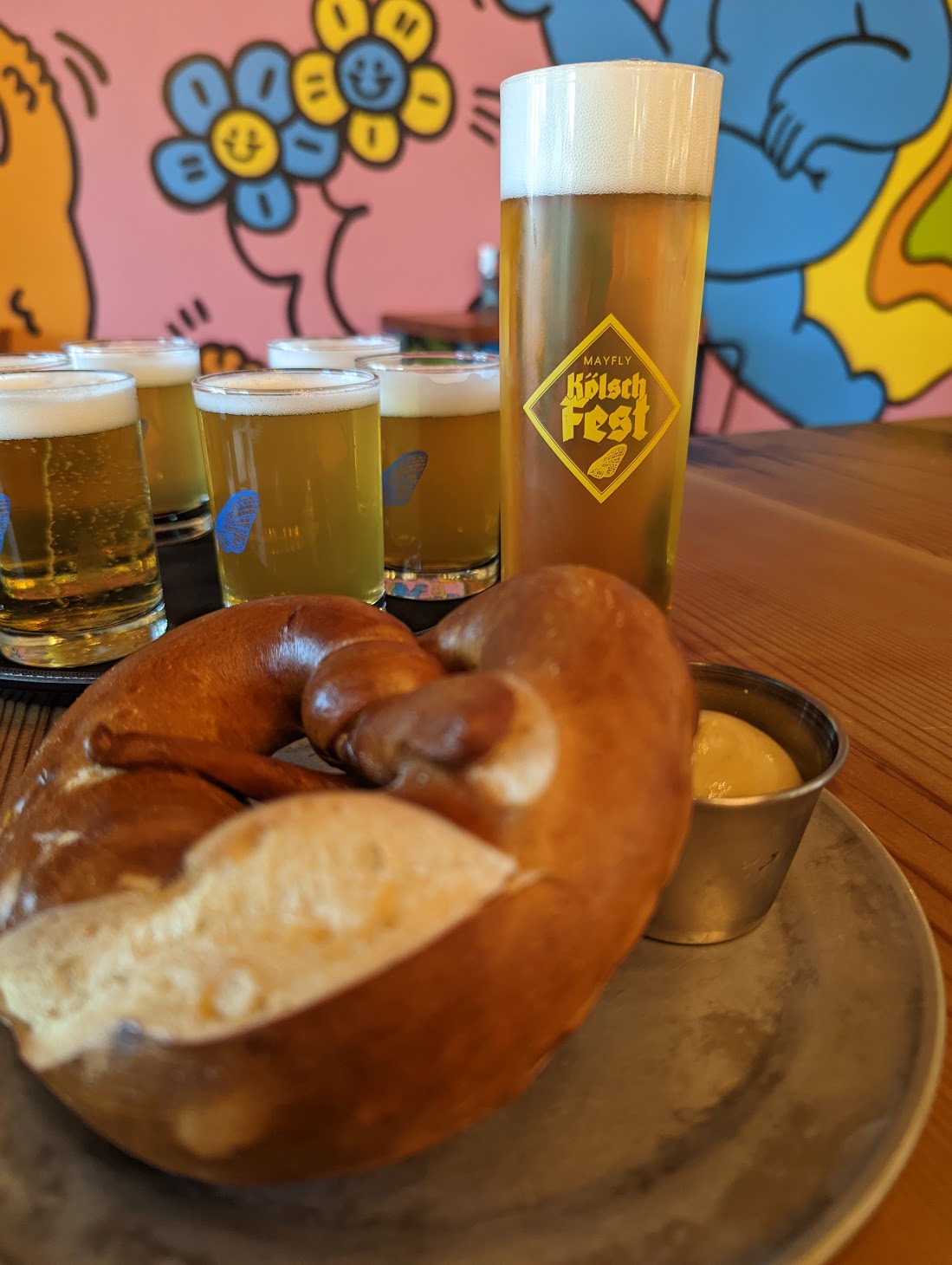 As we enter the weekend, there are plenty of events to satisfy our beer needs. In Portland Mayfly hosts Kölsch Fest, Imperial Bottleshop & Taproom celebrates nine years, Uptown Beer Co. hosts its Laidback Lager Fest, and Brews for New Avenues returns but at a new location.
If you're in Bend, Crux Fermentation Project hosts Dogs & Lagers Fest while Boneyard Beer will host its Summer's End Motorcycle Ride. Further south in Ashland, Caldera Brewing celebrates a big milestone with its 25th Anniversary.
Here's a rundown on all the great beer events for the weekend beginning August 26, 2022.
DOGS & LAGERS FEST
FRIDAY AUGUST 26 – 2-8:00PM
Dogs & Lagers Fest is happening on Friday, August 26th from 2-8pm at Crux Fermentation Project in celebration of National Dog Day and it is in the afternoon after all. Bring your friendly, leashed dog and enjoy live music, dog-friendly vendors, dog-friendly activities and dog-centered seminars and of course – no cats.  Proceeds from all SIX Lagers on tap, three of which will be new releases, will benefit Companion Animal Medical Project, a local animal welfare organization helping companion animals and guardians who are experiencing debilitating financial hardship and homelessness in Central Oregon and FIXBend, a community initiative providing regular low-cost spay, neuter, microchip and vaccination clinics in Bend.
Crux Fermentation Project – 50 SW Division St. – Bend, OR 97702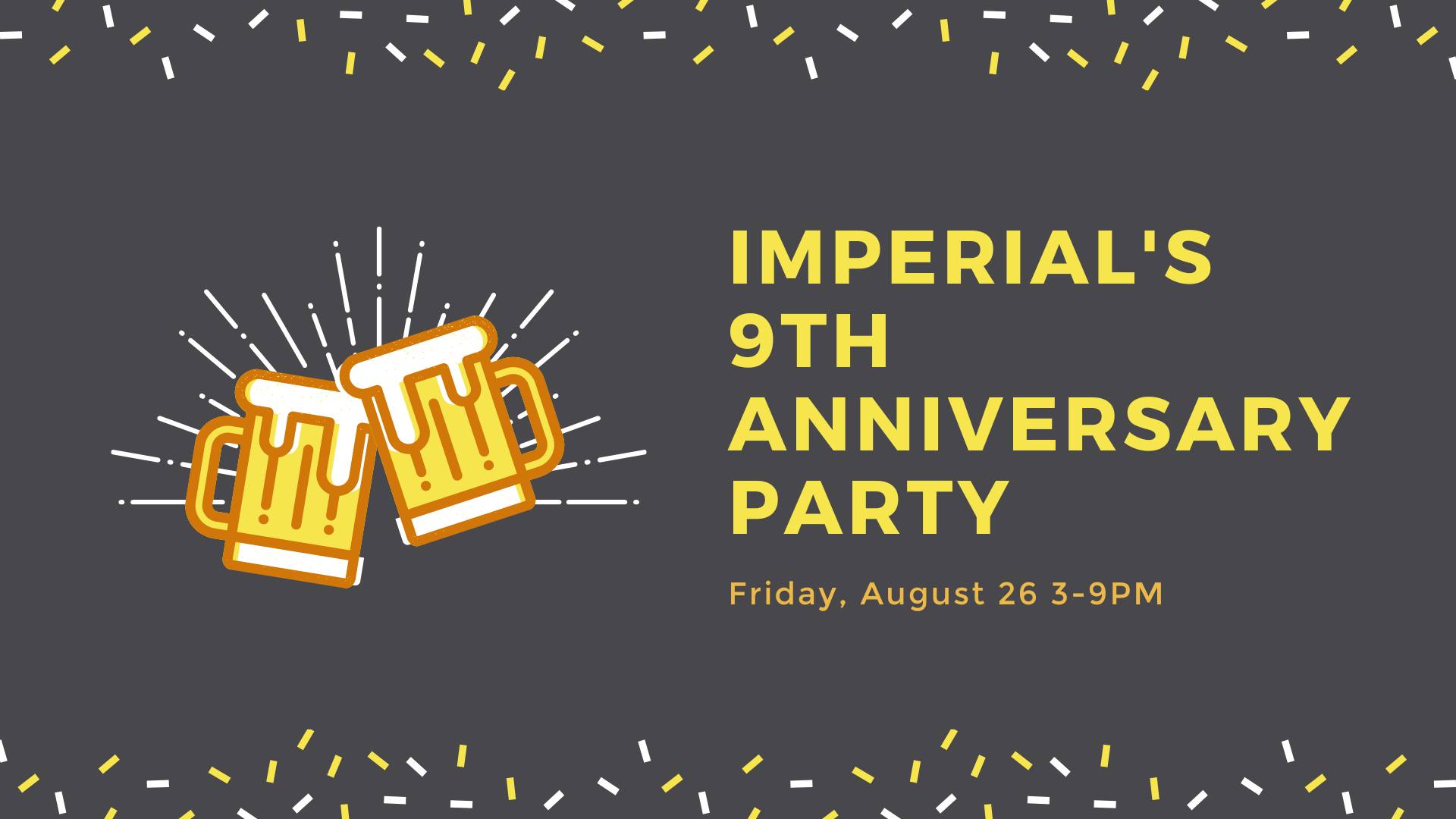 IMPERIAL NINTH ANNIVERSARY
FRIDAY AUGUST 26 – 3-11:00PM
Imperial celebrates its nine year anniversary at 3:00 p.m. on Friday by releasing what sounds like a delicious beer brewed with the help of their amigos at Von Ebert Brewing, Cold Pale Pils which  is a modernized take on Sierra Nevada Pale Ale at 5.3% ABV and $5 an Imperial pint.
Other details as follows:
Live music: Timbo Brothers 5-7PM
Mini-golf: beat their owner in mini-golf and win a prize
Pizza: Detroit-Style Heirloom Tomato Pie from StillPoint Bakery (YES!!!)
Tattoos: InkBus mobile tattoo parlor on site. I'm getting one! You should too. Definitely.
Lots of new beers on tap:
– Von Ebert Cold Pale Pils
– Ex Novo Brewing Fresh Hop Eliot IPA
– Stormbreaker Brewing Fresh Hop Triple Double Imperial IPA kegged that morning
– Logsdon Farmhouse Ales Peche n Brett & Logsdon 2018 Funk Soul Bretta
– Boneyard Beer Rum Barrel-Aged Suge Knight Imperial Stout
– Maple Mochachino slushee made with Baerlic Brewing Pancake House Imperial Breakfast Stout w/Maple, Cocoa & Coffee
– Strawberry Banana Daiquiri slushee made with Claim 52 Brewing THICC Smoothie Sour.
Imperial Bottle Shop & Taproom – 3090 SE Division St. –  Portland, OR 97202
2ND ANNUAL MAYFLY KÖLSCH FEST
FRIDAY AUGUST 26 – 5-10:00PM
SATURDAY AUGUST 27 – 12-10:00PM
SUNDAY AUGUST 28 – 12-8:00PM
Mayfly's second annual event will feature 12 Kölsch-style beers, through a blind tasting process, from various local breweries as well as live music and cornhole.  Tasting packages are $30 and includes two different rounds of six 3 oz. tasters. Guests will then choose their top two beers from each round, receiving a final tray with their top four choices, to help determine their favorite overall Kölsch-style beer.. Once the tasting is complete, they will receive a full pour of their top Kölsch in a custom 2022 .3L Mayfly Kölsch Fest Glass that they can keep.  At the end of the weekend, all votes will be tabulated to determine which Kölsch received the most top votes, to crown the 2022 Kölsch Champ. Every tasting package includes the entire Kölsch tasting, the custom 2022 .3L Mayfly Kölsch Fest glass to be filled with the guests #1 Kölsch pick, and a Dos Hermanos Bakery soft pretzel with mustard. Each guest will also have the opportunity to guess which Kölsch they chose as their top beer and if correct, they'll receive a $10 Mayfly Gift Card.  On Monday, August 29th at noon a Kölsch Champ winner will be announced and the brewery winner will receive a trophy, a special prize from Team Mayfly and a permanent handle for the rest of 2022.
Breweries Featured:
54°40′ BEER, Breakside Brewery, Chuckanut Brewery, Double Mountain Brewery, Grains of Wrath Brewery, Living Häus Beer, Occidental Brewing, Rosenstadt Brewery, StormBreaker Brewing, Van Henion Brewing Company, VIA Beer, Zoiglhaus Brewing
Mayfly PDX – 8350 N. Fenwick Ave. – Portland, OR 97217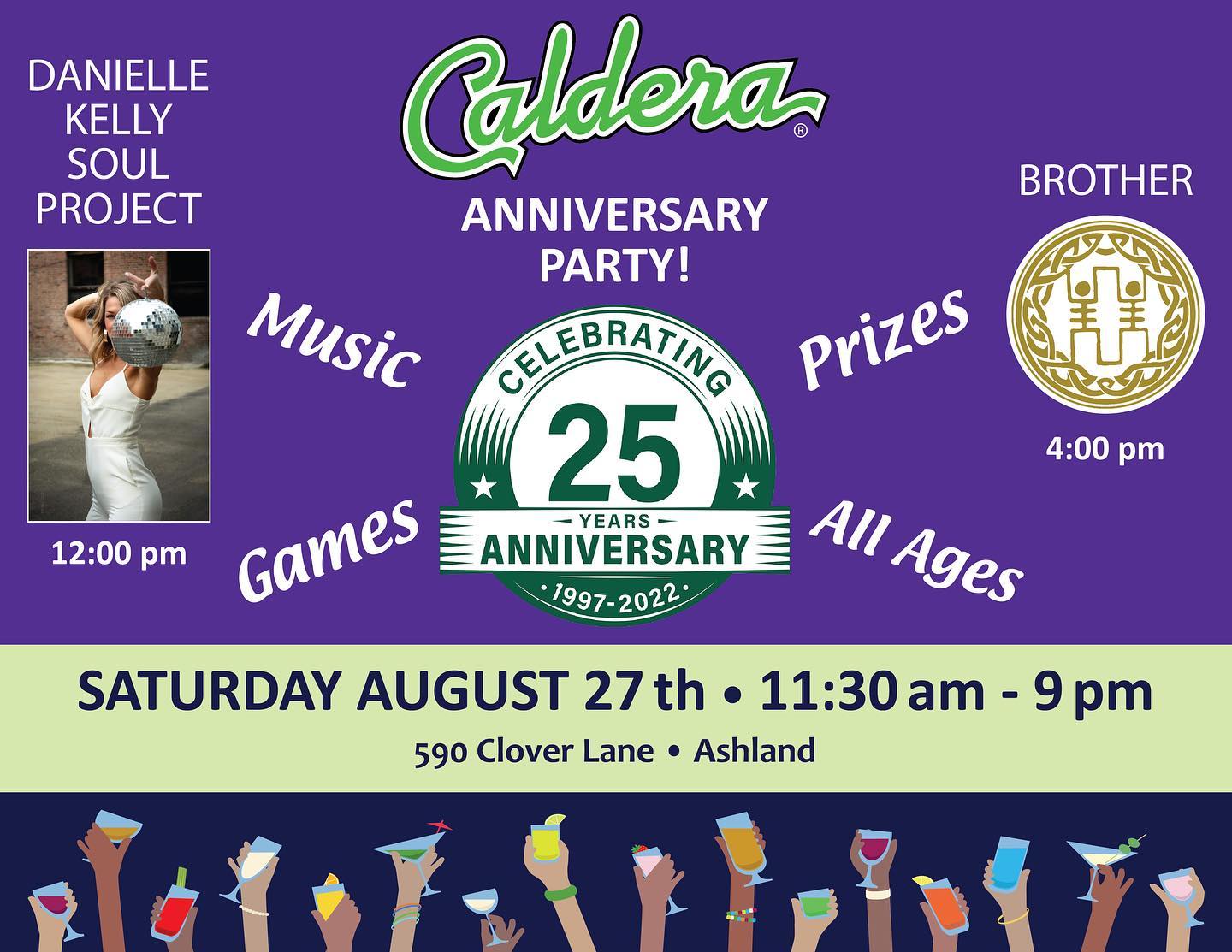 CALDERA BREWING 25TH JUBILEE
SATURDAY AUGUST 27 – 11:30-9:00PM
Caldera Brewing is celebrating its 25th Anniversary on Saturday starting at 11:30 a.m.  Let it be known this event is family friendly, will have games, prizes, Ashland Amber discount and the release of a 6% Anniversary golden lager featuring Centennial and Mosaic hops with live music at Noon and 4:00 p.m.
Caldera Brewery & Restaurant – 590 Clover Lane – Ashland, OR 97520
BREWS FOR NEW AVENUES
SATURDAY AUGUST 27 – 1-4:00PM VIP SESSION $150
SATURDAY AUGUST 27 – 4-8:00PM GA SESSION $20
Brews for New Avenues kicks off with a sold out event on Friday featuring oysters and geueze and continues on Saturday, August 27th with a VIP session that will run from 1-4:00 p.m. Admission includes commemorative glassware, 15 drink tokens for draft and bottle pours from breweries around the world, delicious food, access to bid on dozens of rare beer auction packages, an 11th Anniversary Brews for New Avenues T-Shirt and access to the General Admission session immediately following. Tickets are $150 each and are available here
The General Admission session will run from 4-8 PM on Saturday and admission includes commemorative glassware, 4 drink tokens, access to the wall of beer, the live auction, food carts, and live music. Tickets are $20 each and are available here
The Redd – 831 SE Salmon St. – Portland, OR 97214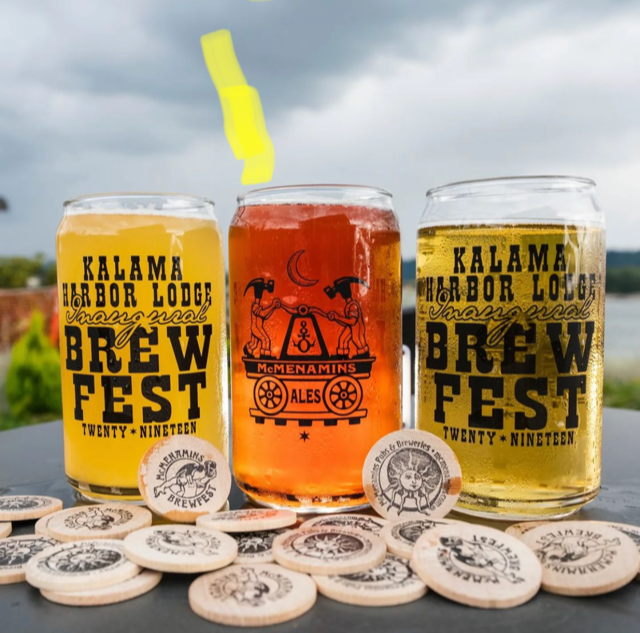 MCMENAMINS KALAMA HARBOR LODGE 2ND ANNUAL BREWFEST
SATURDAY AUGUST 27 – 1-8:00PM
McMenamins Kalama Harbor Lodge will host its 2nd Annual Brewfest on Saturday, August 27, 2022 at 1:00 p.m.  The Brewfest will feature 32 breweries and cideries at the Westin Amphitheater.  Tickets to the Kalama Harbor Lodge Brewfest are now on-sale at $30 in advance ($33.31 after fees) and $33 at the door and you can purchase advance tickets here.  Each entry ticket gets you 10 drink tokens and a specialty pint glass.
Beer List:
Barrel Mountain Brewing – Unplug IPA
Black Raven Brewing Co. – Coco Jones
Everybody's Brewing -Mango Sour Ale
Explorer Brewing Company -BAJA
Grains of Wrath – Our Joyous Doom IPA
Jones Creek Brewing -Pour Me S'More
Loowit Brewing Company -Ride the Brightning
Matchless Brewing -Super Fluff Hazy DIPA
McMenamins Anderson School Brewery – Kokomo Mango Vanilla Sour
McMenamins Crystal Brewery – Dr. Owl
McMenamins East Vancouver Brewery – Klickitat Pilsner
McMenamins Edgefield Brewery – Raddermelon
McMenamins Elks Brewery – Business Casual Red
McMenamins John Barleycorns Brewery – Prickly Little Flower
McMenamins Kalama Harbor Brewery – Luscious Dew Hazy IPA
McMenamins Kalama Harbor Brewery – Hood to Kölsch
McMenamins Lighthouse Brewery – Little Dreamer ISA
McMenamins Oak Hills Brewery – Audacious Juicy IPA
McMenamins Queen Anne Brewery – Mount Baker Gold
McMenamins Roseburg Station Brewery – Stratablaster DIPA
McMenamins Edgefield Winery – Farmhouse Cherry Cider
McMenamins Edgefield Winery – Arnold Palmer Cider
North Jetty Brewing -Another F'ing Raspberry Hef
Ridgefield Craft Brewing Co. – Aurum Rubus
River Mile 38 Brewing Co. – Peeled Blood Orange Hef
Victor-23 Craft Brewery – El Secuestrador
Locust Cider -Watermelon Cider
One Tree Hard Cider – Lemon Basil Cider
Reverend Nat's Hard Cider – Viva la Pineapple! Cider
Swift Cider – Blueberry Cider
Tieton Cider Works – Rum Barrel Pear Cider
Tumalo Cider Co. – Peach Bellini Cider
Kalama Harbor Lodge – Westin Amphitheater – 215 N Hendrickson Dr. – Kalama, WA 98625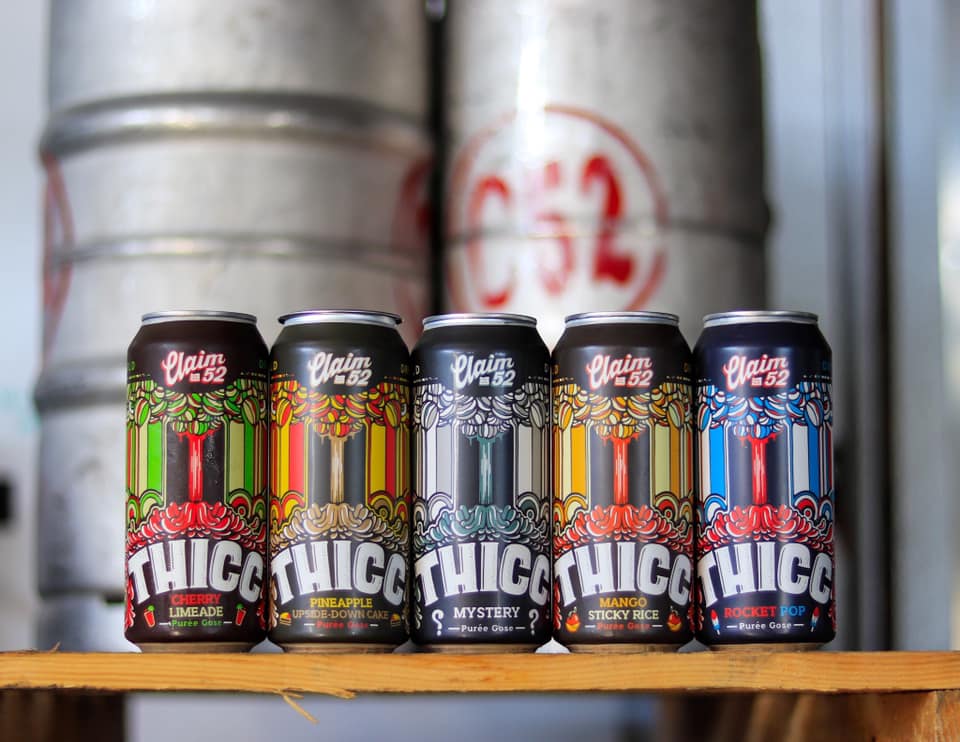 CLAIM 52 THICC NITE
SATURDAY AUGUST 27 – 3-9:00PM
Imperial will be pouring seven of Claim 52 beers from 3-9:00 p.m. on Saturday August 27th.  Beer list as follows:
Handlebar Helles
Skosh West Coast Pale
Private Eyes Hazy IPA
Thicc: Grape Lemonade Smoothie Sour
Thicc: Strawberry Banana Smoothie Sour
Frozen slushie of Thicc: Grape Lemonade Smoothie Sour
Frozen slushie of Thicc: Strawberry Banana Smoothie Sour
Imperial Bottle Shop & Taproom – 3090 SE Division St. –  Portland, OR 97202
LAIDBACK LAGER FEST
SATURDAY AUGUST 27 – 3-6:00PM
On Saturday August 27th from 3-6:00 p.m. Uptown Beer is having their annual Laidback Lagerfest featuring over 20 lagers from the following breweries:  Arch Rock, Away Days, Block 15, Binary, Breakside, Buoy, Chuckanut, Cooper Mountain, Ecliptic, Fraction,  Gigantic, Level Beer, Occidental, Reuben's Brews, Shimai Toshi, Threshold, Urban Family, Rosenstadt, Zoiglhaus and more.
There will be Live Music by Avi Haviv, Smashburgers from Midcity Smash Burger and a benefit for the Surfrider Foundation.  Tickets are online here.
Uptown Beer Co.- 6620 SW Scholls Ferry – Portland, OR 97223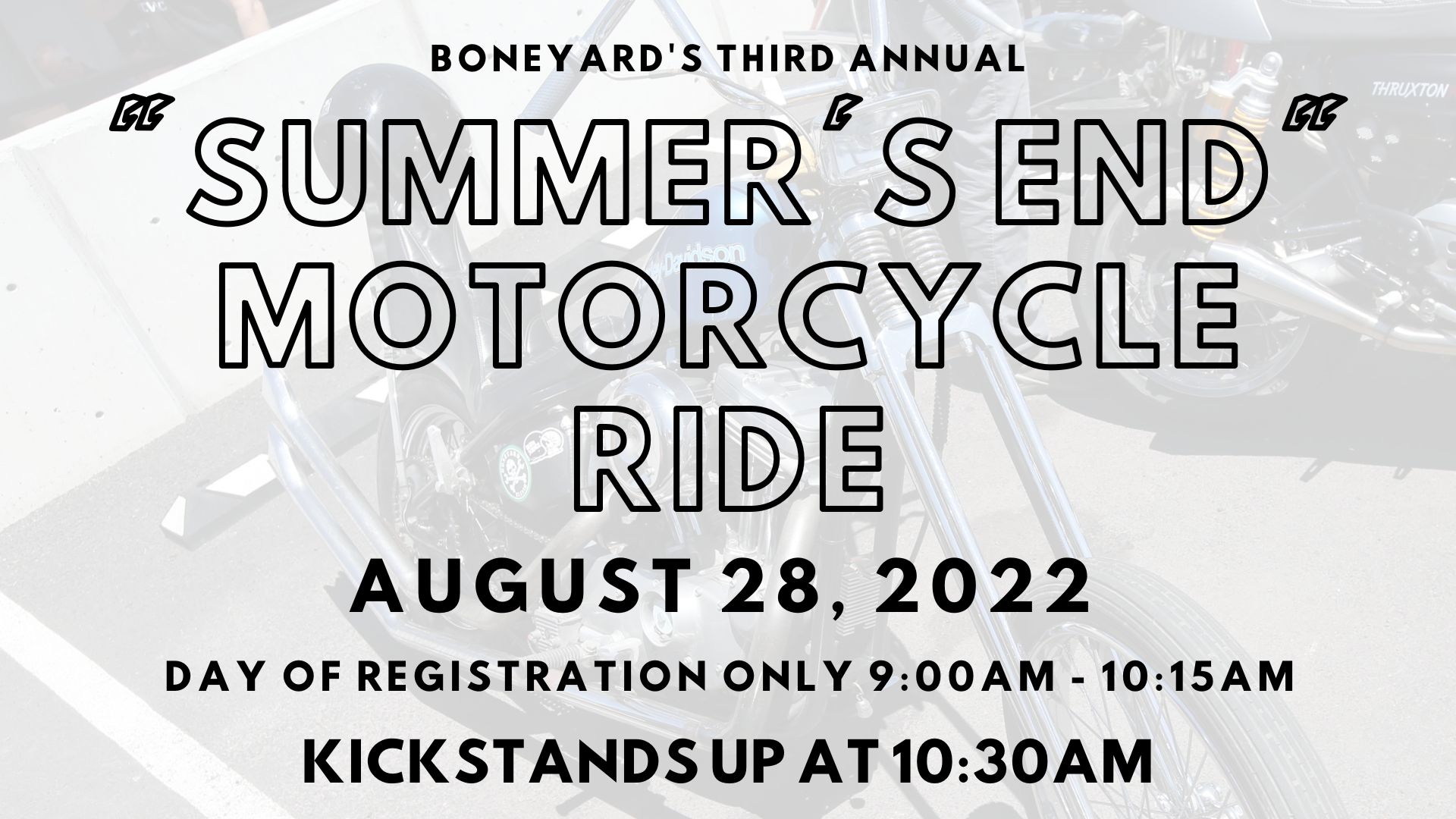 BONEYARD 3RD ANNUAL "SUMMER'S END" MOTORCYCLE RIDE
SUNDAY AUGUST 28 – 9-8:00PM
Let it be known that the 3rd Annual "Summer's End" Motorcycle Ride starts at 9:00 a.m. on Sunday, August 28th and people will be cruising from the Boneyard Pub to the lakes and back.  Tickets are $50 per rider and includes a Boneyard shirt, breakfast, lunch, and beer/elixir. Part of the proceeds benefit Parkinson's Resources of Oregon.
Schedule:
9:00 – 10:15am: Rider Registration/Breakfast
10:30am : Kickstands Up
10:30 – 4:00pm: Ride: Paulina Lake to Elk Lake and back to Boneyard Pub
4:00pm – 8pm: Tacos/Beer/Elixir and live music in the beer garden by Sleepless Truckers
Boneyard Pub – 1955 NE Division St. – Bend, OR 97701