The Weekend In Beer – Beginning October 28, 2022
|
As we approach the weekend that leads into Halloween, there are a quite a few Halloween themed events across the Portland area and beyond. There will be Halloween themed events at Belmont Station, Room 122, Montavilla Brew Works, 13th Moon Gravity Well, Ordnance Brewing – Wilsonville, and Saraveza.
For those looking to celebrate the fall harvest there's a few celebrations on Saturday, both featuring locally made cider. Bauman's Cider will host a Cider Festival while 2 Towns Ciderhouse will also host its Fall Harvest Party on Saturday.
In Bend, Oregon on Saturday, the Midtown Yacht Club will bring a handful of beers from the dead at a new festival, Beers From the Dead – Classic Oregon Microbrews From Their Grave. A few of these resurrected beers include Cascade Golden Ale from Deschutes Brewery, Mars Ale from McMenamins Old St. Francis, and Black 13 from Boneyard Beer to name a few.
So get your ghoulish costume ready and get out and celebrate All Hallow's Eve a few days early!
13th Moon Gravity Well Halloweekend Bash
Friday, October 28 – Sunday, October 30 – 4:00pm-Close
There's a nice beer spot in SE Portland that our buddy Wallace is a fan of. 13th Moon Gravity Well features an array of beers from local nanobreweries to regional favorites. Plus, they brew some of their own beer, including a Belgian Tripel that is currently on tap.
This weekend 13th Moon Gravity Well will host a costume party. Arrive in costume and all draft beer is $6. On Saturday from 7:00-9:00pm, Searcus will be playing its eerie music!
13th Moon Gravity Well – 4513 SE 41st – Portland, OR
Room 122 Halloween Party + Tap Takeovers
Friday, October 28 – 6:00pm-Close
Arrive in costume for Room 122's Halloween Party that kicks off at 7:00pm. But for those that want to get a head start, there will be a giant Halloween Tap Takeover with beers from Terminal Gravity and Sweet Water Brewing and ciders from 19 Acres Cider. We heard that they may be tapping a keg of Nelson IPA from Alpine Brewing that's now part of the Sweet Water family.
Plus, to help keep you going, BeezNeez will be parked outside serving up sausages beginning around 5:00pm. And if you know Room 122's co-owner Andy, make sure to wish him a big Happy Birthday!
Room 122 – 14274 SE Allen Blvd. – Beaverton, OR
Belmont Station Halloween Party
Friday, October 28 – 6:00-8:00pm
Portland's Belmont Station joins in the Halloween fun with a special tap list as DJ Ad Nauseam spins creepy cuts of goth, industrial and post-punk.
Halloween Tap List:
Block 15 The Story Of The Ghost – Hauntingly Pale Double IPA
Wayfinder Terrifica – Italian Style Horror Pils
Stormbreaker Pumpkin Pedaler – Pumpkin Beer
Oakshire Hellshire XI – Bourbon Barrel Aged Imperial Stout
And arrive with an appetite as Monster Smash will prepare you a burger that'll pair well with any of these tasty beers!
Belmont Station – 4500 SE Stark – Portland, OR
Ordnance Halloween Party
Friday, October 28 – 6:00-9:00pm
Celebrate Halloween in Wilsonville with Ordnance Brewing at its 2022 Halloween Party. Enjoy fall time themed drinks, music, costume contest and a raffle. No cover charge to attend event!
Though the festivities begin at 6:00pm, arrive early to enjoy happy hour from 4:00-6:00pm. Make sure to come in your costume and receive 10% on entire purchases up to $50. And if you're hungry, Blazing Taco's will be parked out front.
Ordnance Brewing of Wilsonville – 9740 SW Wilsonville Rd. – Wilsonville, OR
Bauman's Cider Festival
Saturday, October 29 – 11:00am-5:00pm
Its harvest season and Bauman's Farms will host its annual Bauman's Cider Festival in Gervais, Oregon. The Bauman Family has been growing apples and making cider since 1895. It wasn't until recently that they began making wonderful hard cider.
Bauman's have invited 17 other cider makers to their farm on Saturday for the 6th Annual Cider Festival. Cider Festival tickets are available online as well as on the day of the event at the Admission booths. Your Cider Festival ticket will include Option A admission into the Bauman's Harvest Festival as well as a tasting glass & 5 tasting tickets. You can upgrade to an Option B admission by paying the $15 difference when checking in at the admission booths. You must be 21 or older to purchase Cider Festival tickets and ID's will be checked at the Cider Festival entrance.
Bauman's Farm – 12989 Howell Prairie Rd NE – Gervais, OR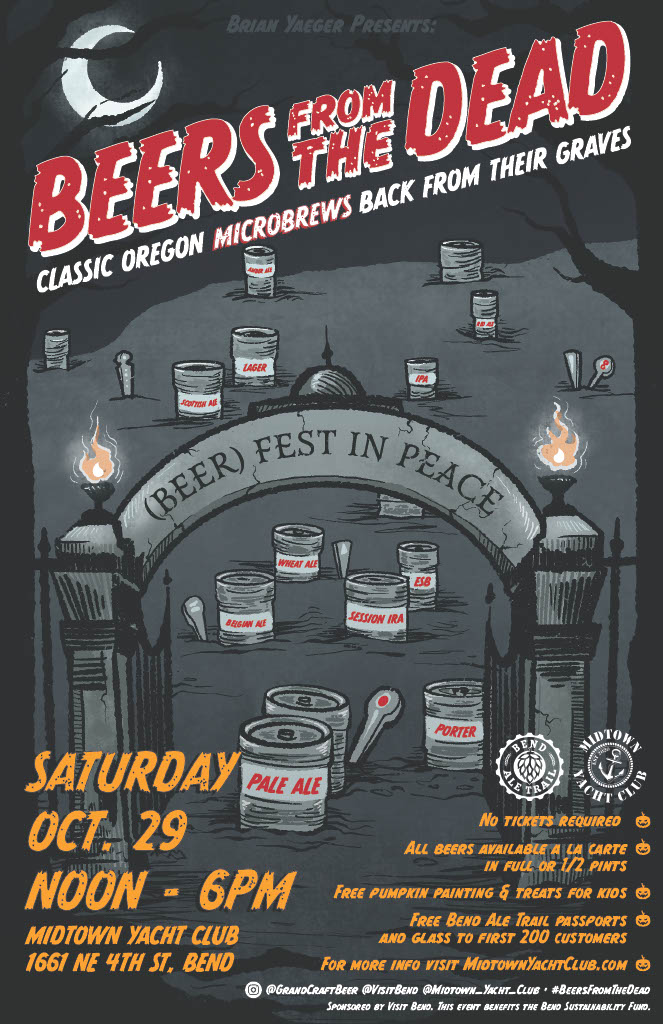 Beers From The Dead – Classic Oregon Microbrews Back From Their Grave
Saturday, October 29 – Noon-6:00pm
In time for Halloween, a new beer festival will resurrect nine beers from Oregon's rich brewing history that haven't seen the light of day in quite some time. Hosted by the Bend Ale Trail, the new Beers From the Dead – Classic Oregon Microbrews Back From Their Grave will bring back a few beers from an era when many of the unique beers at the time were better known as microbrews.
Beers From the Dead Tap List:
Deschutes Brewery – Cascade Golden Ale
McMenamins Old St. Francis – Mars Ale
Boneyard Beer – Black 13 Black Ale
McKenzie Brewing – Raging Rhino Red
Silver Moon Brewing – Voodoo Dog India Red Ale
Porter Brewing – ESB
Breakside Brewing – Lunch Break ISA
Unicorn Brewing – Grapefruit IPA
Hop Valley Brewing – Henry Weinhard's Private Reserve
Midtown Yacht Club – 1661 NE 4th Street – Bend, OR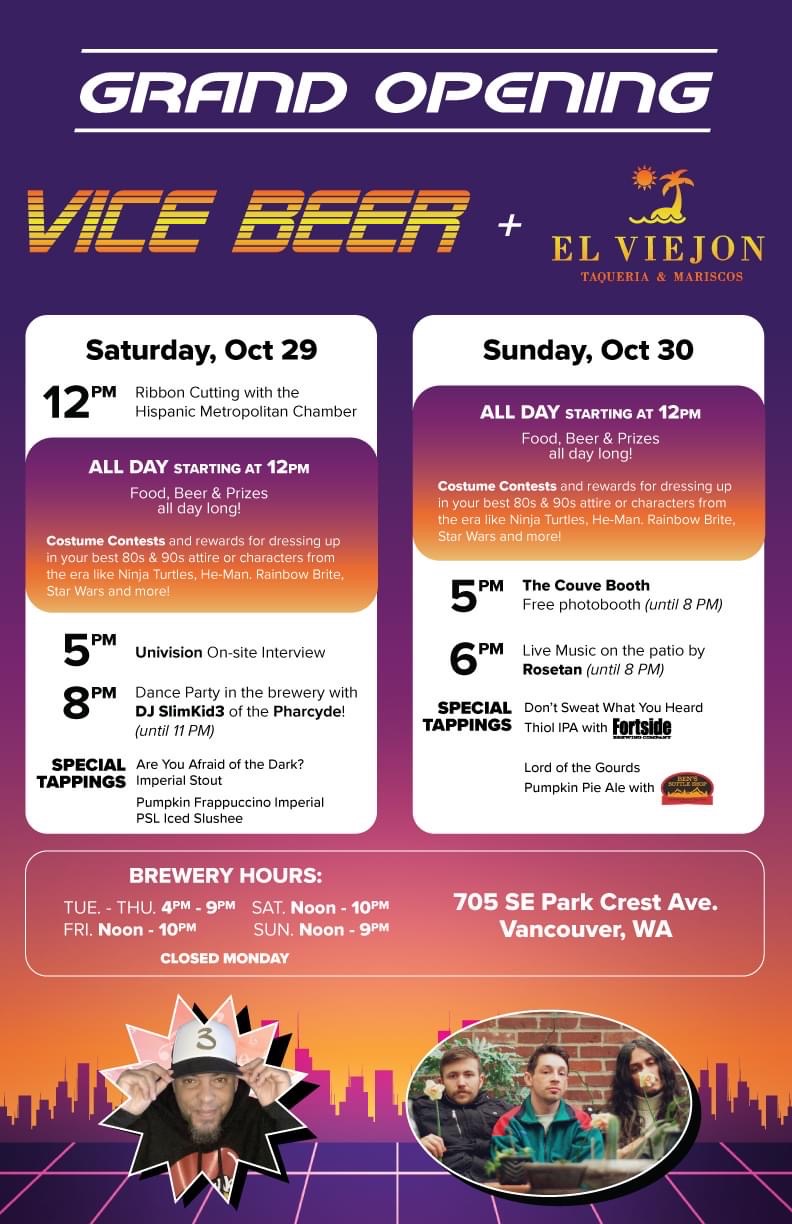 Vice Beer Grand Opening
Saturday, October 29 &  Sunday, October 30 – Noon-Close
Vancouver's latest brewery, Vice Beer, opened its doors a few months ago but is ready to celebrate its official Grand Opening this weekend. During this time the brewery has expanded its tap list and its food truck, El Viejon Taco Truck, is fully operational.
Vice Beer will be tapping four new beers for the weekend including a new Imperial Pumpkin Ale collab with Ben's Bottle Shop, a new Thiol IPA collab with Fortside, a new American Stout, and a new PSL Imperial Stout Frappuccino – only on the slushee machine with whipped cream!
And since its Halloween weekend, arrive in costume as the brewery encourages costumes inspired by pop culture, movies and music of the 80s and 90s!
Saturday Night features SlimKid3 from The Pharcyde spinning in the brewery from 8:00-11:00pm. Also on Saturday, The Couve Booth is set for selfies with festive props from 5:00-8:00pm. Sunday night features chill vibes and resonating strings by Rosetan from 6:00-8:00pm.
Vice Beer – 705 SE Park Crest – Vancouver, WA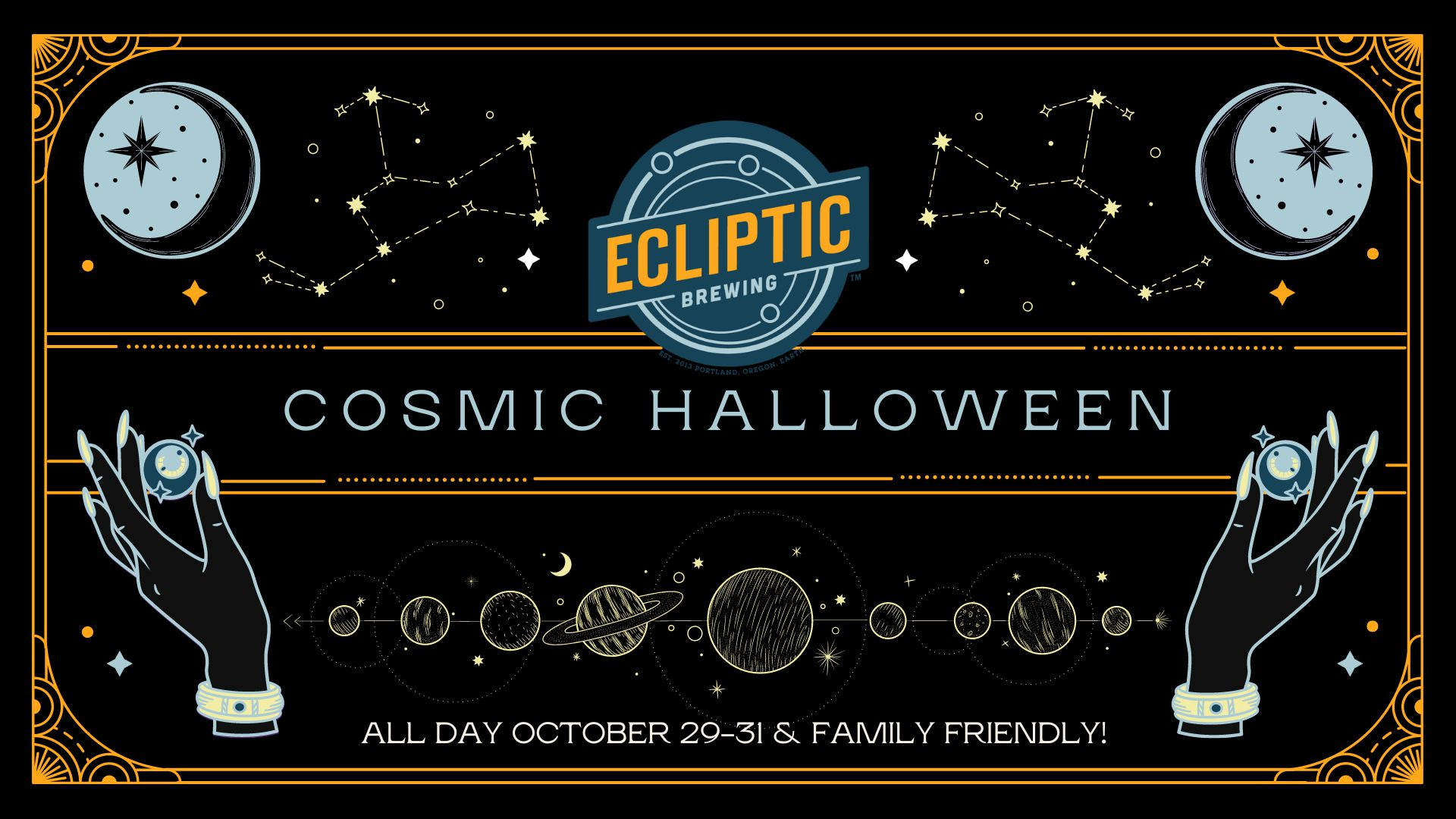 Ecliptic Brewing Cosmic Halloween
Saturday, October 29 – Monday, October 31 – Noon-Close
Get cosmic this year for Halloween as Ecliptic Brewing hosts a Cosmic Halloween this weekend! There will be spooky tunes, Halloween costumes, and handing out candy for their trick-or-treaters.
Other Cosmic Halloween fun includes:
• A Halloween table project for all kiddos (dine-in only!)
• Specials: We will serving Pumpkin Pie Pudding Shots, as well as a spooky Halloween cocktail!
• Staff Pumpkin Carving and Costume Contest: Guests will have a chance to vote for their favorite!
And of course all guests are encouraged to wear costumes!
Ecliptic Brewing – 825 N. Cook St. – Portland, OR
2 Towns Ciderhouse 12th Annual Harvest Party
Saturday, October 29 – Noon-10:00pm
2 Towns Ciderhouse returns with its 12th Annual 2 Towns Harvest Party. There will be over 55 cider options to choose from, plus additional options from Craftwell Cocktails, SeekOut, and Nectar Creek! There will also be live music, food trucks and merchandise for sale.
Tickets are now on-sale at $20 each by clicking here. Each ticket includes a branded 2 Towns stainless steel mug and 3 drink tickets. Entry is only for those 21 years of age or older.
Check 2 Towns Ciderhouse's website or the Facebook event page for most up to date info. Please note that parking is limited at its facilities and 2 Towns is offering its guests a free shuttle with several stops in Corvallis. There will also be a designated spot for rideshare or taxi pickup.
2 Towns Ciderhouse – 5123 SW Hout St. – Corvallis, OR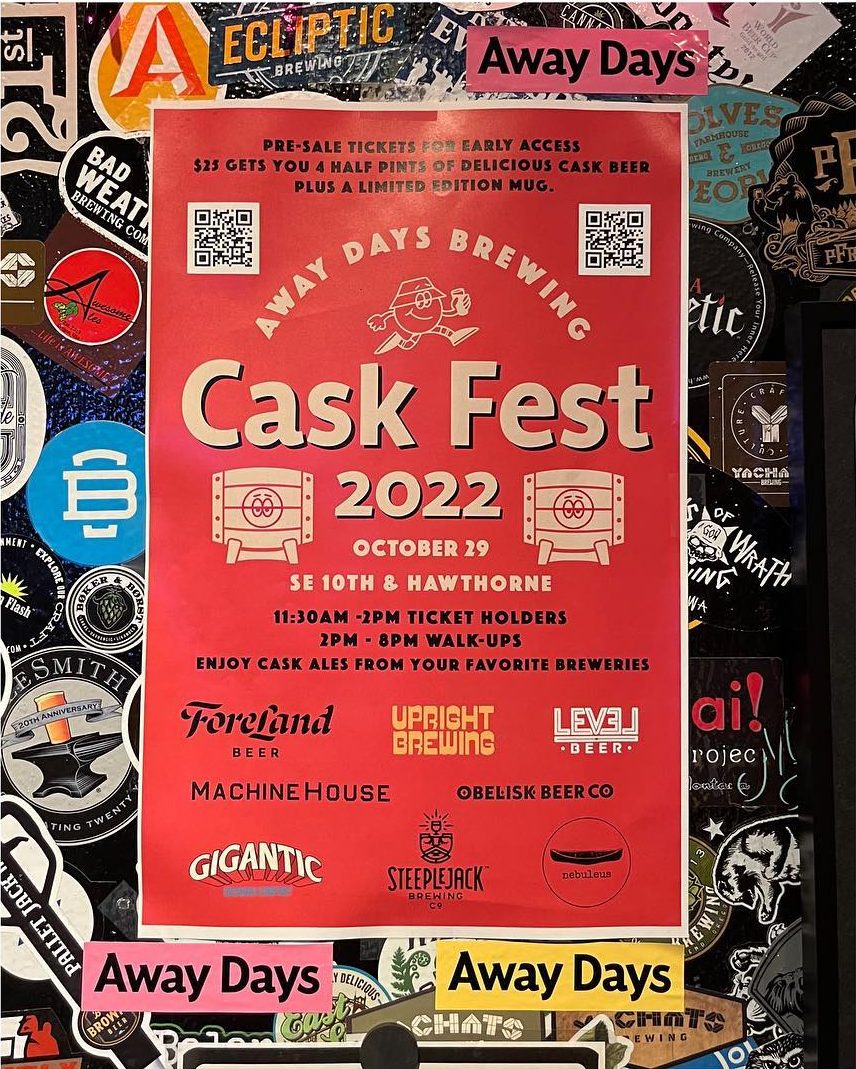 Cask Ale Fest
Saturday, October 29 – 2:00-8:00pm
Cask ales from eight brewers will be served on Saturday at Away Days Brewing. Featured breweries include Machine House, Upright Brewing, Nebuleus Beer, Level Beer, Gigantic Brewing, Foreland Beer, Steeplejack Brewing, Obelisk Beer, and the host brewer!
Away Days Brewing – 1516 SE 10th Ave. – Portland, OR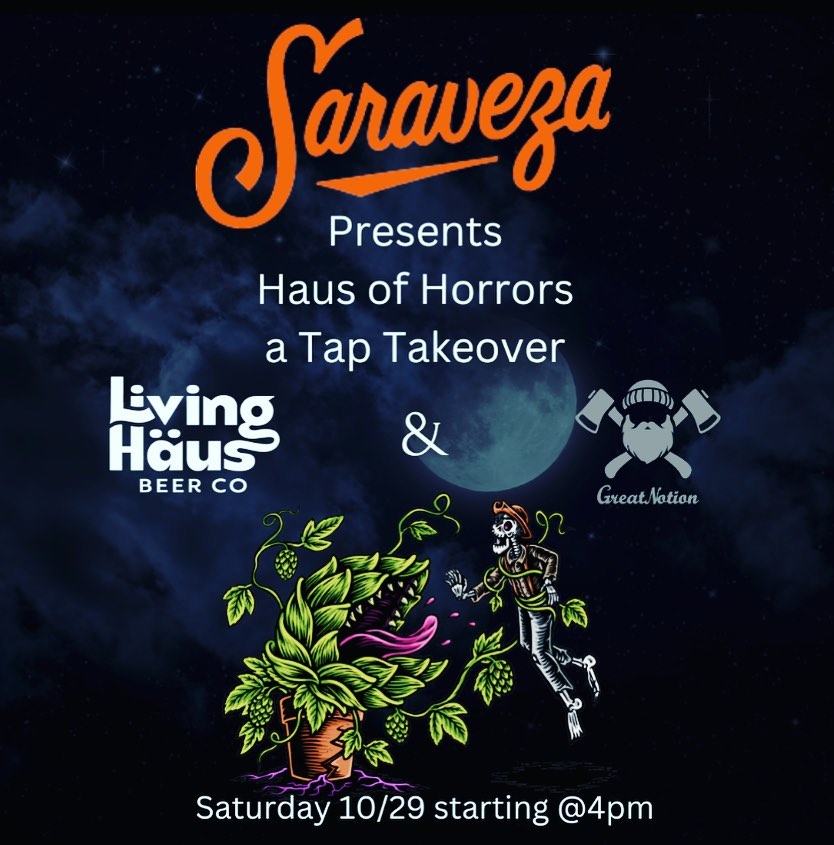 Saravea Presents Haus of Horror
Saturday, October 29 – 4:00pm-Close
A dual tap takeover will take place at Saraveza with Great Notion Brewing and Living Haus Beer.
Haus of Horror Tap List:
Great Notion Boo Berry Muffin
Great Notion Double Stack
Great Notion Over Ripe
Great Notion Love and Ritual
Living Häus Babi Dark Lager
Living Häus Pearl Coffee Stout
Living Häus Harris West Coast IPA
Living Häus Dolores Pilsner
In addition to the special tap list, Saraveza will be showing a few spooky movies playing. Plus there'll be free candy and good company.
Saraveza – 1004 N Killingsworth St. – Portland, OR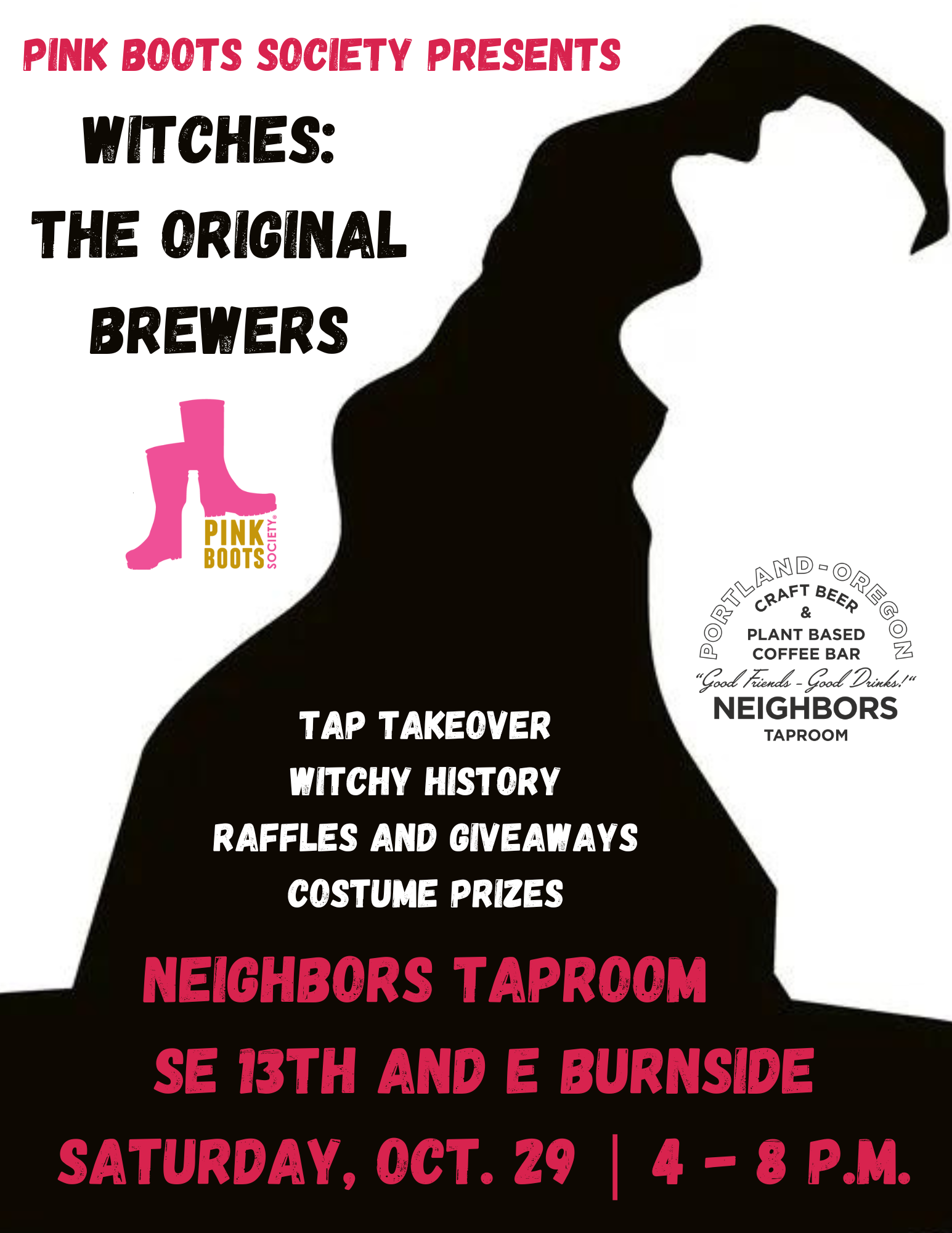 Portland Pink Boots Society Presents Witches: The Original Brewers
Saturday, October 29 – 4:00-8:00pm
In time for Halloween, the Portland Pink Boots Society presents Witches: the Original Brewers. This self-described bewitching tap takeover will feature an evening of many of Portland's women in beer.
Neighbors Taproom – 1306 E Burnside St. – Portland, OR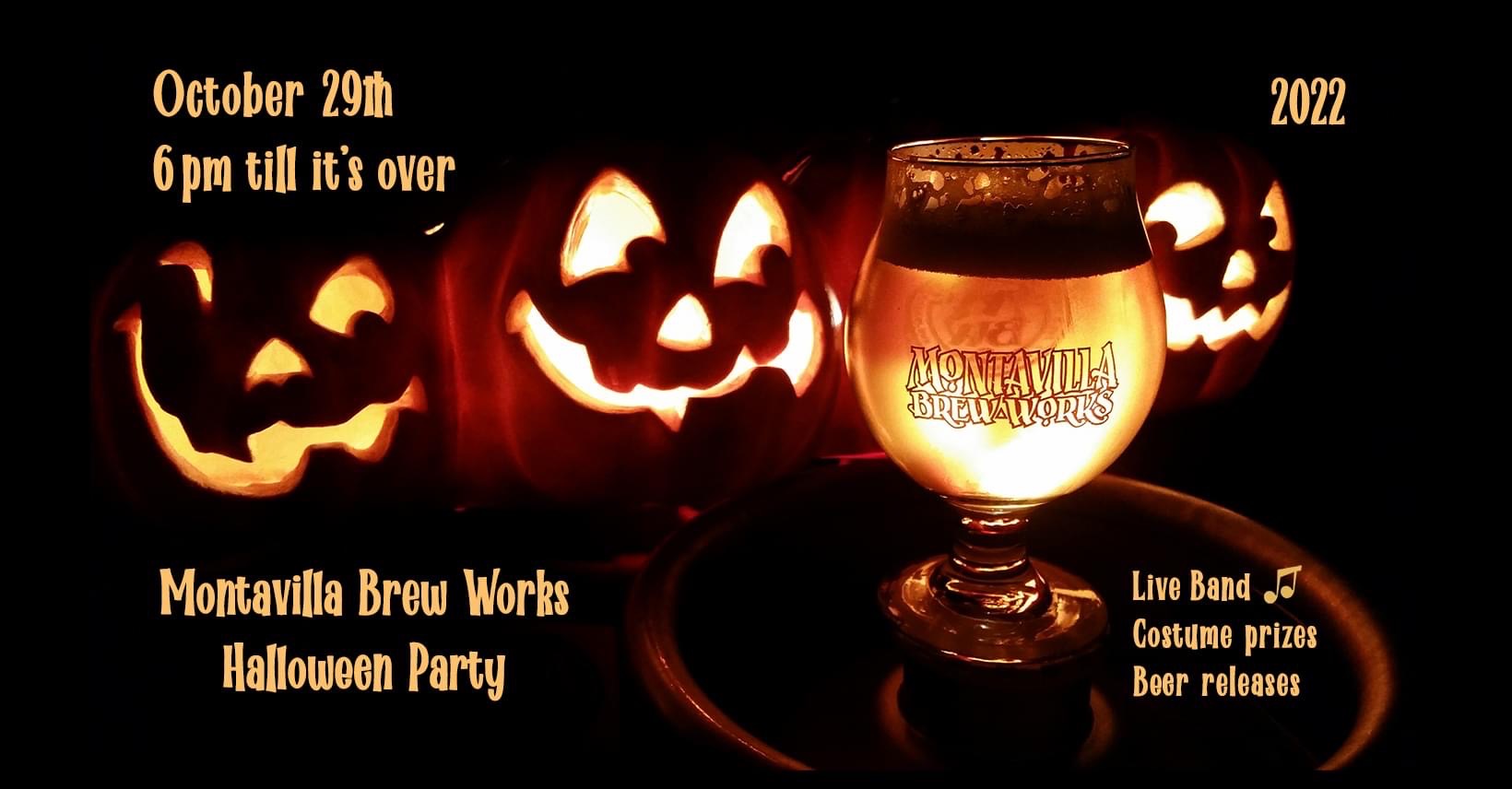 Montavilla Brew Works Halloween Bash
Saturday, October 29 – 6:00pm-Close
The Halloween bash returns to Montavilla Brew Works with costumes, live music, giveaways and a couple of beer releases.
New beers include Lil' Montavillain, an American strong ale is dry and bold with notes of dark fruit (dates, raisins, prunes) and citrus at 7% ABV. The other new beer is Bock In The Saddle Again, a German-style Bock (amber lager) that's loaded with toasty and carmelly malt goodness at 6.4% ABV.
Montavilla Brew Works – 7805 SE Stark St. – Portland, OR