The Weekend in Oregon Beer – Beginning July 28, 2022
|
Another weekend of beer festivals begins on Thursday kicking off with Oregon's oldest running beer festival, the Oregon Brewers Festival which runs noon to 9:00 p.m. on Thursday, Friday and Saturday at Governor Tom McCall Waterfront park in downtown Portland between the Morrison bridge and Pike Street.  After work on Friday the Craft Beer and Wine Fest at Esther Short Park in downtown Vancouver starts at 5:00 p.m.  At noon on Saturday if you are in the Portland Metro area you can either hit up Hammer and Stitch's Makers Fair at their location in NW Portland or if you are south of downtown check out the lively lagers from McMenamins brewers across the PNW at the inaugural Lager fest at their Wilsonville Old Church and Pub location conveniently located right off of Interstate 5.  If you are lucky enough to be spending the weekend in beautiful Bend, check out 10 Barrels Beer Wars on the westside kicking off at 4pm where you can sample 20 beers across 3 categories and vote for your favorite.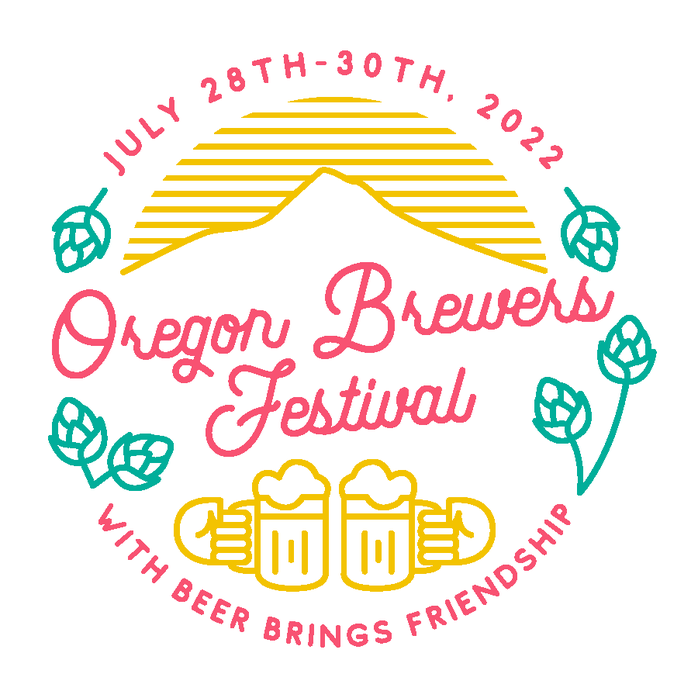 OREGON BREWERS FESTIVAL
THURSDAY JULY 28 – SATURDAY JULY 30
NOON – 9:00PM
The Oregon Brewers Festival takes place the last full weekend in July at Governor Tom McCall Waterfront park between the Morrison Bridge and Pine Street in beautiful downtown Portland, opening on Thursday, July 28th and ending on Saturday July 30th.  The Oregon Brewers Festival is not a ticketed event and there is no admission charge to enter the festival grounds and you can bring your kids. In order to consume beer or cider, you have to purchase a tasting package for $30 that includes a 2022 souvenir tasting mug and 10 tasting tickets (mugs are available on their own for $10).  If you have wooden tokens from previous festivals like I do you can bring them down and exchange them for this year's drink tickets as two wooden tokens is an equivalent of one current year's paper drink tickets.  Additional tickets cost $2 apiece. Mugs and drink tickets can be purchased in advance online for $30 ($33.85 with fees), or at the festival.  Patrons use three tickets for a full 12-oz mug of beer or one ticket for a 4-oz taste.
The 2022 lineup of beers will feature only beers brewed within Oregon.  Of the 41 beers being served, 31 beers will be making their debut at the OBF.  You can view the beer list online here.  The 10 beers I am going to try first have a + in front of them in no particular order.
2022 OREGON BREWERS FEST TAP LIST:
BARREL-AGED WINE/BEER HYBRID
+Alesong Brewing & Blending: Raindrops on Rose City*
BERLINER WEISSE
Ecliptic Brewing: Kinetic Kiwi*
Upright Brewing: Country Time Weisse*
BLONDE
Wild Ride Brewing: Roots of Love Lemongrass Summer Ale*
CIDER
Portland Cider Co.: Lemon Drop*
Reverend Nat's Hard Cider: Raspberry Saint Citron*
GOSE
Hammer & Stitch Brewing Co.: Raspberry Gose*
Threshold Brewing & Blending: Cheeky Dribble*
IPA
+Boneyard Beer: Mental Paradise IPA
Coin Toss Brewing: Black Hohl Dark IPA
+Double Mountain Brewery: Ring My Bell IPA* (Collab with Solera Brewing Co.)
Cascade Brewing: Incontrovertible Hazy IPA*
Fort George Brewery: 3-Way IPA
Great Notion: The Queen's Select Hazy IPA*
Migration Brewing: Passionate Phantasy Hazy IPA*
Rogue Ales: Makgeolli Culkin Hazy IPA*
+StormBreaker Brewing: Supermassive HDHC IPA*
Sunriver Brewing Co.: Something Dank This Way Comes*
Terminal Gravity: Hop Vault Series No. 3 Juicy IPA*
KÖLSCH
Zoiglhaus Brewing: Lime Leaf Kölsch*
KOTTBUSSER
+Steeplejack Brewing Kottbusser*
LAGER
Breakside Brewery: Float Mexican Lager
+Caldera Brewing Co.: 25th Anniversary Hoppy Lager*
Deschutes Brewery: Hachimitsu Mai Japanese Rice Lager*
Evasion Brewing: Michelada*
+pFriem Family Brewers: American Lager
Widmer Brothers Brewing: Crimson Eagle Red Czech Style Lager*
PALE ALE
Ex Novo Brewing: You Guava Be Kidding Me Hazy Pale Ale*
GoodLife Brewing Co.: Beach Life P.O.G. Pale Ale
+Level Beer: Cool Kids Drink Pale Ale*
Ninkasi Brewing: A Toast To Art Dry Hopped Pale*
PILSNER
+Buoy Beer: Pile Buck Pils*
+ForeLand Beer: Horizontal Reflection Bohemian Pils*
Gorges Beer: Cucumbia River Pilsner*
Stickmen Brewing: I'm About It Black Pilsner*
Van Henion Brewing: German-style Pilsner
RYE
Three Creeks Brewing: Stonefly Session Ale
SAISON
Gigantic Brewing: The Royale*
Monkless Belgian Ales: Passionfruit Belgian Saison*
SOUR
Crux Fermentation Project: Tangy Boomerang
Hopworks Urban Brewing: Tequila Barrel-aged Cactus Attactus*
McMenamins Edgefield: Tropic Heat
WHEAT
Von Ebert Brewing: Ti Bwason*
*Beers & Ciders debuting at the 2022 Oregon Brewers Festival
Oregon Brewers Festival, Waterfront Park – 300 SW Naito Pkwy (between Pine St. and the Morrison Bridge) – Portland, OR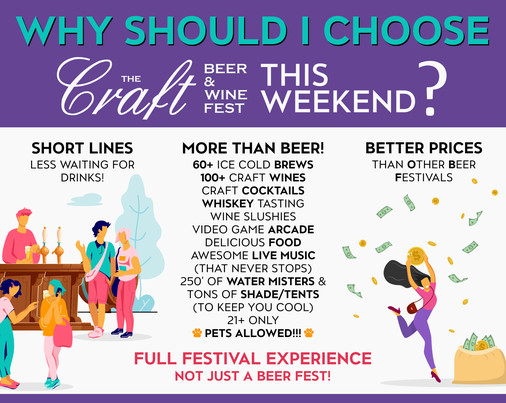 THE CRAFT BEER & WINE FESTIVAL
FRIDAY JULY 29 – 5-10:00PM
SATURDAY JULY 30 – Noon-10:00PM
SUNDAY JULY 31 – Noon-5:00PM
The Craft Beer & Wine Festival starts Friday at 5:00 p.m. and runs through Sunday at 5:00p.m. in downtown Vancouver at Esther Short Park.  This fest has sixty plus beer and ciders from twelve breweries and seven cider makers, one hundred craft wines from Washington state, local craft spirits and cocktails, food and live music.   An adult general admission pass is $30 presale ($34.19 with fees) or $35 plus tax at the door which includes entry to all three days, a glass and ten tasting tickets.  A Super Pass and VIP Pass are also available.  Two tickets will get you a four ounce sample and seven tickets will get you a pint of beer and on Sunday pints are five tickets.  You can view the brewing and cider companies here.
Esther Short Park – 415 West 6th Street – Vancouver, WA 98660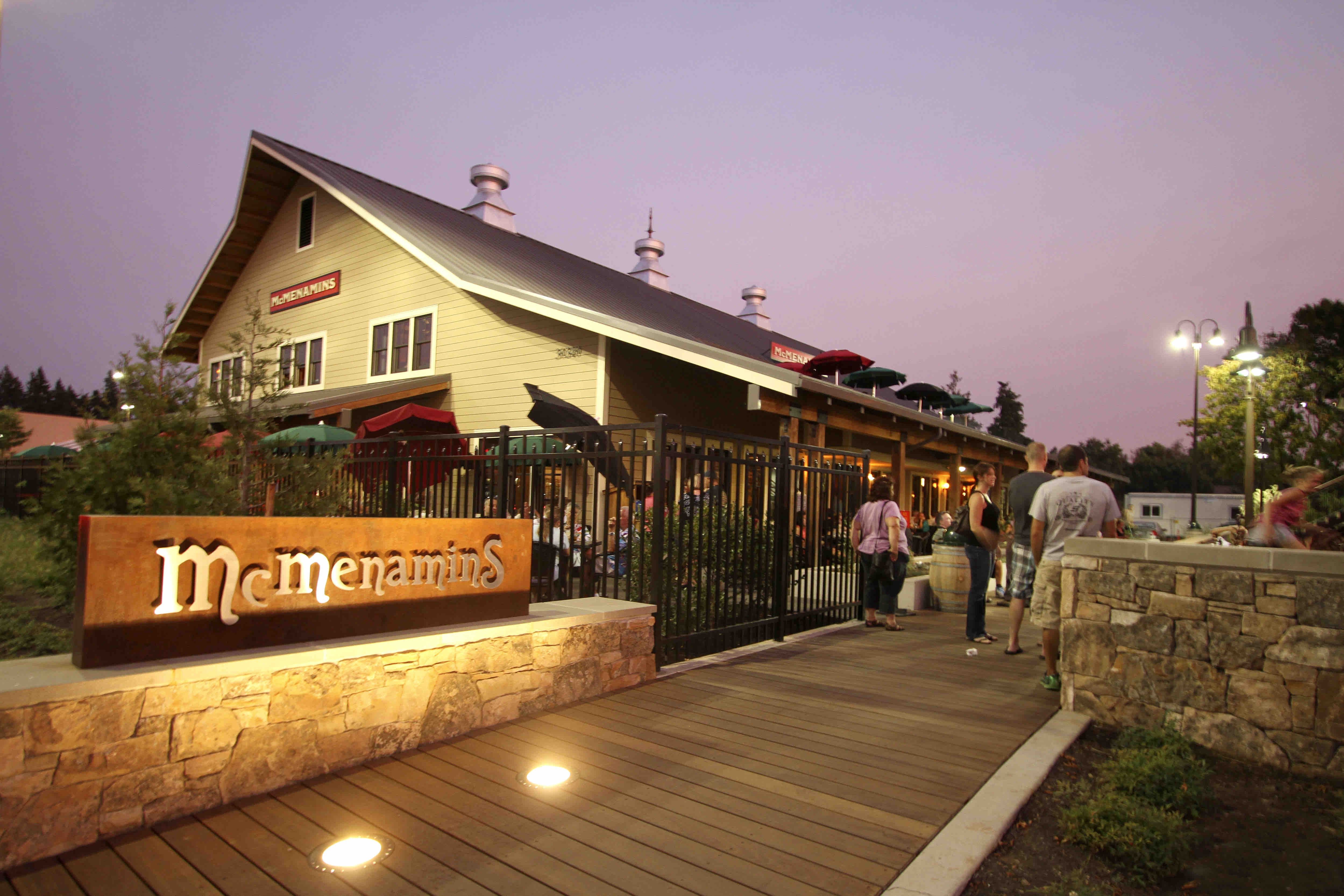 MCMENAMINS WILSONVILLE OLD CHURCH & PUB LAGER FEST
SATURDAY JULY 30 – Noon-5:00PM
The inaugural Lager Fest kicks off at Noon on Saturday at McMenamins Old Church and Pub in Wilsonville and runs until 5:00 p.m. and costs $15 which includes a Lager Fest Pint Glass and five 4 oz. drink tickets.  All ages are welcome at McMenamins beer fests but they will remind you that you must be 21 to drink alcoholic beverages.  Beer list is below.  McMenamins is pretty good about putting their beer info online and includes the following info for each beer which I think is pretty, pretty, pretty cool – Special Techniques, Malts, Hops, Calories, Carbohydrates, Original Gravity, Terminal Gravity, Alcohol by Volume, I.B.U.(International Bittering Units) and S.R.M. (Standard Reference Method).  They also have all this info on their App as well which is available for Apple and Android phones.
LAGER FEST BEER LIST:
Light (Helles) Lagers
Concordia Brewery – Dandelion Sky Pilsner
Cornelius Pass Roadhouse Brewery – Doppia Italian Pilsner
East Vancouver Brewery – Bia Hoi Vietnamese Lager
Kalama Harbor Lodge Brewery – Pau Hana Island Lager
Oak Hills Brewery – Elliot's Hoppy Little Lager
West Linn Brewery – McXico Lager
Amber – Dark (Dunkel/Schwarz) Lagers
High Street Brewery – Tony Schwartz
Mill Creek Brewery – Intercontinental Vienna Lager
Old St. Francis School Brewery – Dark Special Model Mexican Lager
Thompson Brewery – Beau Baltic Porter
Wilsonville Brewery – Midnight Cowboy Dunkel
Smoked (Rauch) Lager
Old St. Francis School Brewery – Bamberg Obsession
Strong (Stark) Lagers
Cornelius Pass Roadhouse Brewery – Edelweiss Helles Bock
Edgefield Brewery – Uncle Bock
McMenamins Wilsonville Old Church & Pub – 30340 S.W. Boones Ferry Rd. – Wilsonville, OR, 97070
THE MAKERS FAIR – SUMMER EDITION
SATURDAY JULY 30 – Noon-6:00PM
The Makers Fair runs from noon-6:00 pm.m on Saturday, July 30th on NW Wilson Street (between 23rd and 24th in Slabtown) in front of Hammer & Stitch Brewing. The Makers Fair is free, family-friendly and features an afternoon of beer, food, live music, art, goods from local artisan makers.
Look for the following crafty items: ceramics from Bridgetown Sparrow, plant and self-care products from Organics X Oddidies, art & jewelry from Luna Wolf Creations, plant-based skin care and candles from Niyyah Handcrafted, CBD wellness items from Fender's Blue Hemp, camping must-haves from Trailside Table plus Filipino goods and sweets from Shop Halo Halo among many others.
Live music is indoors at Hammer & Stitch and includes Laryssa Birdseye (1-2pm), Madison Shanley (2:30-3:30pm) and Bruce & Christine Powers (4-5pm). Tables in the brewery will be first-come, first-served, but all are welcome to pop in and enjoy the music throughout the day.
Food will include slices from Pizza Thief, island-inspired Asian Fusion from Pidgin Hole and Mexican street food desserts by Maruka Loka. Hammer & Stitch Brewing Company offers a full food menu as well which you can visit here.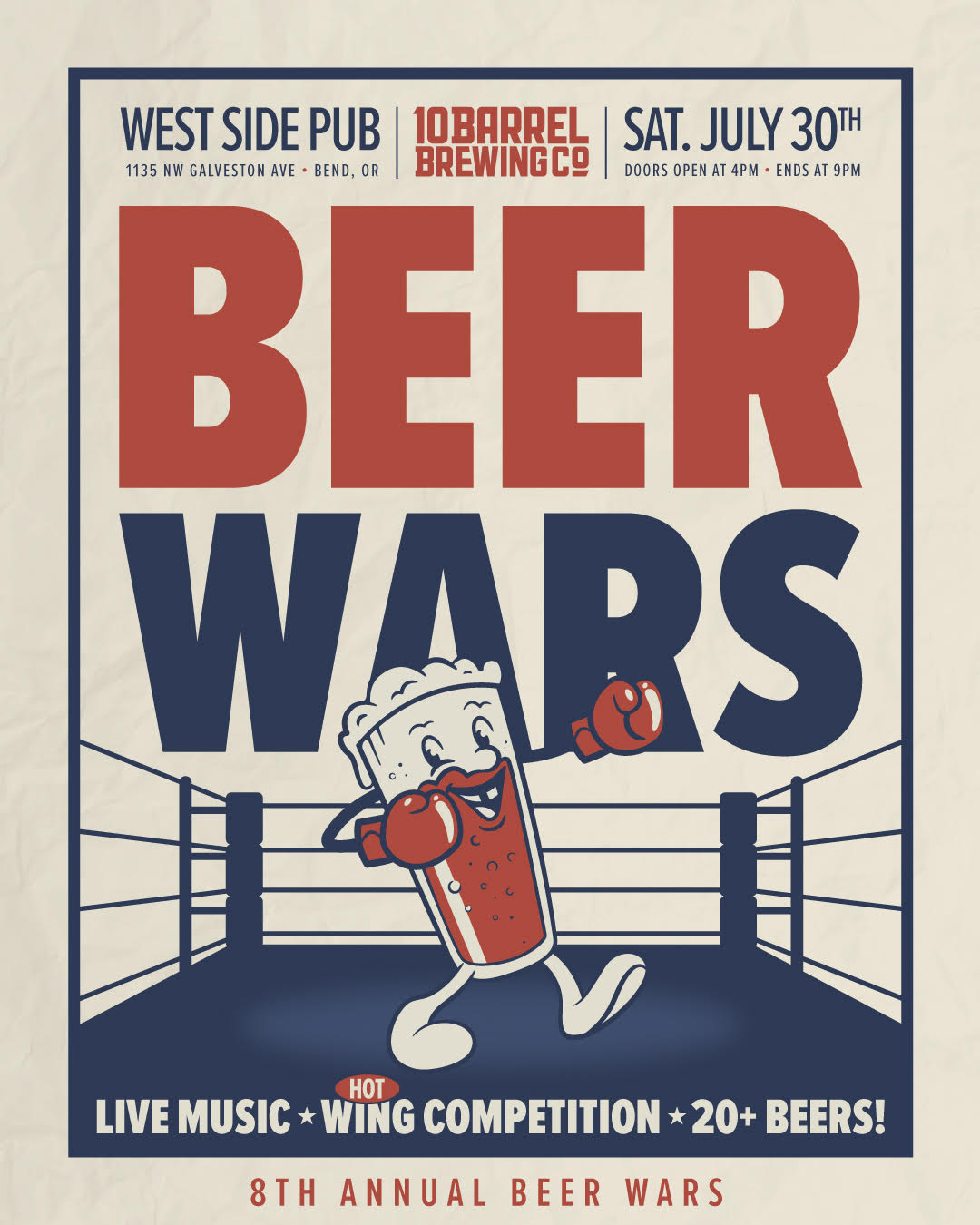 10 BARREL BREWING BEER WARS
SATURDAY JULY 30 – 4-9:00PM
Beer Wars returns to 10 Barrel Brewing this Saturday from 4:00p.m. to 9:00p.m. in Bend, Oregon at their Westside pub.  Entry is free, it is open to all ages, and a beer tasting package is $10 which includes a Beer Wars Snifter Glass and 3 tasting tokens.  Additional tasting tokens are $1 each.
Beer Wars is a blind tasting event where each beer on draft will be associated with a designated number 1-20.  Each person is given a tasting sheet and samples beers throughout the day from the following three categories India Pale Ales, Session beers (from 3-7% ABV which could be lagers, wheat beers or ales across different styles which could be pilsner, kolsch, hefeweizen, etc) and Wildcards (which could be sour beers, belgian-style ales, stouts, etc.) taking notes on which one is their favorite before they cast their final vote (I am assuming it is votes since there are three categories).  An hour before the conclusion of the event 10B will close voting, tally the votes, and declare a winner for each category!  I attended the first one of these and with the temperature looking to be over 100 degrees and sunny this weekend, remember to dress appropriately, bring some sunscreen and a hat and stay hydrated by drinking plenty of H2O.
In addition, this year 10 Barrel will be having a Wing Wars component where each of 10 Barrel's pub locations submits a wing recipe and similar to the blind tasting aspect of beer wars, guests vote on their favorite wing recipe!  Not sure about the details on this but if you like wings, it looks like a good time.
10 Barrel Brewing – West Side – 1135 NW Galveston Ave. – Bend, OR 97701