Thirsty Monk Brewery Beer Garden: Beer, Bacon & Axe Throwing at the Hawthorne Street Fair
|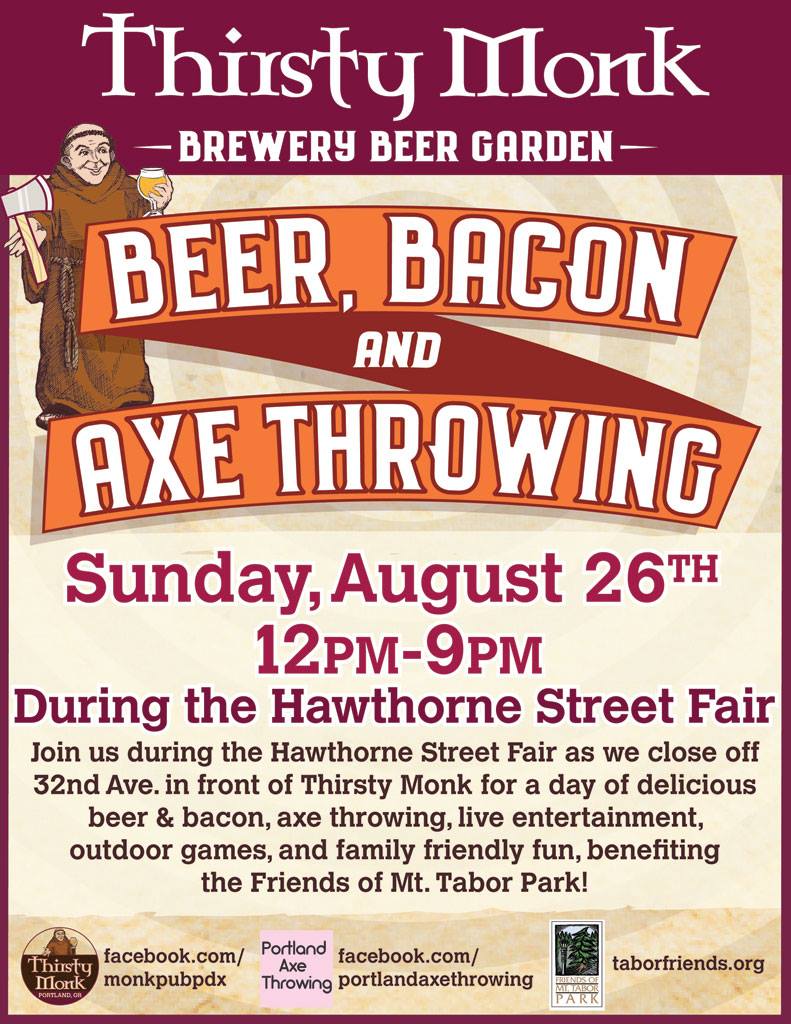 The Hawthorne Street Fair returns on Sunday, August 26th and Thirsty Monk – Portland will host a Beer Garden on SE 32nd Avenue. From Noon-9:00pm, the Thirsty Monk Beer Garden that features beer, bacon and axe throwing.
In addition to the Portland Axe Throwing where you can let go of some anger by throwing an axe, there will be a variety of family friendly outdoor entertainment. The day's itinerary includes buskers, cornhole, a beer coaster derby and more! Best of all the street fair will benefit the Friends of Mt. Tabor Park.
In addition to the Beer Garden in front of Thirsty Monk, the Hawthorne Street Fair will take place from 11:00am-6:00pm as you can explore over a hundred businesses dedicated to community involvement, making the area a desirable place to live, work, and shop.
Some of the Hawthorne Street Fair highlights include:
Main Music Stage at 38th Avenue
Kids Activities at Kids At Heart (35th Ave)
Beer gardens at Thirsty Monk (32nd Ave) Growlers Hawthorne (34th Ave) and Hawthorne Hophouse (41st and Hawthorne)
Vendors along the street between 31st and 38th Avenues