Threshold Brewing 3rd Anniversary + Triple Friday Can Release
|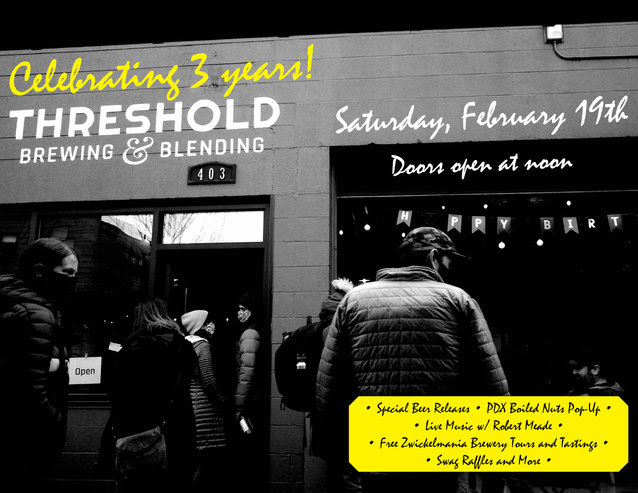 Over the next week or so, Threshold Brewing will be the host of a couple great beer events during Oregon Craft Beer Month! On Saturday, February 19, the Portland brewer will host its 3rd Anniversary that coincides with the return of Zwickelmania, the annual Oregon brewery open house.
But to kick the eventful week off, Threshold Brewing hosts its Triple Friday Can Release beginning today at 4:00pm. Today's release will set forth with three new beers – Noise Permit Hazy IPA (Collaboration with Great Notion Brewing), 3rd Anniversary – Radegast Bohemian-Style Polish Lager, and Dream Spires Saison. All three beers with be packaged in 16oz cans and be available on draft.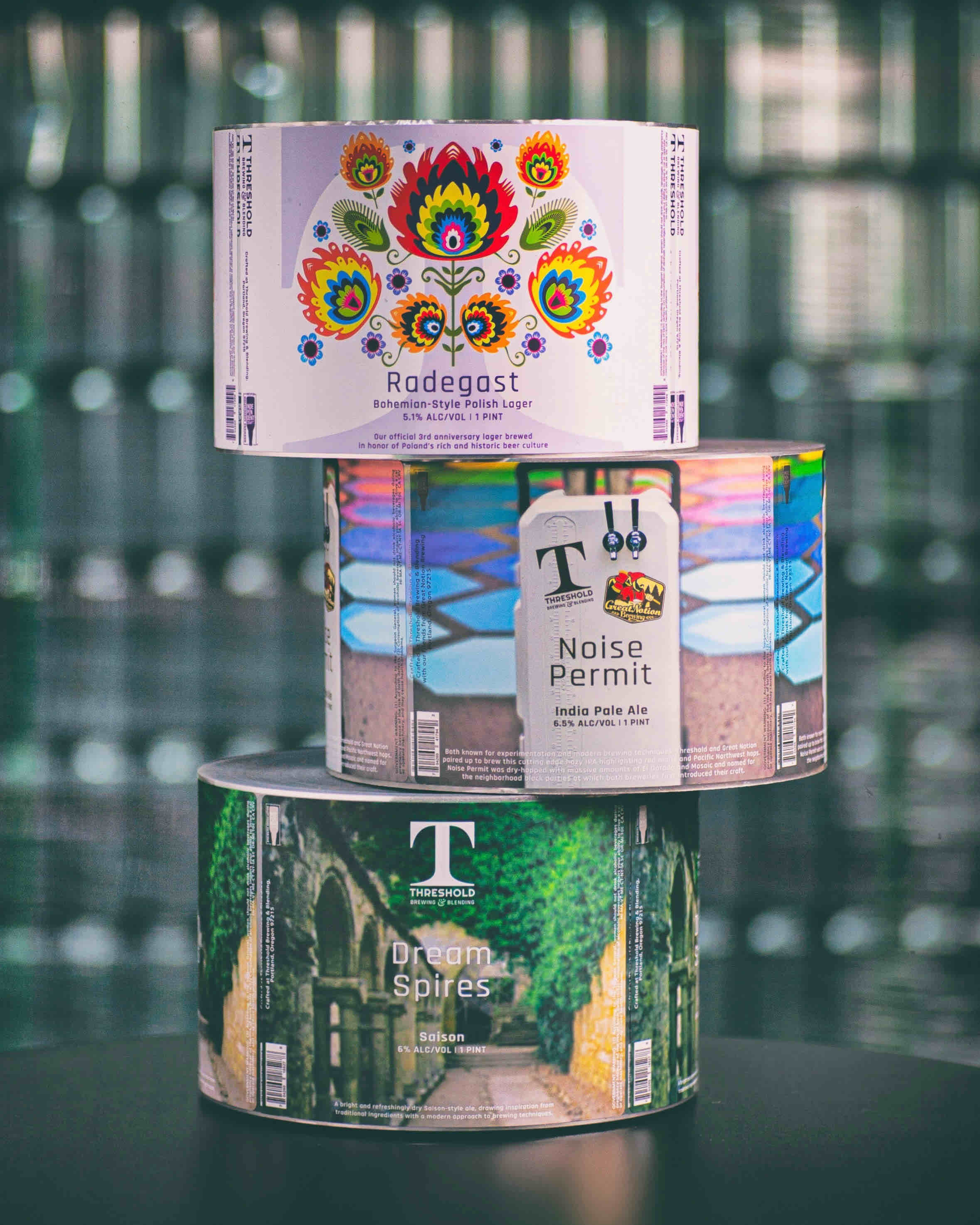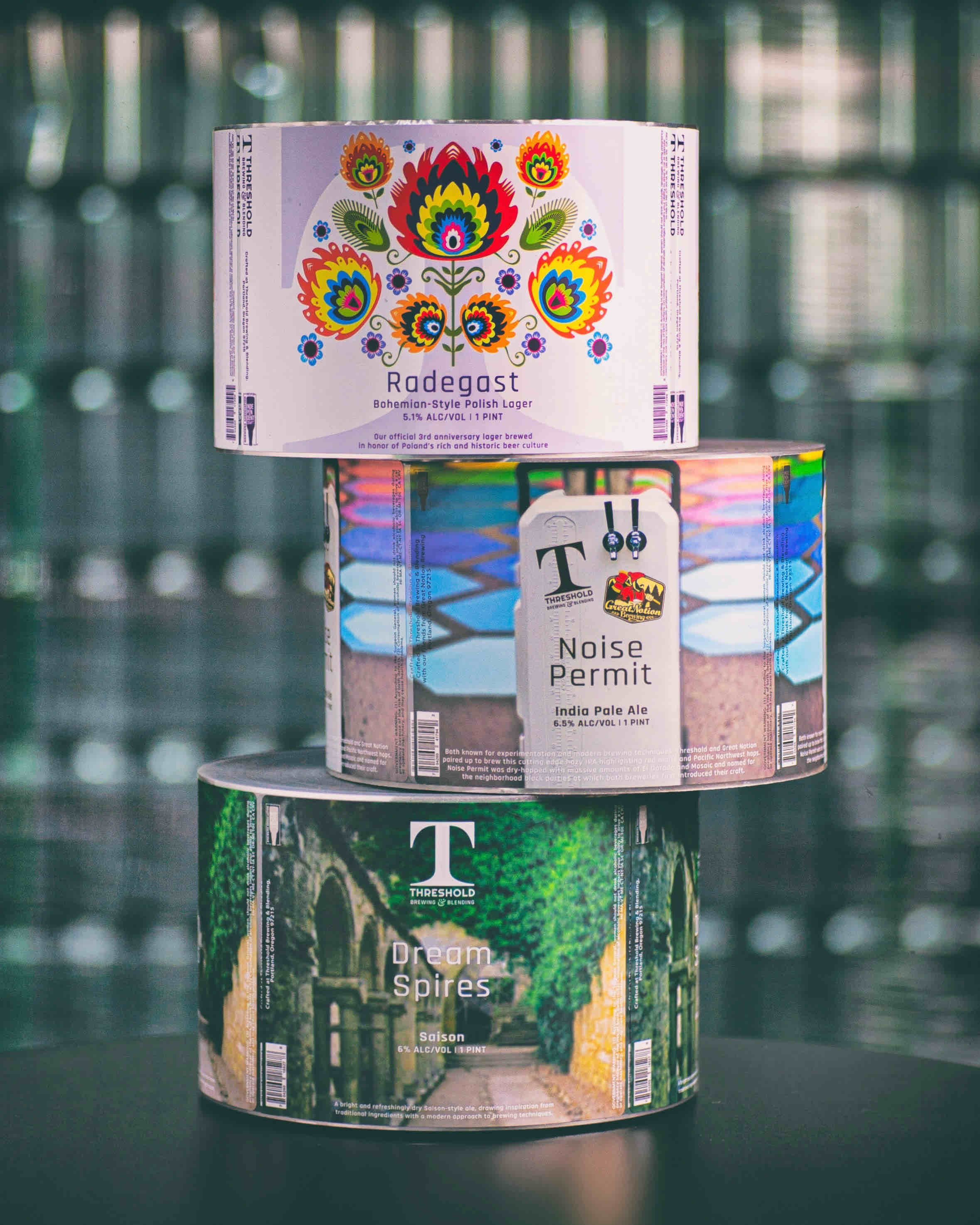 Here are details on all three new beers as provided by Threshold Brewing…
Noise Permit Hazy IPA
Threshold/Great Notion Collab Release
Potential release party pending with the Great Notion crew – if that ends up happening, I'll send a quick follow-up email with details.
A dream collab between Great Notion and Threshold, their shared love of IPAs and similar origin stories were what took this brew from conception to full-on hazy realization. Noise Permit utilizes Vienna and Pilsner malts for an unexpected twist, diving deep into the tropical pineapple depths of El Dorado hops before surfacing on the Mosaic-forward side of citrus and grapefruit.
The name Noise Permit is a nod to both breweries' similar origin stories of home brewing it up for their Portland neighborhood block parties before taking a chance on going pro. 6.5% ABV
Radegast Bohemian-Style Polish Lager
Threshold's official 3rd anniversary brew
A Bohemian-style Polish lager brewed with Bohemian pilsner malt and Polish Lubelski hops. The Bohemian malt lends a rich golden color and slightly elevated body while the Lubelski hops provide a touch of crisp spice to this refreshing winter release. Radegast is Threshold's official 3rd anniversary beer brewed in honor of Poland's rich and historic beer culture and named for the ancient Slavic god of hospitality. 5.1% ABV
Dream Spires Saison
A bright and refreshingly dry Saison-style ale, with just a touch of Belgian yeast presence and hint of lemon on the finish. Dream Spires draws inspiration from traditional Saison ingredients but with a more modern brewing approach and top scores for easy drinking. 6% ABV
Threshold 3rd Anniversary Celebration + Zwickelmania
Saturday, February 19
12 – 9 p.m.
Threshold Brewing & Blending is celebrating their 3rd anniversary this month! Now a Montavilla neighborhood staple, Threshold came on the beer scene back in 2019 as a passion project and start-up from then-home brewer Jarek Szymanski and his wife Sara. Over the past 3 years they have built a reputation for their solid brews and welcoming taproom while successfully navigating the ups and downs of business during a pandemic. This past year included a marked expansion in their self-distribution as well as introducing elements of Jarek's Polish heritage to their beer styles and food menu. Threshold's Neptune Baltic Porter, The Cruise Grodziskie, and traditional hot mulled Grzaniecare now offered on a semi-regular basis at the taproom in addition to Polish street food favorite Zapiekanka.
Per tradition, Threshold's anniversary festivities will take place on Portland's biggest beer day of the year: Zwickelmania. Their doors open at noon with special beer releases, local pop-up Boiled PDX Nuts and live music from 2 – 5 p.m. with Montavilla musician Robert Meade. Zwickelmania brewer-led tours, Zwickel pours and swag raffles will occur throughout the day.
Threshold Brewing & Blending
403 SE 79th Ave
Portland, OR 97215