Tin Bucket 3rd Anniversary Celebrations
|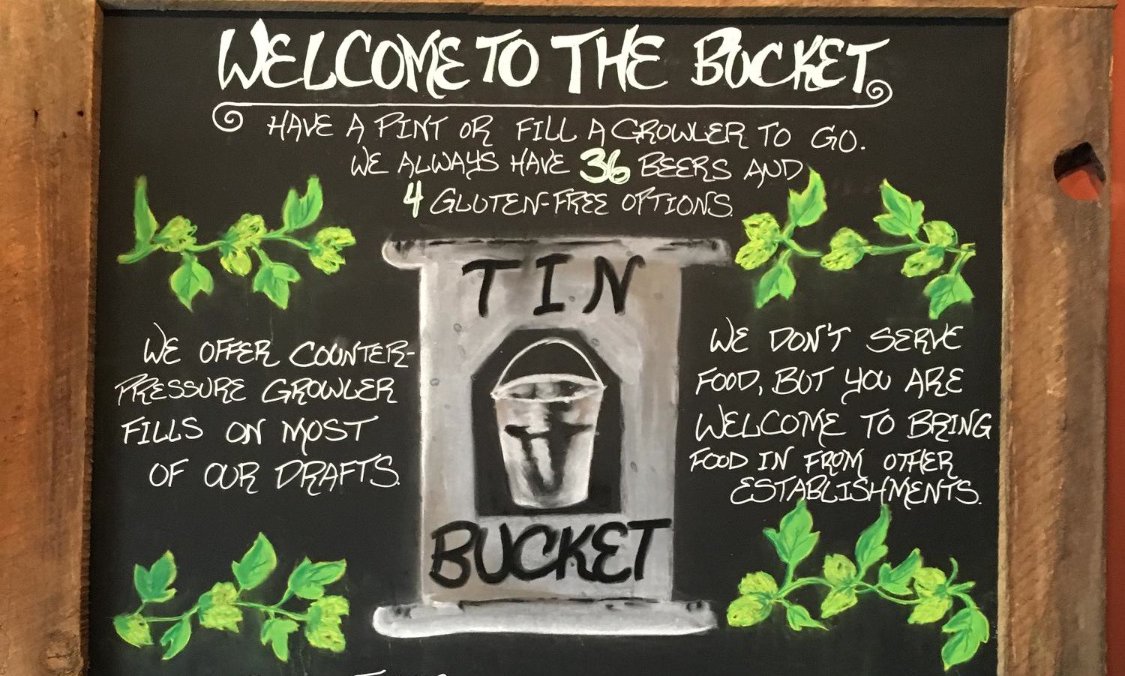 Portland's Tin Bucket will be celebrating its third year in business with a few nights of events next week from Wednesday, May 11 through Friday, May 13. The festivities will kick off on Wednesday when Tin Bucket will be taking over The Upper Lip for a Tin Bucket Staff Celebration and Tap Takeover. Then on Thursday it'll be a Corvallis beer night when Block 15 Brewing and Flat Tail Brewing will come full force to Tin Bucket for a night that'll feature some favorites and rare offering's from the Corvallis breweries. But the week culminates on Friday for Tin Bucket's Anniversary and Keg Tappings with a list of 30 beers that will sure make for one fine Friday the 13th. Then on Sunday, May 15, Tin Bucket will release its Anniversary Beer, Therapy Ferret that was brewed with The Ale Apothecary.
TinLip will be an evening when the staff from Tin Bucket will invade The Upper Lip and take over the beer bar's 6 taps. TinLip will take place on Wednesday, May 11 from 4:00 to 10:00pm. Here's the Draft List for the TinLip:
Logsdon – Peche n Brett
Arch Rock – Gold Beach Lager
Block 15 – Consortium #8 Dual Hop IPA
Breakside – The Oligarch
pFriem – Little Saison
Rev Nat's – Mosaic Dry Hopped Tepache Mimosa
The Upper Lip is located above Bailey's Taproom at 720 SW Ankeny Street.
On the following evening the celebration moves to Tin Bucket where the taps will be occupied by two Corvallis breweries, Block 15 Brewing and Flat Tail Brewing. The taps will begin pouring at 5:00pm. What beers will be pouring? Rest assured as these details are still being worked out but expect some staples and rarities from both breweries.
Not all bad things happen on Friday the 13th. This is especially true this year when Tin Bucket brings out 30 rare and tasty beers from its cellar. The beers will be tapped when Tin Bucket opens at Noon and will flow until the kegs run dry.
Here is the amazing beer list:
AleSmith- Hawaiian Speedway Stout
Stone- Wootstout 2.0
Oude Beersel- Oude Lambik
Nectar Creek- 3rd Anniversary Mead
New Belgium- Eric's Ale
Oakshire- Fredric C. Noir
Russian River- Temptation
Breakside- Barrel Aged Aztec
The Bruery- Jardinier
Firestone Walker- Helldorado
The Bruery- Gypsy Tart
pFreim- Flanders Red
EvilTwin- Imperial Biscotti Break
Barley Brown's- Don Vanuchi
Perennial- Abraxas
Goose Island- 2015 Regal Rye
Russian River- Supplication
Goose Island- Lolita
pFriem- Bretta
Logsdon- Peche n Brett
3 Magnets- Golden Ale with Brett
Flat Tail- Grape Drape
Bend Brewing- Ching Ching
Bend Brewing- The Raven
Bend Brewing- B-21(only keg that left Bend)
Prairie- Bomb!
Prairie- Phantasgmasoria
Prairie- Français
Breakside- The Oligrach
Liberty Ciderworks- The Abbess
Reverend Nat's- Bootylicious
Then if all of this beer love was not enough, Tin Bucket will release its Anniversary Beer that was brewed with Paul Arney at The Ale Apothecary. The result is Therapy Ferret, a rhubarb sour that has been aging patiently for over 16 months in three different bourbon barrels that were hijacked from Raven and Rose. Sounds like a great beery week ahead in North Portland!
Tin Bucket
3520 N Williams Ave.
Portland, OR 97227