Upright Brewing Seventh Anniversary Celebration on Saturday
|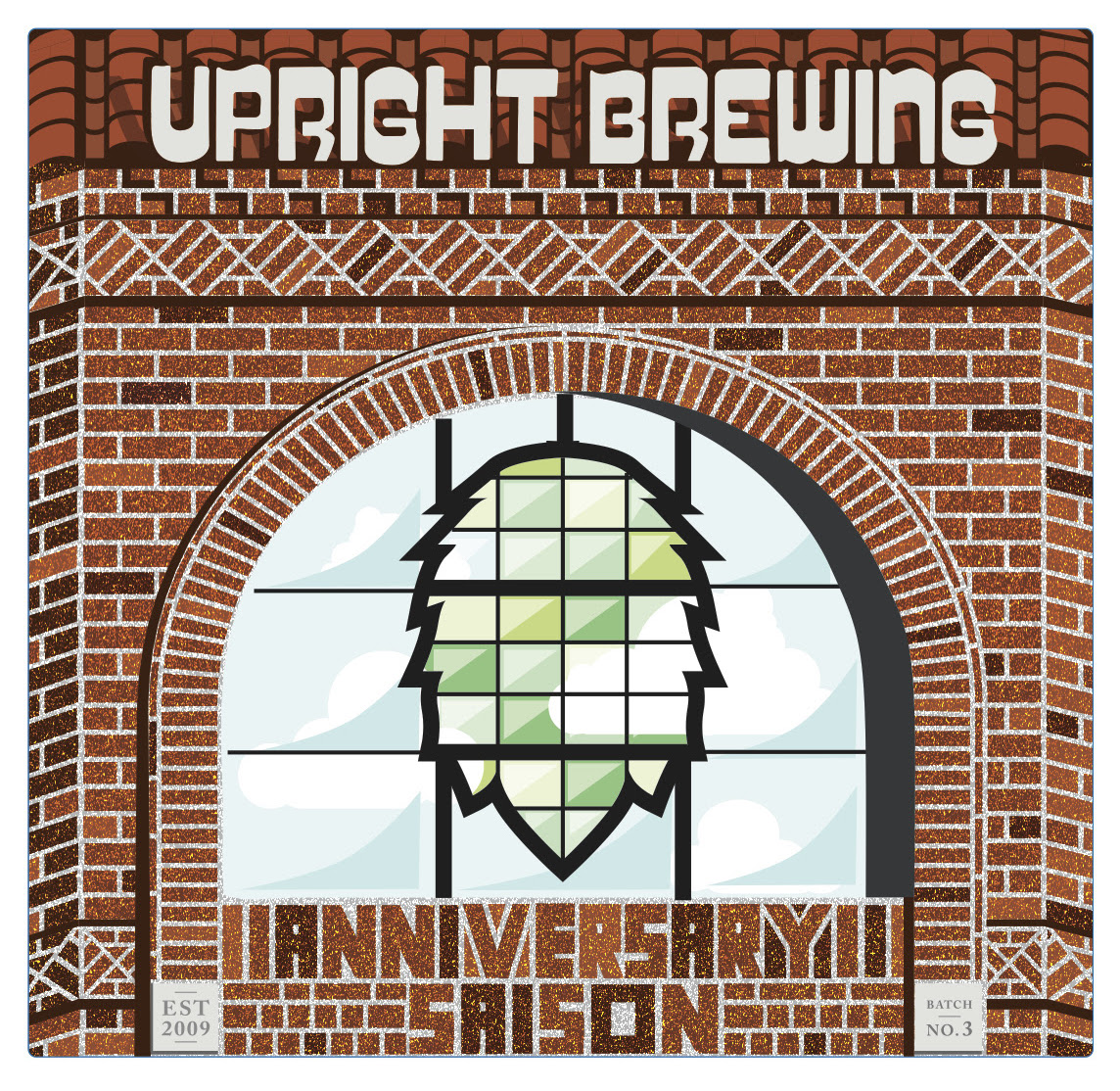 It's hard to believe that is has been seven years since Upright Brewing began brewing its farmhouse inspired beers in a renovated building just north of the Rose Quarter. (Here is an article that Angelo De Ieso wrote about Upright and its founder Alex Ganum prior to the brewery's opening in 2009.) Tomorrow, Saturday, March 19, Upright Brewing will be hosting its 7th Anniversary from 1:00 to 8:00pm.
Since it's an anniversary, Upright will be releasing its annual Anniversary Saison for the celebration. The brewery describes its Anniversary Saison as a blend of four casks to yield a profile featuring its favorite flavors, brewed to celebrate past and present that sits at 6.25% ABV. Anniversary Saison bottles will be for sale at $12 each or 3 for $35, limit three bottles per person.
During the Anniversary Celebration on Saturday Upright will also be pouring some of its most popular offerings including Fantasia, Fatali Four, and Oyster Stout, along with two brand new beers Schade Imperial IPA and Wit. These two beers are described below. Then to top this all off Upright will be previewing a future barrel fermented beer that uses pinot noir grapes.
Look for the following beers out and about or in the brewery tasting room.
Schade Imperial IPA
Schade Imperial IPA is the first huge hoppy beer brewed at Upright. Formulated and made in collaboration with Chef Ben Schade of Old Salt Marketplace, this beer showcases a blend of columbia, crystal, warrior, and two experimental hop varieties over a basic grist yielding only enough malt character to support the mix of classic and modern hop flavors. The Schade, which we like to pronounce "Shady", is very dry but smooth and drinks easy despite an abv of 10%.
Wit
Wit was brewed as a one-off for the very tail end of winter and made using specific processes and ingredients – namely sour mashing a portion of the grist, adding distinctly amaro-like bitter orange peels to the kettle, and employing open fermentation with a blend of two yeast strains. The beer is light but flavorful with a pleasant creaminess from both wheat and oats but finishes extra dry. 5.25% ABV
Oyster Stout
The annual brew is once again draft only this year and better than ever. This stout is the real deal, using 8 dozen large oysters in the hopback and 8 gallons of oyster juice, making up nearly 3% of the beer by volume! Minor recipe tweaks yielded an extra aromatic brew with a slightly creamier mouthfeel – prefect for the tail end of winter. 6.5% ABV
Then in the coming weeks be on the lookout for a special draft only offering made with yeast from Dupont Brewery. And the yeast strain used in this new Saison is not the typical normal strain that Dupont uses but one that highlights a slightly restrained ester profile but with firmer spicy notes.
Upright Brewing
240 N. Broadway
Portland, OR  97227